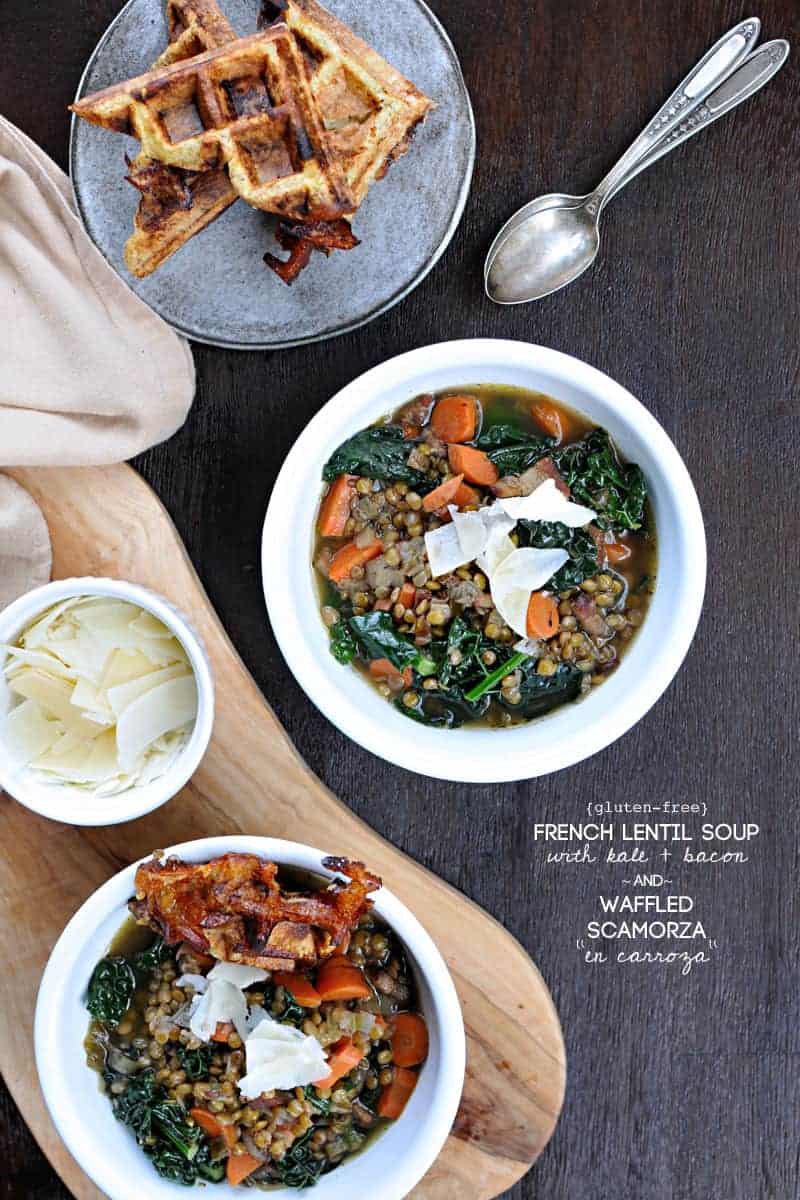 Aloha from Maui! We're babymooning this week (holy almost 26 weeks — where do the months go?) and falling quickly in love with everything the island has to offer. So while the rest of the country is contending with the plight of the season, we're wallowing in the misery of cool ocean breezes and more shave ice than is probably healthy. I might just birth a walking sno-cone. Nobody act surprised.
Also, to those of you facing said plight: I'm sorry. If it makes you feel at all better, I've seen plenty of your neighbors getting their serious burn on, and it doesn't look like a fun time. (Mister Cincinnati Reds Hat, I'm looking at you.) So you know, you're maybe better off. Because even a Bucks Championship (!!!) can't take the sting out of sunburn.
Should we get on with this soup dealio?
I schmink so.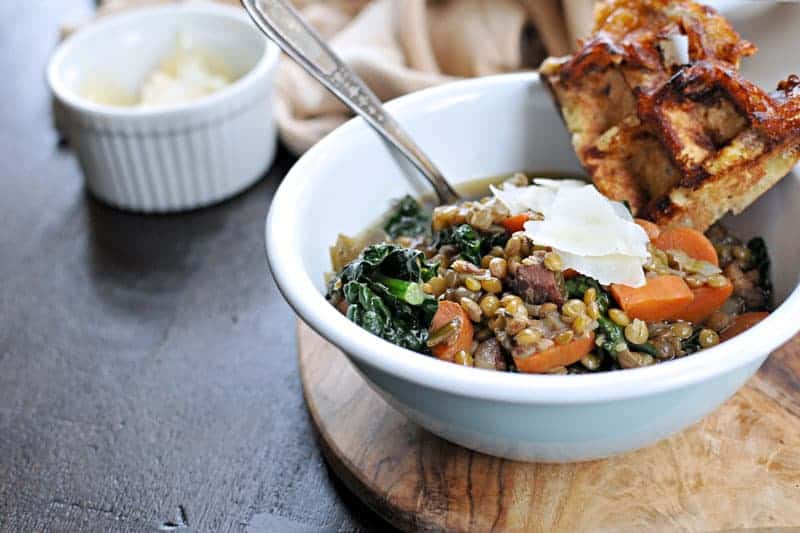 Earthy, porky lentil soup is one of those things I could eat all year long for pretty much any/every meal. It's hearty and savory without ever feeling overly heavy or indulgent. Ok, maybe when I eat two and then three bowls in a sitting, it starts to feel a little heavy. But I blame it on the bacon, you guys! When bacon meets broth meets lentils, too much good stuff happens. That smoky, salty porkyness gets into all.the.things in the best way possible. And when you account for the approximate butt-ton of greens that get crammed into the pot, you're pretty much looking at kale salad's waaaaaaaaaay hotter older brother. Or maybe cousin. Like, a Southern cousin with a charming little drawl and a horse farm and a closet full of completely non-ironic plaid shirts.
I like it.
And it gets even better.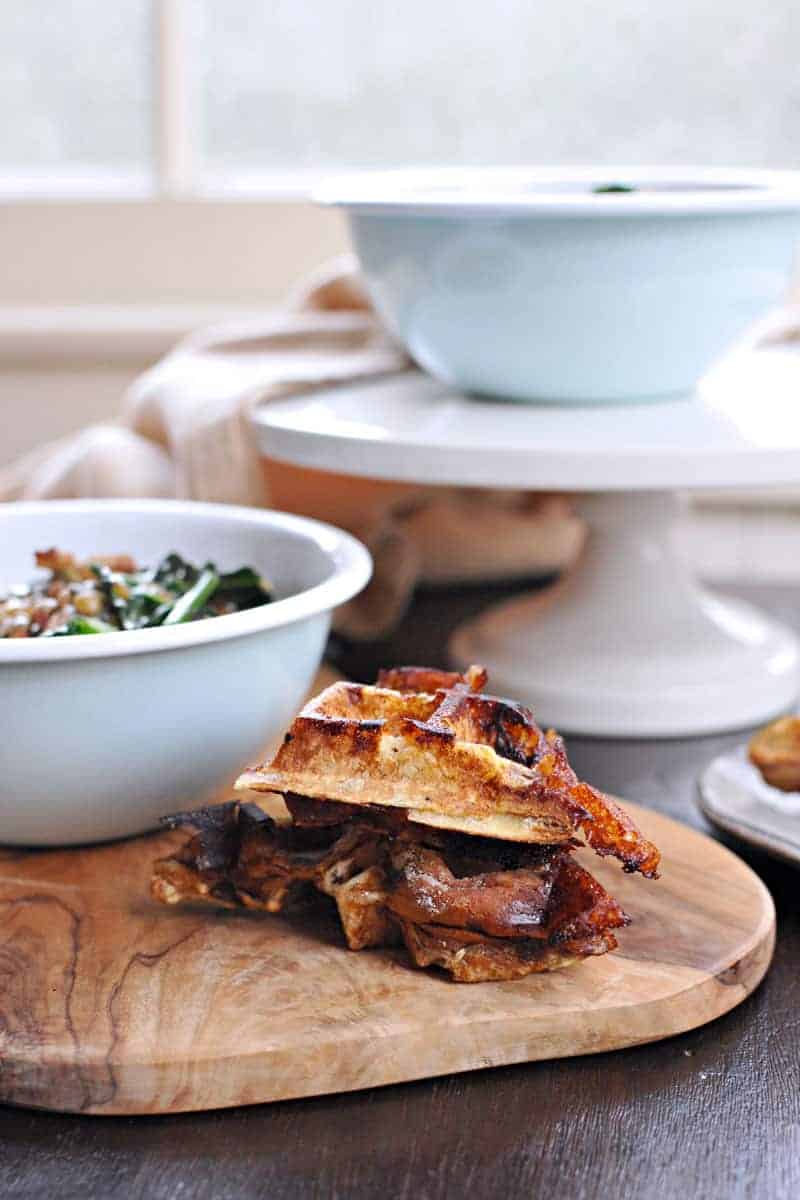 When I was in college, I fried up only too many iterations of Nigella's mozzarella en carozza, which is, if you've never had the pleasure — and sweet Jesus, if that is the case, I pity you something fierce — nothing more than fresh mozz smooshed between tender white bread, dredged in milk/flour/egg — and fried until crispy. It's every bit as heavenly as the description suggests: golden and crunchy on the outside with a silky, molten center.
The only issue with snacking this ridiculously good is that it's tremendously difficult to improve upon. So I won't claim to have done that here — nope, not in the least. But I did tweak it, just a little. Scamorza or smoked mozz on the inside, King's Hawaiian on the outside. A little S + P in the dredging flour.
And a trip through the waffle iron.
I'd say I added that last move because it's healthier than frying (it is). Or easier than frying (it is). Or, like, so much more 2015 than frying (good gravy, I have no idea). But really it comes down to the crunchy, smoky cheese lace that happens all up 'round the edges.
Dunk that B in a bowl of porky lentils and I don't care if it's -20F with wind chill or 80 degrees and sunny; it's happy belly time. *eyebrow waggle*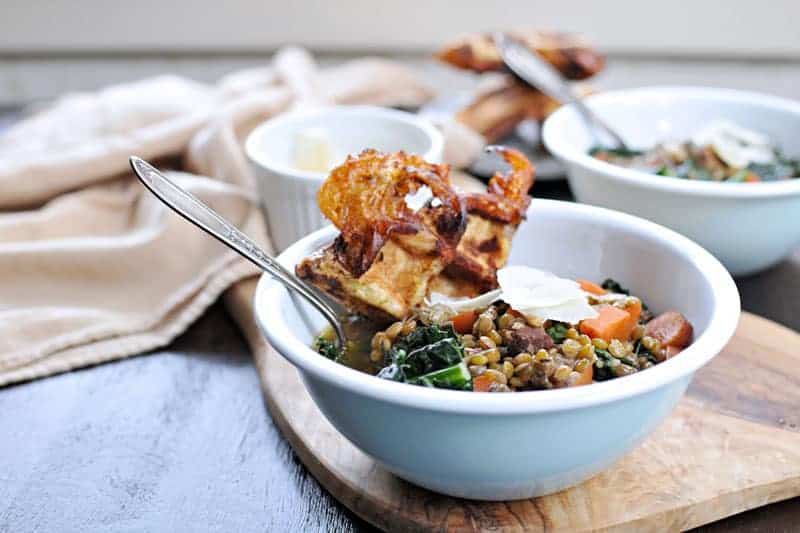 Oh, and just in case you're not a waffler (or are you? or aren't you? or are you?), I've also provided basic frying instructions per Nigella's classic preparation in the recipe notes, below.
Aloha and happy souping, friends.
Wish you were here!
Em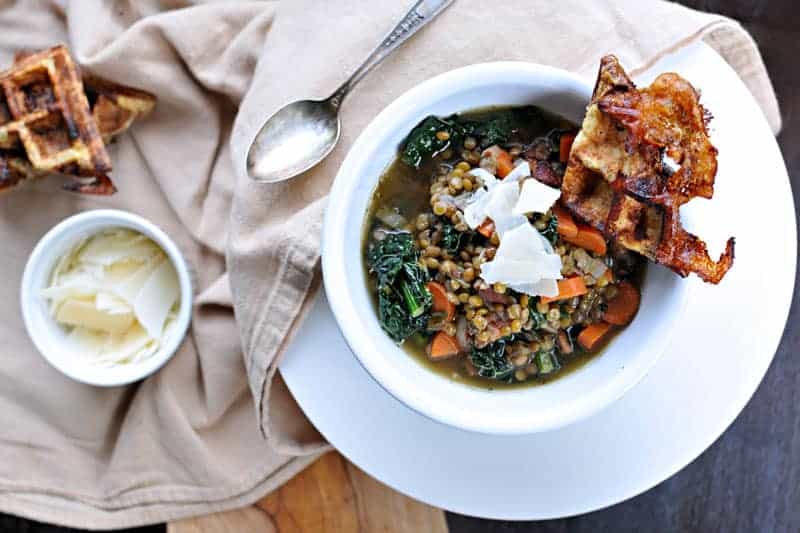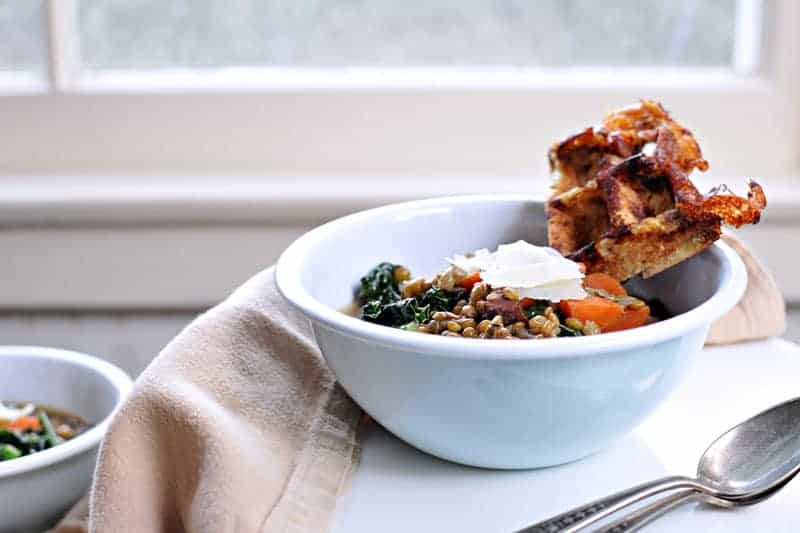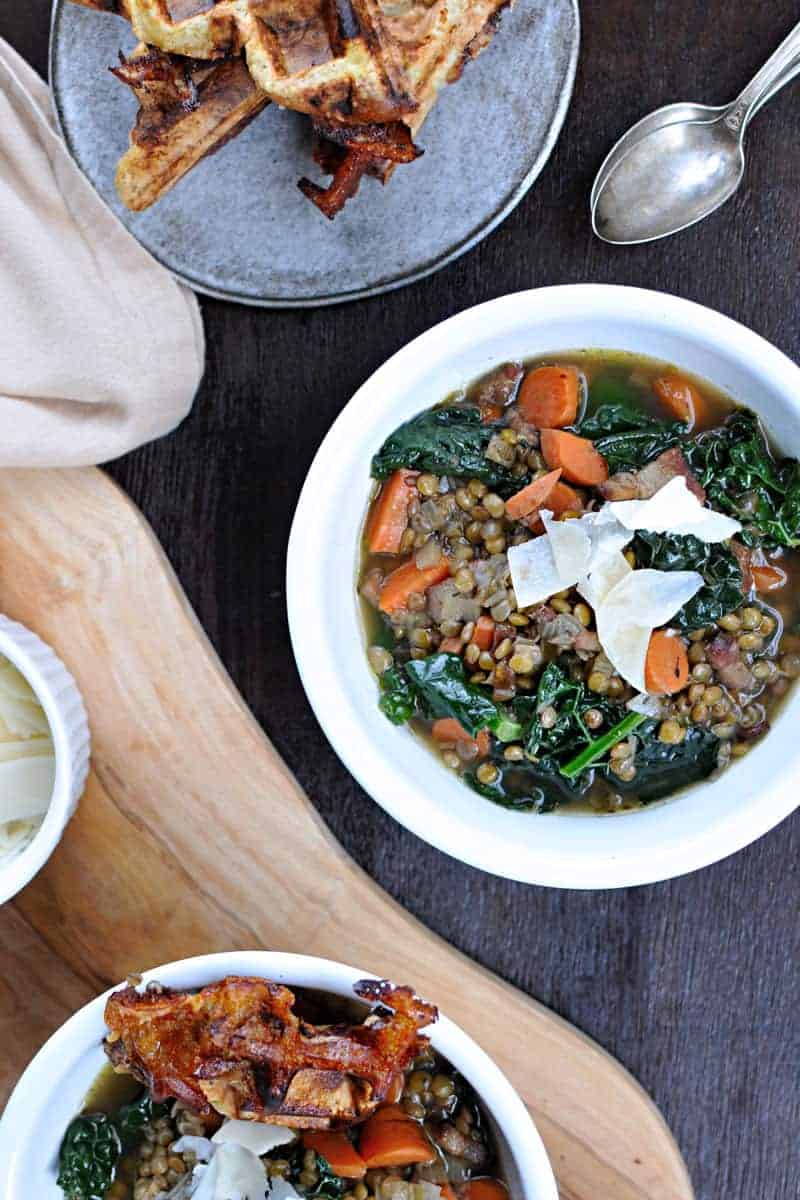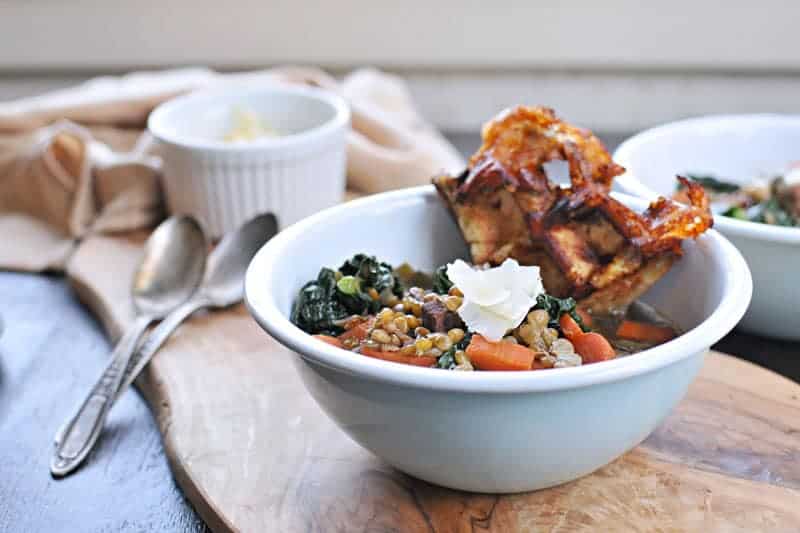 French Lentil Soup with Kale + Bacon (Gluten-Free)
Makes:
4 generous servings
Ingredients
4 oz good bacon, chopped
2 large (or 3 small) carrots, chopped
1 cup leeks, white and light green parts, washed and thinly sliced (or about 1 small yellow onion diced)
pinch red pepper flakes
½ tsp dried Turkish oregano
¼ tsp dried thyme
1 T red wine vinegar, plus (optionally) more for serving
1 cup French green lentils, picked over for odd little bits
6 cups beef stock (when I don't have liquid stock on hand, I always use this)
5 oz (about 4-5 handfuls) kale, chopped into bite-sized pieces
sea salt + freshly cracked black pepper
good olive oil and parmesan cheese for serving (optional)
Instructions
Add bacon to a cold Dutch oven or soup pot and turn flame to med-high. Cook until bacon renders about half its fat and pan begins to take on color, about 5 mins.
Add carrots, leeks, pepper flakes, thyme and oregano and cook until veggies begin to give off liquid. Add vinegar. Deglaze pan, scraping up all brown bits from bacon.
Add lentils and beef stock and bring to a boil; then reduce to low, cover and simmer for 30 mins or until lentils are tender.
Add kale, pushing down to submerge in broth, and cook for another 5 mins or so, until leaves have wilted substantially but kale remains green. Taste and adjust for salt and pepper, if necessary.
Serve soup piping hot in big bowls with a scant drizzle of vinegar, olive oil and a scattering of parm, if desired. Enjoy!
Notes
If it seems odd that I show the leek measurement in cups here, it's because I inevitably end up freezing about a ton of trimmed, cleaned leeks in the spring and using them all winter long, so I just scoop them out a cup (or so) at a time as needed. (Highly recommended if you're a leek freak, like me!)

Serving this soup with the indulgent scamorza sandwiches here is always a treat, but it's also great with your favorite crusty bread or croutons. And, as I will always recommend when making soups: make a full recipe, even if you don't need it. It reheats wonderfully. 🙂
Waffled Scarmorza "en Carroza"
These tasty little sandwiches are something like the love child of a grilled cheese and a Monte Cristo -- in short: delicious. I've cooked them up in a waffle iron for a snackier interpretation, but be sure to see the note below for the traditional pan-fried method.
Ingredients
8 slices good, squishy white sandwich bread (I used sliced King's Hawaiian bread)
generous ½ cup milk
¼ cup flour
1 large egg, beaten
8 oz smoked scamorza (or smoked mozzarella), about 1 large ball
light frying oil for waffle iron or griddle
sea salt and freshly cracked black pepper
Instructions
Preheat waffle iron to medium-high. (See note for pan-fried version.) Brush iron lightly with oil.
Pour milk, flour and beaten egg into three separate shallow dishes. Generously season flour with salt and pepper and mix well.
Thinly slice scamorza into about 8 pieces. Arrange two slices of cheese between two slices of bread, leaving about a ½" border between the cheese and the crust. Firmly smoosh edges of bread together.
Lightly dip both sides of sandwich into milk, then seasoned flour, then egg. It doesn't need a thick batter, so you can be quick about it. Just a light coating of each will do. Transfer dredged sandwich to waffle iron and griddle until timer chimes (or until sandwich is deeply golden and escaping cheese is crisped and browned).
Repeat to make remaining sandwiches. (You can keep prepared sandwiches hot in a warm oven if desired.)
Cut sandwiches into halves or quarters and enjoy alone or with soup for dunking. Yum!
Notes
This recipe is inspired by
Nigella's
wildly delicious
Mozzarella in Carroza
, which I fried up with reckless abandon in my college years.
In this version, I've swapped the traditional method of frying the (typically crustless) sandwiches in hot olive oil for a quick griddle in a waffle iron, which requires a bit less oil and produces a snackier (though admittedly less pocket-y) result. Both versions are undoubtedly delicious.
To prepare these more traditionally -- i.e. without the waffle iron -- prep the sandwiches as directed (removing the crusts from the bread, if desired), and fry them in a shimmering pool of hot olive or avocado oil until golden and crispy.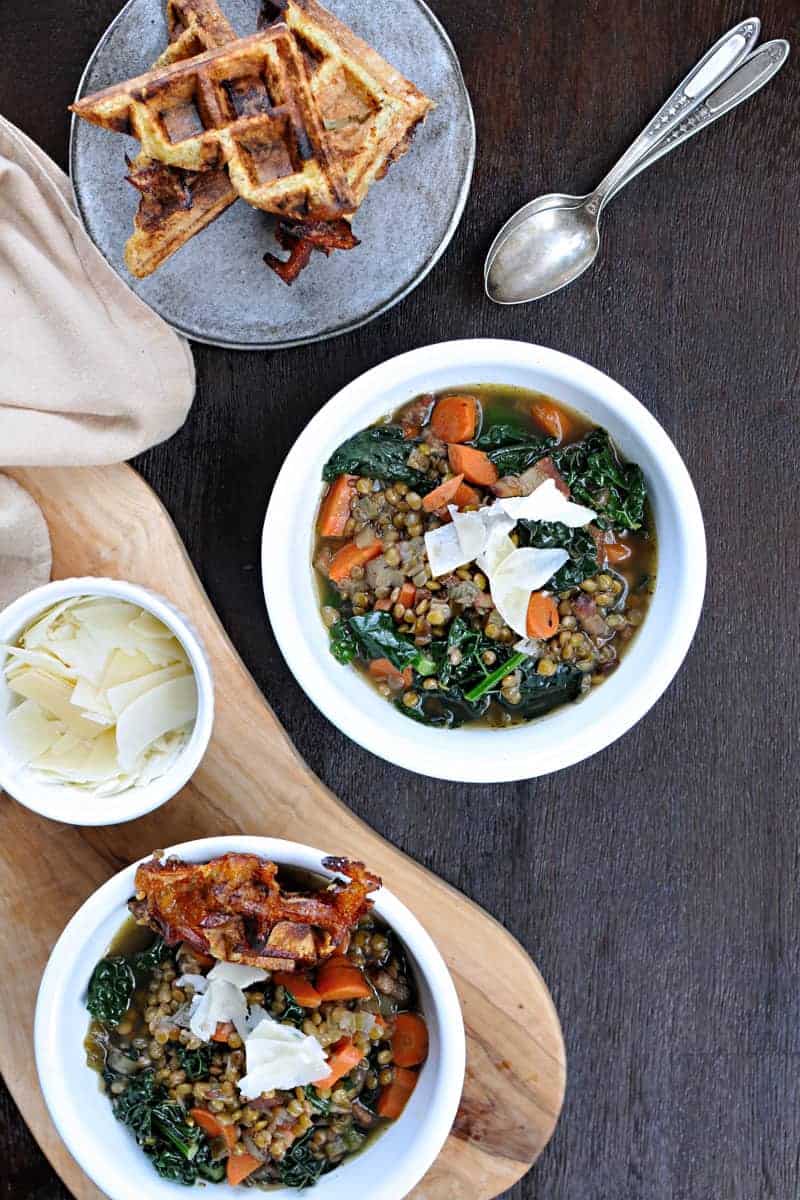 ————————————————–
OH! before you go…
Like whatcha see here — or have a question, feedback, or recipe hack to share? Join The Pig & Quill convo by commenting below (I love, luv, lurve comments) and hang out with me on Facebook, Twitter, Instagram and Pinterest. And don't forget to subscribe to P&Q emails or add me to your RSS reader with Feedly or Bloglovin' so you never miss a post. x's & o's!
link