GURRRRRRRL!
I know. A little anti-climactic with the pink heading. I couldn't help myself.
We opened the envelope right around Christmas but wanted to take the past few weeks to privately revel in the fact that the little being pummeling my tums is, in fact, our daughter to be. ♥ Somehow, in just the transition from "it" to "her," my substantially cloudy vision of the future has started to crystallize ever so slightly. Chris, who has envisioned a tiny piglita all along, is 1429% terrified. It's pretty adorable.
So now it's on to names (we have a long list of no-way-in-hells and a very short list of maybes); nursery stuffs (!!!); and reading approximately all the books about exactly how much pain accompanies natural childbirth.
I can't wait!
Friday links!
Funstuffs:
Foodstuffs:
And in case ya missed it, earlier this week I shared the recipe for this French Lentil Soup with Kale + Bacon and Waffled Scamorza "en Carozza" — basically a (battered!!) grilled-cheese-waffle-hybrid situation on crickity crack. You'll dig it. 🙂
HAPPY FRIDAY!
xo,
Em
p.s. — Header pic is looking straight down a bag of piping hot malasadas from Home Maid Bakery in Maui. (Don't mind the one with bite(s) missing…) They fry them to order between the hours of 5am-10am and 4pm-10pm and they are crisp, pillowy insanity. (For those of you reading on email, you can always click through to the blog to see all images in their glory.)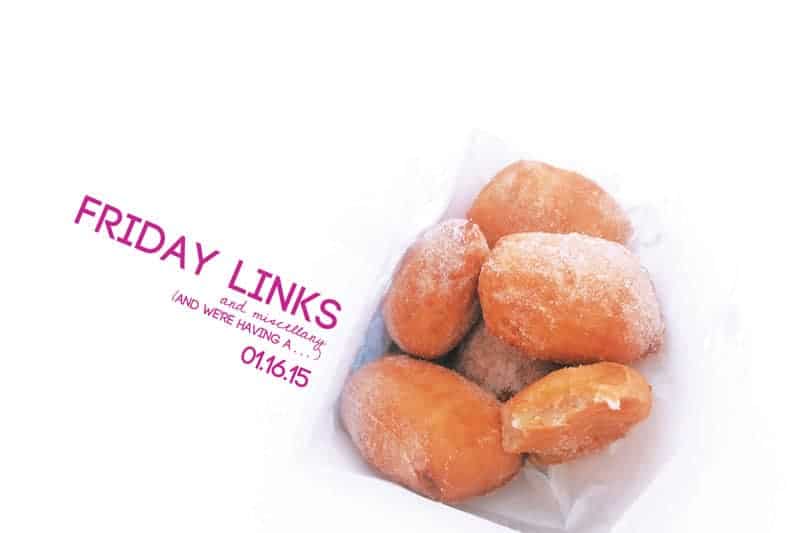 ————————————————–
OH! before you go…
Like whatcha see here — or have a question, feedback, or recipe hack to share? Join The Pig & Quill convo by commenting below (I love, luv, lurve comments) and hang out with me on Facebook, Twitter, Instagram and Pinterest. And don't forget to subscribe to P&Q emails or add me to your RSS reader with Feedly or Bloglovin' so you never miss a post. x's & o's!