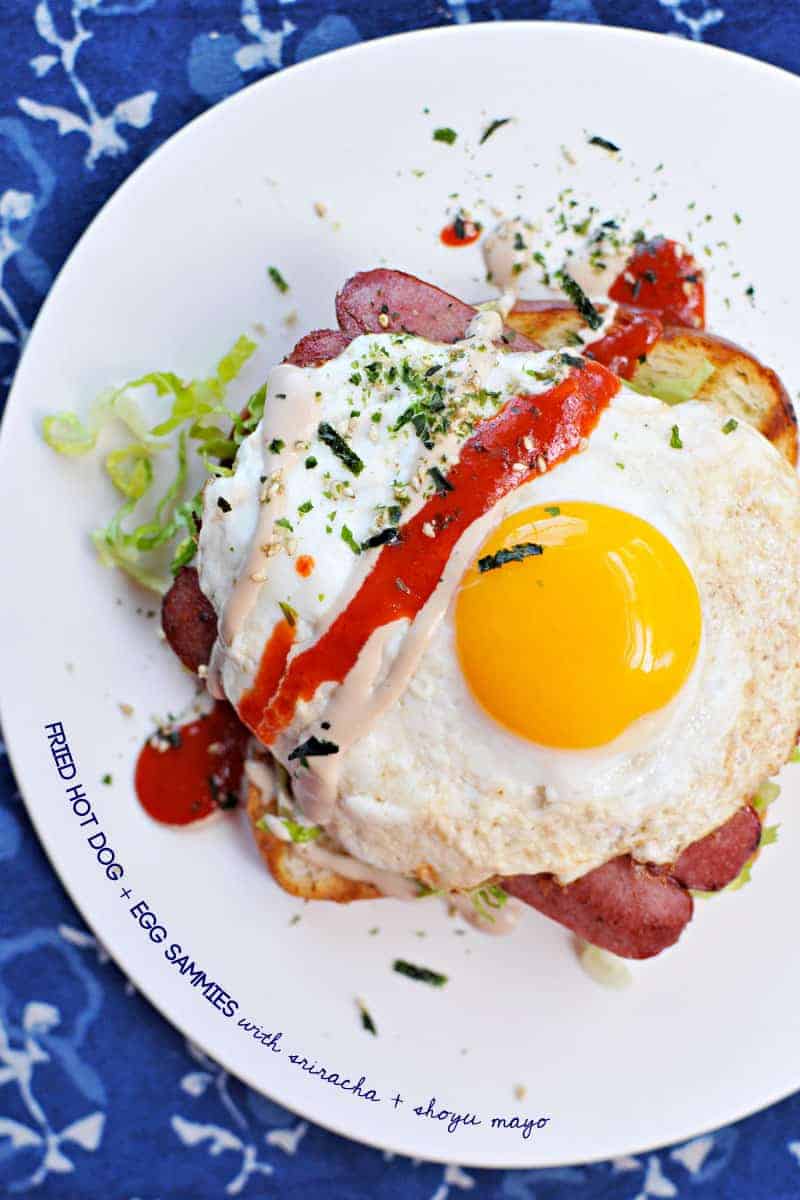 I don't think I've expressed it here before, but I love hot dogs. And it's not even the Weirdo Preggers Em talking. Just Weirdo Normal Em. (*waves*) We (me and hot dogs) should totally sit in a tree and make out super hard.
I <3 them in macaroni + cheese. On top of instant ramen. Smashed into a sandwich with a slice of melting American cheese, or dressed up for the street in bacon, mayo and fajita veggies. Shit is legit tasty.
I like 'em best with a snappy skin. (Detour: the Weiner Circle in Chicago boasts the snappiest dogs and even snappier staff and only kinda sounds like it was named after a fraternity hazing ritual. GO THERE.) At home, in its simplest form, I like my dog sliced in little circles and tumbled over a bowl of rice or tucked whole into a softened white bun with ketchup only. Because mustard is mustarded.
During football season, which packs very little thrill for someone as apathetic about, um, ball sports as yours truly, hot dogs are the equivalent of the Chair Outside the Dressing Room. Like, I don't really want to go watch the game and pretend I knew that the yellow line doesn't actually exist, but I'm gonna humor the idea. And at least they'll probably have Hot Dogs. Also: dips. Dips can be very convincing. But that's another post.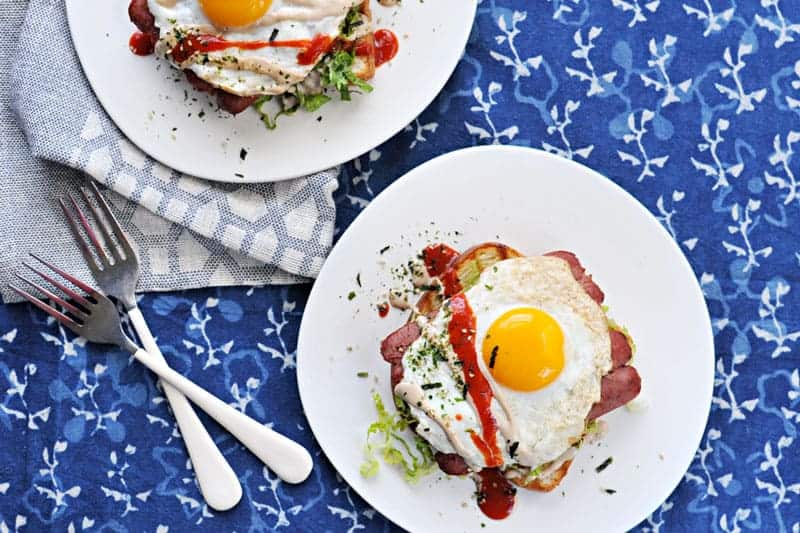 These hot dog sammies have been bouncing around in my head for at least six months, but I only recently broke down and bought a pack (or three) of nitrate-free doggies so I could indulge my fantasy despite my current state. And you guys. They are so worth the splurge. So, so very satisfying. So everything I love about hot dogs combined with everything I love about…everything else.
For the seven people that looked at this post and immediately thought "YES!" — I'm pretty sure I love you. You dandy, kindred spirits understand that very little explanation is required to convey the clear as day deliciousness of these cracked out stacks. Hawaiian bread, good. Hot dogs, good. Eggs, duh. Mayo-eee dressing dribbled over a tangle of super finely shredded lettuce? Super duper good. (Yay veggies!!)
The rest of you will just have to trust me.  😉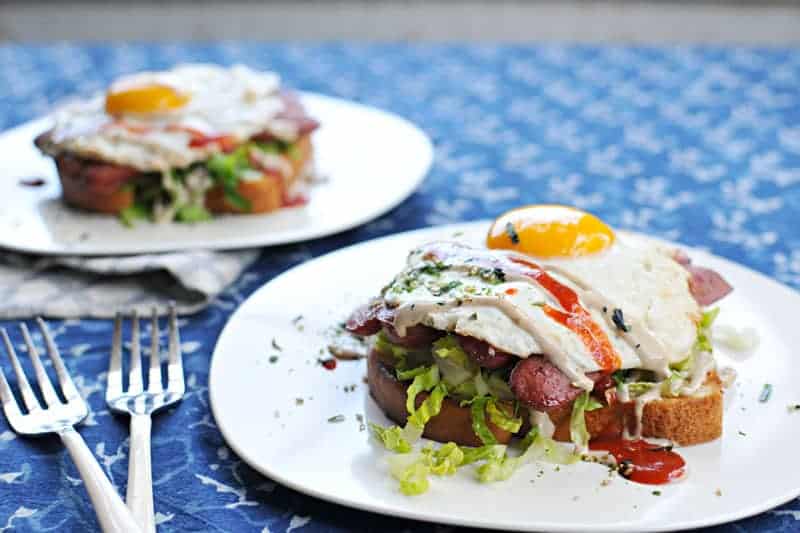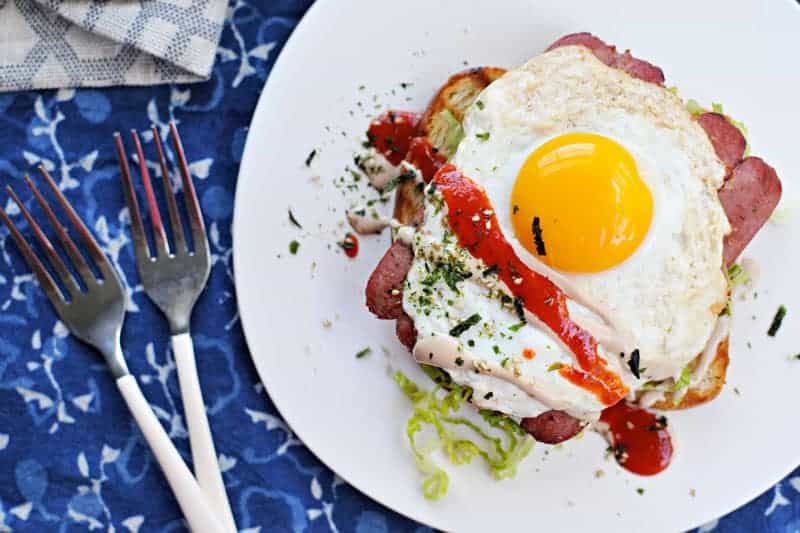 I'm nearly certain that the only way this could perhaps be improved upon is with the addition (and/or substitution) of SPAM, which might just trump hot diggities as my processed meat product of preference. I'd have checked that box myself, in fact, but nitrates are kind of a bitch. So, skip.
In either case, I'm prepared to guarantee that these goofy little guys are about a schmillion times more interesting than typical game day offerings — and they make pretty exceptional brunch or lunch fare, too.
Also breakfast.
Also dinner.
Also any time a hot dog sounds even remotely good.
Which is all the time.
HOT DOG!!!
xo,
Em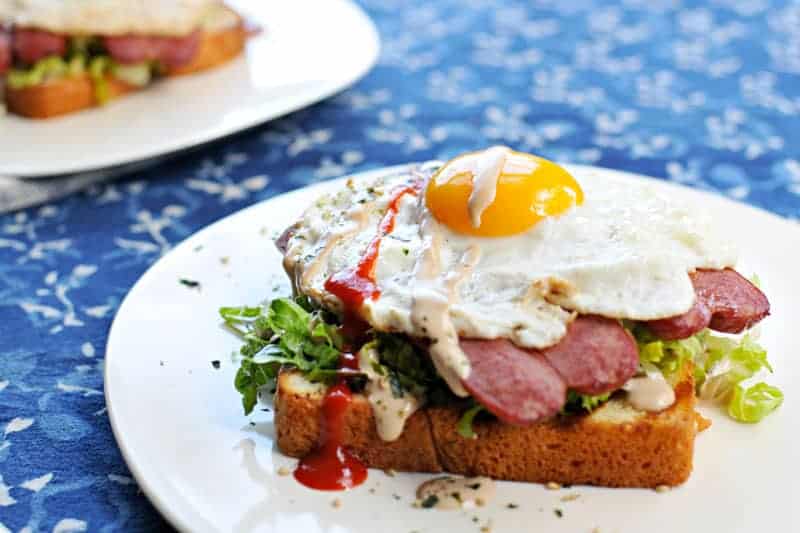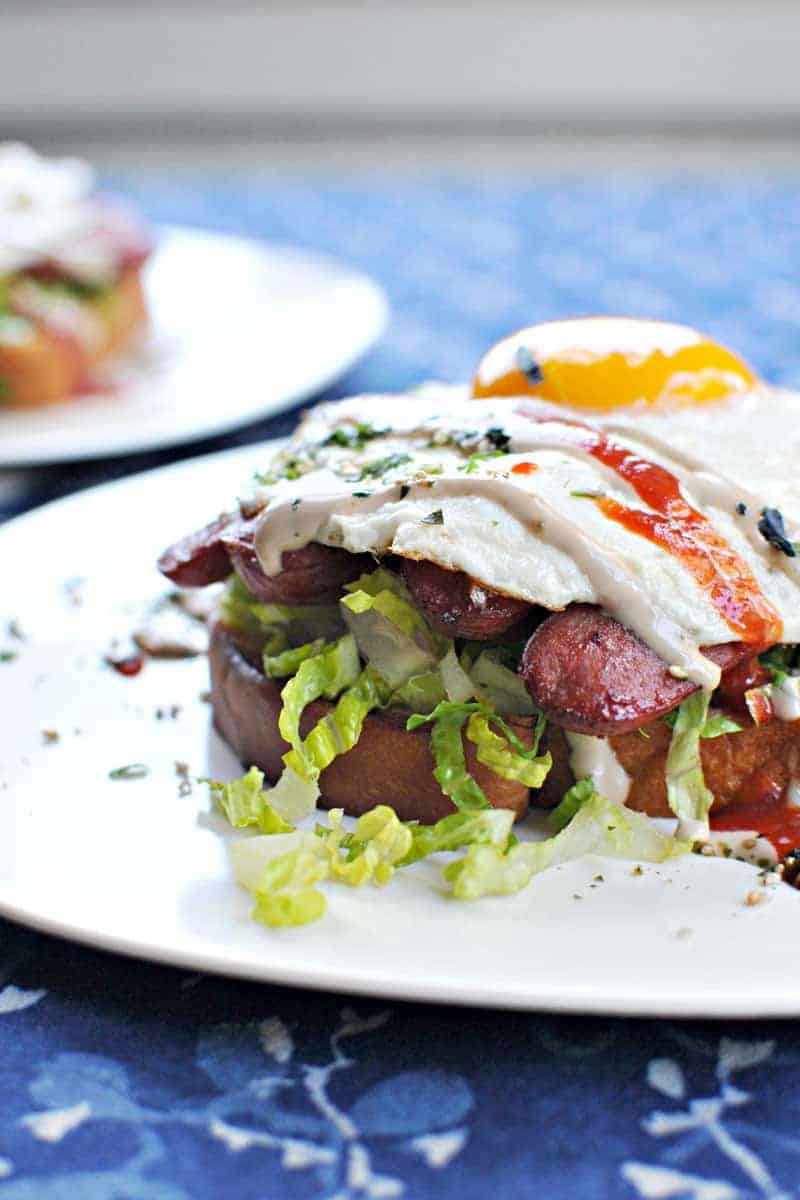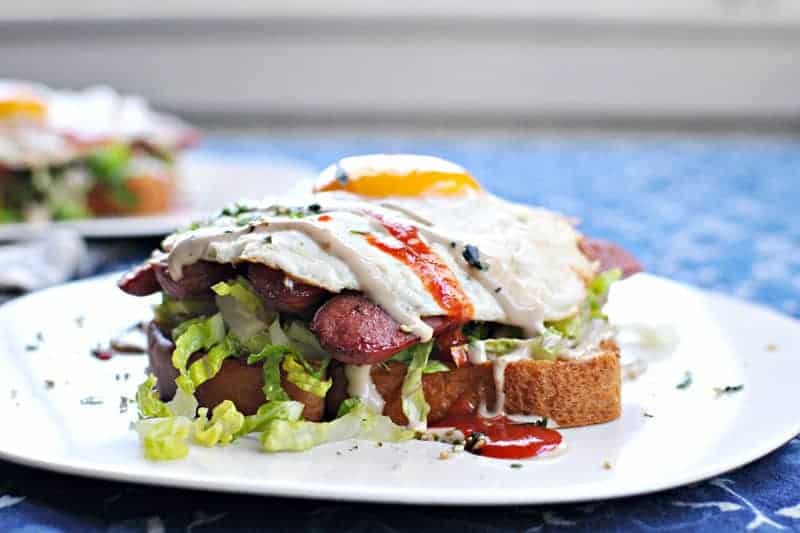 fried hot dog + egg sammies with sriracha + shoyu mayo
Makes:
2 open-faced sandwiches
Ingredients
4 nitrate-free hot dogs (we love these guys)
2 slices Hawaiian bread
2 large eggs
¼ cup good mayo
2 tsp low-sodium soy sauce
2 tsp water
2 handfuls finely shredded romaine
butter
sesame oil
sriracha + furikake, for serving
Instructions
Combine mayo, soy sauce and water in a small bowl. Set aside.
Heat a griddle over medium flame. Lightly butter Hawaiian bread and griddle until lightly marked. Reserve to plates. Top with lettuce and a drizzle of mayo mixture.
Add a little sesame oil to the pan. Split hot dogs lengthwise and fry, cut-side down, until crisp. Flip 'em and crisp up the second side. (A bacon press helps prevent them from curling up!) Allow to cool slightly before layering over lettuce, two per serving.
In the same pan, fry eggs to your liking. I like using a fork to lightly scramble the remaining hot-doggyness from the pan into the whites, but maybe that's weird?
Top sammies with fried eggs, another drizzle of mayo, and sriracha and furikake to taste. Enjoy!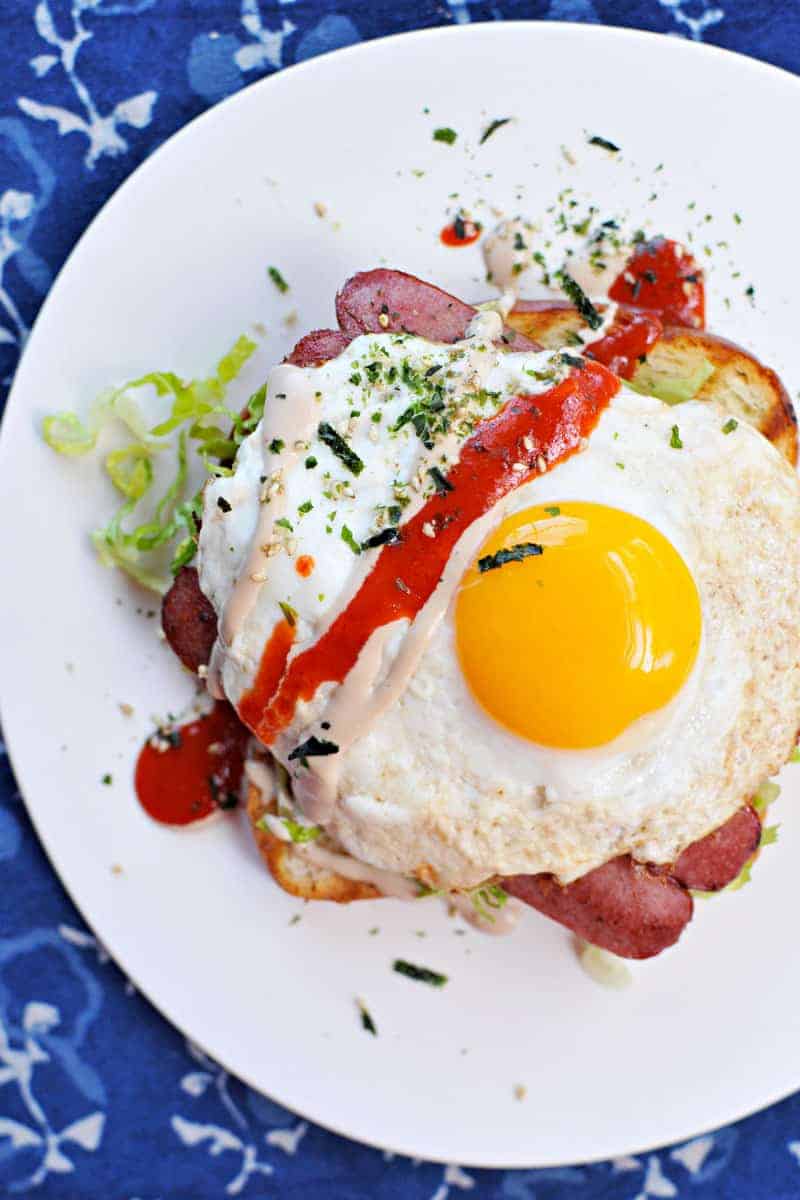 ————————————————–
OH! before you go…
Like whatcha see here — or have a question, feedback, or recipe hack to share? Join The Pig & Quill convo by commenting below (I love, luv, lurve comments) and hang out with me on Facebook, Twitter, Instagram and Pinterest. And don't forget to subscribe to P&Q emails or add me to your RSS reader with Feedly or Bloglovin' so you never miss a post. x's & o's!