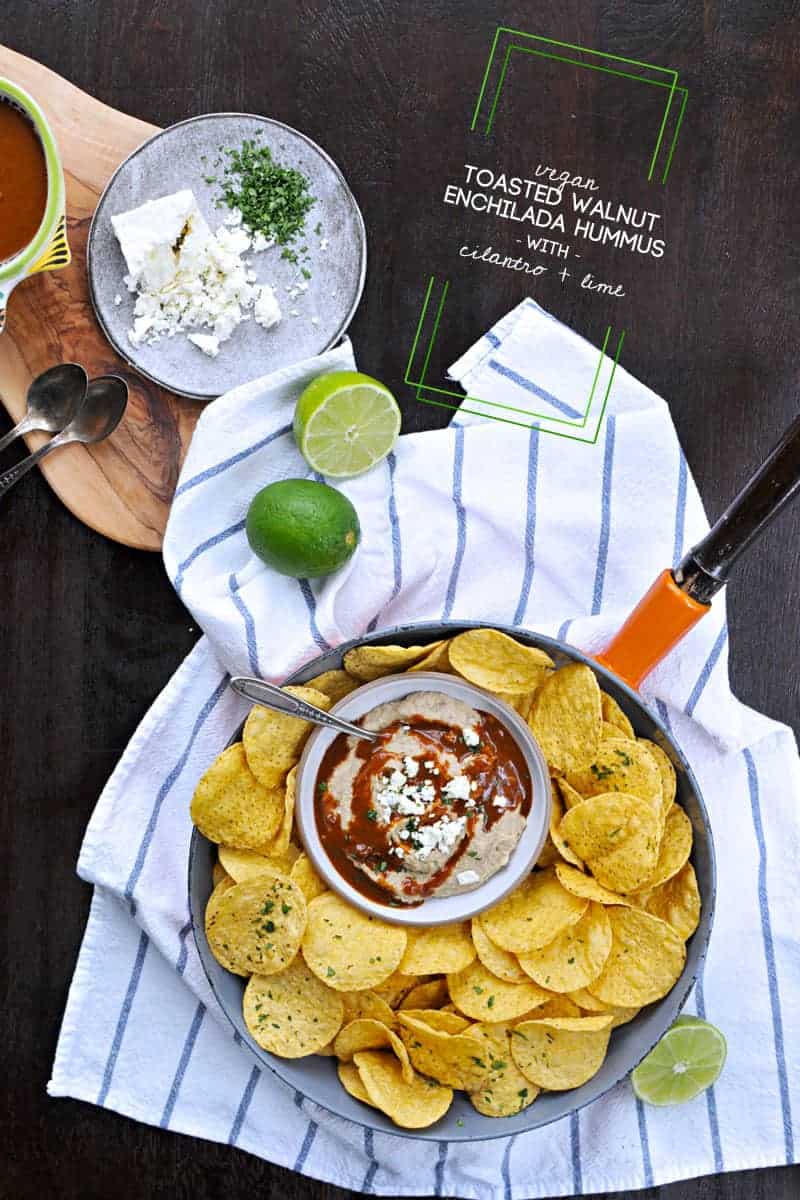 Oh yay! You guys are still here. Meaning my affinity for hot dogs (and a decidedly Americasian interpretation, at that) didn't scare you away. I knew you could hang.
As your reward, this week we're talking more Superbowl-ready eats that are borderline goofy (enchilada sauce on toppa hummus? she dun lost her shit!) but silly delicious all the same. You'll see what I mean when we get into the nitty gritty later on. And really, is it even that weird? It's clearly not bizarre enough to warrant the gibberish I keep slapping in between all these parentheses (like this crap — which is here solely for the purpose of example), but I feel a little insecure every time I post something that's not, like, THE Trending Item on Pinterest.
(Side note: until I dunk an Oreo in waffle batter and drizzle it with peanut butter, I'm not sure I'll ever be That Trending Item.)
(Side side note: I would so eat that.)
You want to lob a boomerang at my head right now, don't you? (It would be kind of poetic and all given its parenthesis-y shape…)
I'm stopping.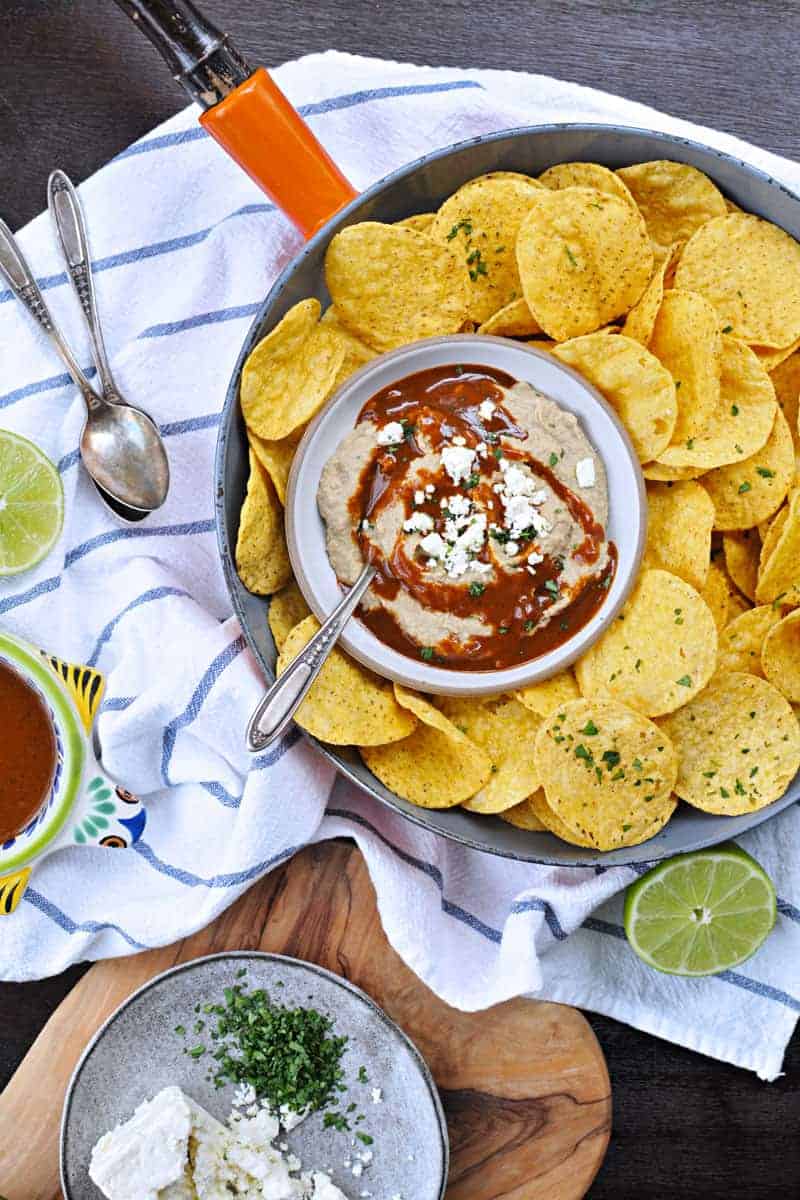 So, late last week, I went into the lab for glucose testing, which is totally de rigueur for preggies, and I think I may have been the biggest sugar wuss in all the land. The test pretty much goes like: fast for 12 hours, give a blood sample. Drink 35 otter pops worth of syrupy orange stuff (feel panicked and jittery and sweaty and ravenous for an hour), give a blood sample. Look at Instagram and drool over every savory item in your feed while pretending you maybe still might not throw up from sugary otter pop cocktail, give a blood sample.
Go home and eat ALL THE CHIPS.
I'm making this roughly 16 times more dramatic than it was, but the gist is that I was completely hyped up on sugar and hangry for pretty much anything but sugar — and the dredges of, like, three bags of chips were calling. And I know always say I'm going to do something clever with those little end bits, like crush them into breading for a chicken breast or something, but who freaking does that?
I was kind. They never even saw it coming.
Etiquette dictates that the next step, after one demolishes maybe nine(teen) tortillas worth of crumbs, is to replenish said chip stash with big, gleaming bags of unbroken beauties. Heaps upon heaps of generously salted, organic corn chips — the round kind, perfect for dipping, if you please.
And then, just for good measure, you should probably treat them all to The Dip of Dips in honor of their fallen brethren. (The Dip of Dips being this hummus, that is.) (Was that not already clear?)
(Boomerang.)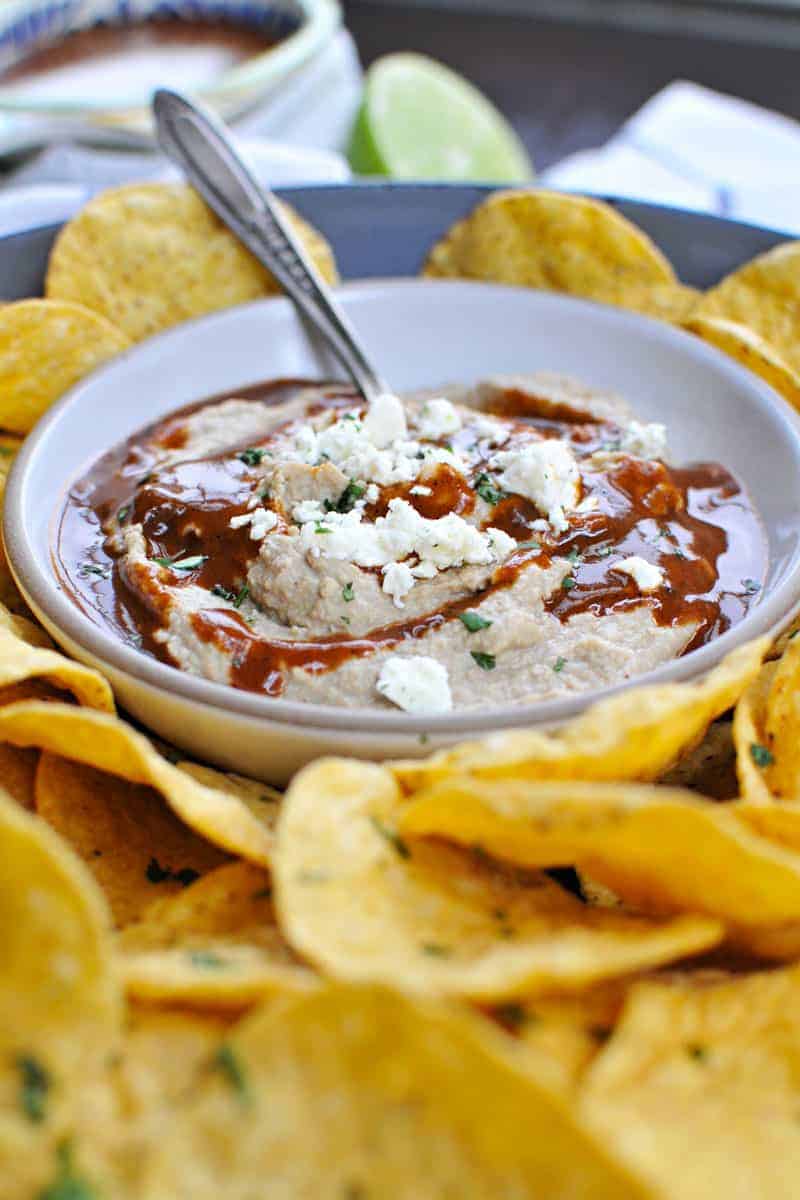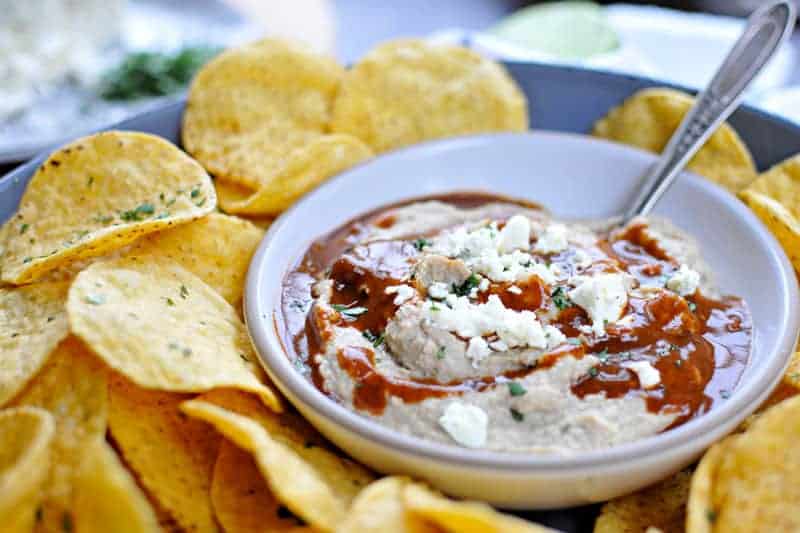 I've noted that this more or less a two-fer recipe because it's made up of two components that are a total game day knockout together but easily enjoyed on their own.
Part 1: a (gluten-free, vegan) toasted walnut hummus that's just a bit richer than the usual but still light and zippy (lime juice!). It's also a great alternative if you find yourself humming for hummus but you're sans tahini. (I can never find my tahini. I'm pretty convinced it ran away with the one lone cherry pepper I know I was saving back in 2013. Assholes.)
Part Deux, then, would be the super simple, savory and endlessly versatile enchilada-style sauce that gets poured over top. Because I make this sauce using the same basic method I employ in our favorite enchilada recipe, it does use flour as a thickening agent — but if there's a great gluten-free flour that you've used to thicken your sauces or rouxs in the past, feel free to try it out! (And then let me know, so I can give 'er a go!) I've made this sauce with chicken and beef stock, but I've also made it with veggie and mushroom varieties, and it always comes out delicious. Choosing one of the latter, of course, will keep the entire recipe vegan, but feel free to use what you've got on hand/works best with your lifestyle.
And as for application, I love this sauce over grilled meats and veggies; mixed in into a little homemade ranch for a southwestern-style dressing; or even added to a pot of stovetop mac & cheese. Or, of course, you could add several generous drizzles to a bowl of hummus and totally turn things on their head(s).
Given the whole concept of this post, I'm feeling pretty strongly about that last one. 😉
Happy game day eating, friends!
May you snack incredibly well until the best team wins.
xo,
Em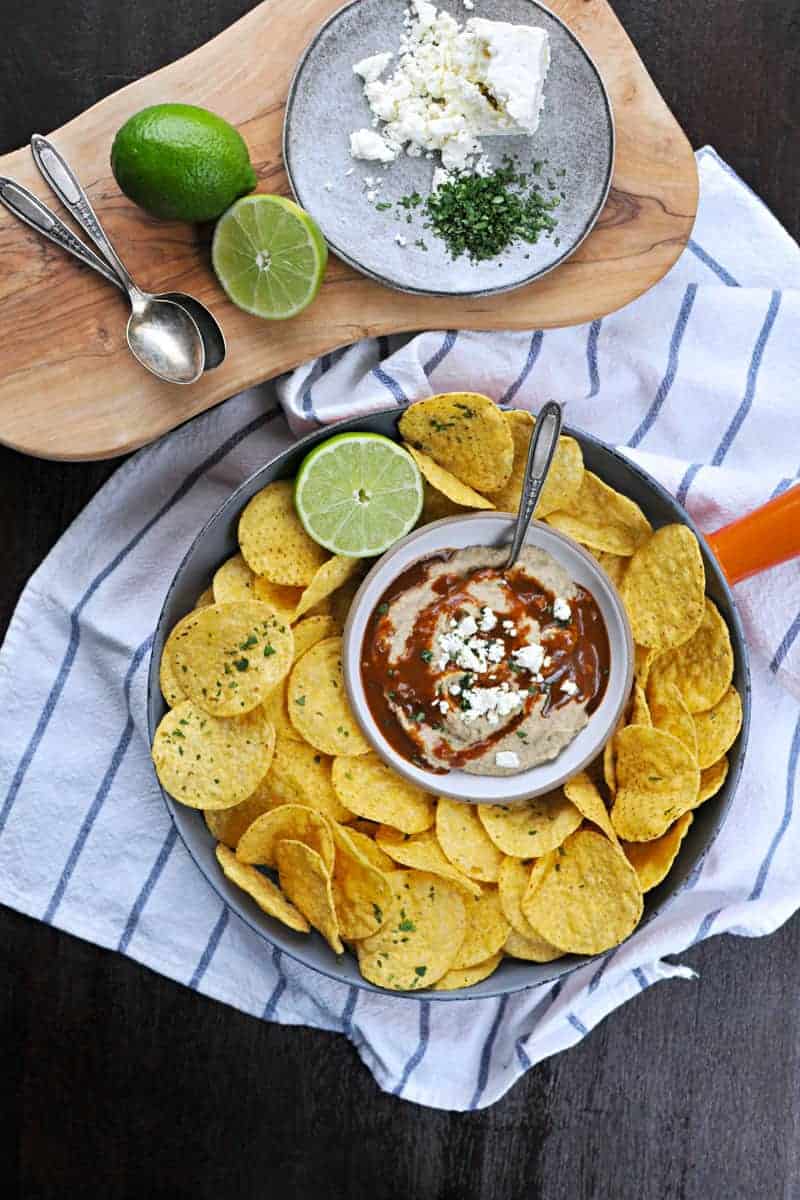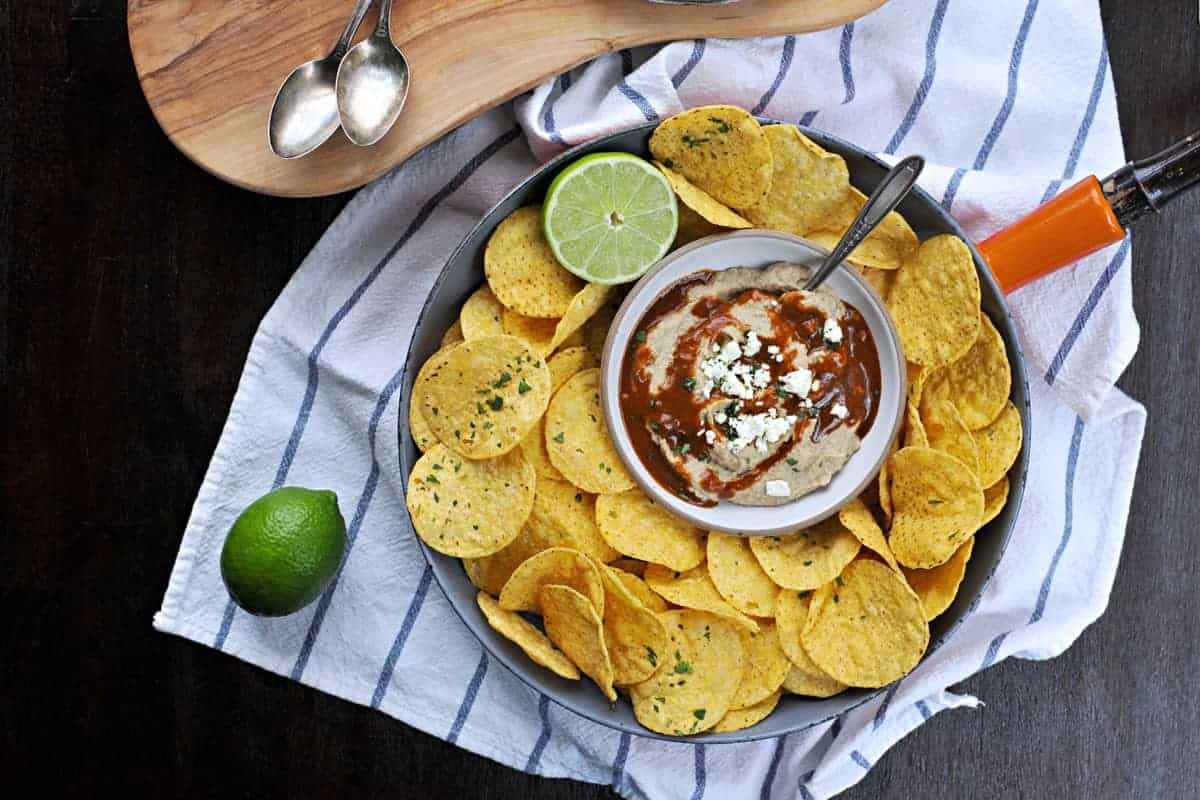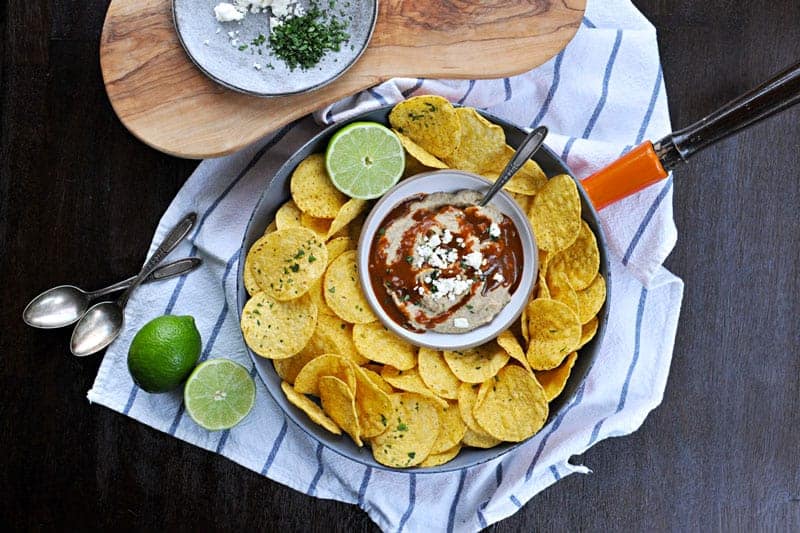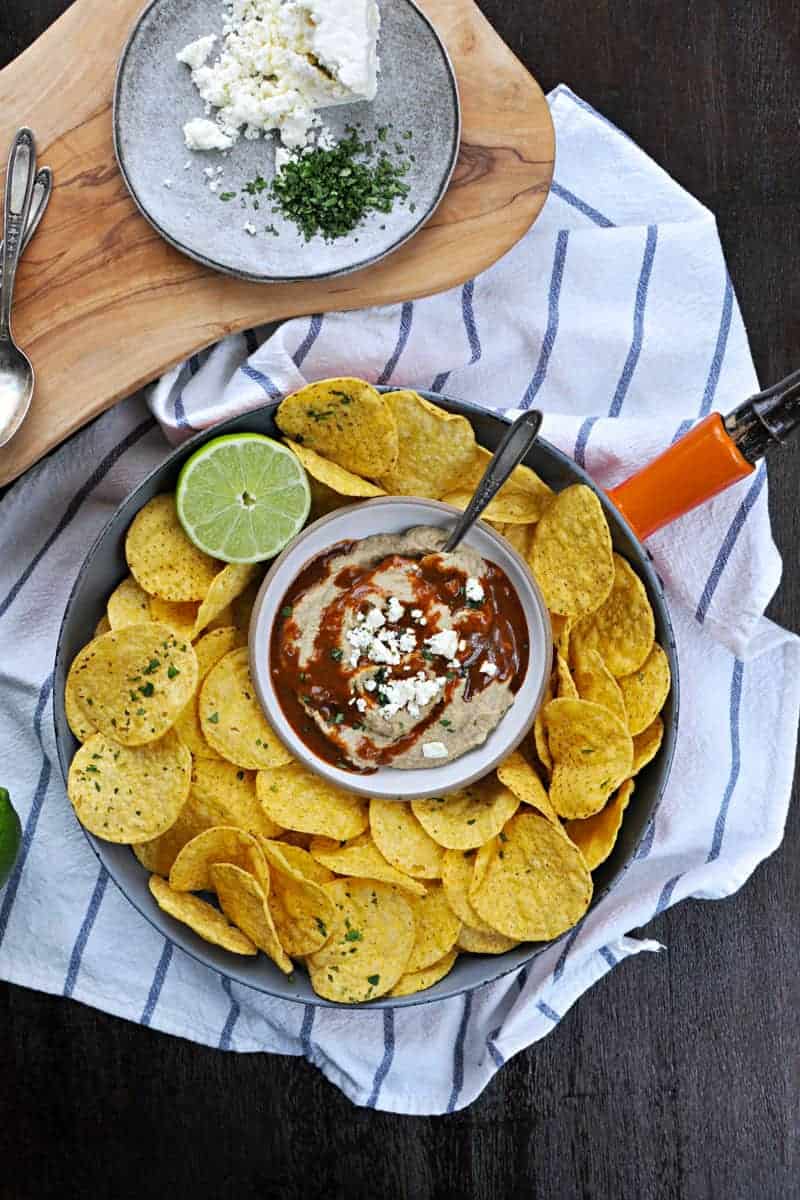 toasted walnut enchilada hummus with cilantro + lime
This is kind of a double recipe: the (gluten-free!) toasted walnut hummus is a delicious alternative to traditional hummus; it's simple enough to be a crowd pleaser while offering a nuttier, more complex profile than the usj. And the enchilada sauce (not gluten-free) is taken almost directly from my favorite
enchilada recipe
, so it's lovely in that interpretation -- or drizzled over grilled meats or veggies, tamales, as a dip for quesadillas or even rolled into meatballs. Together, they make one tasty app that is perfect for crowds, game day, the holidays -- or just plain ol' snackin'.
Makes:
about 4-6 generous servings (plus extra sauce)
Ingredients
For the Enchilada portion
¼ cup neutral cooking oil, such as avocado
2 cloves garlic, minced
1.5 tsp pickling spice, finely ground (see note)
¼ cup chili powder (I've always used Gebhardt)
¼ cup flour
2.5 cups stock (veggie/mushroom/chicken)
For the Hummus portion (gluten-free)
½ cup walnuts, toasted (see note)
¼ cup good extra virgin olive oil
1 large clove garlic, chopped
1 can chickpeas, rinsed and drained
zest of one lime
⅓ cup fresh lime juice
½ tsp sea salt
¼ tsp black pepper
For serving:
chopped cilantro (optional)
crumbled queso fresco or feta cheese (optional; omit if vegan)
tortilla chips, warmed pita, crackers or veggies
Instructions
In a small saucepan, heat neutral cooking oil over medium flame. Add garlic, pickling spices and chili powder and cook until spices are dark, almost nutty and very fragrant, about 30-60 seconds. Add flour and stir well to combine into paste. Cook another 30 seconds or so.

Gradually add stock, whisking to combine. When all stock is added, bring sauce to a simmer and cook, uncovered, 5-10 minutes, or until sauce is thickened to about the texture of a Thanksgiving gravy. Allow to cool slightly while you make your hummus. (Note: a skin may form on the sauce while it cools; this can either be dragged off and discarded or easily stirred back in.)

To make hummus, combine walnuts, garlic and oil in a food processor and blend until nearly smooth.

Add remaining ingredients and process to desired texture. (I like mine as smooth as smooth can be.) Taste and adjust for salt and pepper.

Plate hummus to a shallow bowl and top with enchilada sauce to taste, swirling to combine just slightly. Top with cilantro and cheese, if using, and serve with dippers of your choice. Enjoy!
Notes
Pickling spice can be found in all major grocery stores. While it seems like kind of a speciality ingredient, it boasts the perfect blend of complex, savory flavors that round out this otherwise simple sauce. (The
blend I use
includes cinnamon, allspice, mustard seed, coriander, bay, ginger, chilies, clove, black pepper, mace and cardamom.) You can grind the spices by hand using a mortar and pestle or molcajete, but I've found an electric spice grinder works best, particularly on the barkier bits. (Wondering what to do with the rest of your pickling spices? I love adding a tablespoon of whole spices to a solution of sugar, salt and water to brine pork chops or chicken before grilling or roasting!)
To toast walnuts: spread walnuts in a single layer on rimmed baking sheet and bake at 350F until toasty and fragrant, about 5-7 mins, keeping an eye on them. Alternatively, toast them in a single layer in a dry saute pan over med to med-high heat, tossing frequently.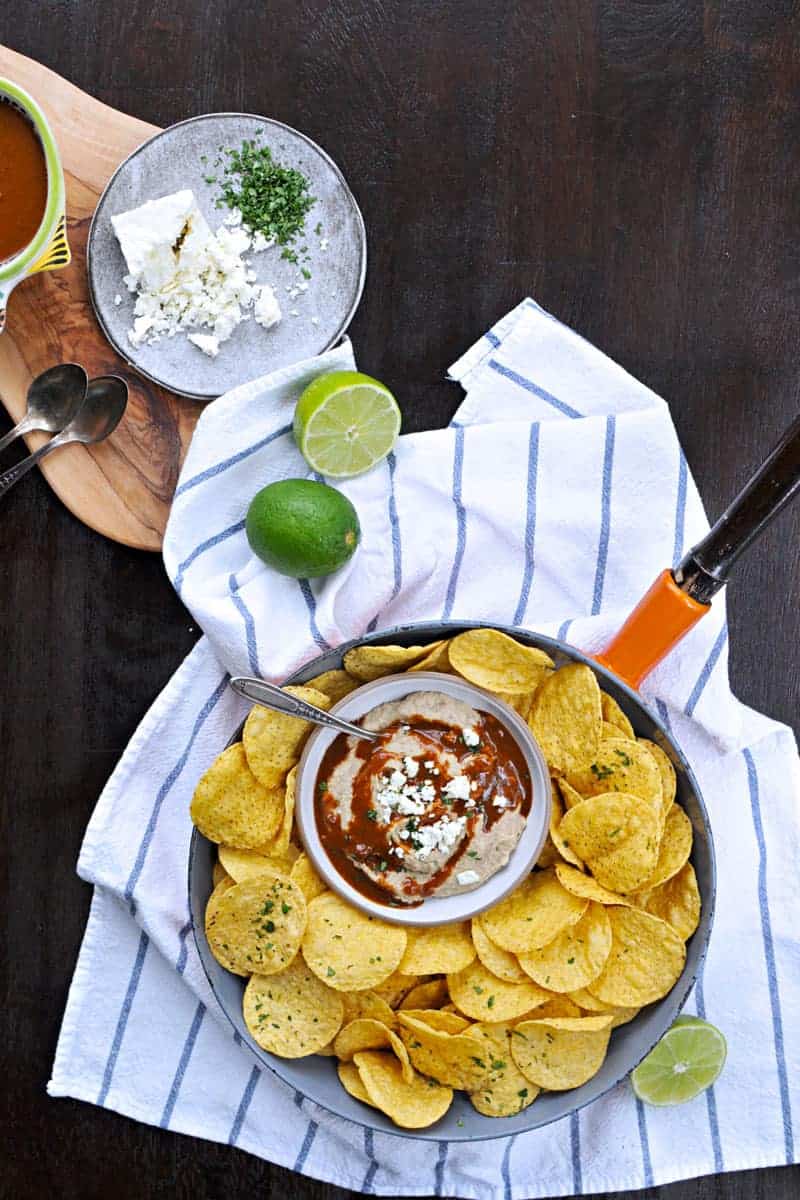 ————————————————–
OH! before you go…
Like whatcha see here — or have a question, feedback, or recipe hack to share? Join The Pig & Quill convo by commenting below (I love, luv, lurve comments) and hang out with me on Facebook, Twitter, Instagram and Pinterest. And don't forget to subscribe to P&Q emails or add me to your RSS reader with Feedly or Bloglovin' so you never miss a post. x's & o's!