Easy Weeknight Black Bean Soup – a hearty, flavorful + surprisingly vegan black bean soup. Sweet, smoky and completely satisfying.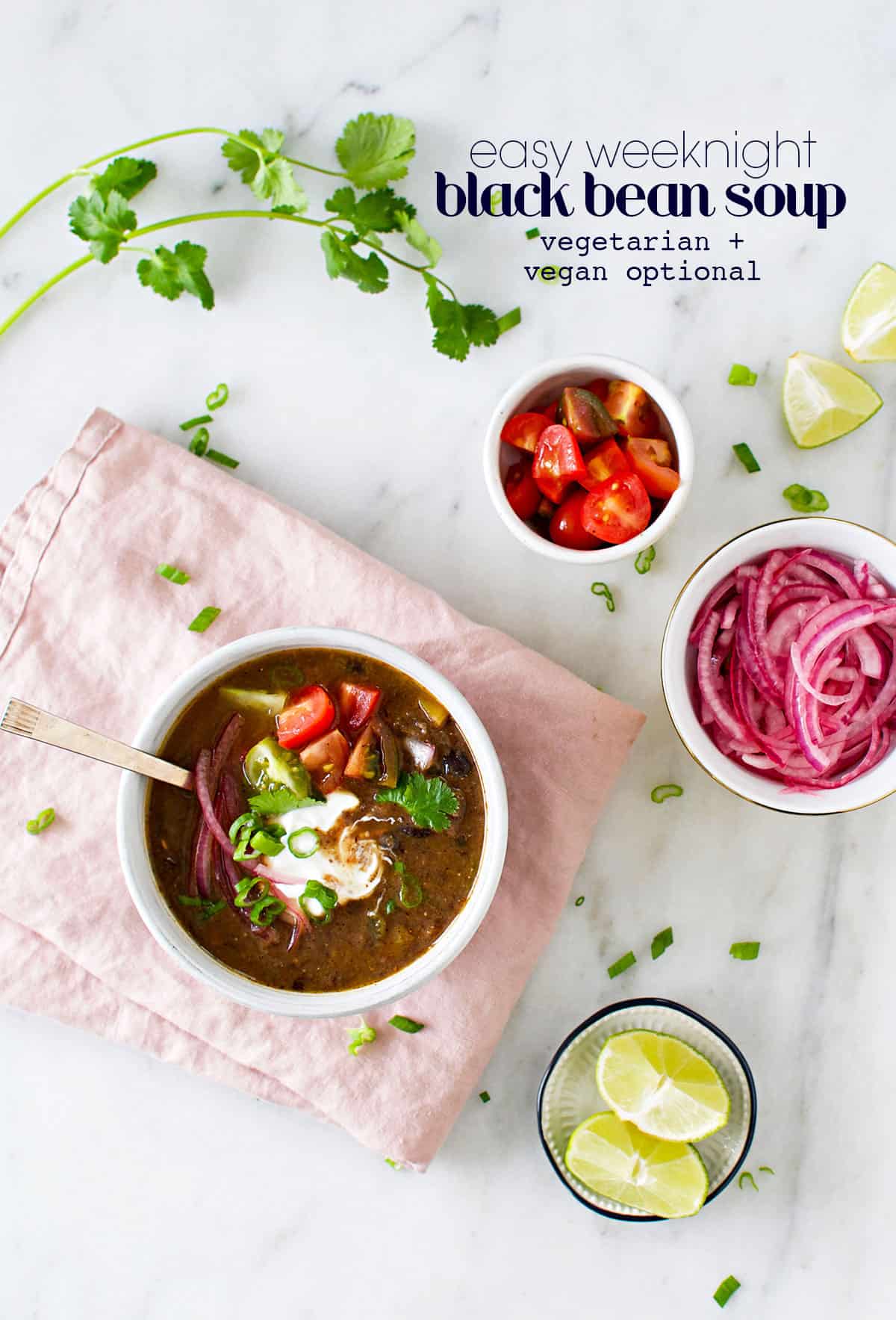 Hi friends! Popping in quickly to direct you to the recipe for one of my favorite soups of the season: an easy, vegan black soup that is so loaded with flavor yet deliriously simple to prepare.
This Easy Weeknight Black Bean Soup was inspired by one of the first black bean soups I ever made, back when I was home from college for the holidays and had not a care in the world but poring over cookbooks (Nigella was having a big, domestic goddess moment) and gleefully living out my own secret crush to the soundtrack of Usher's U Got it Bad. Life was indulgently easy, and this soup was a reflection of that: rich and sumptuous and fortified with the drippings of — wait for it — a Coca Cola-glazed ham. It was slow-cooked for hours, sweet and savory, with such depth of flavor. I remember dipping my spoon back into the pot over and over, drunk on the potent liquor of those smoky, syrupy beans, always checking the clock. And at the end of the day,  we supped on a soup fit for the gods. It was so, so good.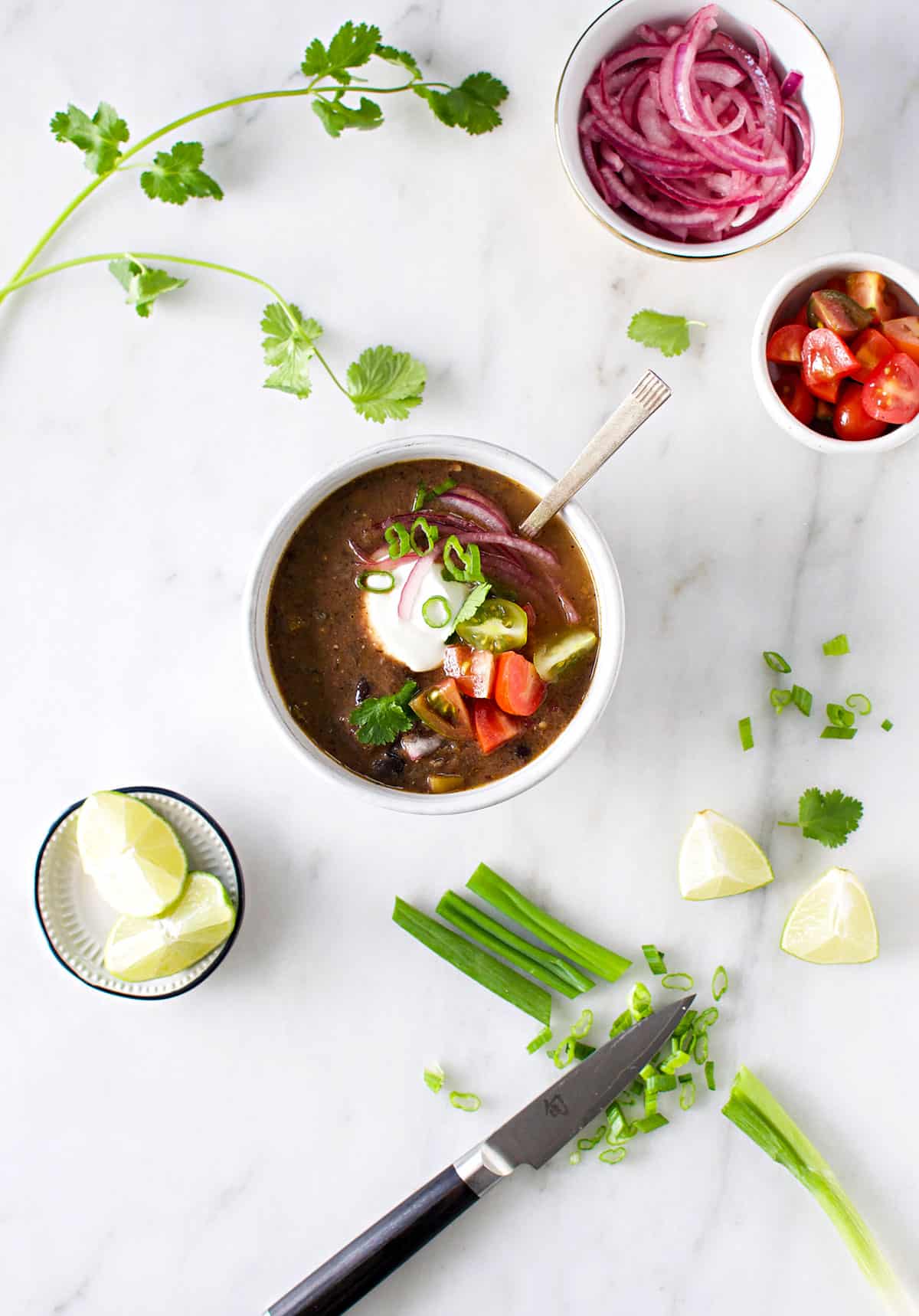 Fortunately, this Easy Weeknight Black Bean Soup is far simpler — and doesn't take anywhere near a day to prepare (more like 30ish mins – yay!). And lucky for you, I'm sharing the full recipe as my first post for Nosh & Nourish today!
If you follow me on Instagram or subscribe to *new!* The Pig & Quill Digest (shameless plug to sign up HERE — there's a fresh edition going out later this week!), you already know that I recently joined #TeamNosh, a group of wildly talented female content creators brought together by Kelly of Nosh & Nourish. This soup is just the first of a series of colorful, family-friendly recipes I'll be developing for the site this year. Check out #TeamNosh on Instagram for loads of colorful dinner ideas, lunchbox inspiration and more.
Get the recipe for this Easy Weeknight Black Bean Soup.
Like the sound of this Easy Weeknight Black Bean Soup?
Be sure to check out:
xo!
Em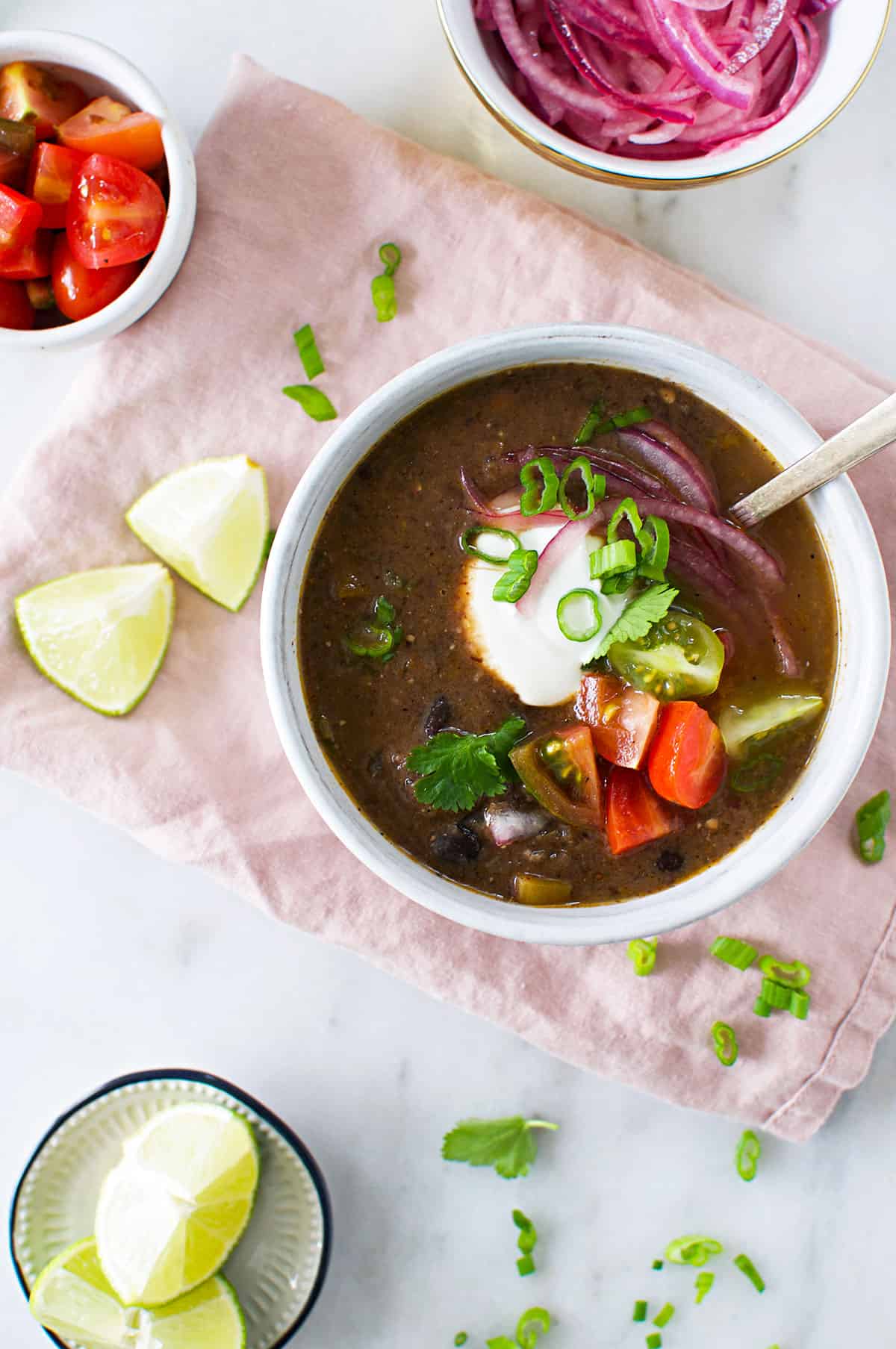 ————————————————–
OH! before you go…
Like whatcha see here — or have a question, feedback, or recipe hack to share? Join The Pig & Quill convo by commenting below and hanging out with me on Facebook, Twitter, Instagram and Pinterest. And don't forget to subscribe to P&Q emails or add me to your RSS reader with Feedly or Bloglovin' so you never miss a post. x's & o's!