White Chocolate Pistachio Cookie Crisps – these gluten-free white chocolate cookies are thin and impossibly crunchy, studded with tiny caramel bits and lots of salty pistachios. They're positively addictive (and conveniently egg-free).
Hey guys – Quick housekeeping note! If you've been missing my emailed posts, they're soon to be back and better than ever. Not yet signed up to receive The Pig & Quill emails? Subscribe here and receive fresh, seasonal recipe ideas — and more of those notorious salty scribblings — every week(ish)!
Happy new year, friends! I can't believe it's taken me this long to post something new in 2019, but I promise you, these gluten-free white chocolate cookies are worth the wait.
We spent the last three weeks of 2018 together as a family, and it was such a nice respite from the daily grind. Admittedly, my day-to-day didn't change much, but having Chris off work perked Lana right up. We spent a little time visiting our parents at their homes, but the biggest treat, by far, was getting to spend the actual Christmas holiday at our own home with everyone under one roof. We tucked into a traditional tamale dinner on Christmas Eve, a big breakfast of smoked brisket hash + homemade biscuits on Christmas morning — and a decadent bolognese (featuring bacon and Italian sausage) for Christmas dinner. With garlic knots made by Momma Stoffel on the side, of course, because no one half-asses anything at the holidays.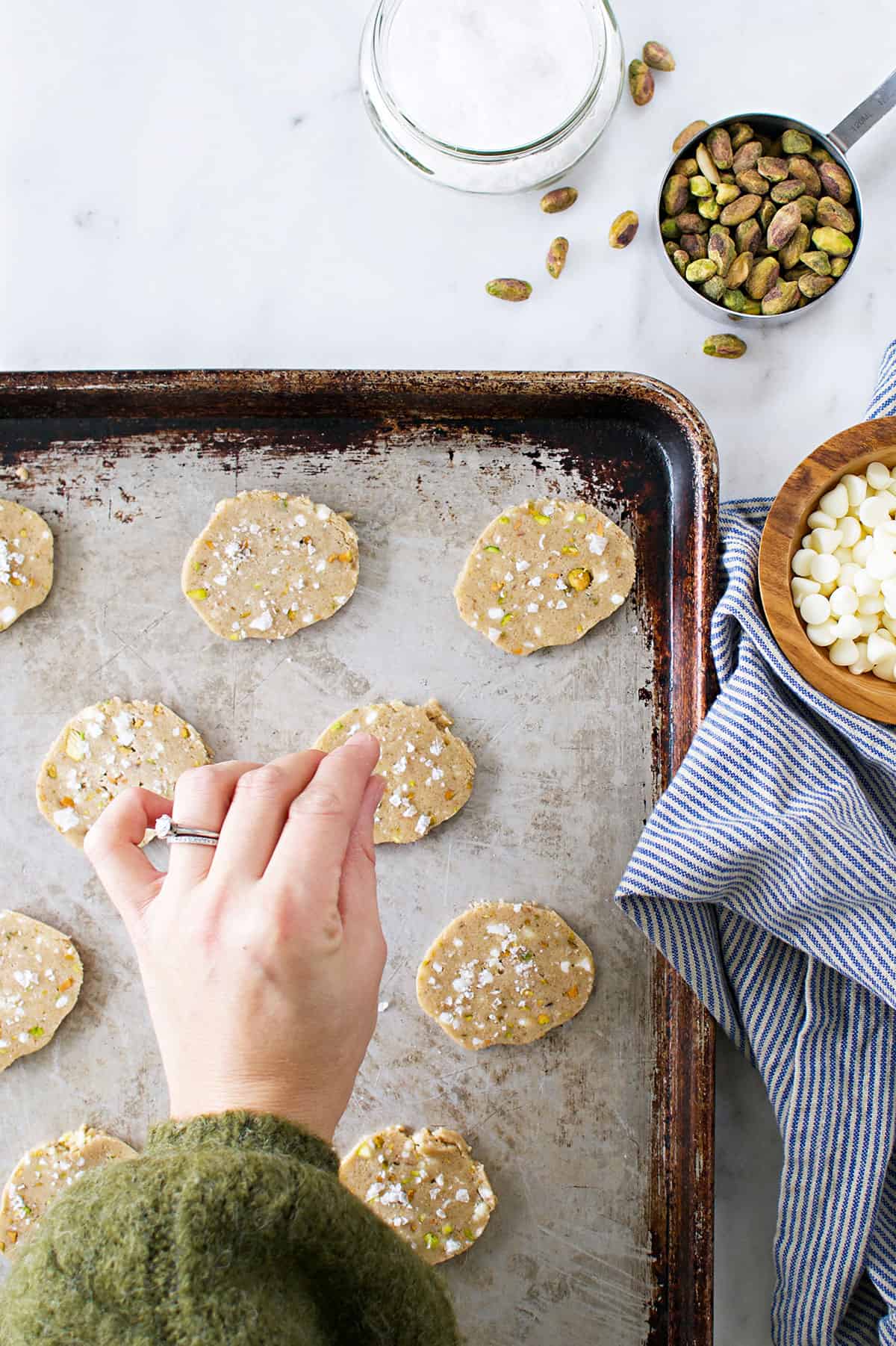 We rang in the New Year with dear family friends, munching on platters of smoked salmon and stinky cheese while homemade pizzas (pepperoni, caramelized onion + basil, if you must know) bubbled their way to crisp, blistered perfection in the oven. And on New Year's Day, the brisk coastal wind died down and gave way to a beach day so calm and spectacularly sun-streaked that you would have sworn the Half Moon Bay Visitor's Bureau was in bed with the weather gods. (If today's torrential rain is any indication, they have since called things off.)
And now, here we are: already more than 2 weeks into the New Year — and *gulp* — five whole days into the 21-day cleanse that Chris and I are in the midst of: the Clean Program. (Or couldn't you tell by the unnecessary recap of holiday gluttony, above?) I'm covering the cleanse in detail on Instagram — there's a whole highlight reel in Stories dedicated to CLEAN, complete with smoothie recipes, inspired meal ideas and FAQs — and I'm sure I'll be back with a post recapping our experience soon. But let's face it: it'd be a dick move for me to withhold these gluten-free white chocolate cookies from you for any longer than necessary just because my mouth is a no parking zone. I might be a tad cranky, but I'm no monster.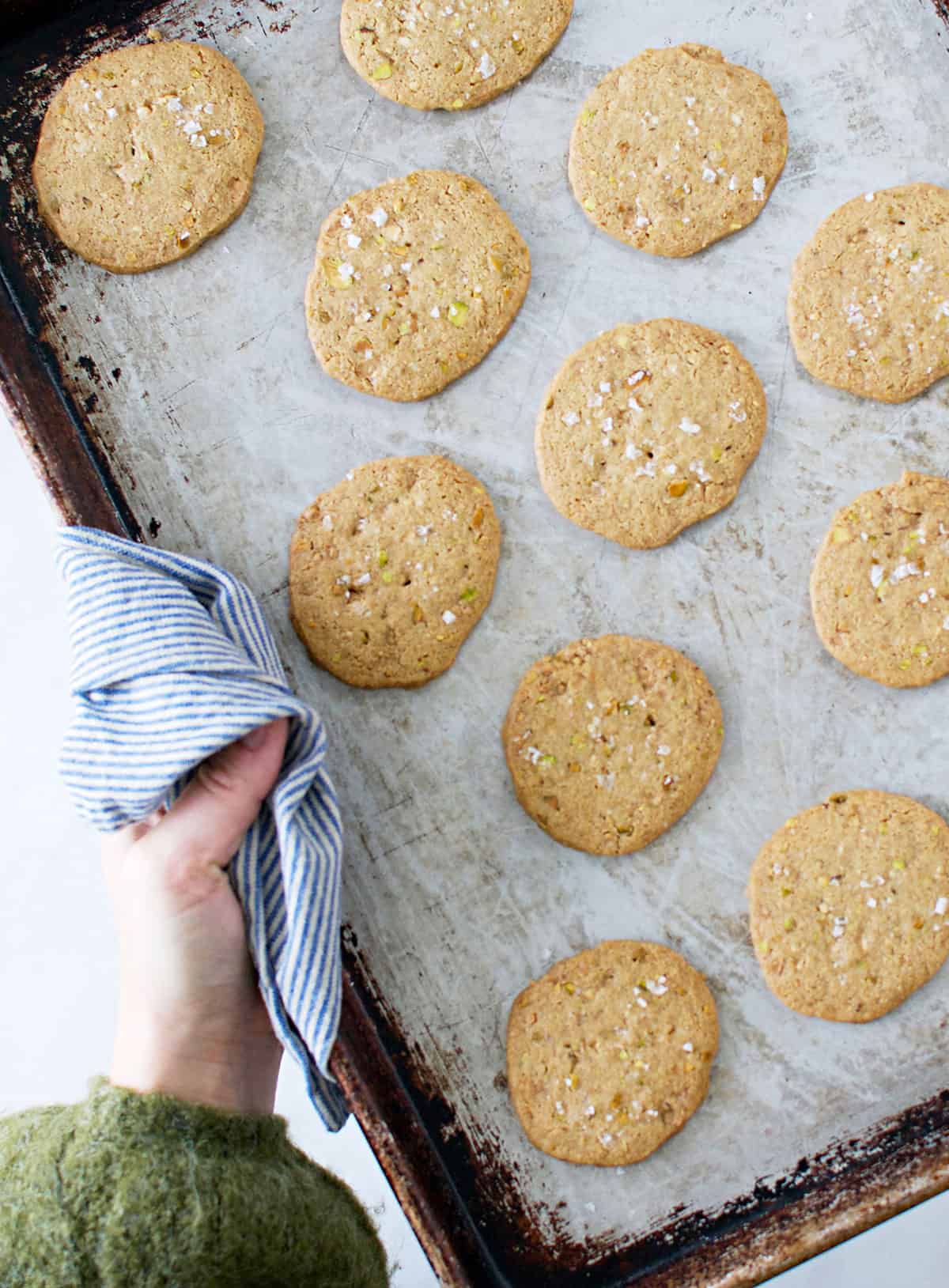 So with that, I give you: Gluten-Free White Chocolate Pistachio Cookie Crisps, a very close cousin of these (vegan, gluten-free) Chocolate Chip Cookie Crisps and perhaps the tastiest, most craveable cookie ever to come out of this kitchen.
the best gluten-free white chocolate cookies
If you're a fan of those store-bought gluten-free cookie crisps (the ones that come in a bag, typically adjacent to something called "brownie brittle" that is another beloved beast unto itself) or Tate's brand gluten-free crunchy cookies, then these cookie crisps are for you. They're undeniably crunchy, with a deep toffee flavor and are generously flecked with bits of caramelized white chocolate and salty, chopped pistachios. Snacky, buttery* and so, so addictive.
So. Do me a favor make these guys as fast as is humanly possible. Whether or not you want to leave me a voicemail describing the exact experience of eating them is up to you. Sixteen days left on this cleanse, is all I'm saying. And then I'll be chubby-bunnying cookies like there's no tomorrow.
xo,
Em
*yet, ironically, butter-less!
Love these White Chocolate Pistachio Cookie Crisps?
Be sure to check out:
Oh, and if you're loving the idea of a gluten-free riff on another favorite cookie, my girl Sarah's gluten-free Oreos can't be beat!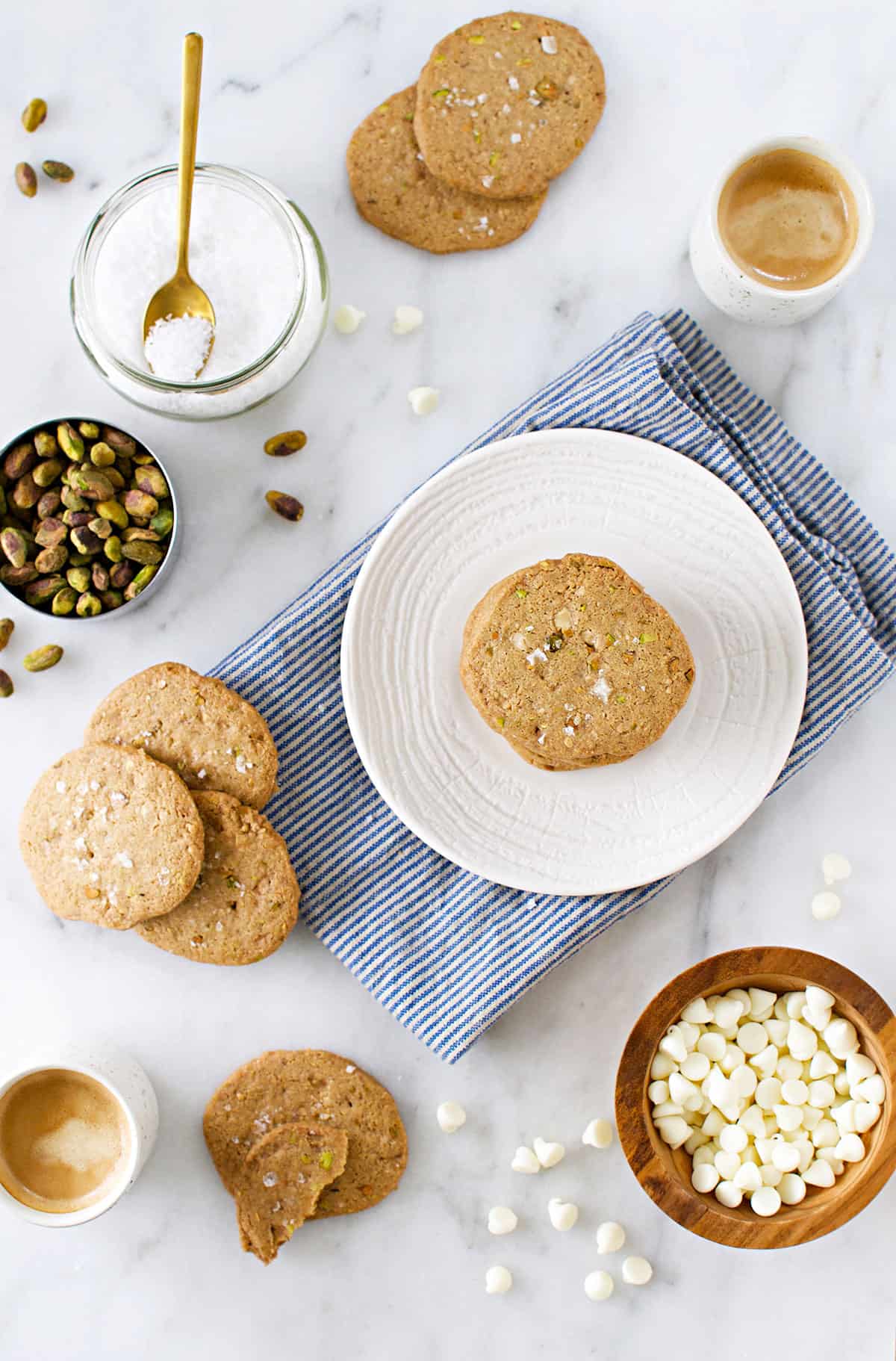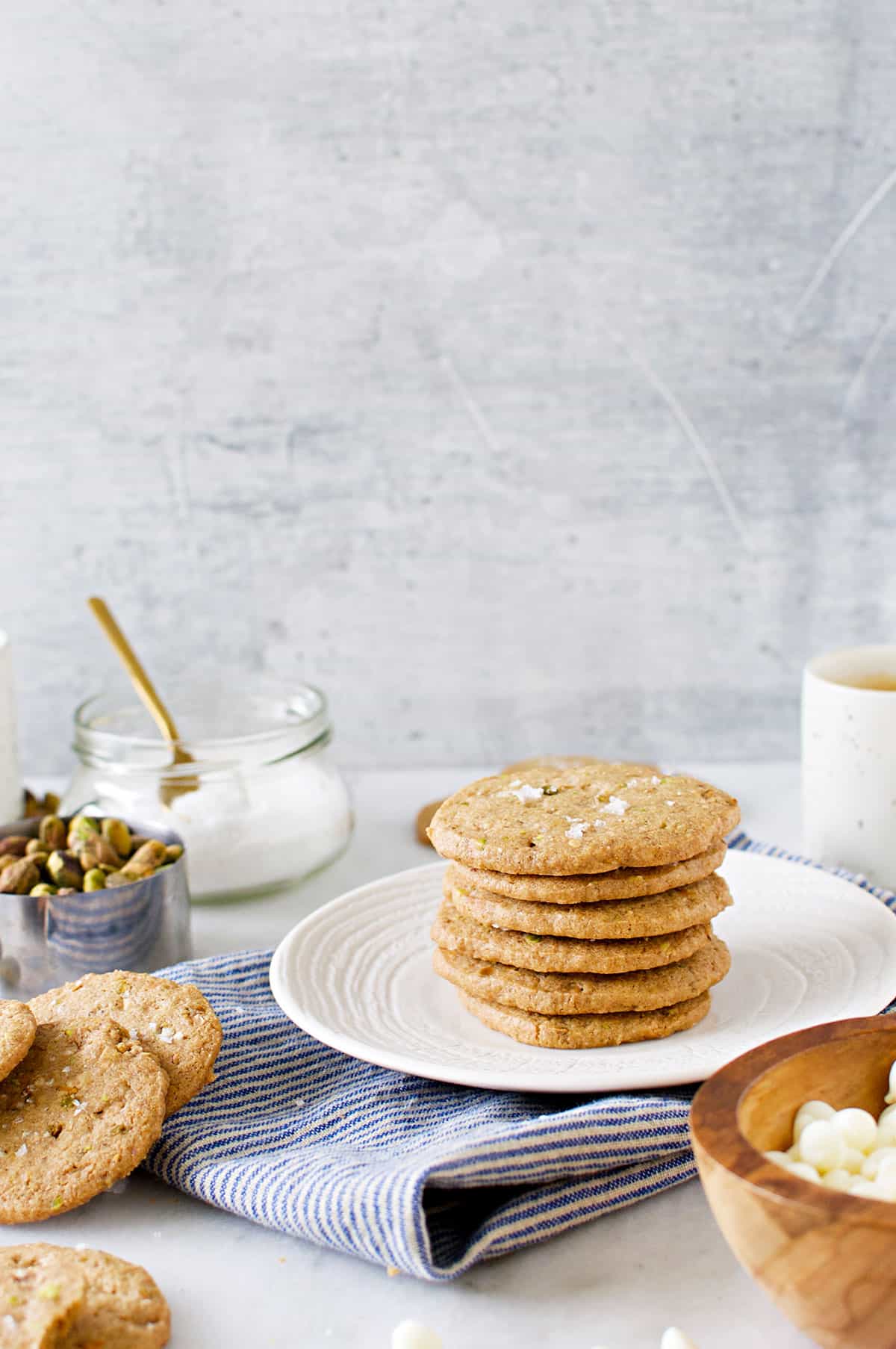 White Chocolate Pistachio Cookie Crisps (Gluten-Free/Egg-Free)
Ingredients
½ cup white sugar
½ cup brown sugar
¼ cup + 1 T avocado (or other neutral) oil
¼ cup olive oil
¼ cup water
3 T Mexican vanilla (yes, tablespoons)
2 cups 1-for-1 gluten-free flour (I use this one)
1 tsp baking powder
¾ tsp baking soda
1½ tsp salt
½ cup white chocolate chips, finely chopped (see note)
½ cup roasted, salted pistachios, finely chopped (see note)
sea salt, for sprinkling (optional)
Instructions
Combine white and brown sugar, oils and water in the bowl of a stand mixer and whisk on medium until sugar is almost fully dissolved, 7-10 mins. (If you rub the mixture between your fingers, just a few granules should remain.) Add vanilla and mix to combine.
Meanwhile, whisk together flour, baking powder, baking soda and salt in another bowl. Finely chop both white chocolate chips and pistachios into bits (this is key - do not skip or it will make slicing the cookies a far more challenging affair later) and add to dry ingredients, stirring to combine.
When liquids are mixed, dump in dry ingredients all at once and mix (with paddle attachment or wooden spoon) until just combined. Dough will be almost a batter consistency.
Refrigerate dough, covered (either in the mixing bowl or transfer to another container) until firm enough to handle, at least 4 hours or up to several days.
Once dough is set, score into two even portions. Turn each half out onto a large piece of plastic wrap or parchment paper and roll into a 2"(ish) diameter log, using the wrap or parchment to help you and, finally, twisting the ends of the wrap or parchment until very snug. Freeze dough until very firm, at least several hours or overnight.
When ready to bake: position racks in upper and lower thirds of the oven and preheat oven to 350F. Just before baking, remove dough from freezer, unwrap, and thinly slice into approximately ¼"-1/3" cookies. Transfer each cookie slice immediately to baking sheet, leaving at least 1" between. Sprinkle lightly with flaky sea salt, if using.
Bake cookies for 8 mins on the lower rack, then swap and bake for an additional 8 mins on the upper rack, until evenly golden brown. Allow to cool 5 mins before transferring to a cooling rack to cool completely. Enjoy!
Notes
Regarding timing: cook time does not include time required to chill and then freeze the dough. For best results, give yourself about a 24 hr lead time before you need these cookies to be ready to rock.
Regarding the chopped white chocolate + pistachios: I find the simplest way to do this is with a mini food processor. Chop the white chocolate chips and the pistachios separately, pulsing until just finely chopped. Alternatively, finely chop both ingredients with a sharp knife.
————————————————–
OH! before you go…
Like whatcha see here — or have a question, feedback, or recipe hack to share? Join The Pig & Quill convo by commenting below and hanging out with me on Facebook, Twitter, Instagram and Pinterest. And don't forget to subscribe to P&Q emails or add me to your RSS reader with Feedly or Bloglovin' so you never miss a post. x's & o's!