Let me just say: I let my kid watch an irresponsible amount of Boss Baby so I could get this post pushed out to you guys today. Bad parenting in the name of really, really excellent cookies.
These cookies came about (like most good things) mostly unintentionally. A late-night craving for our favorite (Accidentally) Vegan Chocolate Chip Cookies, a pantry short on AP flour and brown sugar. We'll make do, I figured. Some cookies are better than no cookies.
And while I still maintain that to be true, the resulting cookies were…not ideal. Thick and doughy, and with all white sugar in place of the missing brown, they never melted down into the crisply edged, chewy-centered beauties for which I longed. They were strangely domed and suspiciously pale. They lived in a container on the counter for a few days (you don't have to ask if I was still eating them, because…me), until I felt compelled to redeem them with another trip to the oven. If biscotti can do it, I figured.
So into the oven went a tray of strangely-shaped, nearly-stale cookies. And out came a tray of (still) strangely-shaped but gloriously crisp and golden babes. Because of the tall shape, they were disastrously difficult to eat — crunchy and crumbly and totally inappropriate for couch snacking. But I couldn't shake the feeling that, in a thinner format, they'd be positively addictive. Think the caramelized, snappy texture of Tate's with the snackability of those bagged "cookie chips" that seem to be sold at airports and almost nowhere else.
A little tinkering, and: DING DING DING!
Just like the cookies that initially inspired this recipe, the dough for these guys comes together in 10 minutes (most of the work is accomplished by a stand mixer, if you've got one) and chills in the fridge — but then, it's shaped into a neat little log and frozen for precise slicing just before baking. It's as simple as can be, but it does require about a day's forethought. (Oh, and I should note that there's no place for twice-baking here. A single bake for slightly longer than seems appropriate will do the trick.)
Thin, shatteringly crisp, flecked through with chocolate and (I promise you on this front) only coincidentally vegan and gluten-free. Try them for yourselves, and then decide whether or not to call CPS.
xo,
Em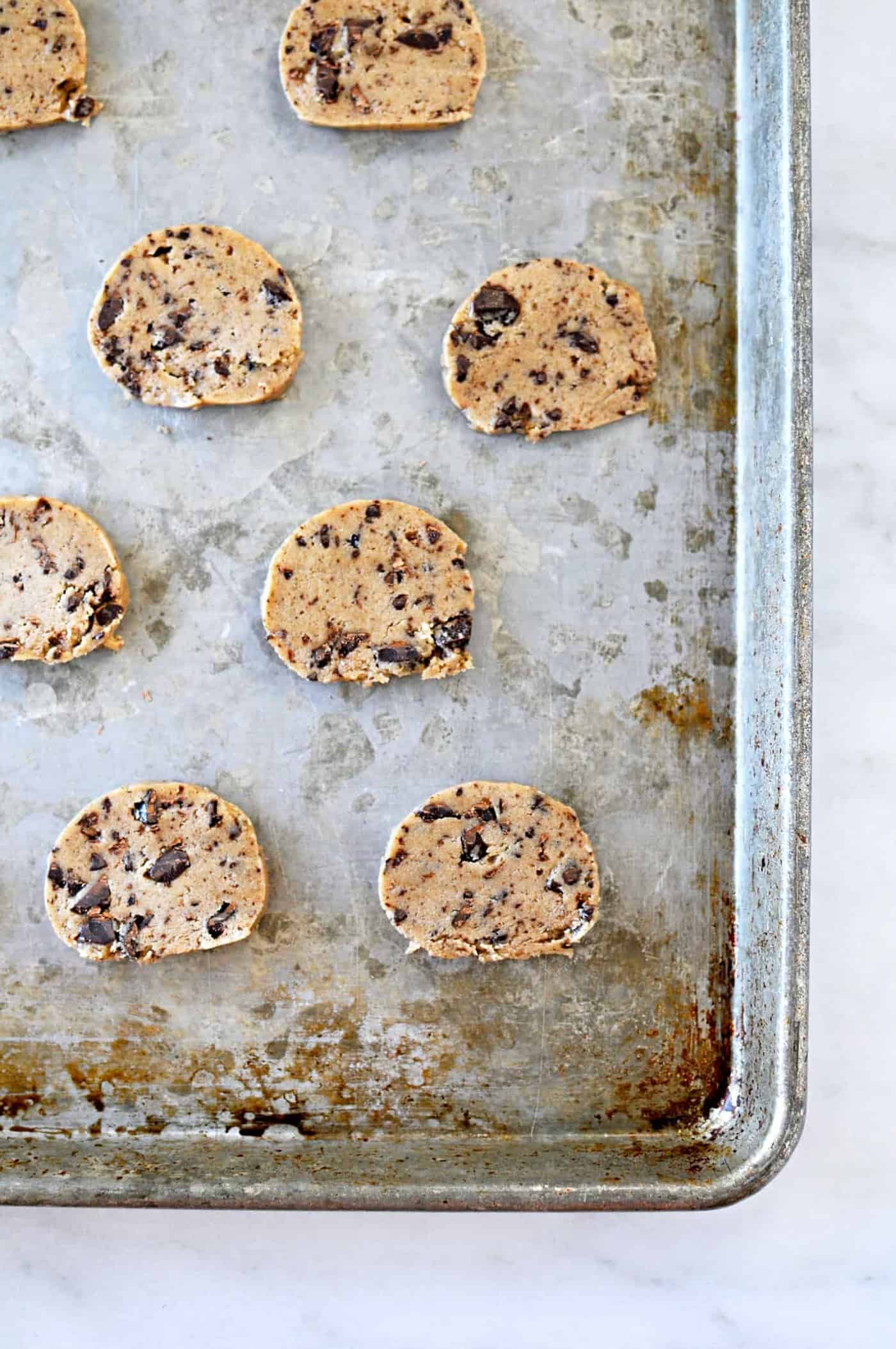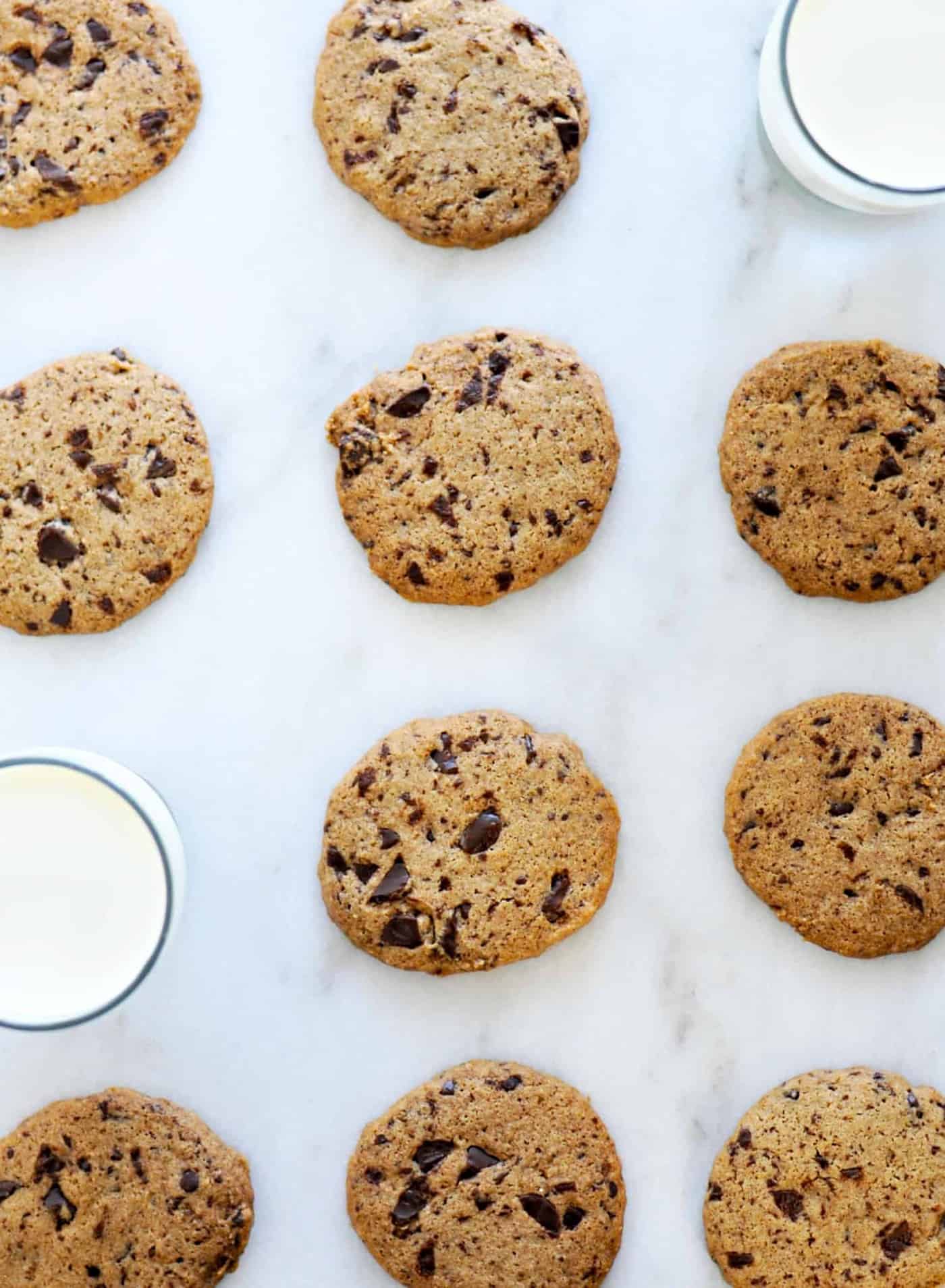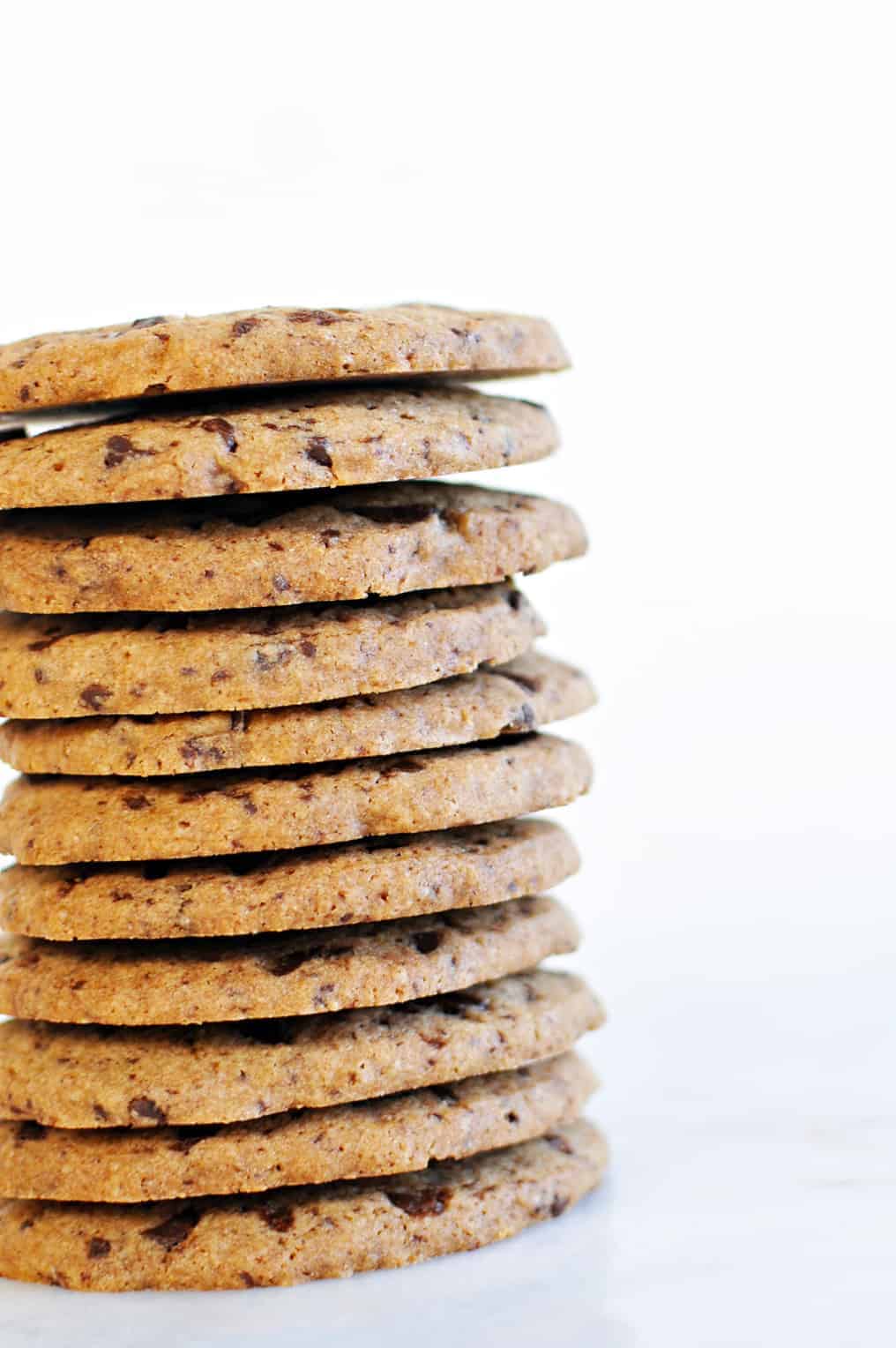 Chocolate Chip Cookie Crisps / Vegan + Gluten-Free
Ingredients
1 cup sugar
¼ cup + 1 T avocado (or other neutral) oil
¼ cup olive oil
¼ cup water
3 T Mexican vanilla (yes, tablespoons)
2 cups 1-for-1 gluten-free flour (I use this one)
1 tsp baking powder
¾ tsp baking soda
1 tsp salt
¾ cup dark or semi-sweet chocolate chips (dairy-free if you intend to keep the cookies vegan)
Instructions
Combine sugar, oils and water in the bowl of a stand mixer and whisk on medium until sugar is almost fully dissolved, 7-10 mins. (If you rub the mixture between your fingers, just a few granules should remain.) Add vanilla and mix to combine.
Meanwhile, whisk together flour, baking powder, baking soda and salt in another bowl. Finely chop chocolate chips into shards (this is key - do not skip or it will make slicing the cookies a far more challenging affair later) and add to dry ingredients, stirring to combine.
When liquids are mixed, dump in dry ingredients all at once and mix (with paddle attachment or wooden spoon) until just combined. Dough will be almost a batter consistency.
Refrigerate dough, covered (either in the mixing bowl or transfer to another container) until firm enough to handle, at least 8 hours or up to several days.
Once dough is set, score into two even portions. Turn each half out onto a large piece of plastic wrap or parchment paper and roll into a 2"(ish) diameter log, using the wrap or parchment to help you and, finally, twisting the ends of the wrap or parchment until very snug. Freeze dough until very firm, at least several hours or overnight.
When ready to bake: position racks in upper and lower thirds of the oven and preheat oven to 350F. Just before baking, remove dough from freezer, unwrap, and thinly slice into approximately ¼"-1/3" cookies. Transfer each cookie slice immediately to baking sheet, leaving at least 1" between.
Bake cookies for 10 mins on the lower rack, then swap and bake for an additional 10 mins on the upper rack, until evenly golden brown. Allow to cool 5 mins before transferring to a cooling rack to cool completely. Enjoy!
Notes
Cooking time does not include time required to chill and then freeze the dough. For best results, give yourself about a 24 hr lead time before you need these cookies to be ready to rock. 😉
————————————————–
OH! before you go…
Like whatcha see here — or have a question, feedback, or recipe hack to share? Join The Pig & Quill convo by commenting below and hanging out with me on Facebook, Twitter, Instagram and Pinterest. And don't forget to subscribe to P&Q emails or add me to your RSS reader with Feedly or Bloglovin' so you never miss a post. x's & o's!