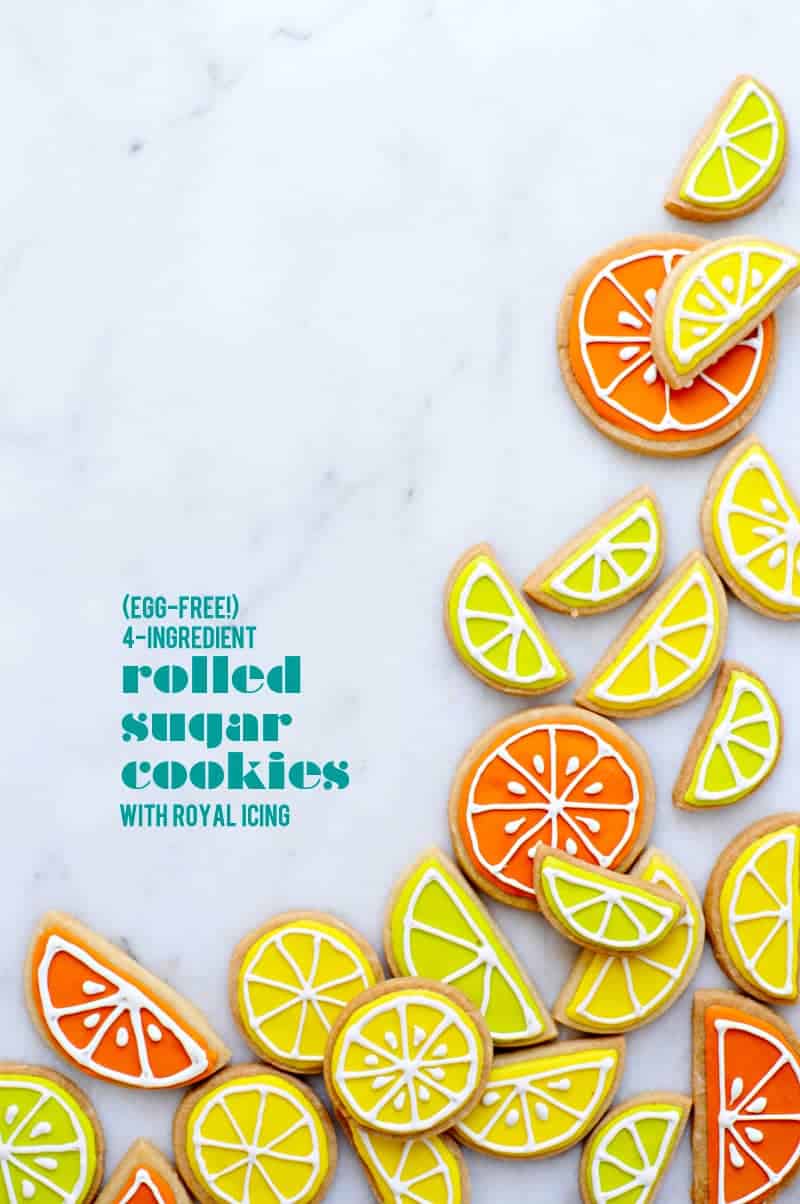 Thank you Bob's Red Mill for sponsoring this post. Create a care package for a loved one today and don't forget to include some baked goods made with Bob's Red Mill products. To save $1 on any Bob's Red Mill product, click here.
When I left Ohio to move back to California seven years ago, I was mostly elated. I had just spent (what I then thought were) the toughest months of my life living alone in a cornfield-adjacent condo, holding down our Midwestern fort while Chris established a shiny new career 2500 miles away. Without the funds to pay both rent and a mortgage on one salary, I needed to either sell our home in Ohio or secure a job in the Bay Area before I could join him. But despite my best efforts, neither happened. For almost six months. Oh, and did I mention that three months into it, we got married? We tied the knot in wine country on a Saturday, and by Tuesday my fellow Group A passengers and I were boarding a plane for The Buckeye State — and an existence largely characterized by my collection of frozen yogurt spoons and Pottery Barn catalogs. It was tricky. And for a lot of it, I was sad.
During this time, the two things that perked me up considerably were care packages of carefully bubble-wrapped sugar cookies from my mom – and the constant presence of my Ohio soul sister, Amanda. The sugar cookies were always the latest seasonally decorated offering from my favorite hometown sweet shop, Freeport Bakery. And Amanda was everything a lonely newlywed could ask for in a friend.
A nearly constant confidant (whether she liked it or not, as we worked maybe 4 feet from each other five days a week).
The most spectacular slumber partier (I indulged her worship of young Johnny Depp, she my obsession with Peanut Buster Parfaits).
And superbly tolerant of my foul mouth and fouler puns (I have nothing to add here that you don't already know).
So when Chris and I finally settled on a plan to move me back to California, my anticipation quickly turned bittersweet. My time in Ohio forced an almost instant appreciation for everything I had taken for granted back home — but it also forged one of those instant, playground kinships that are so rare to find as adults.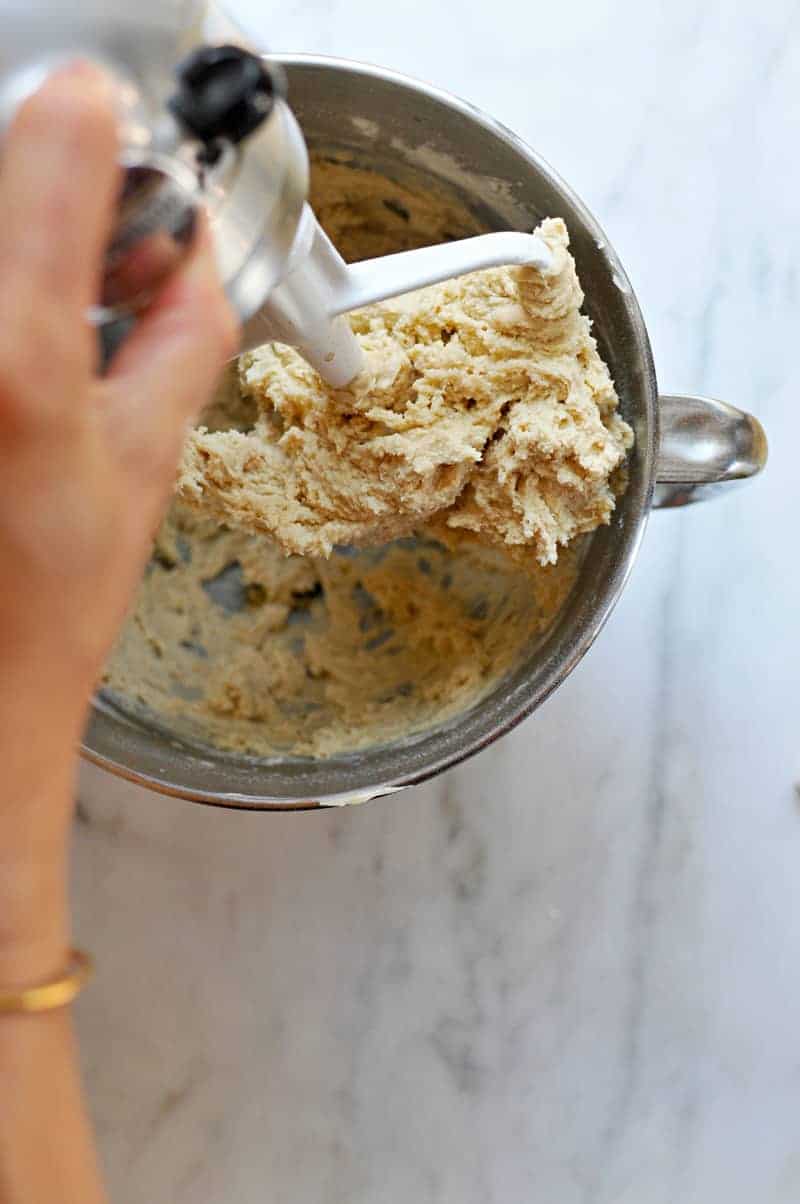 Almost as soon as my feet hit West Coast soil, Amanda and I created a tradition of exchanging care packages several times a year. They started a little clunky and sparse – as evidenced by the occasional artisanal jam casualty – but almost 40 care packages later, there aren't enough that's what she said jokes in the world to keep up with our box-stuffing prowess. (See also: Nice Package.)
Unsurprisingly, Amanda was among the first (of many!) friends to book a flight out as soon as we learned I'd be going through chemo. And again at its conclusion. So for her most recent care package – which is uncharacteristically overdue thanks to treatment, preschool, and prepping for the massive family road trip that is happening as we speak (I am literally writing this at our rented RV dinette, less than a mile from Disneyland, at this very moment) — I wanted to pull out the biggest proverbial guns in my arsenal.
I threw caution to the wind.
And I baked.
(I KNOW.)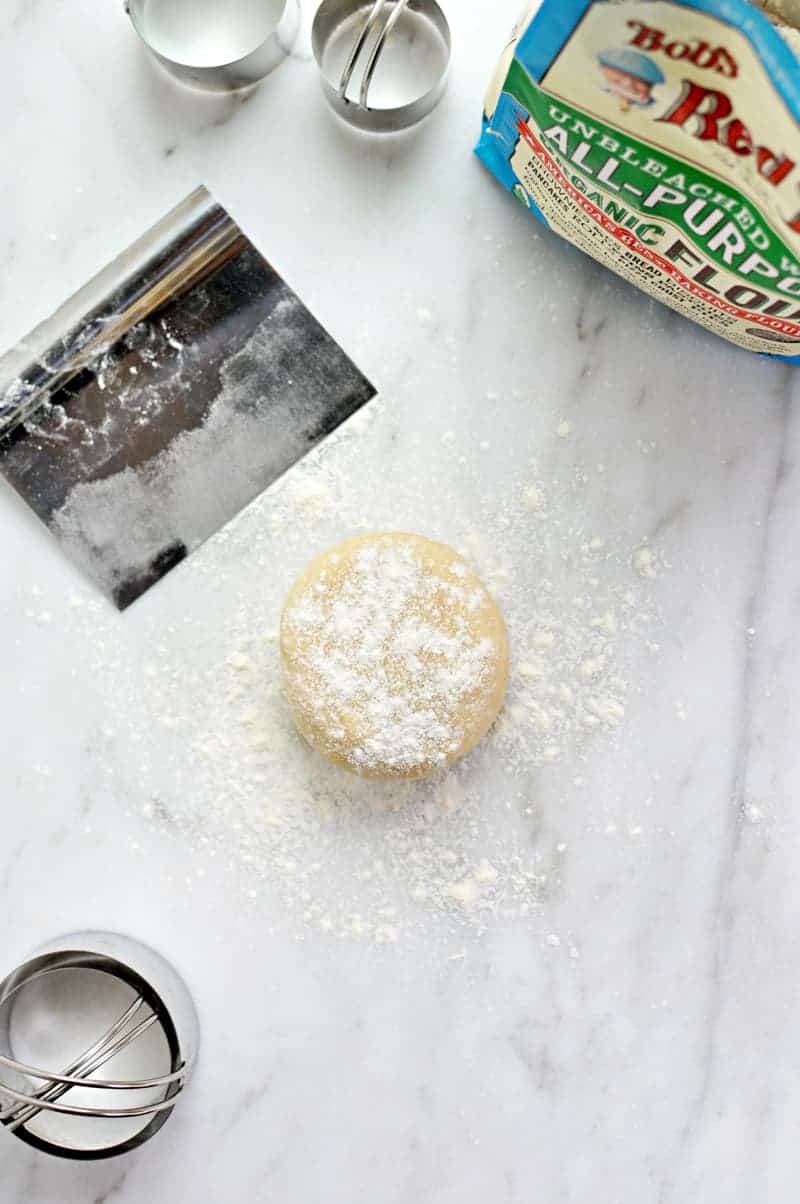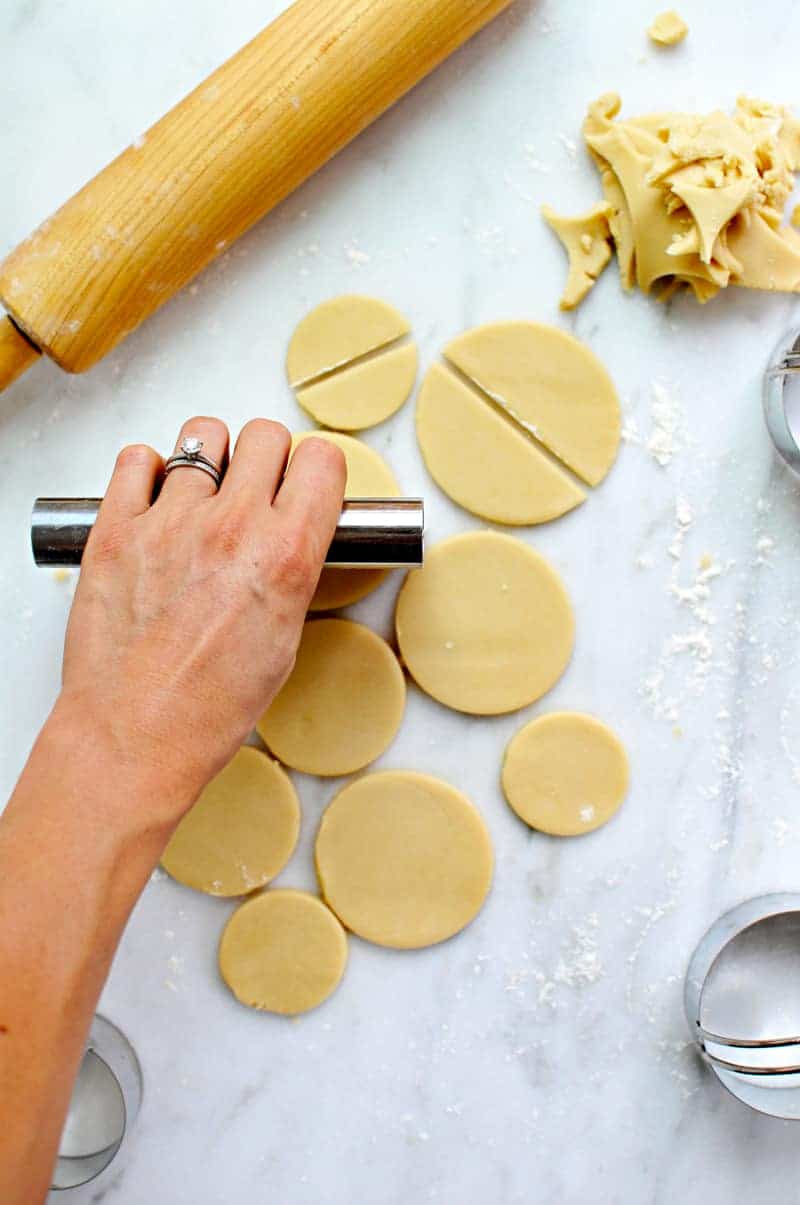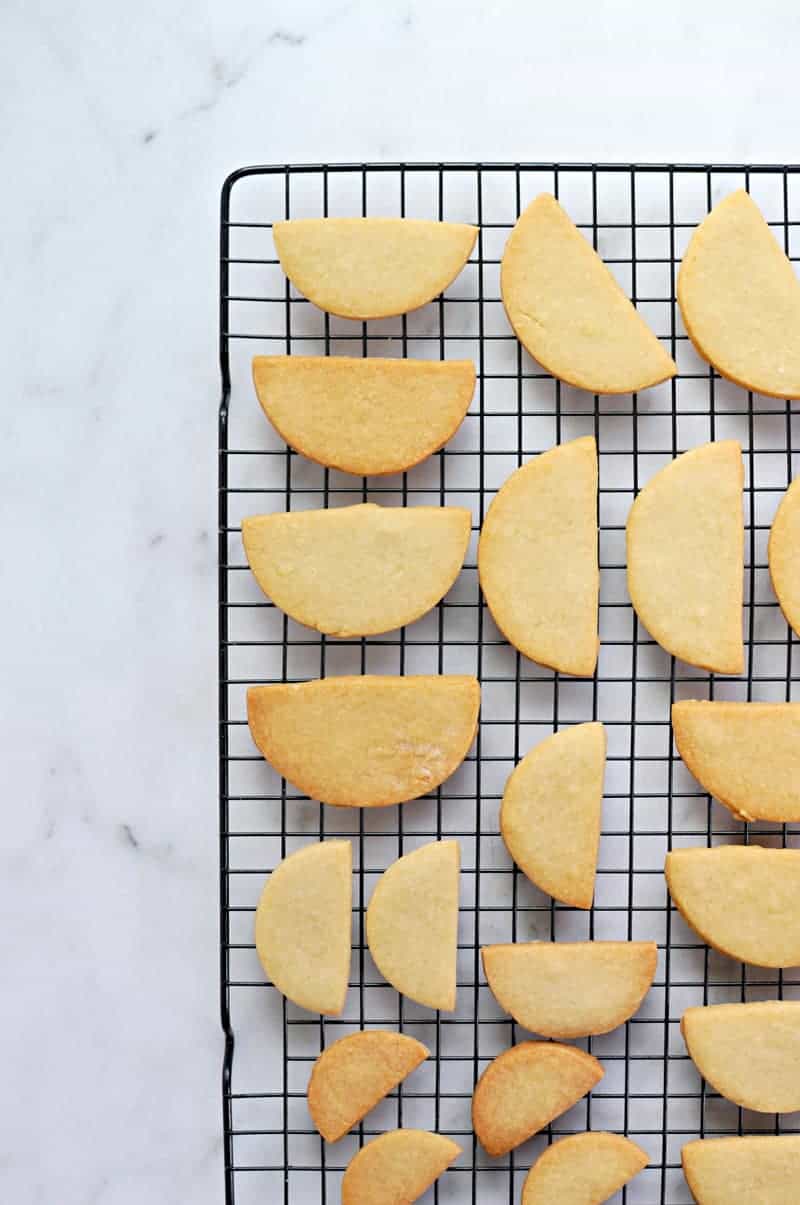 These sunshiny babes are the approximation of the same treat that kept me afloat during those quasi-lonely months in the Middle US: Freeport Bakery's signature sugar cookies. They're thick — but not too thick! — and crisp. Almost crunchy, even. And decorated to mimic my favorite summer citrus theme, because Amanda always marvels at California's abundant citrus trees, which we apparently take entirely for granted. (Freeport Bakery also offers watermelon slices in their summer assortment, but I'm a little too icing shy to mess with a rind and seeds).
Made with only four ingredients, the cookie base of this version has the advantage of being egg-free (particularly handy when there's a miniature dough gobbler waiting to lick the bowl). And since the ingredients are so few, I opt for the good stuff.
Organic Bob's Red Mill flour milled from America's highest-quality premium wheat.
Organic sugar. Grassfed butter.
I also flavor them ever so slightly with both pure lemon extract and Mexican vanilla, which add just enough depth to keep the cookies from tasting purely of sugar, though neither is distinctly discernible. You could certainly use all vanilla to keep things even simpler.
Iced with a thick, crunchy layer of colorful Royal Icing (note: not egg-free) and simple citrus segment details, they're as close to the real thing as I imagine I'll ever get. And entirely worth the three naptimes I worked through to make them happen for my favorite Midwestern Savior-Turned-Sidekick, Amanda.
Love you, babe.
xo,
Pork (Em)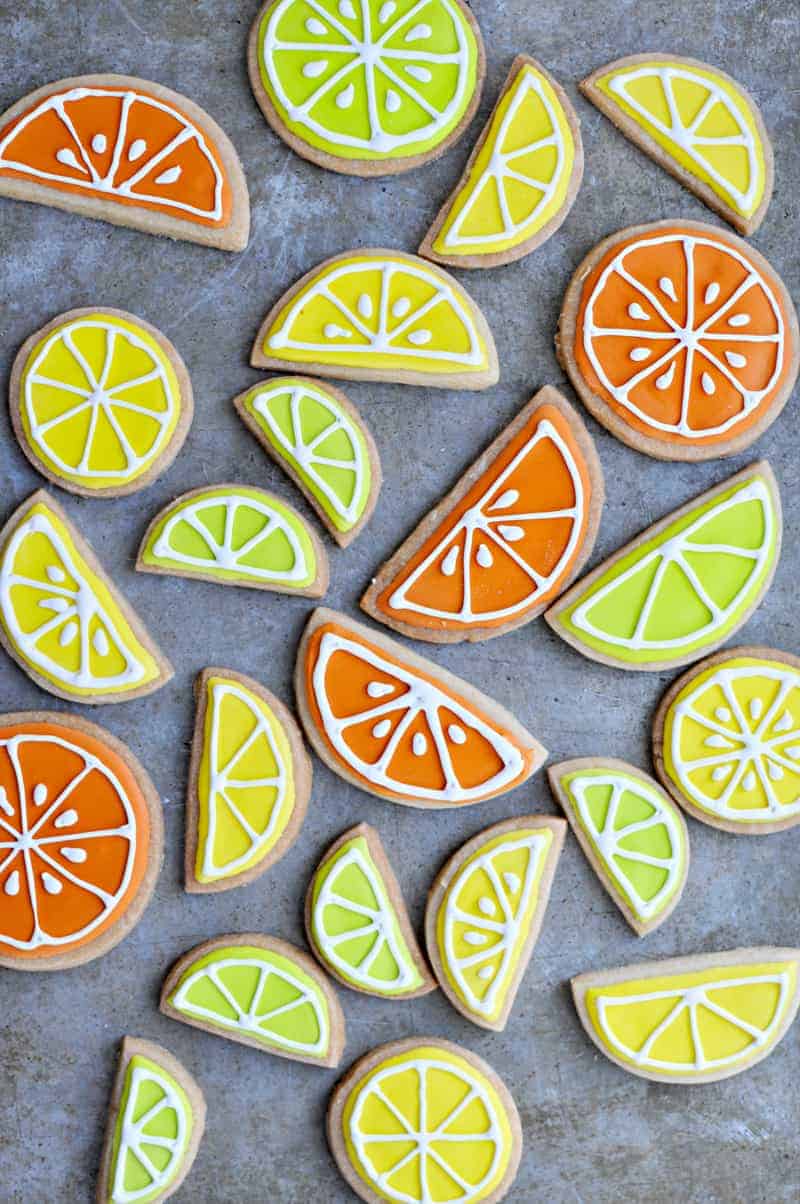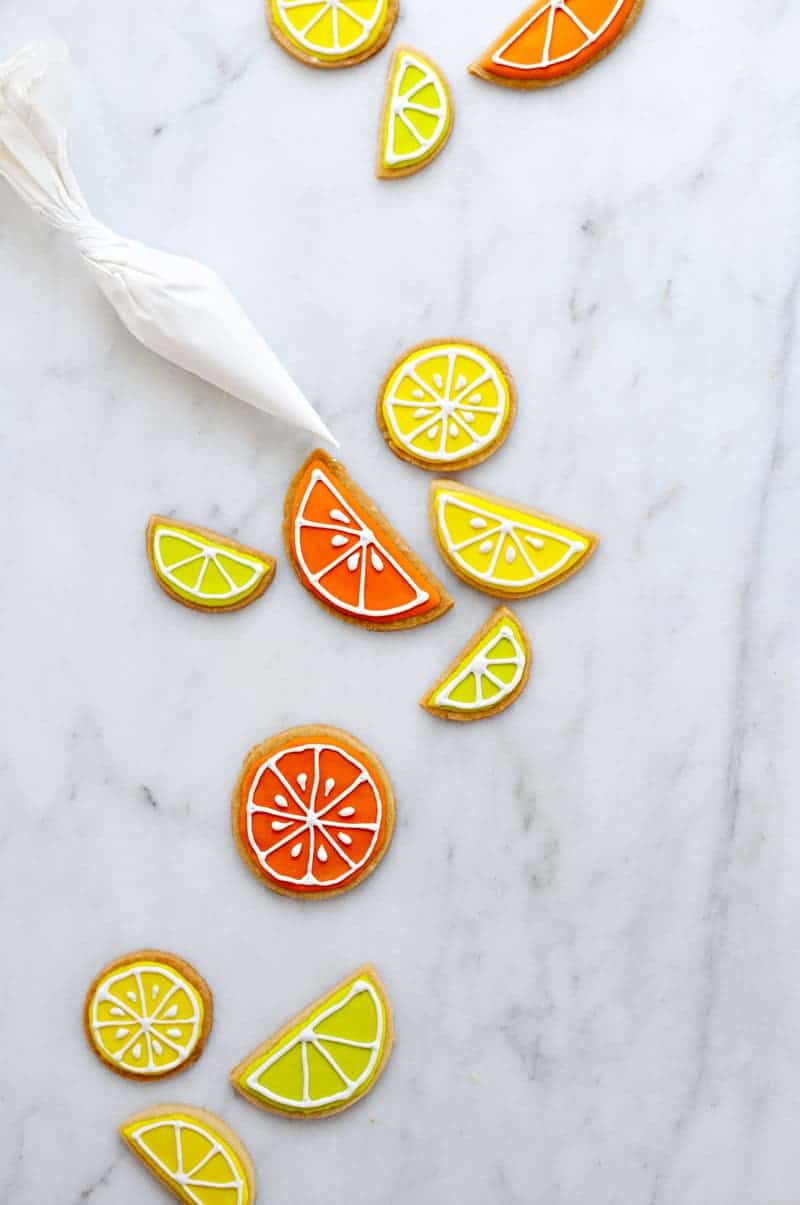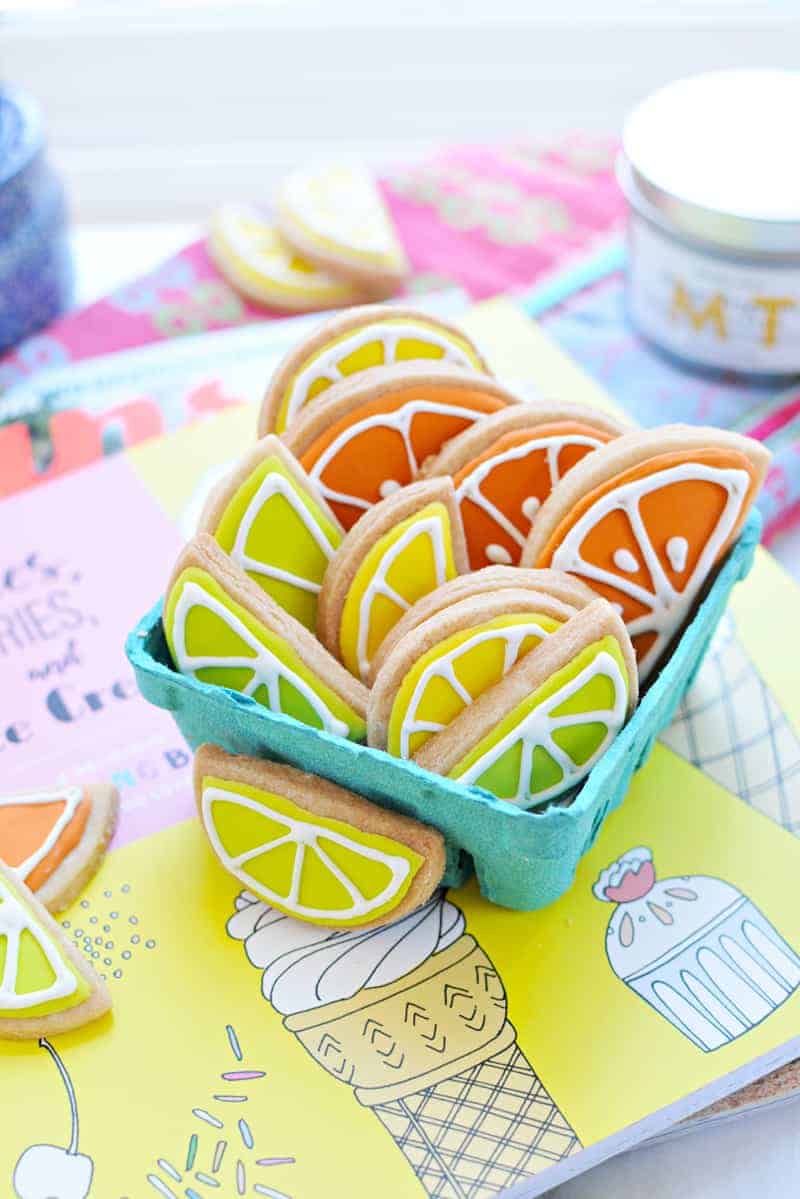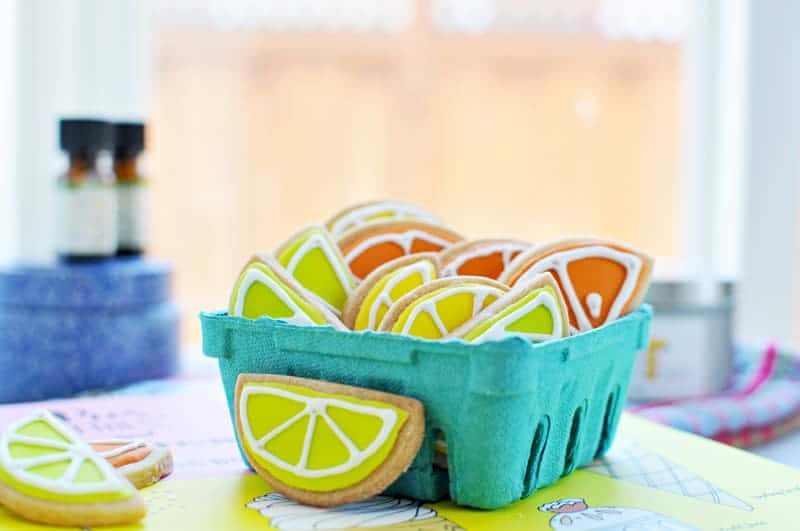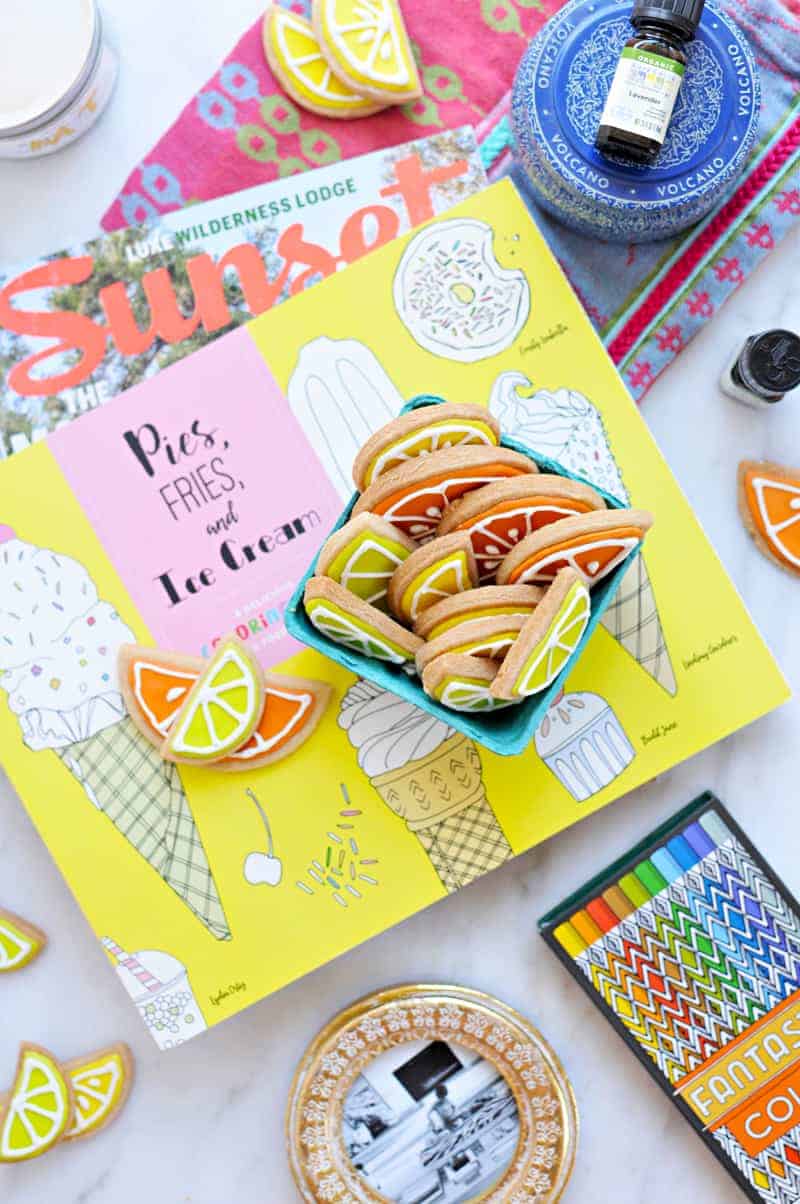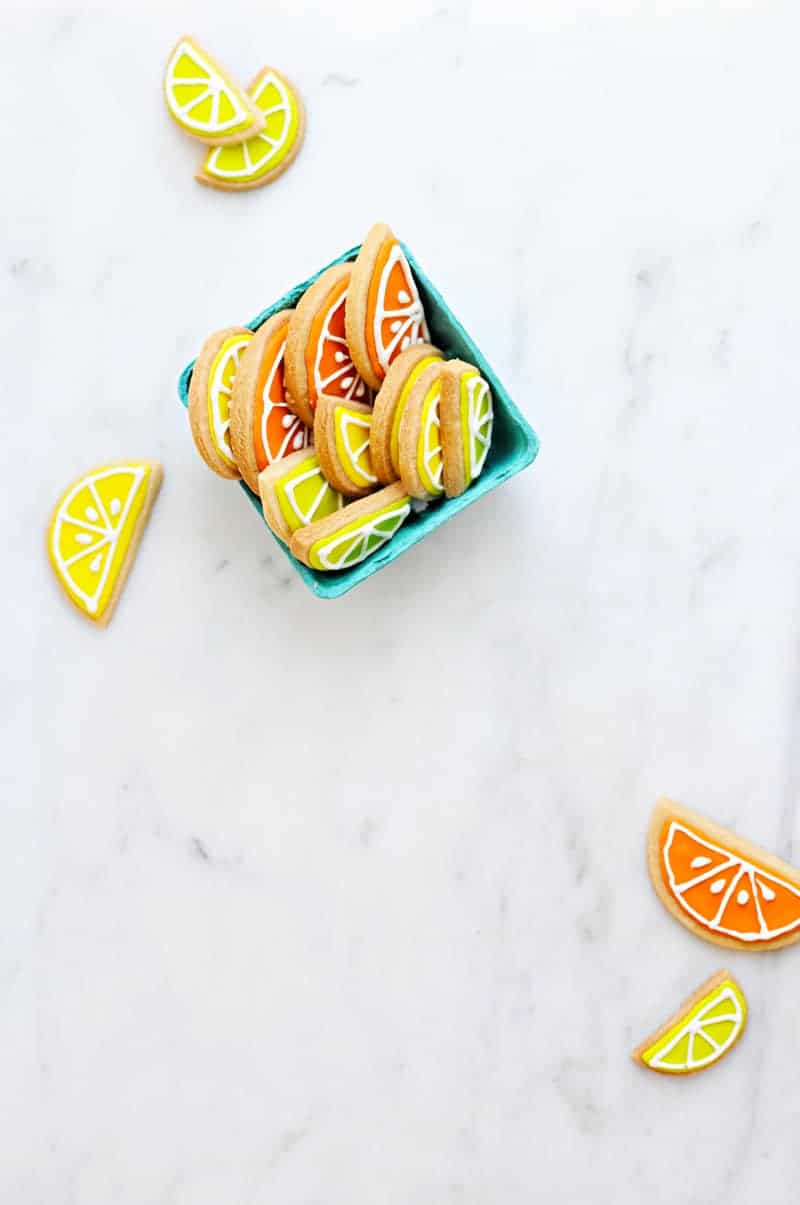 4-Ingredient Rolled (Citrus!) Sugar Cookies
Makes:
24-48 cookies, depending on size
Ingredients
For the Cookies
1 cup salted butter, softened at room temperature
1 cup powdered sugar
3 tsp vanilla extract (or 1½ tsp Mexican vanilla extract + 1½ tsp pure lemon extract, see Note)
2 cups all-purpose flour
For the *Optional* Icing (Note: icing is not egg-free as written)
3 T meringue powder (contains eggs)
4 cups sifted powdered sugar
5 T water
1½ tsp almond extract (or extract of your choice, see Note)
Instructions
To Make the Cookies: In the bowl of a stand mixer (or using a hand mixer), cream butter on medium speed until light and smooth. Add sugar, scraping down sides of bowl as necessary, until smooth. Add vanilla (or vanilla + lemon extracts) and mix until incorporated. Add flour and mix until combined, again scraping down sides of bowl as needed. Gather dough into two balls, using a little flour to prevent sticking if necessary; flatten dough into discs, wrap tightly with plastic wrap and let rest in the refrigerator for 1 hour or until firm. (At this point you can also freeze the dough -- just thaw in fridge for one day before you intend to roll/bake.)
Preheat oven to 325F. Using a well floured pin and cutting board, roll dough to about ¼" thickness and cut into desired shapes. For the citrus shapes you see here, I used round biscuit cutters of several sizes and just halved them.
Gently transfer cookies to a Silpat- or parchment-lined baking sheet, arranged ½" apart, and bake for approx. 16-20 mins, or until edges are just starting to turn brown.
Transfer cookies to cooling racks and let cool completely.
To Decorate the Cookies: While cookies are cooling, combine all icing ingredients except almond extract in a large bowl and beat at medium speed until icing forms peaks, whitens in color and loses its sheen, about 5-7 mins. Add extract and mix briefly until combined.
To make the colors shown here, reserve ¼ of the white icing paste in a small bowl. Cover with a damp towel weighted with a small plate and refrigerate until needed.
Tint remaining ¾ of the icing bright yellow (I used a gel color); then, divide yellow icing among three bowls, adding a smidge of red to one and a tiny smidge of green (or an even tinier smidge of blue) to the other until you reach your desired orange and lime-green hues.
Thin colored icings to a "topcoat" consistency (I won't pretend to be an expert on this by any means, but this video superbly demonstrates the basics of royal icing + approximate amounts of water needed to reach each consistency) and create the base color for each cookie. My favorite topcoating method is to use a tiny spoon to dollop a small amount of icing in the center of the cookie (less is more, you can always add) and then drag the icing just shy of the cookie's edge with a toothpick or trussing needle, dabbing on a little more icing at a time, if needed. (Keep any icing that you're not currently using fresh by covering it with a damp towel while you work.) Allow base color to dry completely before adding details -- anywhere from 30 mins to several hours depending on the exact consistency and thickness of your icing.
To create segment details, bring reserved white icing paste to "outlining" consistency (again, see video link above -- told you it's a gem!) and pipe details onto each cookie using a parchment cone or piping bag fitted with a fine tip.
Allow icing details to dry completely before stacking or storing. Cookies are best enjoyed fresh but will last up to 1 week when stored on the counter in an airtight container, softening ever so slightly. Enjoy!
Notes
Regarding the flavoring of these cookies, I love the flavor of equal parts vanilla and lemon extract, which yields a cookie with more depth than just "sugar" while not tasting discernibly like vanilla or lemon. Feel free to use all vanilla, if it's what you've got.
As for the icing, I find that just a small amount of almond extract transforms Royal Icing into more of a true confection and less of a cloyingly sweet, one-dimensional glue. Again, the almond flavor isn't distinct at all.
Finally, the time noted in this recipe doesn't account for chilling the dough OR icing the cookies, which can vary greatly. If you're short on time or patience, the rolled sugar cookies, sans icing, are almost as tasty as their gussied up counterparts. 🙂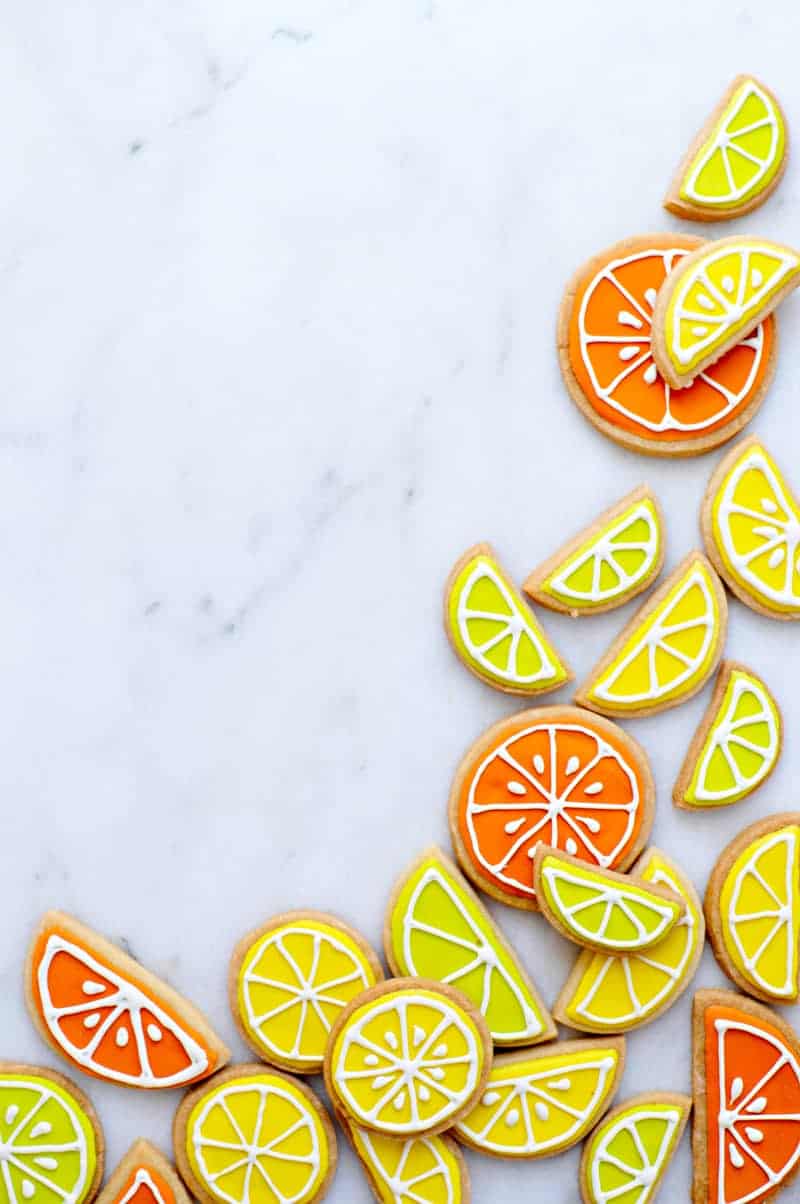 I was selected for this opportunity as a member of CLEVER and the content and opinions expressed here are all my own. Thank you for supporting the brands that keep this piggy cooking!
————————————————–
OH! before you go…
Like whatcha see here — or have a question, feedback, or recipe hack to share? Join The Pig & Quill convo by commenting below (I love, luv, lurve comments) and hang out with me on Facebook, Twitter, Instagram and Pinterest. And don't forget to subscribe to P&Q emails or add me to your RSS reader with Feedly or Bloglovin' so you never miss a post. x's & o's!