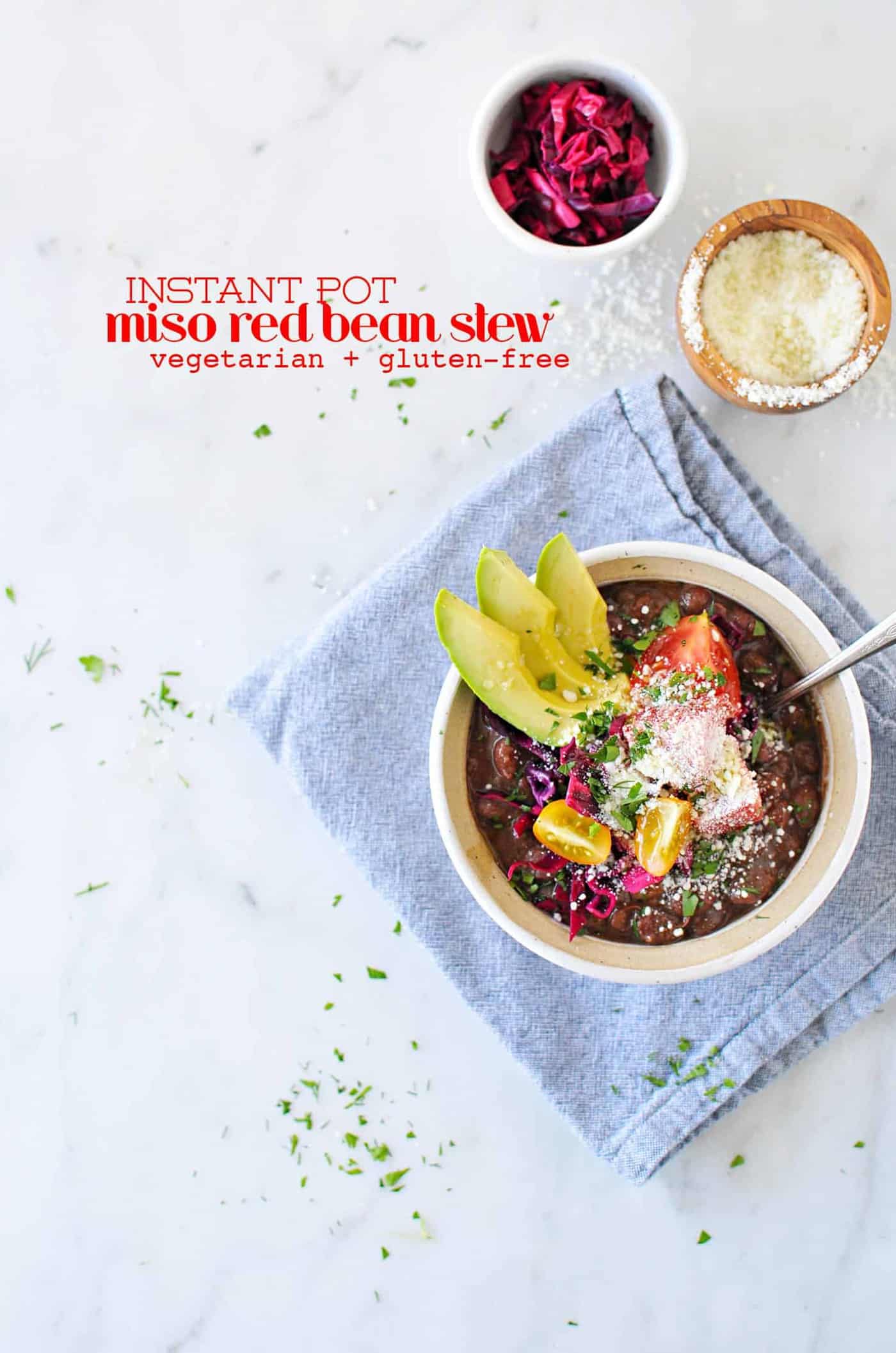 We're hot in the midst of a pantry purge. I think I mentioned when I was raving about these Chocolate Banana Muffins. It's been more than a month since we've bought any packaged or pantry staples (aside from those required for client work), and so far we've seen very little sacrifice in the quality of our meals. I'd even go so far as to say we've markedly improved the way we eat. (This stew is a fine example, but I'll get there.)
Here's the gist.
Each weekend, we hit up the grocery store or, if possible, the local farmstand and stock up on fresh produce, eggs, and dairy. (Shopping just the farmstand or the farmer's market drastically helps reduce the amount of unnecessary pantry crap we take home. It's not even a possibility, and I don't miss being tempted by sales on the same flours and pasta sauces that I already have hoarded away.) Typically, these modified grocery runs cost about $40, or $50 if we're picking up eggs or speciality items, like ice cream. Last week we spent just shy of $100, but we were hosting a dinner party one night, and I also stocked up on yogurt for the kiddo. We like the low-sugar-but-still-fruity stuff, and for whatever reason, low-sugar, still-fruity yogurt is high-priced. C'mon people.
With a fridge full of fresh produce, I prep a few simple things for the week that can jazz up any number of pantry staples. A tray of roasted veggies. The pickled cabbage you see here. Our favorite take on Sherrie's insistently verdant parsley sauce. And then we purge.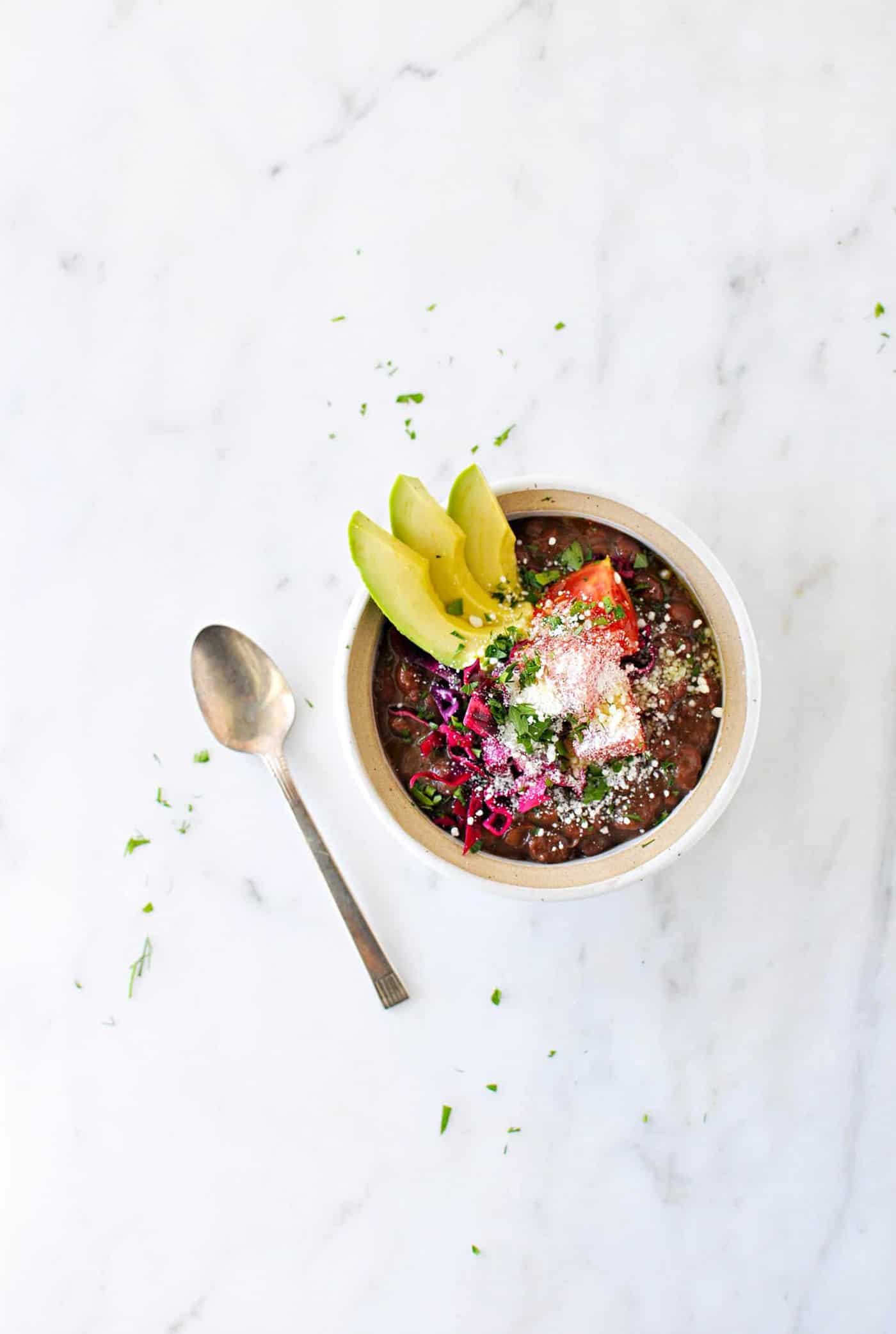 It's kind of a game, how many pantry and freezer essentials I can cram into each meal as we whittle away our stock. For breakfast, chia seeds are bloomed into pudding, or simmered with frozen fruit and a squidge of honey, then slathered on homemade bread with salted butter. Oats cook down with coconut milk and cinnamon. Homemade cereal bars make quick work of school mornings.
Grain bowls have always been a pretty big part of our weekday supper repertoire, but now they're in almost constant rotation. (You'd be amazed by the assortment of rices I've amassed. Or maybe not.) Pastas are dressed up with herby pestos of every variety, putting to use long-forgotten stashes of seeds and nuts. Beet tops and summer squash get cozy with jarred marinara and served over silky, cheesy polenta. Beans find themselves loaded into the Instant Pot with nearly every spicy imaginable.
And here we are.
The ingredient list for this stew — which is really just a simple pot of beans boasting tremendous flavor — is long, but everything is fantastically accessible. (Kinda the name of the game, around here.) Even the miso is pretty easy to come by these days. In fact, if you enjoy cooking and do so often, you might even have everything on hand. And if not, I won't fault you for omitting a spice you don't want to spend $7 never to use again. This is inspired by a pantry purge, after all. Let's not add to the clutter.
As for the flavor profile, it's hard to define — but you can bet I'll try. Warm, earthy. Sweet from the miso and the aromatics, which cook down to almost nothing. Spiced but not at all spicy. Appropriately almost-autumnal. Lana ate a full bowl, and then climbed into my lap and started eating mine. Sarah helped me test the cook time on this recipe, and her toddler was a fan, too. So add kid-friendly to the mix. (Christina, are you reading this? Beans for the protein-averse win!)
The toppings pictured here are merely suggestions, but there's something so very right about heaping a fall-ready stew with late-summer's darlings. The dry-farmed tomatoes here in California have never been sweeter, and my recent obsession with ume-pickled cabbage (it's crazy flavorful and only two ingredients!) can't be stopped.
And did I mention this comes together with very little hands-on time? Saute the veggies in the Instant Pot insert until translucent, then chuck in most everything else and let it come to pressure. It does its thing, you do yours: straighten the house / take a bath / scroll through Instagram / binge The Teacher's Pet. It's beautiful, in both concept and execution.
Enjoy, guys. This one's a keeper.
xo,
Em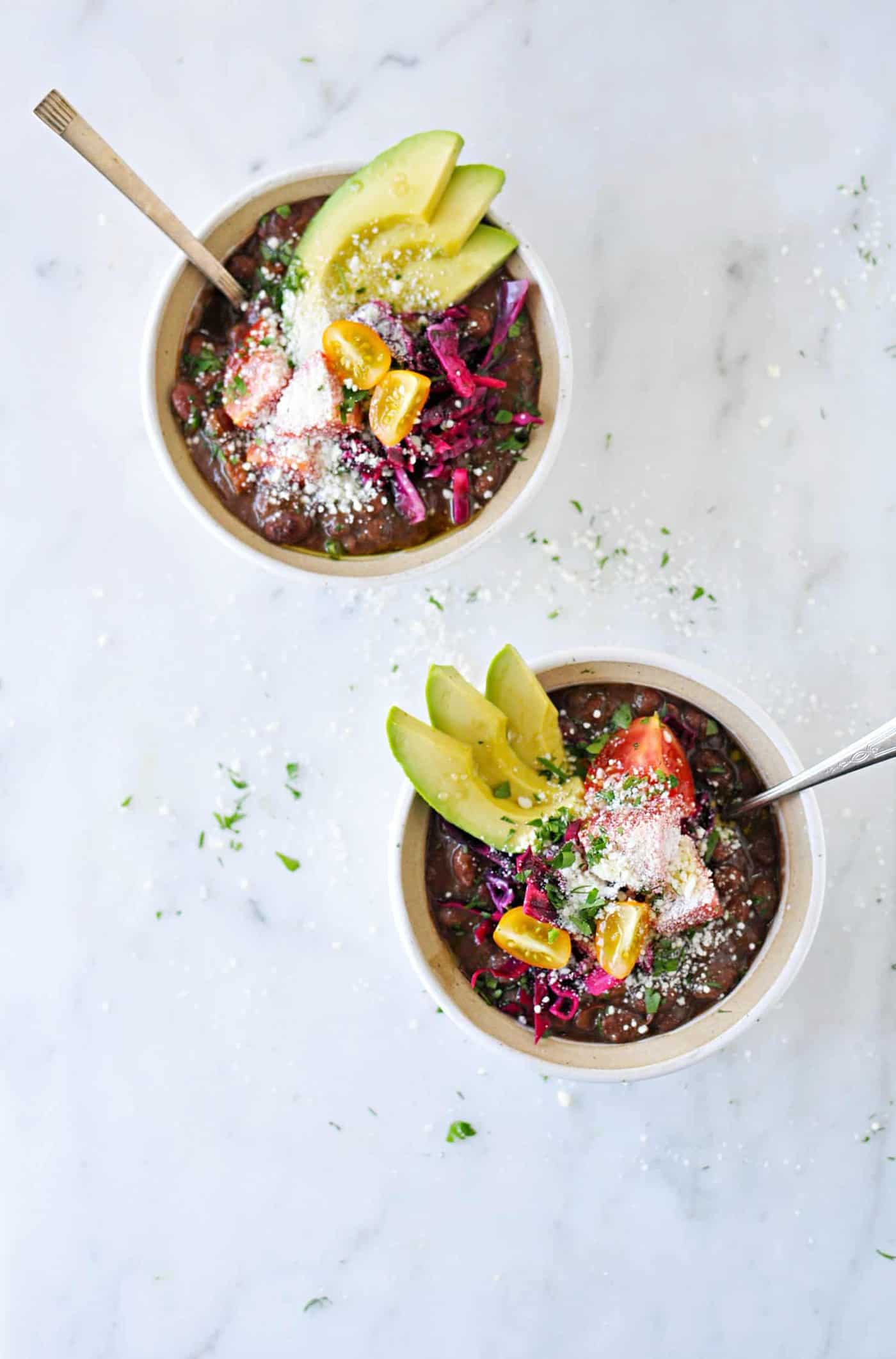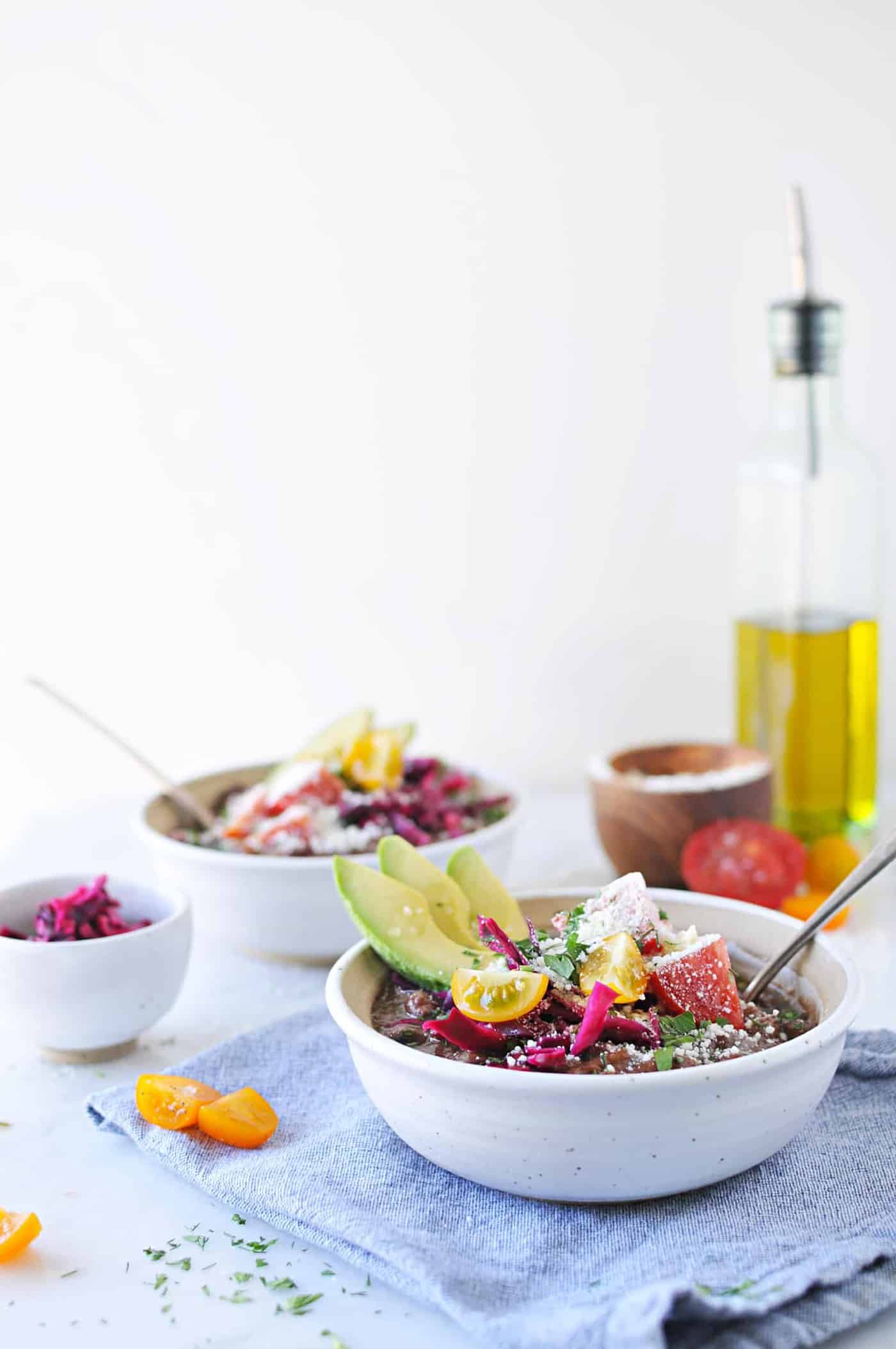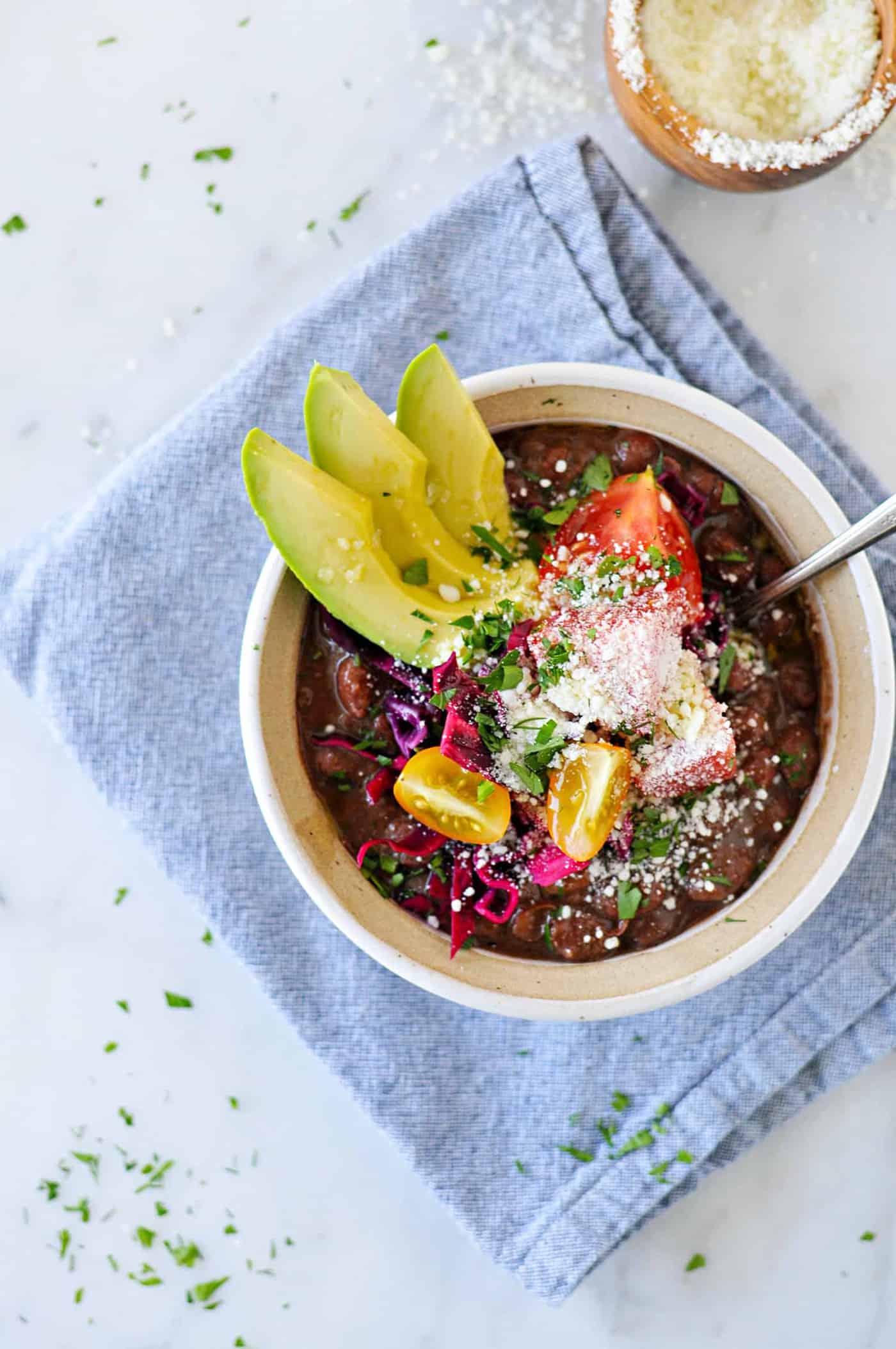 Instant Pot Miso Red Bean Stew
A richly flavored, vegan-optional bean stew dressed up with seasonal produce.
Ingredients
For the Soup:
2 T light cooking oil, such as avocado oil
1 large yellow onion, diced
1 large carrot, diced
1 large rib celery, diced
1 lb dry red beans, rinsed and drained
6 cups water
¼ cup white miso paste
1 tsp dried oregano
1 tsp dried thyme
1 tsp garlic powder
1 tsp cumin
1 tsp curry powder
1 tsp ground coriander
1 tsp cinnamon
2 bay leaves
½ tsp sea salt, plus more to taste
pepper, to taste
For Topping (any or all):
ume pickled cabbage (see note)
avocado
diced tomatoes
cilantro
grated pecorino romano (omit if vegan)
Instructions
Instant Pot Method Turn Instant Pot to Saute. To Instant Pot insert, add oil and onions, carrots and celery and saute until crisp-tender, about 5 mins. Season with salt and pepper to taste.
Add beans, water, miso and all spices to pot and stir. Cover and set lid to Sealing. Switch to Manual setting and set the timer to 60 mins + natural release. (You can keep the stew warm for hours at this point - the beans will just become even more tender/creamy.) Enjoy!
Slow Cooker Method Combine all ingredients in slow cooker. Cook on High for 4 hours; reduce heat and cook on Low an additional 2 hours.
Spoon soup into big bowls and top with accoutrements of choice. Enjoy!
Notes
To make the pickled cabbage, marinate ½ head finely shredded cabbage in 3 T
ume plum vinegar
overnight. (Alternatively, use lime juice and sea salt to taste.) Use for topping soup, on grain bowls, over hot rice with avocado and furikake, tossed into salads -- you get the idea.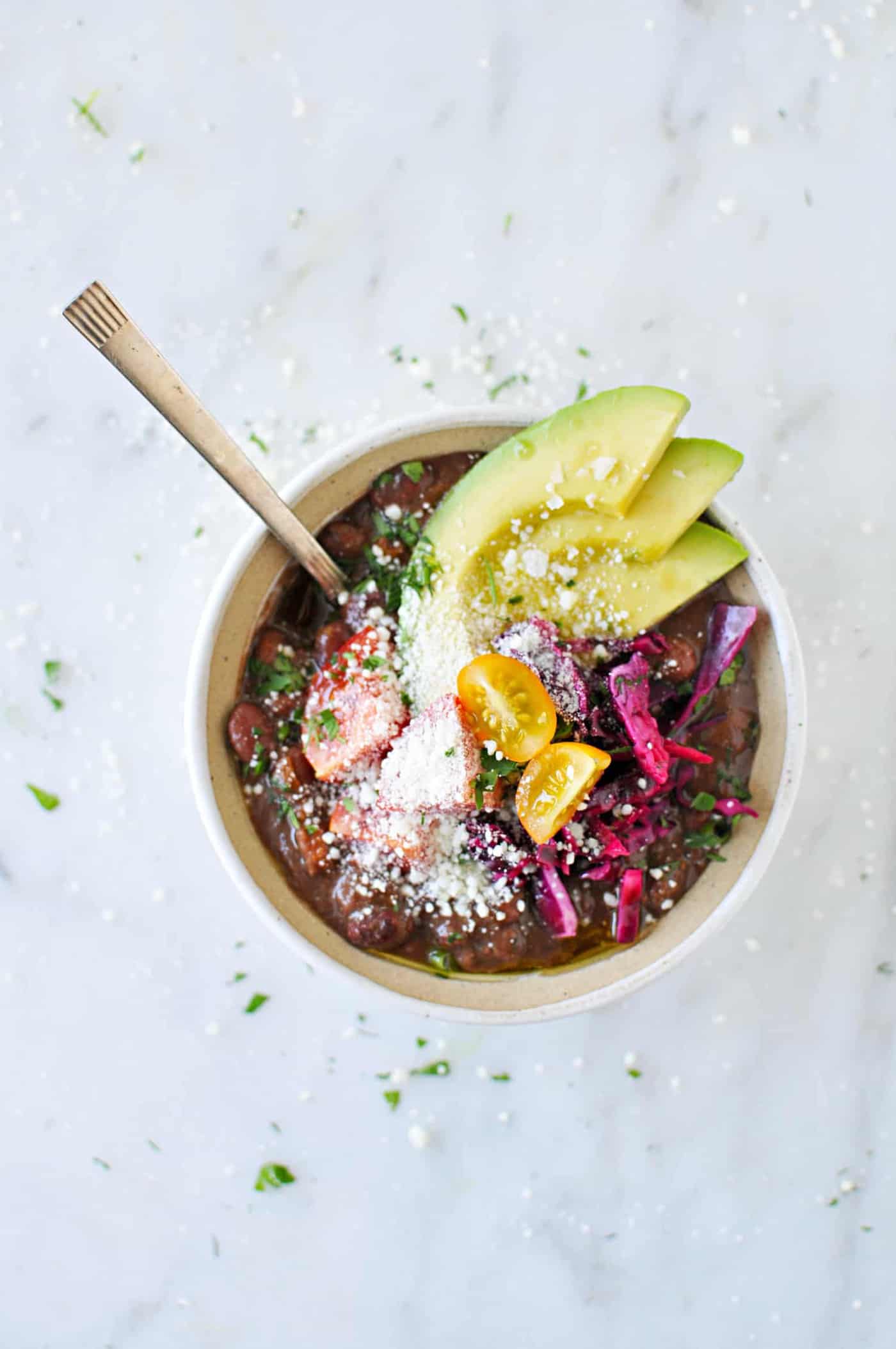 End
————————————————–
OH! before you go…
Like whatcha see here — or have a question, feedback, or recipe hack to share? Join The Pig & Quill convo by commenting below and hanging out with me on Facebook, Twitter, Instagram and Pinterest. And don't forget to subscribe to P&Q emails or add me to your RSS reader with Feedly or Bloglovin' so you never miss a post. x's & o's!