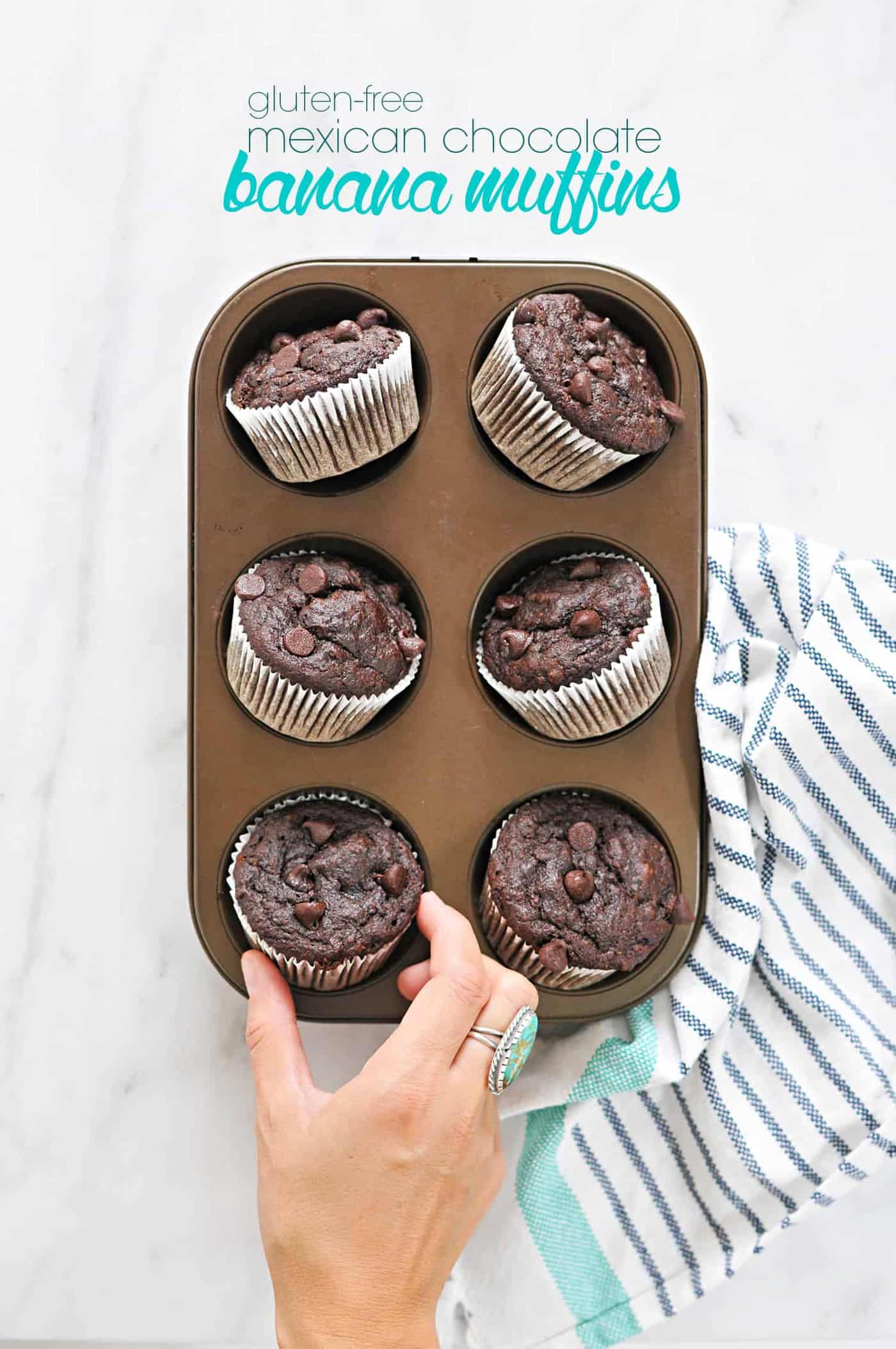 You guys know I'm not a baker. I mean, I can do it. I have done it. But I don't always have patience for the precision required for true blue baking, and I'm constantly disappointed when I tinker the shit out of a recipe and then it doesn't work out. It's a gamble. I should know the odds. (If you can imagine, I'm not a great sport at gambling. I'll lose $40 on slots and spend the remainder of the weekend sulking about the number of clearance t-shirts and fancy toasts I could have spent it on instead. Woe is me.)
Anyway. Not a baker.
So when I strike accidental baking gold, the recipe goes on a very short list of items that are made with great frequency. And if it's something truly special, I pass it along to you.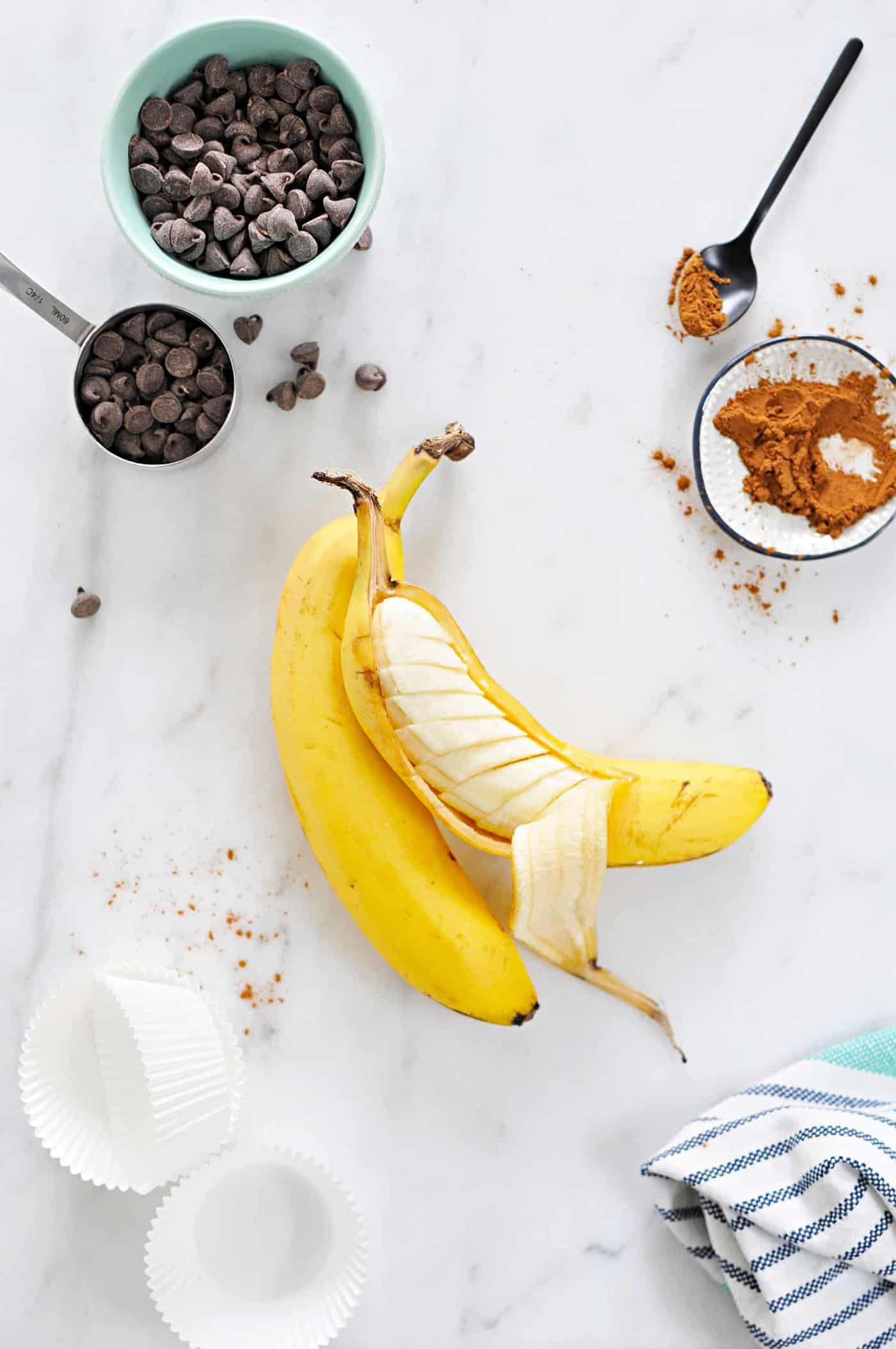 These muffins started with a pantry purge. A few weeks ago, after realizing that our pantry could put that of an underground bunker to shame, I committed to planning meals based solely on the food we have on hand (with the exception of a weekly run to the farm stand for fresh produce). Last week we spent $40 on a bounty of fresh, local fruits, veggies and herbs — and combined with what we already had stocked in our pantry and freezer, we ate like kings. Rainbow-hued grain bowls with grass-fed skirt steak, roasted veggies, and our favorite riff on Sherrie's parsley sauce. Egg and avocado sandwiches on homemade bread. Veggie fritters with fruit salad and BBQ beans. Breakfasts of chia pudding and coconut oats.
And Chocolate Banana Muffins.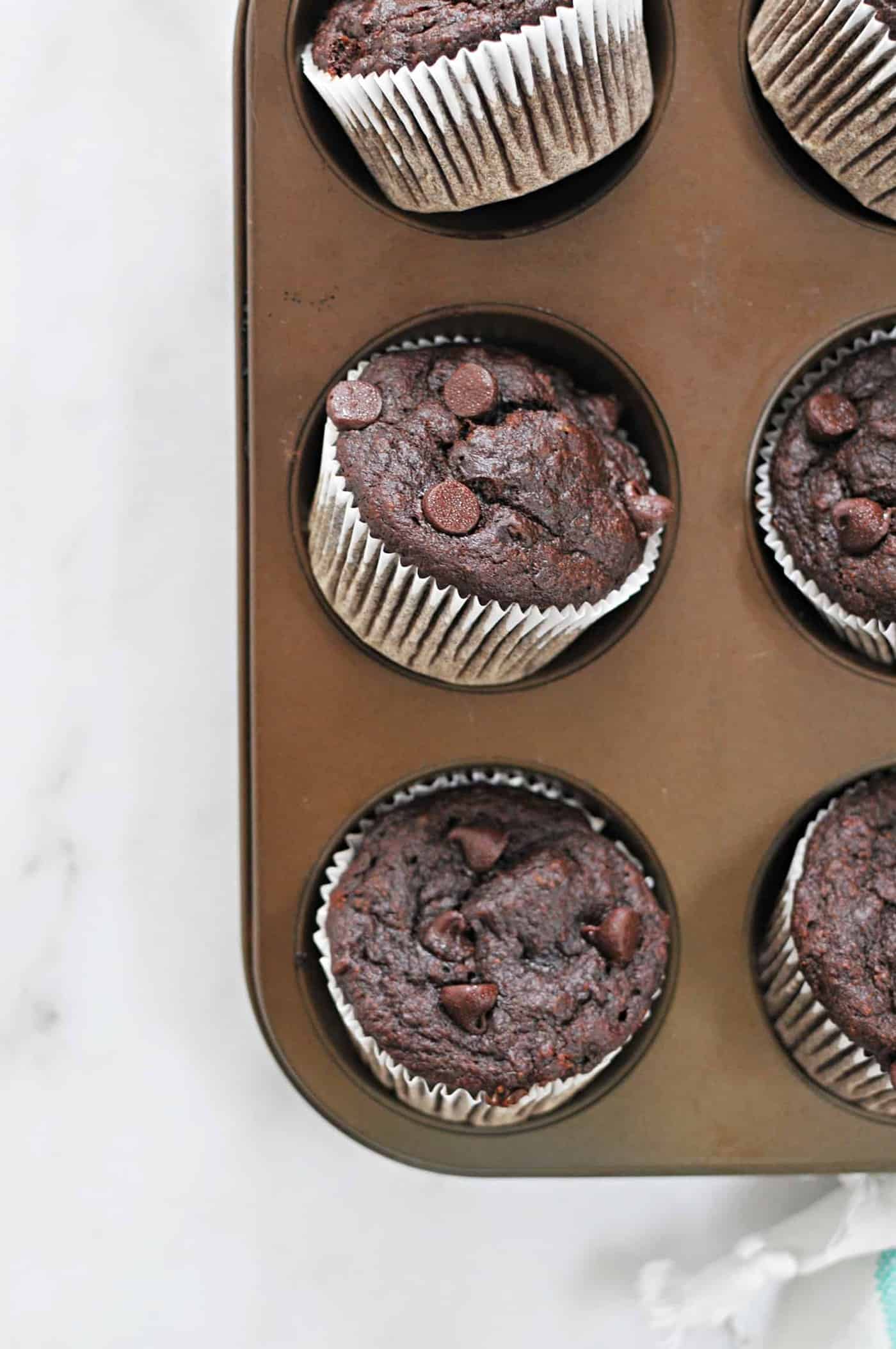 The recipe for these muffins is adapted from Christina, with a duo of gluten-free flours (almond + oat) inspired by Sarah's GF prowess. (While I am by no means gluten-free, I do strive to use more nutritionally-dense flours when I'm making snacks for Lana, and often times the recipe ends up gluten-free by happy accident.) Knowing that the babe would take a liking to these (and that dessert for breakfast is always a hit in our house — and who can argue!), I also swapped in coconut sugar. Marginally healthier, with no flavor sacrifice. And because I'm a firm believer that the flavors of both banana and chocolate can be improved with a little cinnamon, there's a fair bit of that in there, too. The result is a muffin with a tender, moist crumb and a deep, chocolatey profile that's accented, not overpowered, by subtle, caramelized banana. (Read the recipe Note for my tips on the perfect baking bananas to achieve this result.)
True to Christina's original recipe, this recipe will produce 6 muffins, which last all of about 2 days around here — at which point you'll be ready to perfume the house with the chocolatey baking smells of another batch.
Happy weekend, friends!
xo,
Em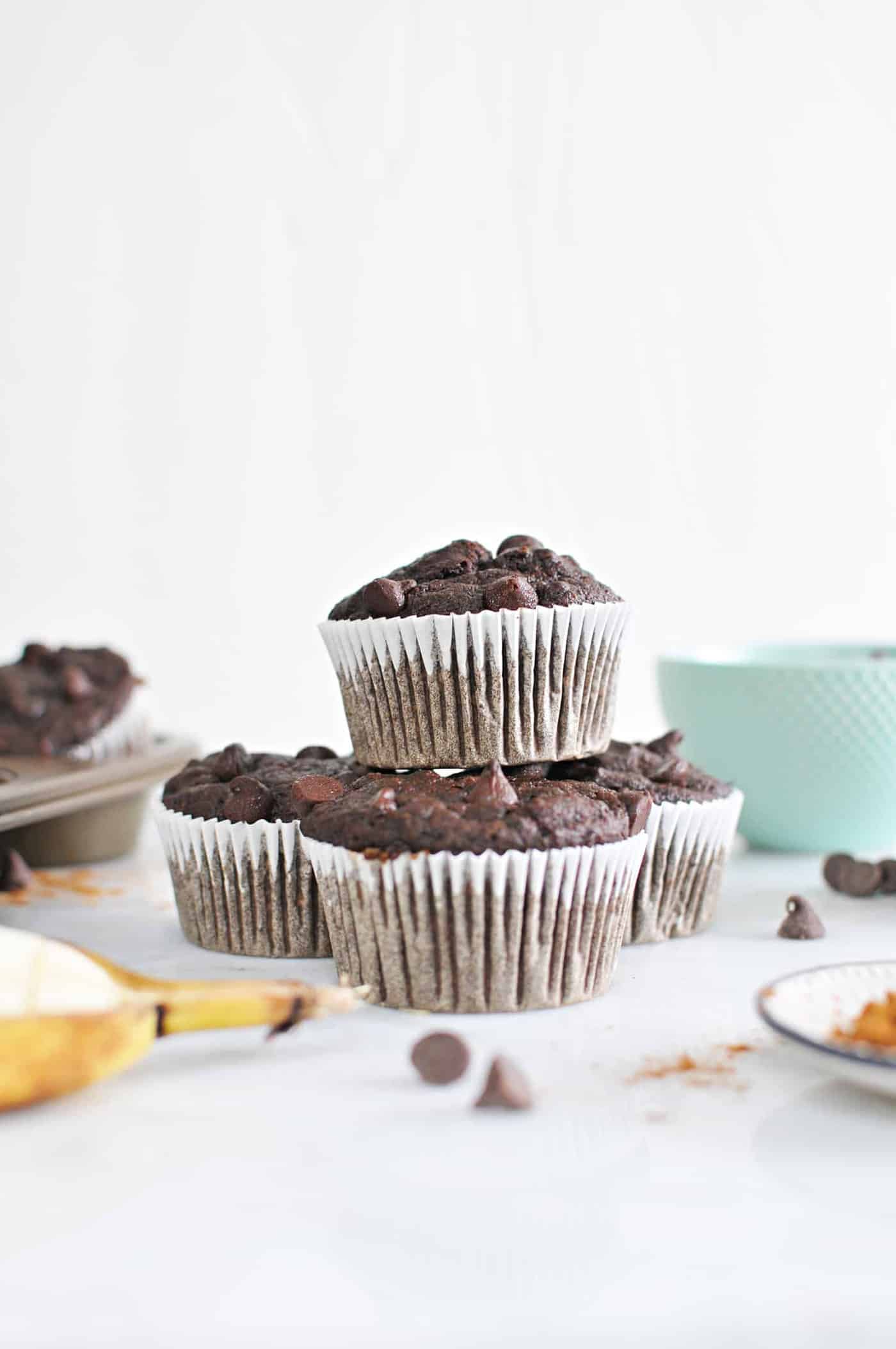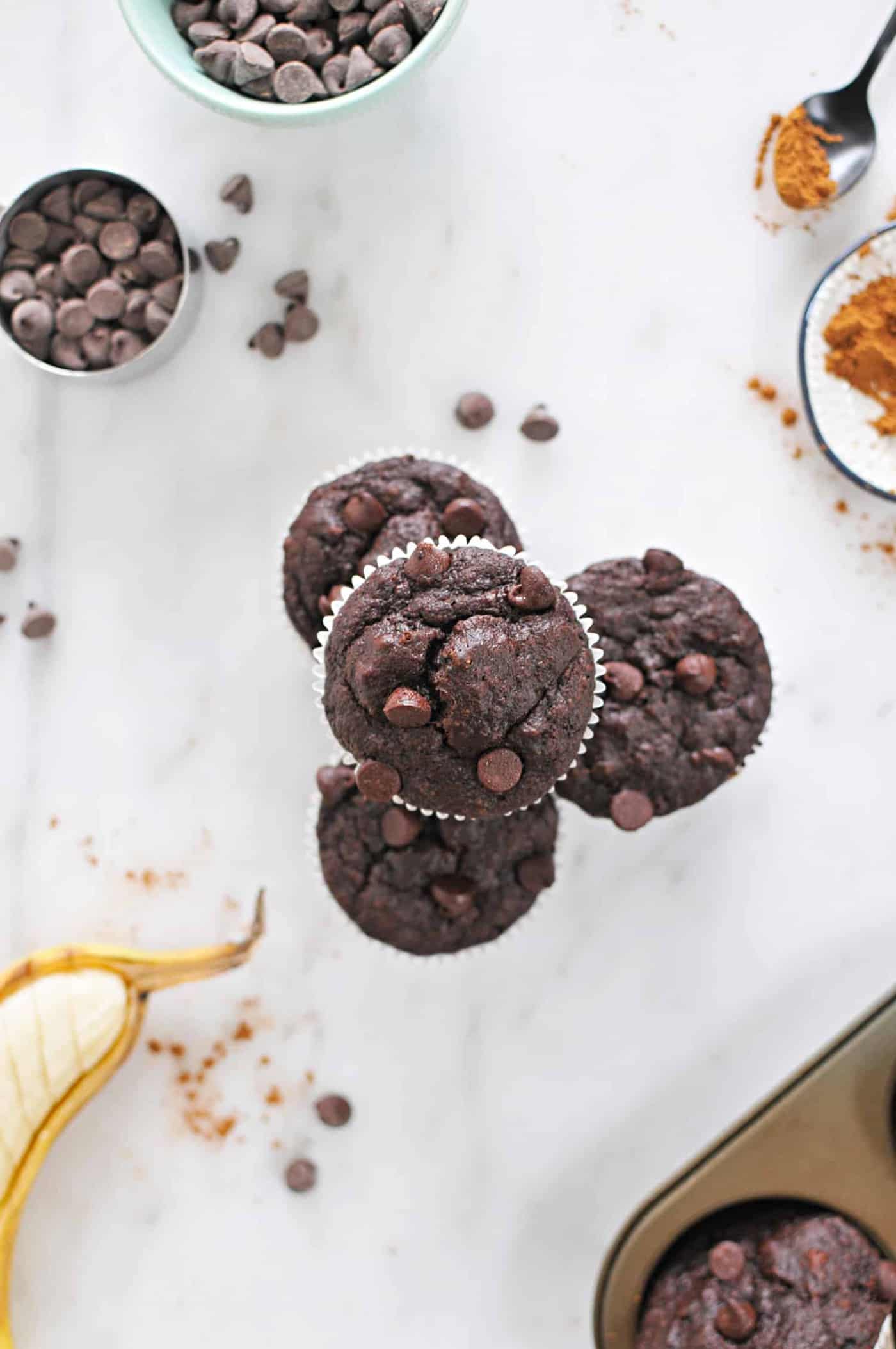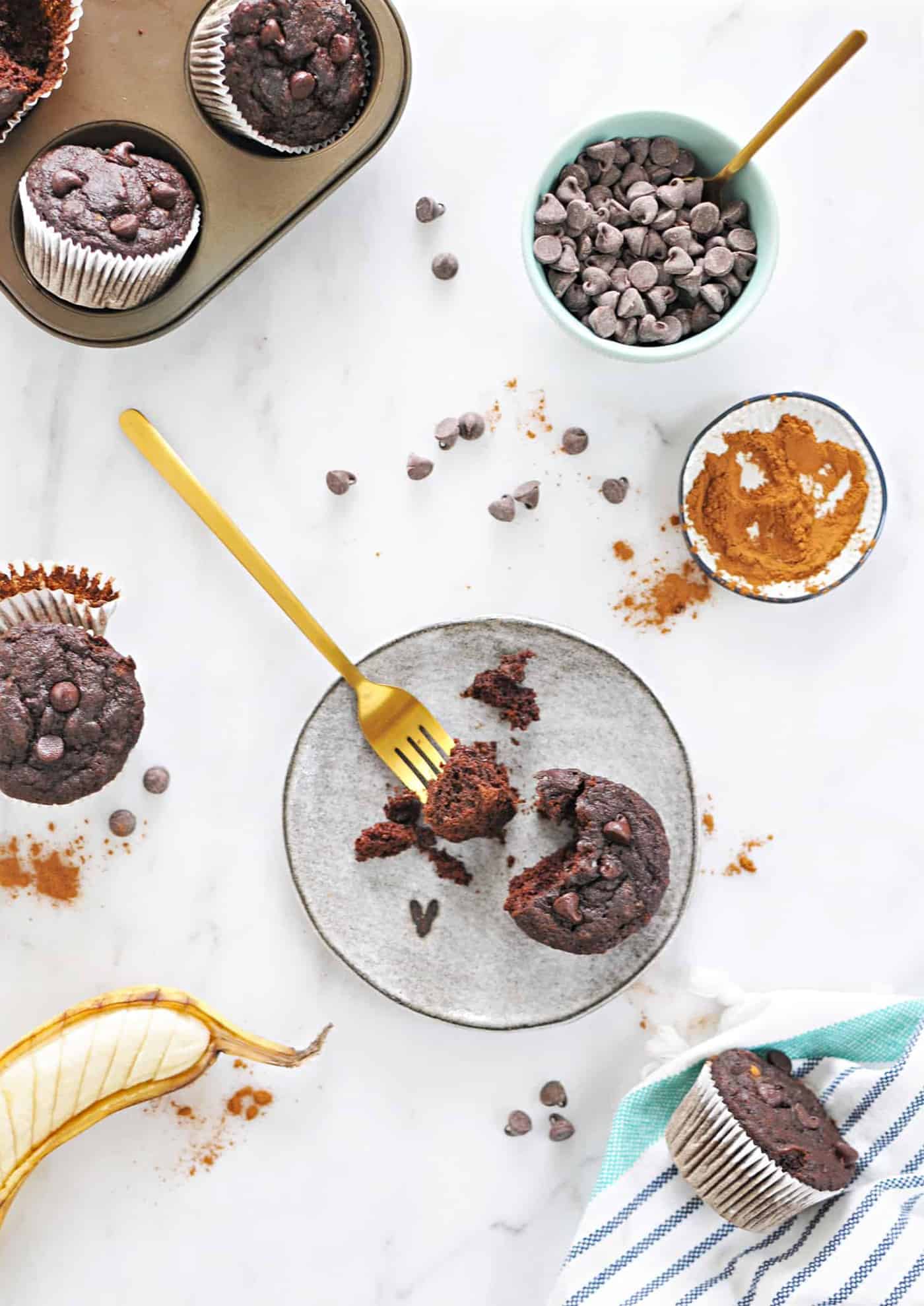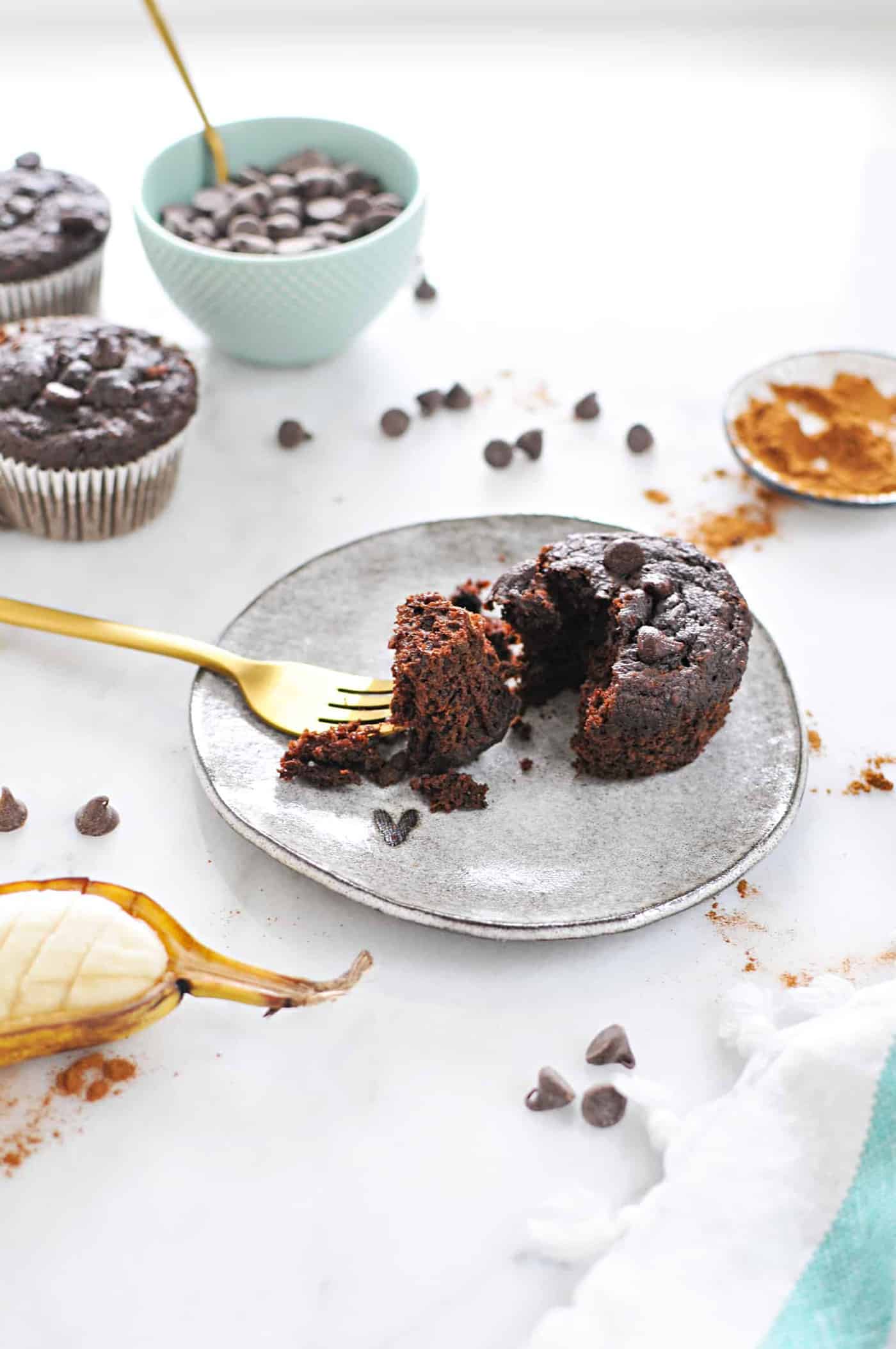 Chocolate Banana Muffins (Gluten-free)
Ingredients
2 medium very ripe bananas (see note)
¼ cup coconut sugar
2 tablespoons light cooking oil, such as avocado
1 large egg
½ teaspoon Mexican vanilla (or your favorite vanilla extract)
¼ cup almond flour
¼ cup oat flour
¼ cup cocoa powder
1 tsp ground cinnamon
1 teaspoon baking soda
¼ teaspoon salt
¼ cup semisweet chocolate chips, plus more for topping
Instructions
Preheat the oven to 350F. Line a muffin tin with 6 muffin cups.
In a large bowl, mash the bananas very well with a fork. The smoother, the better. (See note.) Add coconut sugar, cooking oil, egg and vanilla and stir until well-combined.
Add almond and oat flours, cocoa powder, cinnamon, baking soda and salt and stir until fully incorporated. Fold in chocolate chips.
Divide batter evenly among 6 prepared baking cups. Sprinkle a few additional chocolate chips on top.
Bake 18-20 mins or until an inserted toothpick comes out clean. Allow to cool on a wire rack before serving. Enjoy!
Notes
The riper the bananas in this recipe, the better. I'm a notorious banana hoarder (or a terrible banana eater?) -- I have nearly an entire freezer drawer full of them -- so my favorite way to get a silky, almost caramel flavor from the bananas in this recipe is to use defrosted frozen bananas. Freeze them whole, then defrost them in the peel. They'll end up dark, dark brown, and the fruit will be delightfully slimy and slug-like (when it's time to bake, let them slip from the peel right into the bowl) but I promise they make for the most decadent muffins.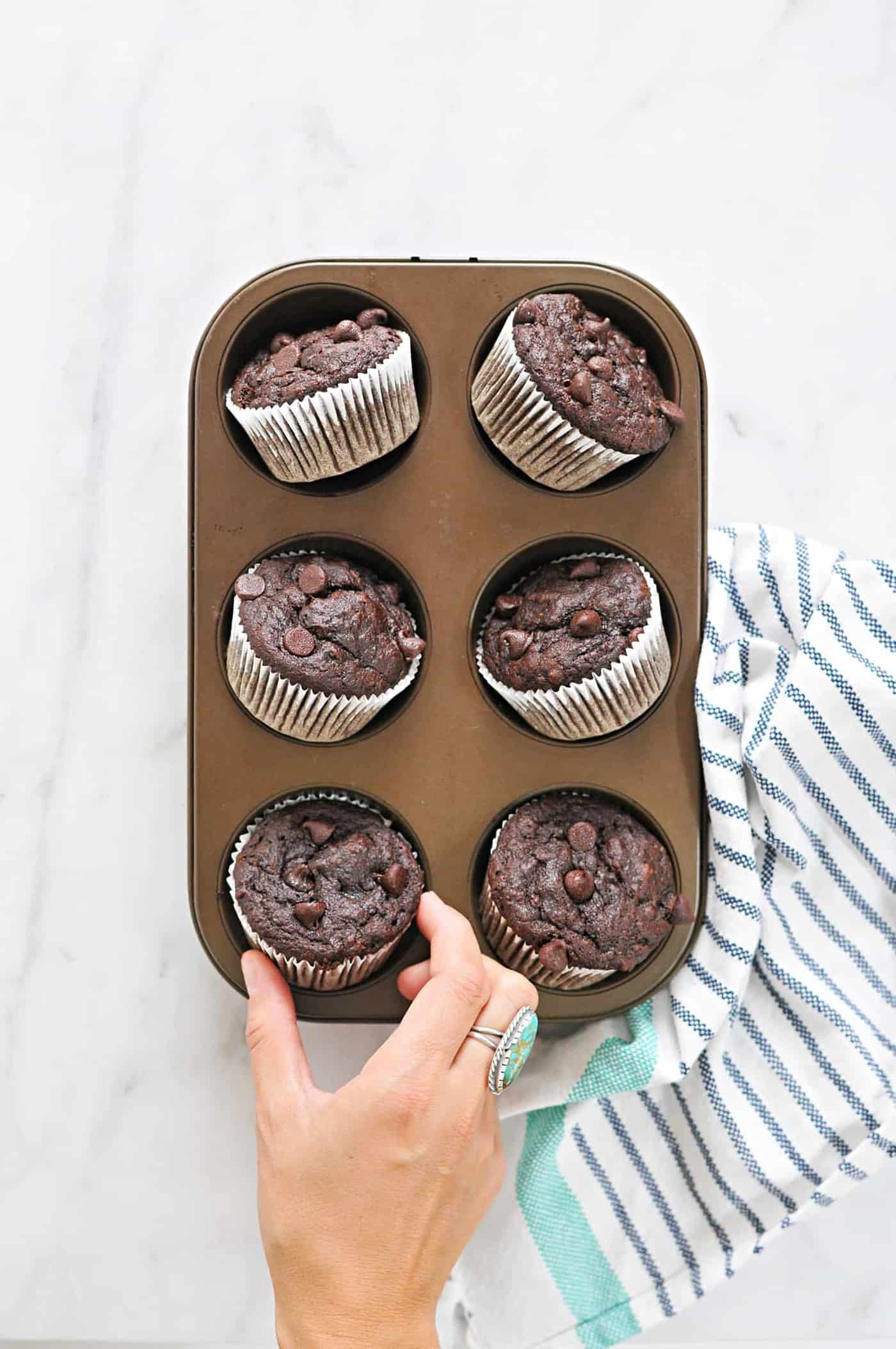 ————————————————–
OH! before you go…
Like whatcha see here — or have a question, feedback, or recipe hack to share? Join The Pig & Quill convo by commenting below and hanging out with me on Facebook, Twitter, Instagram and Pinterest. And don't forget to subscribe to P&Q emails or add me to your RSS reader with Feedly or Bloglovin' so you never miss a post. x's & o's!