First, big thanks to everyone who entered last week's giveaway of "The Paleo Foodie"! I was happily blown away by your collective passion for leading (or learning more about) a paleo lifestyle. Any diet that gives lamb chops and butter a fatty thumbs up is A-OK with me. (Confession: I might be a little emoji dependent. I might be a little sad I can't pictorally A-OK this biznit. *Emoji tearface*) And, bigger congrats to our randomly selected winner, Heidi K. I know you'll love checking out Arsy's arsynal — nyuck nyuck— of nummers paleo recipes. 🙂
So let's quickly talk 'taters. Should we call them Easter 'taters? Why not. We called these dudes Christmas Eggs and nobody gave a tiddlywink. Also, there's a good chance I'll be putting plenty of these 'taters in my face this weekend, so it's totally appropriate.
These are some of the tastiest sweet potatoes I've ever eaten ever. And you might have noticed I eat kind of a lot of sweet potatoes. They're so damn versatile, I put them in chili and waffles and gnocchi and burgers — but this is more of a spotlight situation. They're sweet potatoes disguised as nothing more than themselves. Well, maybe a nip-tucked version of themselves. OH MY GOD, do you guys remember that TV show The Swan?? Humans, ugh. But these are totally Swanified sweet potatoes. They're all sweet and savory and less butterfaced now thanks to Greek yogurt and maple syrup and parm and spices and crispy soy-chorizo and walnuts and peppery greeeeeeeeeeeeeens!
How you doin'.
Does it also help that they're sitting pretty on a crapload of pretty little dishes?
I mean, it certainly doesn't hurt.
(On that note: These tiny spuds are plated kind tapas-y, but you could and totally should rock portions of 2-3 halves per person, as pictured in the background a couple pics ago….)
I also love that these potatoes, like so many of my favorite eats, are perfect for brunch (with a poached egg!!), lunch or supper. They're even delicious reheated in the microwave or the toaster oven for a quick bite at the office. (Just leave off the maple cream until after they're heated.) And if you the bake off the potatoes the night before, you've got a weeknight dinner in about 30.
Twice-baked Swan Spuds. Make 'em yours.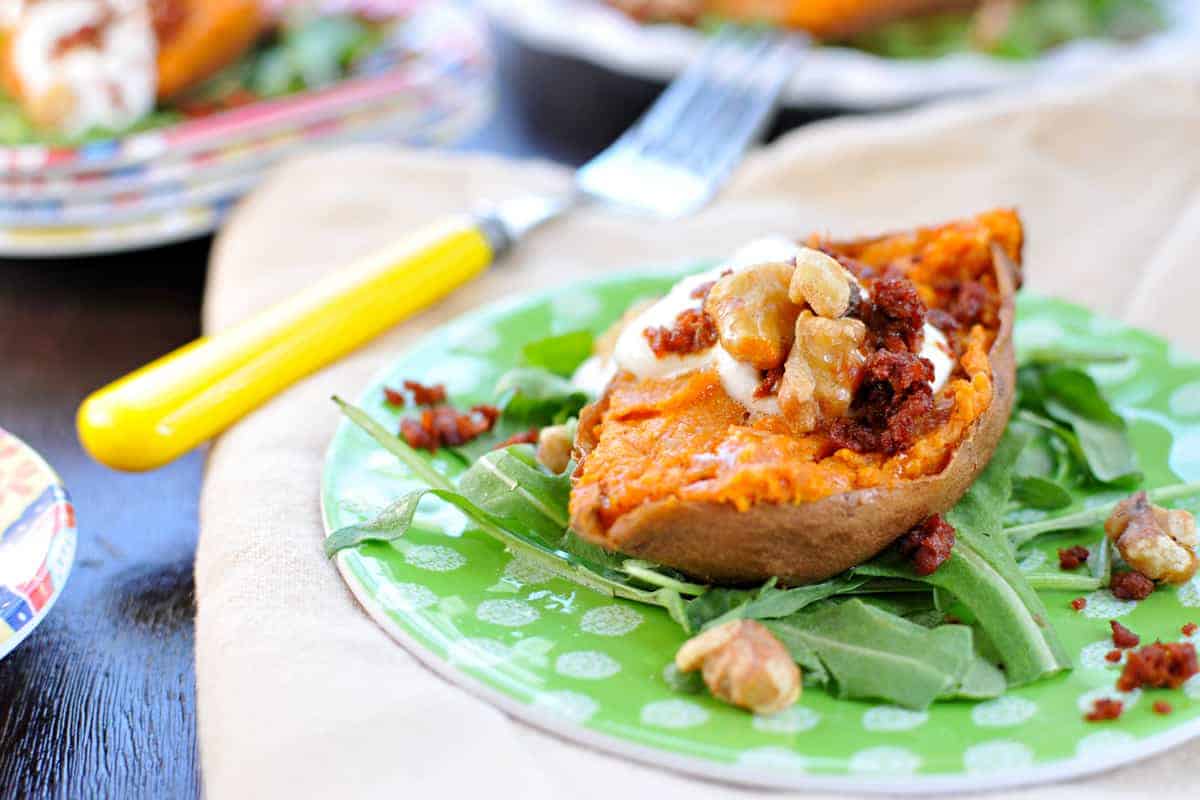 Cheesy Twice-Baked Sweet Potatoes w/ Crispy Chorizo & Maple Cream
By Emily Stoffel
Cook time: 1.5 hours (including baking, cooling and baking) | Serves 4
Note: The quick method used here to first bake the potatoes is borrowed from Amy. It works beautifully for white and sweet potatoes and is my absolute fave. I like to bake the potatoes the day or night before and pop 'em in the fridge so they're super easy to handle the next day. It also means you can get brunch or supper on the table in just about 30 minutes.
Ingredients:
6 small (or 3-4 large) sweet potatoes, halved lengthwise
olive oil
sea salt
2/3 cup 0% Green yogurt, divided
1/2 cup finely grated parm
3 T maple syrup, divided
1/2 tsp chili powder
1/2 tsp sea salt
1/4 tsp freshly ground black pepper
1/4 tsp paprika
4 oz Mexican chorizo or soy chorizo, casing removed (if you're avoiding gluten and using soy chorizo, just ensure your brand is gluten-free)
handful toasted walnuts
few handfuls arugula or other mixed salad greens
Instructions
Preheat oven to 400F. Toss or rub halved sweet potatoes generously with a glug of olive oil. Salt liberally. Place cut-side down on a baking sheet lined with parchment or silpat. Bake for 25-40 mins, depending on the potato size, until very tender and a fork is easily inserted. (My little guys only took about 28 mins.) Allow potatoes to cool enough to handle, or refrigerate for up to 2 days.
When potatoes are cooled, carefully scoop insides into a bowl leaving little more that just the potato skin behind. I find that pinching the tip of the potato helps 'release' the flesh and then a couple of nudges with a spoon gets it cleanly out of the skin. You'll see what I mean…
Lower (or preheat) oven to 375F.
Lightly mash potatoes, then fold in 1/3 cup yogurt, cheese, 2 T maple syrup and spices. Arrange skins on a baking sheet and dollop with mixture, using a spoon to spread filling to the edges. Bake on the center rack for 20 mins until just browned in places.
Meanwhile, brown chorizo or soy chorizo in a little olive oil in a small skillet until crisp and crumbly, about 10 minutes. To make maple cream, mix remaining 1/3 cup yogurt with remaining tablespoon maple syrup and set aside. Prep plates with a small handful, each, of arugula or greens.
Plate hot potatoes atop arugula and dollop with maple cream. Scatter generously with chorizo crumbles and toasted nuts.
Enjoy!
Disclosure: This post is part of an ongoing partnership with Q Squared NYC, maker of the lovely serveware showcased in the images above. As always, I recommend only those items that I truly find to be a good fit in The Pig & Quill kitchen, and any opinions expressed across the site, be they negative or positive, are 100% my own.
Oh yeah, and those pretty little dishes? Snag 'em for a steal when you shop Q Squared NYC through April 30th and receive 20% off (plus Free Shipping on all orders over $50) with code PIGANDQUILL. Snazzy.
————————————————–
Like whatcha see here — or have a question, feedback, or recipe hack to share? Join The Pig & Quill convo by commenting below (I love, luv, lurve comments) and hang out with me on Facebook, Twitter, Instagram and Pinterest. And don't forget to subscribe to P&Q emails (see that nifty box up there in the right sidebar?) so you never miss a post. x's & o's!