Vegan Cream of Broccoli Soup – a super simple, healthy cream of broccoli soup packed with fresh flavor, bright color and creamy, cozy vibes — and made entirely without dairy.

I love soup. As a kid — and even early into adulthood — I was a sucker for canned soup. The bloated, squishy, noodles. The melt-in-your-mouth carrots. I adored them. And then one day, somewhere around my cooking-for-roommates college years, I heard Rachael Ray insist that, "If there's one thing you don't need to buy canned, it's soup. It's just too easy to make good soup from scratch." And, much like the Glamour Magazine tip I read (right around the same time) about drenching your hair for at least eight seconds before applying shampoo — it stuck.
This vegan cream of broccoli soup is everything I love about homemade soups, made more perfect by the fact that it offers a welcomed respite from heavy, holiday meals without sacrificing coziness in the least. It's somehow both bright and light and rich and creamy. And amidst the holiday hustle and bustle, it's perhaps the most satisfying meal you could make for yourself.
Oh, and did I mention? It comes together in no more than 10 minutes.
Huzzah!

The Ideal Vegan Cream of Broccoli Soup
This soup was blended up almost by accident, in an attempt to turn my favorite riff on Sherrie's parsley sauce into something I could literally consume by the spoonful. This isn't a cream soup that happens to tout broccoli. (If we're being technical, it isn't a cream soup at all, though your taste buds would never know.) Rather, it's everything I would expect from a perfect cream of broccoli soup: silkily textured and deeply savory, with the mild flavor of broccoli and bright herbs taking center stage. It's vegan, yes, thanks to raw cashews that become whirled into whippy, creamy oblivion — no soaking involved. But I'd turn to this version of healthy cream of broccoli soup over almost all others, dairy or not.
Healthy Cream of Broccoli Soup in 10 Minutes!
The trick to the speediness of this soup's preparation lies in my favorite kitchen workhorse, the high-speed blender. (I've used almost every high-speed blender available, but this Wolf Gourmet Blender is the one I've been turning to most often.) A heap of fresh broccoli, stems and all, is just steamed until bright green and tender, then immediately blended with cooking water, olive oil, cashews, savory miso, loads of fresh herbs and salt. And while traditional cream of broccoli soup doesn't win any points for appearance, the resulting soup here tastes as bright as it looks.
Healthy, vegan, ultra-satisfying and fast.
Rachel Ray would be so proud.
xo,
Em
If you like this Vegan Cream of Broccoli Soup recipe, be sure to check out:
 
Easy Vegan Cream of Broccoli Soup
Vegan Cream of Broccoli Soup - a super simple, healthy cream of broccoli soup packed with fresh flavor, bright color and creamy, cozy vibes -- and made entirely without dairy.
Ingredients
6 heaping cups (about 2 small heads) chopped broccoli (stems + florets!)
2 cups reserved cooking water (from broccoli), plus more as needed
1.5 cups raw cashews
1 cup packed fresh flat-leaf parsley leaves
1 cup packed fresh dill fronds
¼ cup extra virgin olive oil
2 T white or yellow miso paste
½ tsp pink salt
cracked black pepper or crushed chile flakes, for serving
Instructions
Bring a large pot of water to a boil. Add broccoli and cook until bright green and just tender, 3-5 mins. Drain broccoli, reserving cooking water.
Add broccoli, 2 cups reserved cooking water, and cashews, parsley, dill, olive oil, miso and salt to a high-speed blender and blend until smooth, adding more cooking water to reach desired consistency, if needed. (Take care blending hot soups. Always allow for steam to escape and work in batches, if necessary.)
Taste, and add salt, if necessary.
Serve soup topped with more olive oil and herbs and freshly cracked pepper or chiles. Enjoy!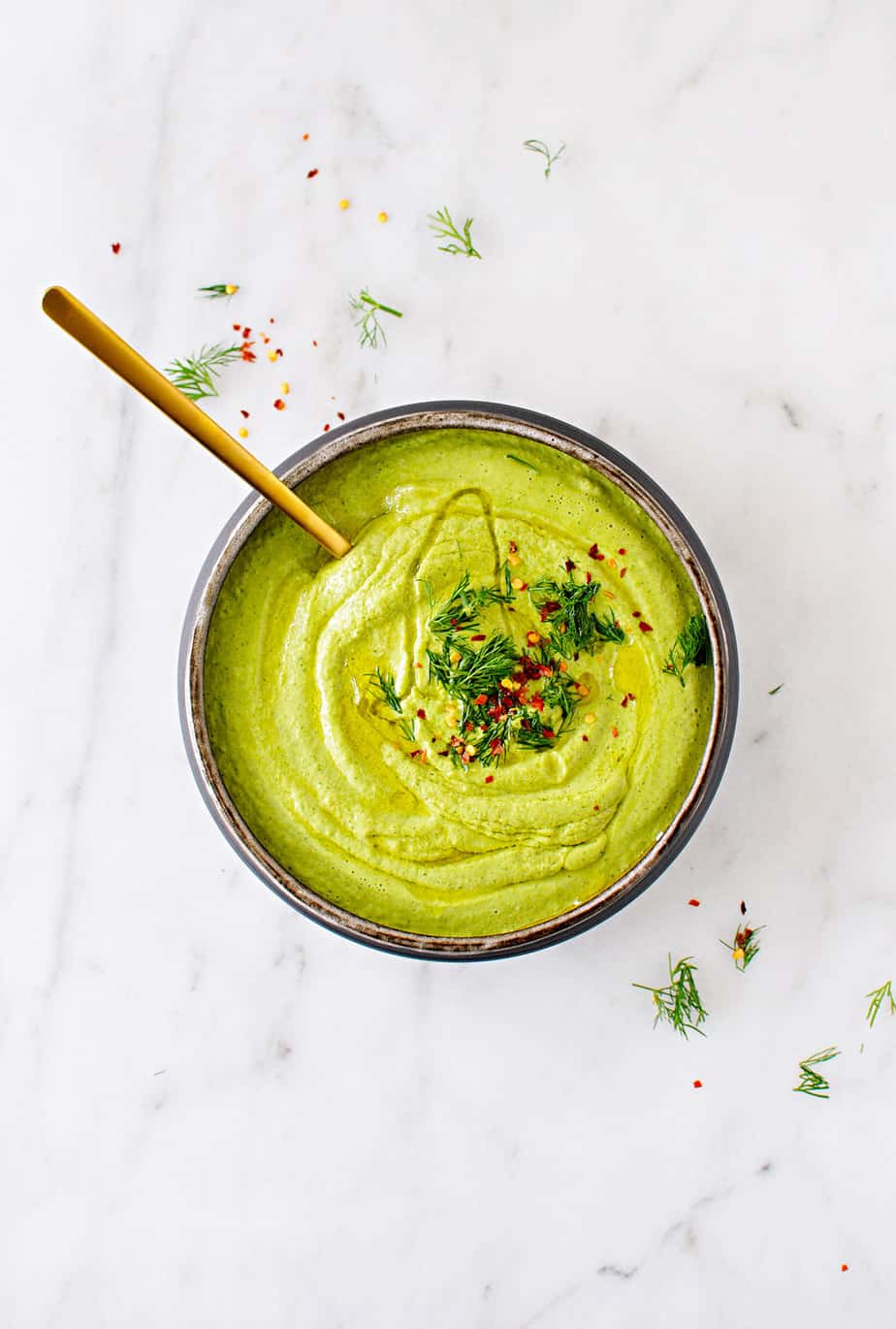 ————————————————–
OH! before you go…
Like whatcha see here — or have a question, feedback, or recipe hack to share? Join The Pig & Quill convo by commenting below and hanging out with me on Facebook, Twitter, Instagram and Pinterest. And don't forget to subscribe to P&Q emails or add me to your RSS reader with Feedly or Bloglovin' so you never miss a post. x's & o's!