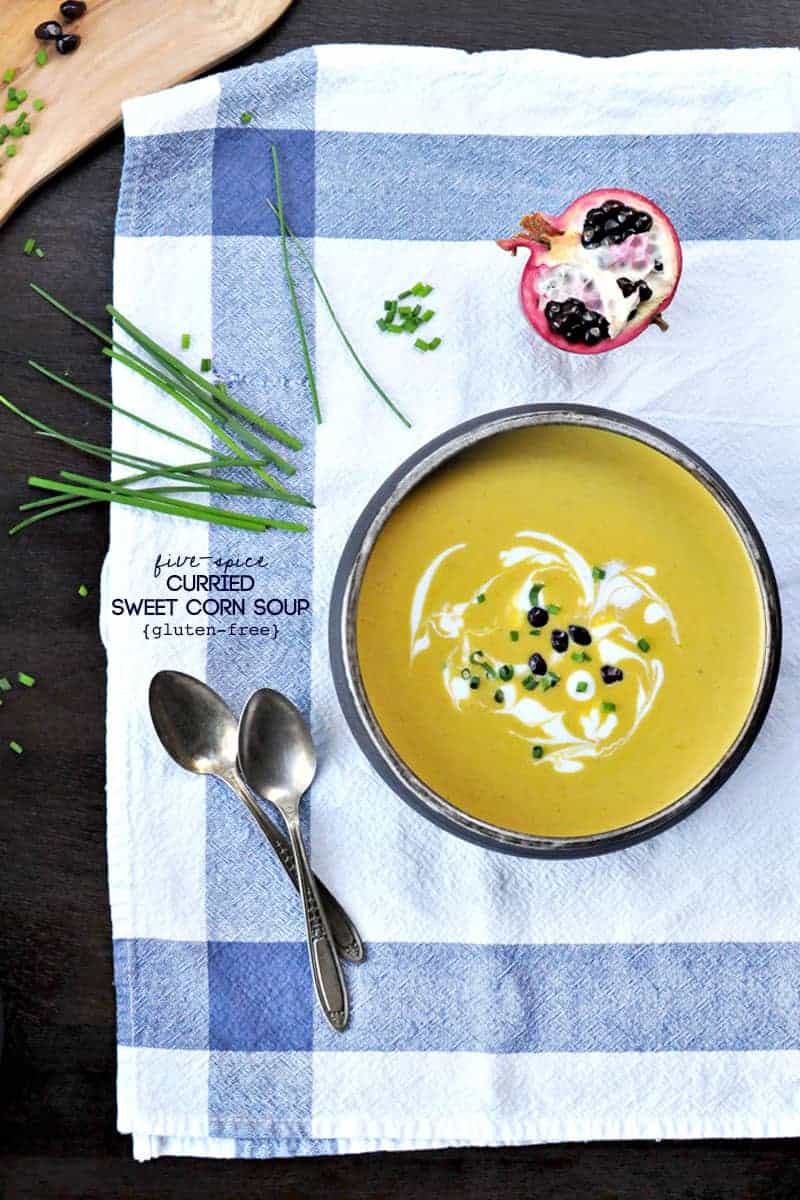 Two years ago I gave up soda and factory farmed fast-food for the New Year, and they both stuck. Aside from hippie, home-brewed ginger beer and the like, nary a pop has crossed these lips. Nor a Double Double (thank god for In n' Out's grilled cheese is all I have to say about that…). Or a chicken nugget.
Okokok, there may have been a little c-nug situation this one time at the Denver Airport because cravings and short layovers and crippled self-control, but I sweaaaars to you, that was it. I also swear I'm not (nor was I ever) really much of a fast food junkie, but once it's off the table, it suddenly seems so forbidden and risky and deliciously alluuuuuuuring.
Thank god for In n' Out's grilled cheese is all I have to say about that.
Since it seems unlikely that I'll ever be able to stick to another resolution with that same discipline and finesse (except for that one time at the Denver airport. Thank god for In n' Out's grilled cheese is all I have to say about that!), I'm saying to hell with new resolutions and hello to my always faithful friend moderation.
Ah, moderation. She's a sexy beast. I'd call her Mod, but properly naming a practice that allows me to responsibly pump butter-like product onto my movie theater popcorn just seems silly.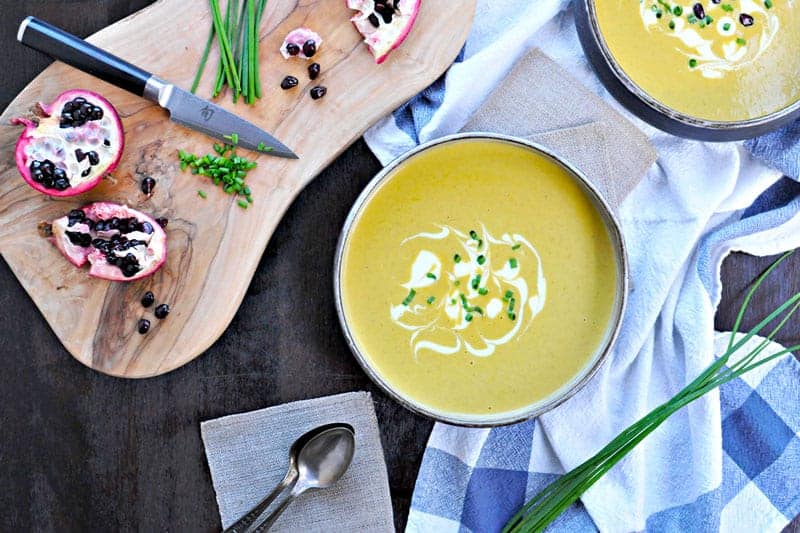 Moderation, in fact, is what makes particularly tasty-yet-waistline-friendly soups like this one so appealing. You gotchur veggies. You gotchur detoxifying, gut-busting spices.
You gotchur hefty glug of half & half.
And, as with any pureed soup, you gotchurself an opportunity to drink your lunch out of a Care Bear Thermos!! On a cold day, I can think of almost nothing more comforting. 🙂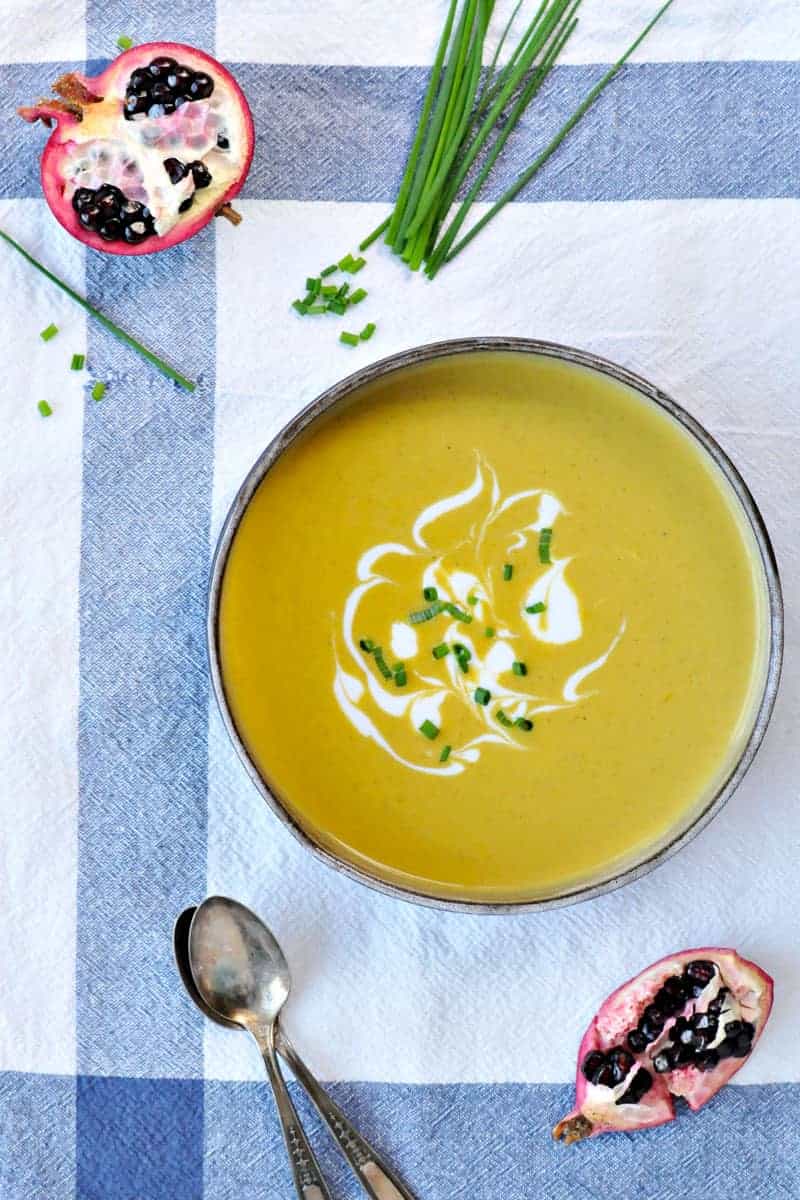 Whether or not you've made any dietary commitments for the New Year, I urge you to give this soup — or at least a version of it — a good ol' hearty whirl. I won't tell if you swap the half & half for coconut milk (to the contrary, I think it'd be pretty badass) or sautéed your veg in oil instead of butter or skipped the toppings completely. (Note that doing all of the above would make this delectably vegan!)
I mean, if we're really talking about freedoms here, you can dunk a whole damn sandwich into your bowl if the mood strikes, and your secret'll be safe with me.
Thank god.
For In n' Out's grilled cheese.
Is all I have to say about…that?
Guys…..?
Good luck with those resolutions, guys and gals! Soup for one and all.
xo,
Em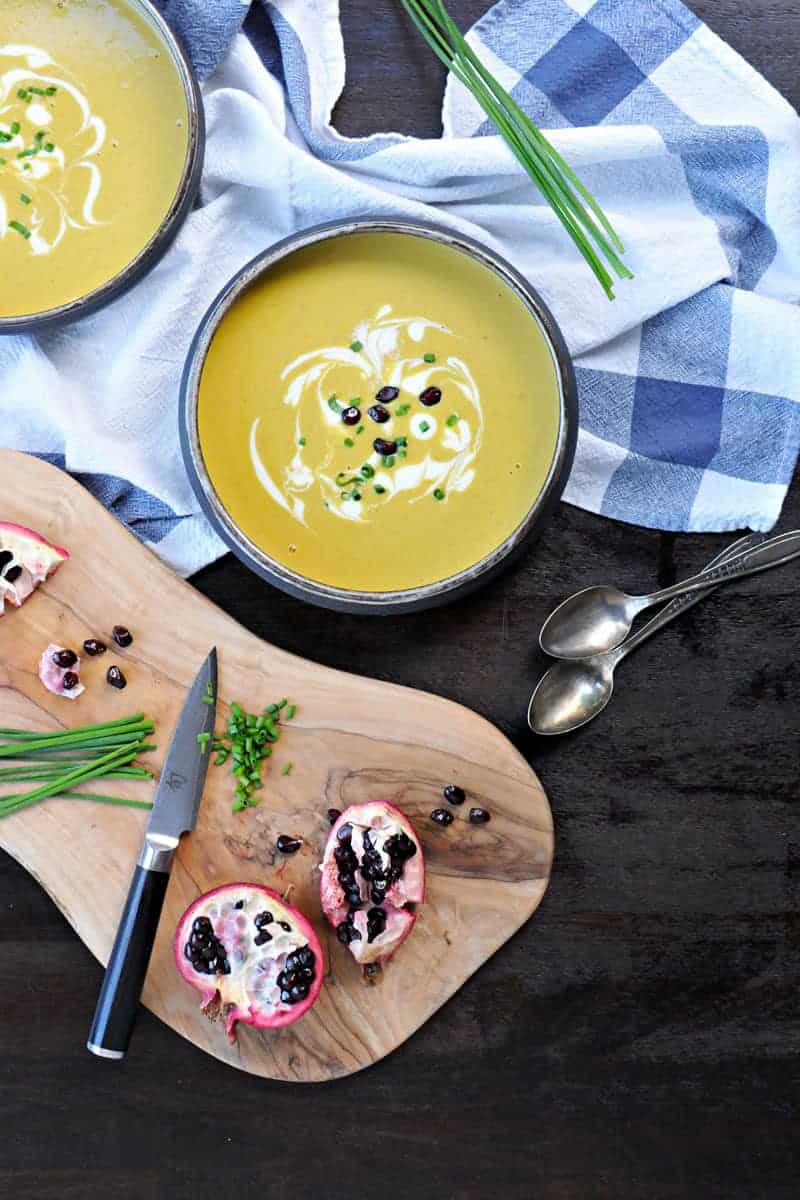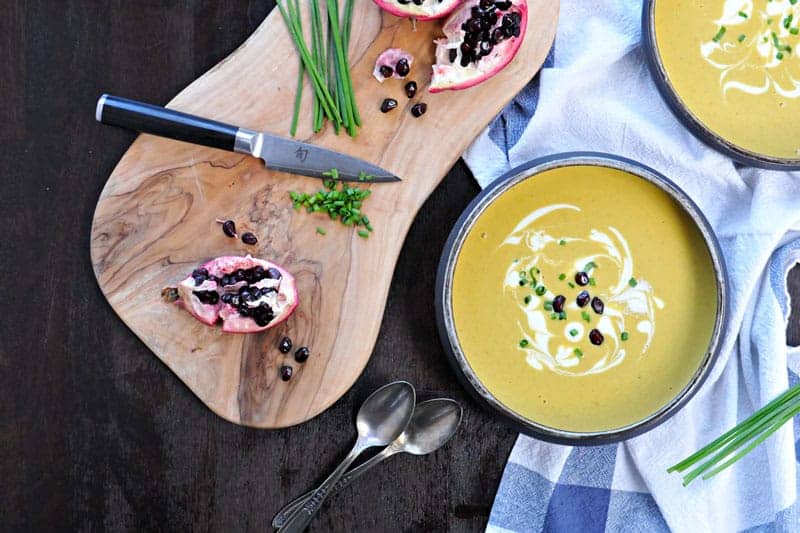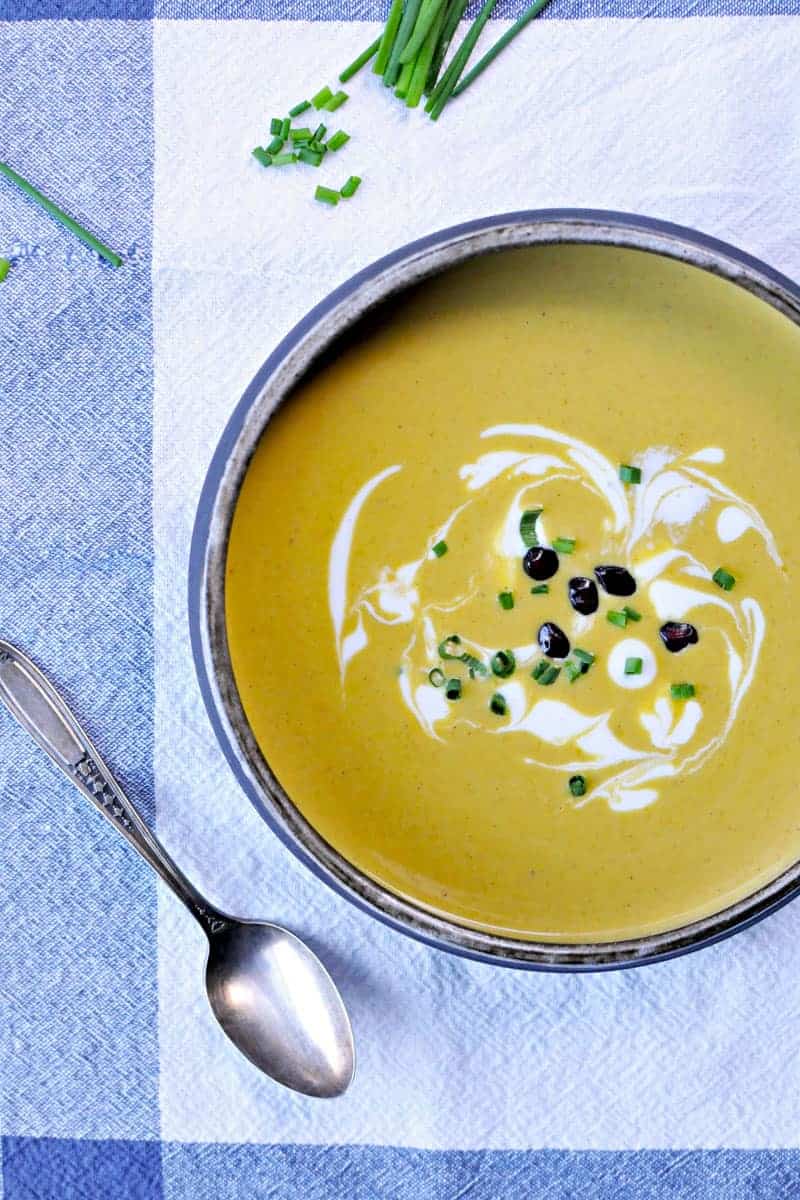 five spice + curried sweet corn soup
Ingredients
3 T butter
2 leeks, white and light green parts, washed and thinly sliced
2 carrots, finely chopped
1 large russet potato, cut into about 1" pieces
3 cloves garlic, finely chopped
1 T coconut sugar
1.5 tsp ground ginger
1.5 tsp garam masala
1.5 tsp Chinese five spice
1 tsp good curry powder (we always use Vindaloo)
½ tsp tumeric
4 cups low-sodium chicken or veggie stock
1 cup half & half
1 16 oz bag frozen sweet corn
sea salt + freshly cracked black pepper
sour cream or Greek yogurt and chives or cilantro, for serving
Instructions
In a large Dutch over or soup pot, melt butter. Add leeks and carrots and saute until veggies just begin to develop color, about 10 mins.
Add potatoes, garlic, sugar and all spices; cook 1-2 minutes until spices are browned and fragrant and potatoes are well-coated with seasoning.
Add stock, 2 cups water and corn. Bring to a boil, then reduce heat to a simmer and cook, uncovered, for 25 minutes.
Working in batches if necessary, transfer soup to a blender and carefully blend until smooth. (Note: hot soup + blender can easily = soupsplosion, so be sure you allow an opening to let steam escape while blending.)
Return pureed soup to heat. Stir in half & half and season with salt and pepper to taste.
Serve soup piping hot topped with sour cream or Greek yogurt and herbs. (Pomegranate seeds are fun, too!) Enjoy!
Notes
Vegan variation: Use veggie stock, swap the half & half for light coconut milk (it will result in a slightly different -- though very complementary -- flavor) and skip the sour cream topping or opt for a
cashew cream
version. 🙂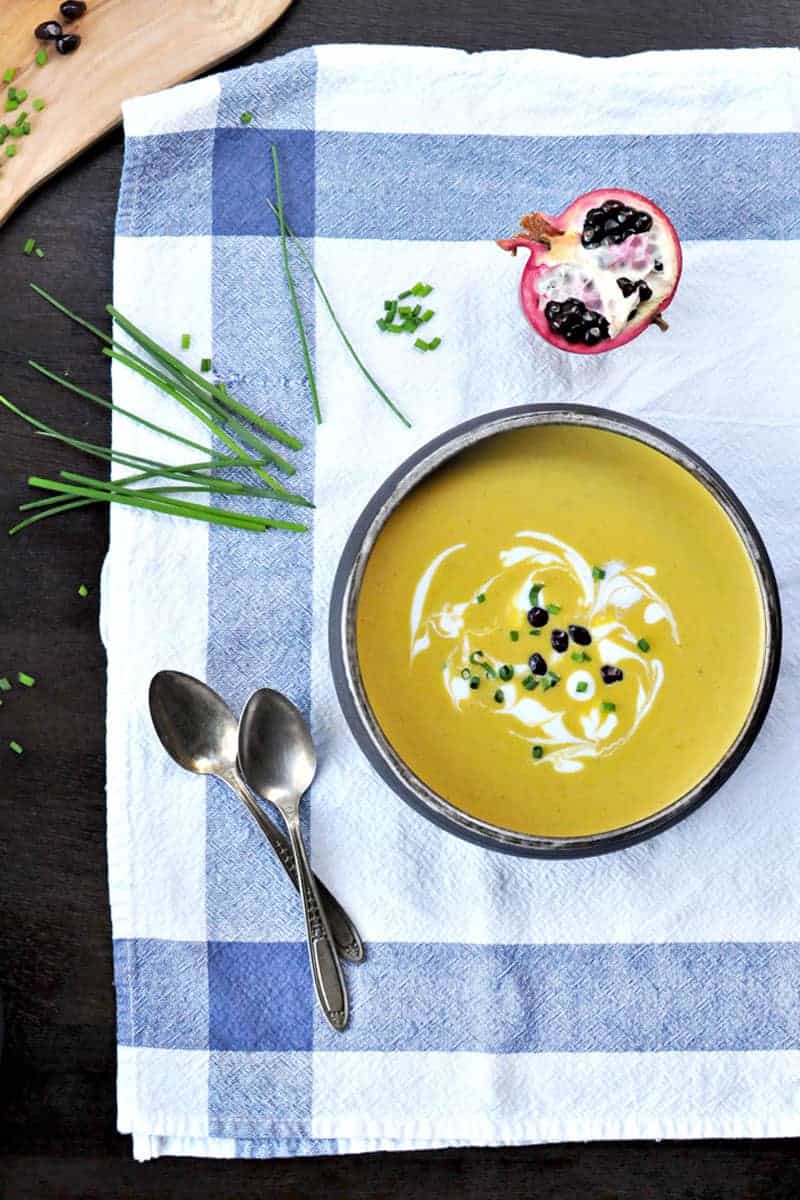 ————————————————–
OH! before you go…
Like whatcha see here — or have a question, feedback, or recipe hack to share? Join The Pig & Quill convo by commenting below (I love, luv, lurve comments) and hang out with me on Facebook, Twitter, Instagram and Pinterest. And don't forget to subscribe to P&Q emails or add me to your RSS reader with Feedly or Bloglovin' so you never miss a post. x's & o's!