I did it again. It's getting dangerously close to 90 degrees outside, and here I am talking about soup. I feel like we've been here once before. Ah, yes, the Famous Cheesy Broccoli Soup of Spring 2014. Jeez, it wasn't even that long ago.
But this time is different. This time, I know you guys will forgive me. Because look at this soup.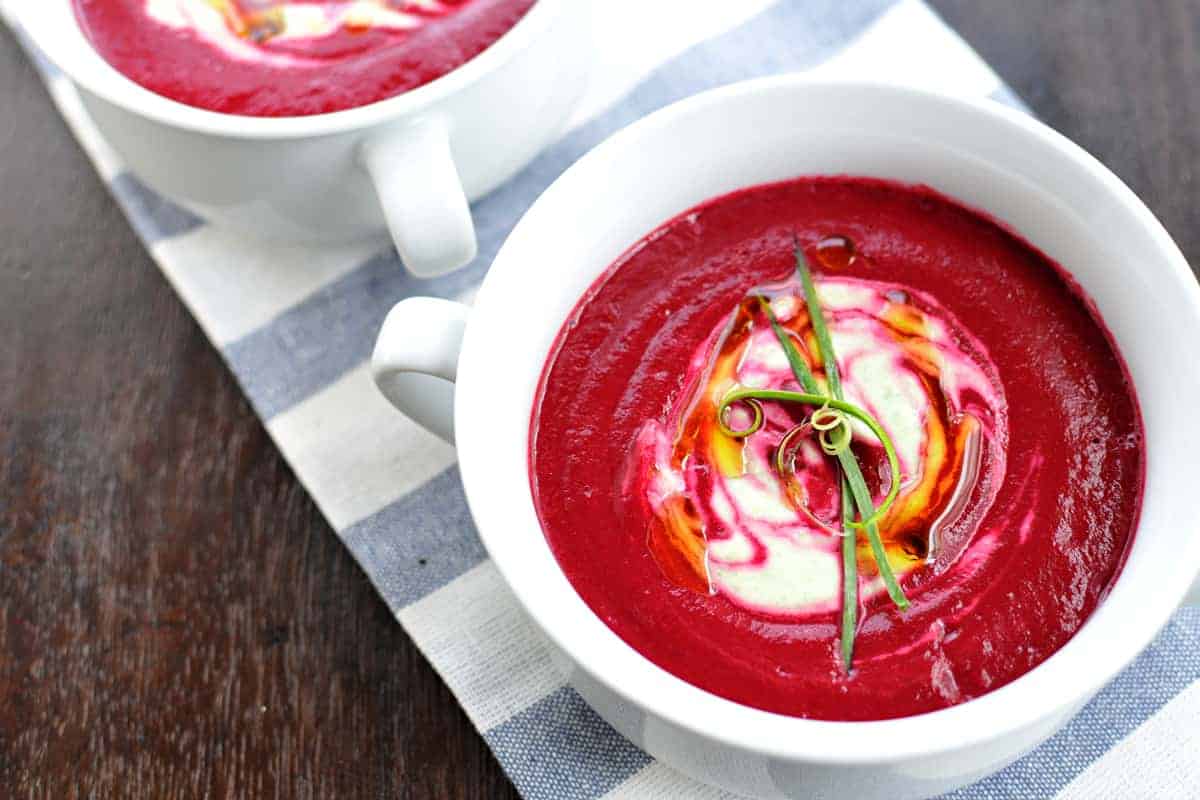 Its supremely lovely hue. That hypnotic swirl of green garlic cream that begs of you to put down the remote…pick up the spoon…you are not Olivia Pope…you are not Olivia Pope…you ARE NOT Olivia Pope…
I suppose now might be a good time to confess just how many eps of Scandal I've devoured in the past 24 hours. I'd heard all the rumors, but in short? UH.Dicted. It makes coping with the 80+ degree temps inside my house nearly tolerable. Frequent trips to the freezer are helping, too. Open freezer. Insert head. Consult box of Arm & Hammer from 2011 on how best to go about asking landlord for an AC unit. Realize you're consorting with an air freshener. (A stale one at that.) Opt instead for the well, it can't get any worse route. Make soup.
And here we are again.
A pretty bowl of soup laced with spicy warmth, the grassy zip of green garlic and, underneath it all, that rich, earthy sweetness that is quintessentially beet. Simple. Sophisticated. Summery, even, despite the whole It's A Soup thing.
Good eating for any gladiator, hot or not.
Oh yeah, and PSA: big congrats to Laura P. who won our The Lettered Bride giveaway! And, of course, many thanks to everyone who entered. xoxo!
Roasted Beet Soup with Garam Masala & Green Garlic Cream
By Emily Stoffel
Cook time: about an hour | Serves 4-6
Note: To make this soup veggie-friendly, go the route of veggie stock. And for a vegan variation, omit the garlic cream altogether, or whip up a cashew cream alternative. Yum!
Ingredients:
3 large beets, cut into 1/2″ pieces
2 stalks green garlic, white & light green parts
1 T coconut sugar
1 tsp hot curry powder
1 tsp garam masala
4 cups stock (chicken, beef or veggie)
olive oil
sea salt & freshly ground black pepper
1/2 cup greek yogurt
1/4 cup water
Instructions
Preheat oven to 400F. Toss beets generously with olive oil and salt and pepper. Roast in a single layer for 30 minutes.
Finely chop white parts of green garlic. Saute over medium-high heat in a drizzle of olive oil with salt and pepper until soft, about 3 mins. Add curry, garam masala and sugar and saute an additional minute until spices are fragrant. Add stock and roasted beets. Simmer for 15 mins.
Meanwhile, roughly chop light green parts of garlic. Blanch in boiling water for 30 seconds, until bright green. Remove immediately to a bowl of ice water to stop cooking. Drain garlic greens.
Add garlic greens, greek yogurt, a good drizzle of olive oil (about 2 tablespoons) and water to food processor and pulse until well combined.
When soup is done simmering, transfer to a blender (in batches, if necessary) and purée until very smooth, loosely venting blender lid to allow steam to escape. If a thinner consistency is desired, add water a quarter cup at a time. Taste and adjust for salt, if necessary.
Serve puréed soup topped with the green garlic cream and another drizzle of olive oil. Enjoy!
————————————————–
Like whatcha see here — or have a question, feedback, or recipe hack to share? Join The Pig & Quill convo by commenting below (I love, luv, lurve comments) and hang out with me on Facebook, Twitter, Instagram and Pinterest. And don't forget to subscribe to P&Q emails (see that nifty box up there in the sidebar?) so you never miss a post. x's & o's!