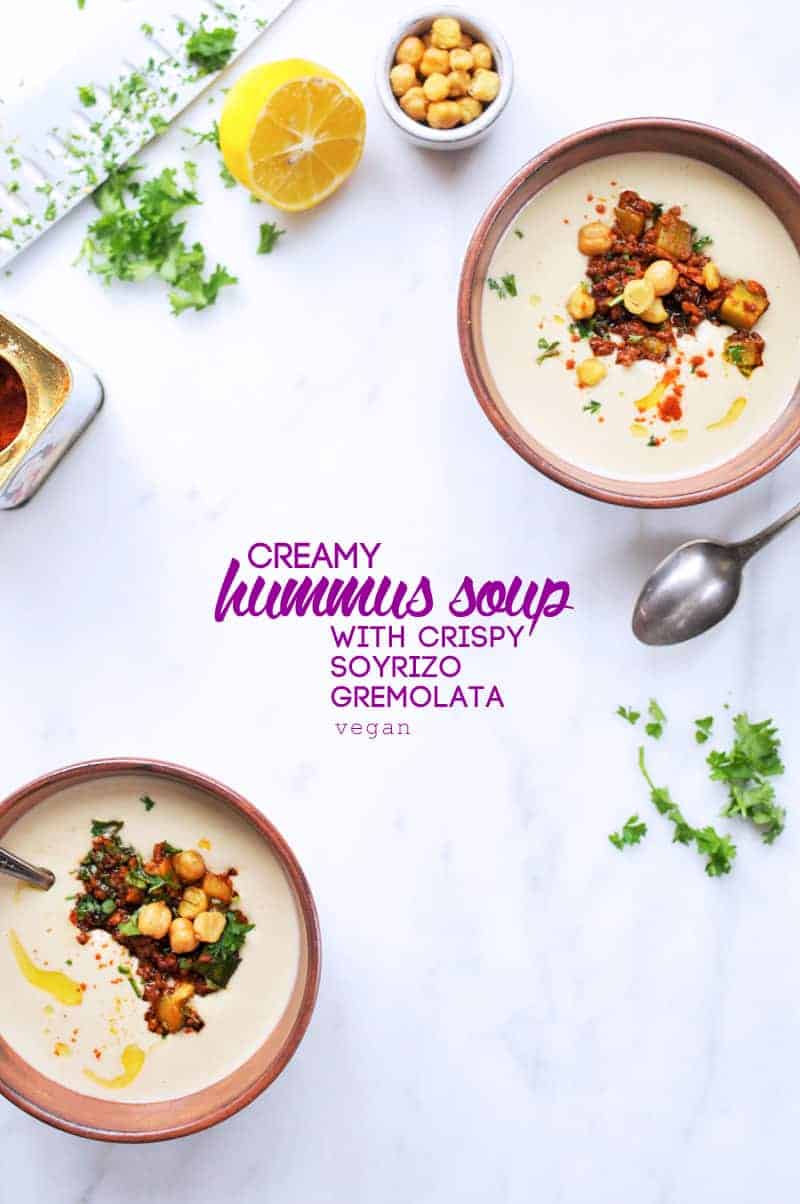 Like so many recipes that find their way to this space, this soup was a happy accident. A well-meaning attempt (and I do mean well-meaning, as not a corner was cut!) at Kenji Lopez-Alt's intriguing Israeli hummus recipe — more on what makes it so intriguing later — watered down, quite literally, into a slurpable meal worthy of your soup spoon.
Too many times I've daintily tucked pita into a creamy bowl of restaurant hummus while every fiber of my being screams good lord woman, eating it by the oversized spoonful is the clear winner of all ideas ever! And too many times, apparently, I've bump-on-a-logged it, afraid of what my dining companions, or — sin of all sins! — the doler-outter-of-pitas — might think. Because I will admit: when pita is good, it's responsible for at least half the splendor.
But when hummus is good.
When hummus is this good.
It needs not the company of pillowy fillers.
Indeed, it's a treat to behold all on its scoopable, spoonable own.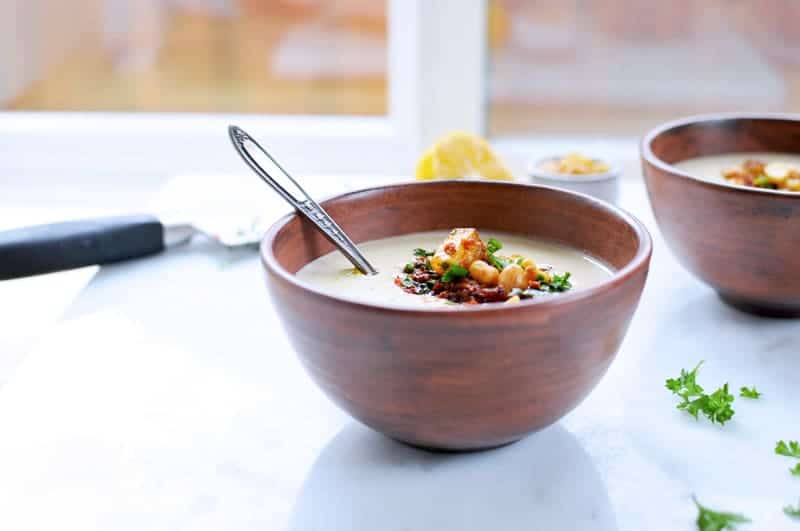 As suggested, the basis for this recipe is Kenji Lopez-Alt's Israeli hummus, which claims to turn out that super creamy, whippy-textured hummus available almost exclusively in restaurants or at scary New York deli counters but without all the urban-legend chickpea peeling. Which, to be honest, I probably have time for, but Nashville is back and the sobbing required for every episode of This is Us just really taps my reserves and so isht like peeling chickpeas isn't a thing that's going to happen. Also, The Bachelor. It's a taxing season. Open your mouth when you speak, Nick. OPEN. YOUR. MOUTH. WHEN. YOU. SPEAK.
Rather than peeling the chickpeas to achieve ultra creaminess, Lopez-Alt (here's where I really want to just call him Kenji) soaks dried beans in salt and baking soda overnight, drains them, and then simmers the crap out of them in more salt and baking soda, plus a whole complement of aromatics for good measure/flavor. That mixture is drained and high-power-blended into a smooth paste (insert: my goof-up of adding more soaking water than necessary), which is then whisked together with a homemade tahini sauce of its own brilliance. I don't want to give too much away, but it employs an entire head of unpeeled garlic cloves, a butt-ton of lemon juice — and more elbow grease in the form of, again, a high-powered-blender.
Happily (and generously) the good folks at KitchenAid provided the new Pro Line® Series Blender featured here so I could take its 3.5 horses for a spin, and it made light, whippy work of both the hummus and the unpeeled garlic tahini components that are so critical to this soup's unexpected lusciousness. If you're without such an appliance, Lopez-Alt does mention that a food processor could suffice, but he supplies enough words touting the supremacy of the former that I assume you might as well not bother.
While the base of the recipe — that being the hummus-turned-soup — I can take almost no credit for, the crisped soyrizo (or, please, classic Mexican chorizo, if you are an eater of meat) is a personal addition not to be missed. It's a small play on the decadently-topped hummuses (hummi?) you might find in your fave restaurant — here on the Peninsula, Oren's in my go-to — offering spicy, bright, herbacious and textural complements to a soup that is otherwise akin to liquid silk. It's also embarrassingly simple — at least compared to the thoughtfully-executed components of the soup base. And should you find yourself with leftovers, it's an excellent veggie filling for tiny street tacos or folded into a pair of soft scrambled eggs.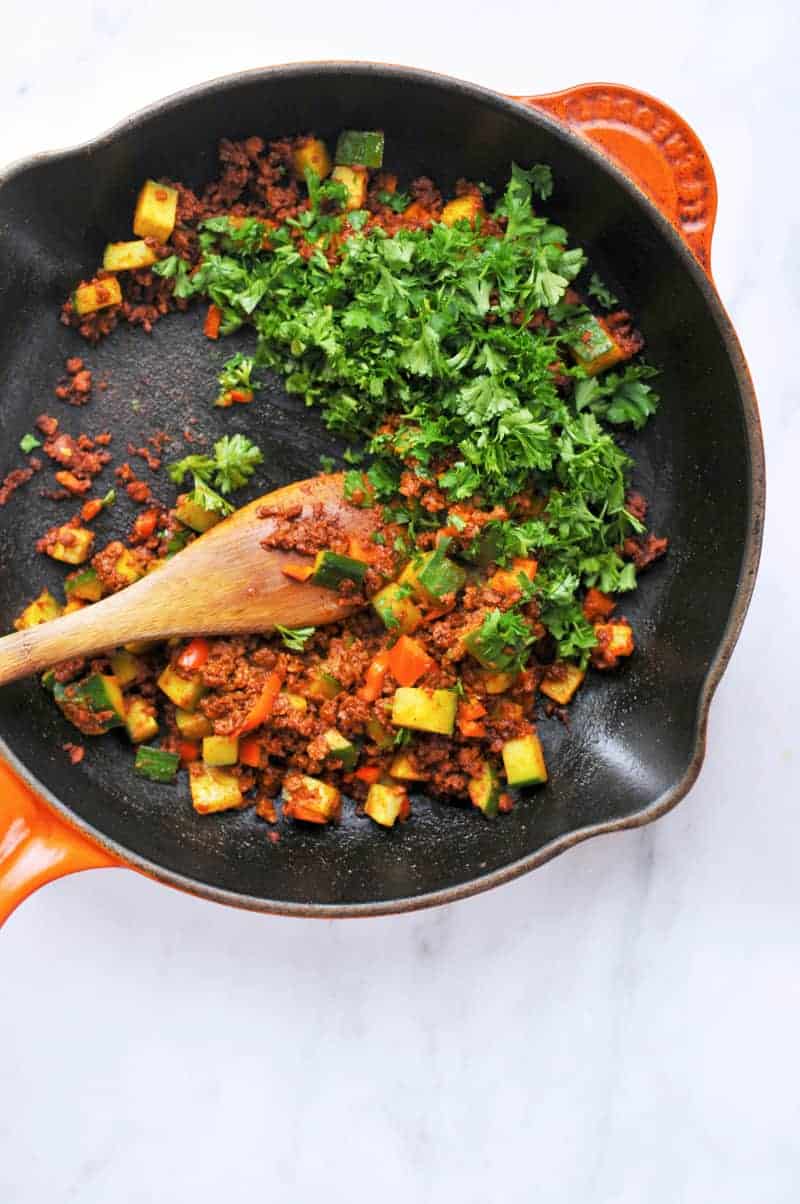 I've intentionally written the recipe below to encourage you to seek most of the details for the soup, itself, from the Serious Eats website, making notes accordingly to demonstrate how and where my dippeth became souppeth. The Crispy Soyrizo Gremolata is incorporated at the end.
Before I leave you to that, however, I promised Chris I would note two of his observations re: said soup in this post (not one to contribute to this blog very often, a request of this nature seems paramount in importance) — and those are:
1) A soup based on a dip is most definitely a game-day eat. I think the phrase "Souperbowl Soup" was even dropped, to my giddy amusement.
2) When you mix the topping into the soup, it basically tastes like a bowl of vegan queso dip.
So, you know, if all the Lopez-Alt test kitchen schtick doesn't sell you…
Vegan Queso Dip. 
Happy weekend, friends!
xo,
Em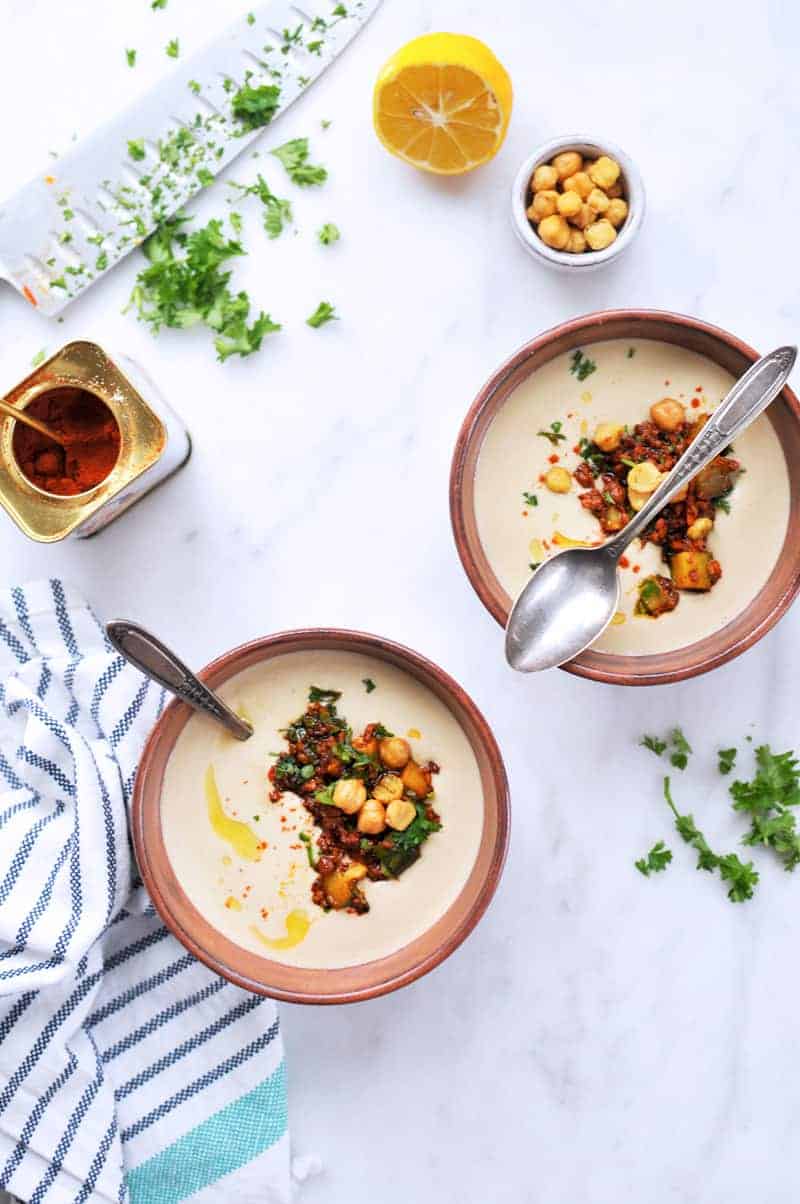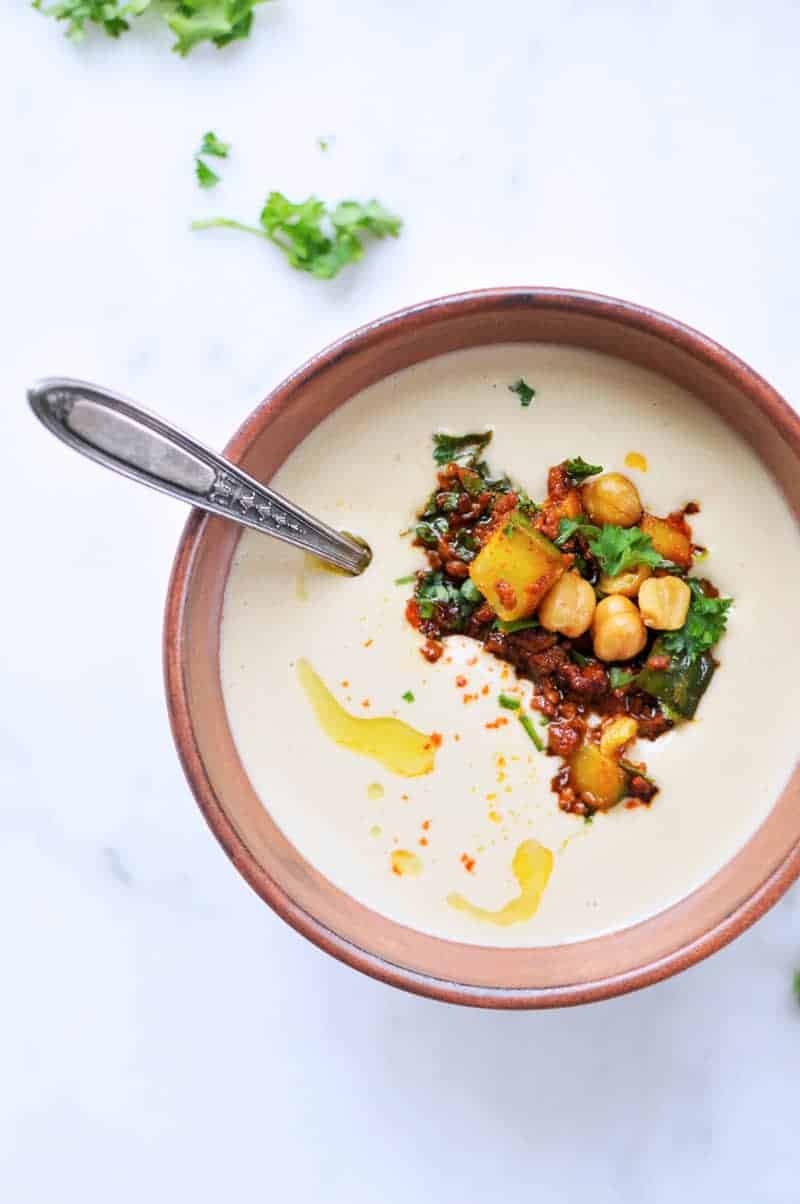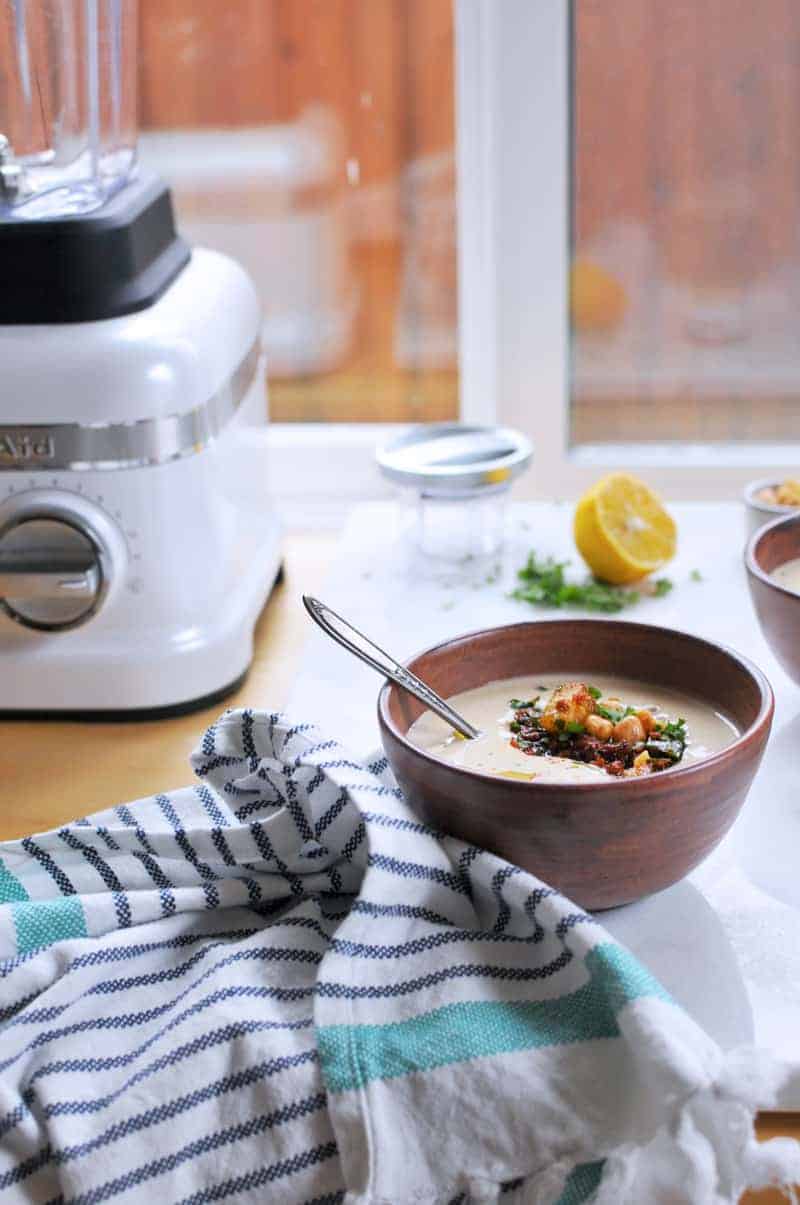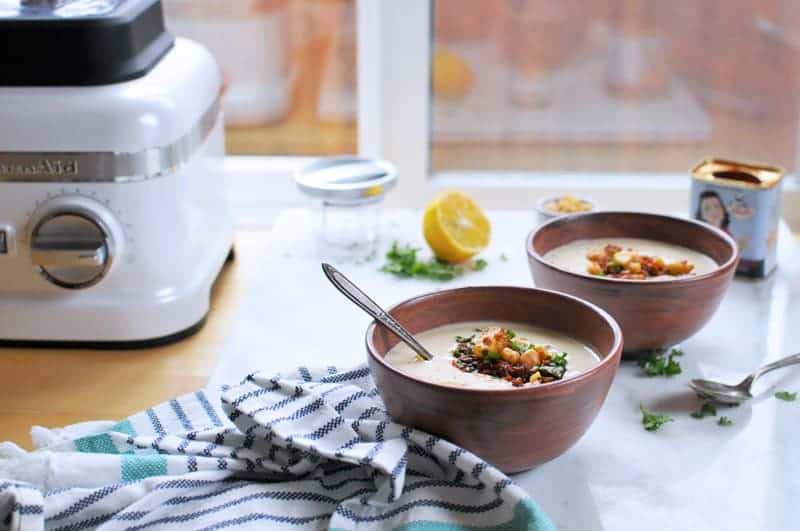 This post is written in partnership with KitchenAid, who generously provided the Pro Line® Series Blender you see here. As always, I only support partners whose products and practices complement those employed in The Pig & Quill kitchen.

Creamy Hummus Soup with Crispy Soyrizo Gremolata (Vegan)
Ingredients
Creamy Hummus Soup, adapted from Kenji Lopez-Alt's Israeli Hummus Recipe (see recipe instructions below for given modifications)
drizzle extra-virgin olive oil, plus more for serving
6 oz loose Mexican-style soy chorizo, casing removed
½ English cucumber, diced
juice and zest of one meyer lemon
two large handfuls finely chopped parsley, plus more for topping
smoked paprika for topping, optional
crunchy sea-salted chickpeas for topping, optional (homemade or storebought, these have proven tasty)
Instructions
Prepare hummus according to Kenji Lopez-Alt's method minding the following:
The Tahini Sauce called for is actually a separate recipe (here); in said recipe, pulsing the garlic unpeeled with the lemon juice is critical to the resulting flavor.
When blending the chickpeas, err on the side of using less of the simmering water, reserving whatever water you do not use for thinning the soup later if a saltier taste is desired.
Whisk in the tahini and taste the final product before proceeding. At this point, I'm assuming you have a lovely hummus - yay! If you're still tempted to proceed to make soup, heat the desired amount of hummus gently over medium heat until warmed through, thinning with either a little reserved simmering water OR plain water, depending on the saltiness of the soup, until soup thickly covers the back of a spoon (think bechamel).
To make the Gremolata: While soup is warming, heat drizzle of olive oil in a medium skillet. Add soy chorizo and fry until crispy in places, 5 mins. Add cucumber and saute until just warmed through. Turn off heat. Finish with lemon juice and zest and plenty of parsley.
Serve soup topped generously with the gremolata, a pinch of smoked paprika, more olive oil over the top and crunchy, salted chickpeas, if desired. Enjoy.
Notes
The first thing worth noting is the time. While much of the time is inactive (that is, about 2 hours of simmering and only 15 or 20 mins of actual active cooking or prep), this is a meal that requires some planning. Add an extra overnight soak if you're using dried chickpeas.

Second, it is not lost on me that this concept could be made exponentially simpler by taking your favorite take-out or store-bought hummus and thinning it into soup with a little good quality stock or water in your high-powered blender and heating it accordingly. Though you won't experience the same thrill of blending up all those silky little soaked chickpeas, I suspect the results would be passable if not applaudable. And I would still very much encourage the gremolata topping. 😉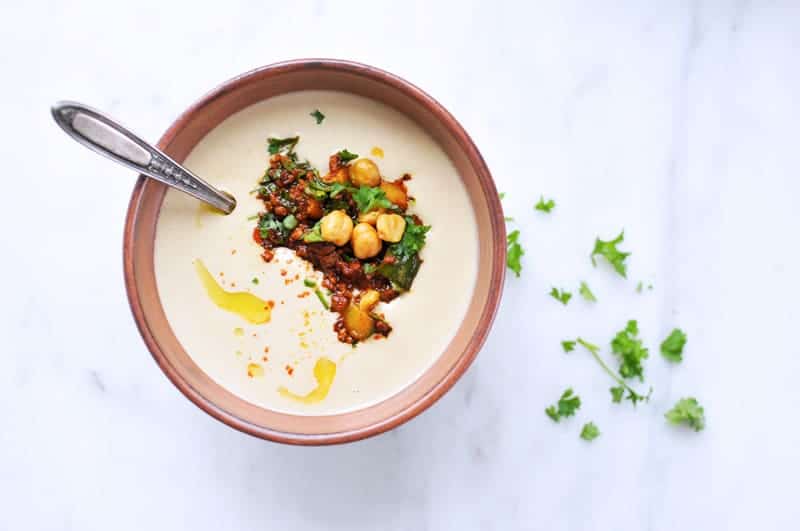 ————————————————–
OH! before you go…
Like whatcha see here — or have a question, feedback, or recipe hack to share? Join The Pig & Quill convo by commenting below (I love, luv, lurve comments) and hang out with me on Facebook, Twitter, Instagram and Pinterest. And don't forget to subscribe to P&Q emails or add me to your RSS reader with Feedly or Bloglovin' so you never miss a post. x's & o's!