Thank you so kindly for the dramatic outpouring of support I received here and across social media following my last post. While I've been a bit delinquent about responding to comments and messages, it's only because your generous gestures have left me without adequate words. ♥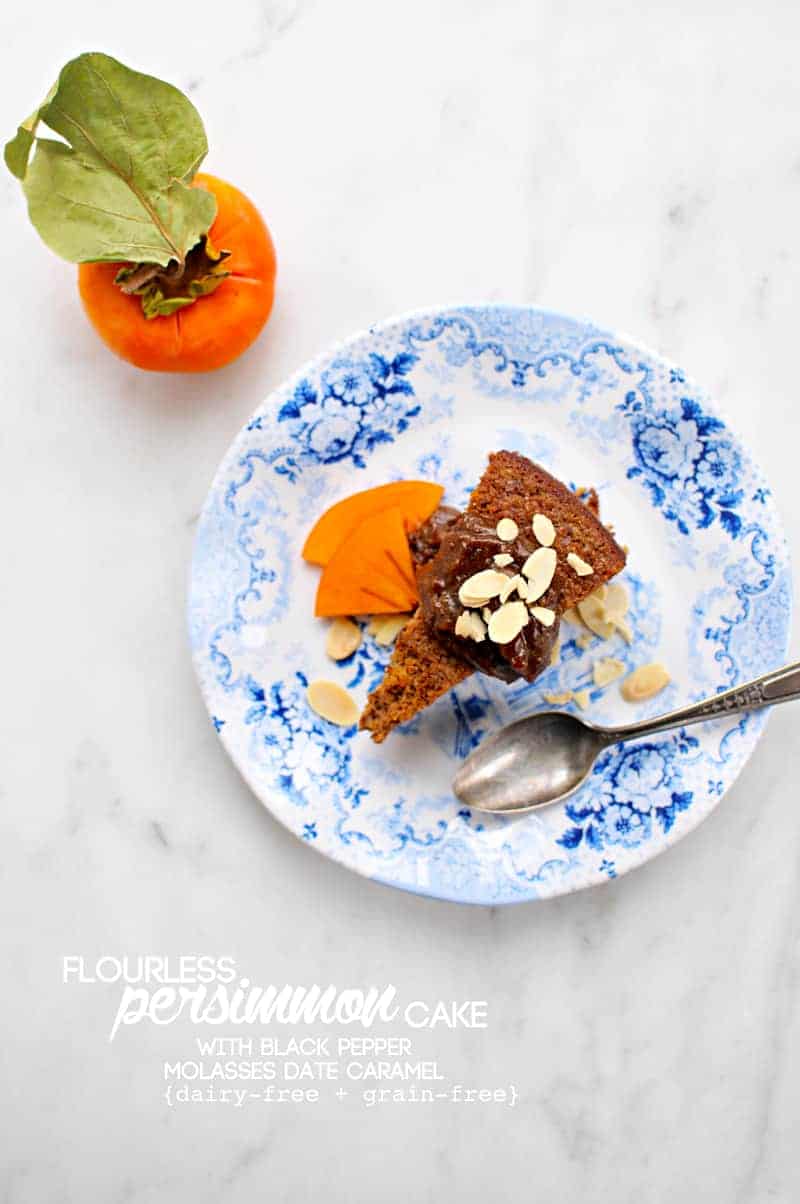 I've thought a lot over the past few weeks about how to start this blog post. In the wake of my last post, I've experienced no shortage of heart-warming gestures of love, support and generosity, any of which would make a fine anecdote with which to kick off this recipe for wintry spice cake. If you fancy yourself a writer (as I sometimes dare to), you may relate to the giddy elation that occurs when, mid-shampoo, words you've been struggling with begin to rise from within — coaxed forth by the similarly rising steam, or perhaps the safe anonymity of the fogged-over mirrors — only to find they've retreated when you finally make time to put pen to paper (finger to keyboard) too many long moments later. It's not that I intended to go this long without checking in, but after the first few false starts, it started to feel a little forced.
So today. Tonight. Without poetry or fanfare (and with Robert Downey Jr.'s Tony Stark dry-witting away in the background), I'll leave you with this. Highlights from the long month we've been apart. A couple of brief thoughts as we welcome this New Year. And then, I promise, we'll talk about cake.
I parted ways with my right breast.
My Boston bestie flew out and custom-built me an entryway table, danced the baby around (wildly and without complaint), and Marie Kondo'd my closet.
We made this salad and these cookies on serious repeat.
We came up with a plan to preserve little micro-Lanas in case we decide to expand our family down the line. It involves a bunch of little needles, one bigass needle and tinkering with my hormones. Like, a lot.
I shed so many happy tears when I opened the most thoughtfully-curated care package from almost 30 friends in the blogging community. I will never stop reiterating how grateful I am for the kinship and camaraderie that we share in this bizarre little online world. You're the sweet, brazen, inspiring and wickedly creative sisters (and brothers) I never knew I'd come so much to rely upon. ♥
I began to tackle a thick stack of thank you notes, which currently sit abandoned and half-addressed. (Consider this a blanket IOU — they're coming, I swear!)
I strategically conned Sarah into bringing her sweet babe across the Bay, feeding me lunch, and stocking my freezer with pineapple fried rice.
My in-laws brought my knives in for sharpening for the first time in 10 years and HOLY WOW.
I physically therapied like a boss.
We celebrated Chris' birthday with the most memorable omakase experience and the best ikura + uni I've had to date (insert something less cliché here about a cool ocean breeze on the tongue).
We ate ALL THE FANCY CHRISTMAS COOKIES.
For the first time since moving back to CA, we stayed home for the holiday and hosted a quasi-international Christmas Eve potluck: pork and green chile tamales, ravioli en brodo + curry-roasted carrots; and Christmas Day supper: lamb + beef bolognese, creamy parmesan brussies (← a riff on Sherrie's recipe) + garlic bread.
I finally bought an Instant Pot.
And made 8-min lentil soup.
Which, real talk, is still like 30-min lentil soup when you account for the pressure build-up and release. Meh.
(Sorry I said pressure build-up and release. At least I didn't say climax.)
(Oops.)
I took a (several hour-long) trip down the rabbit hole touring celebrity homes on Lonny.
Santa brought Lana a bike and Chris' eyes actually sparkled with pride when she threw her leg over the seat and took off, unprompted. Cue Mommy Xanax.
I wore these plaid pants on repeat every day since Christmas — now on sale, yay!
My mom and I scoured the clearance endcaps at Target for no less than 90 leisurely mins and it was exactly as glorious as it sounds (read: very).
We rang in the New Year with a mini Sequence tournament — I'm officially hooked.
In some ways, the past month has been both incredibly ordinary and unfathomably extraordinary. Unsurprisingly, a cancer diagnosis is a whole lot of hurry-up-and-wait, leaving strings of unscheduled days or weeks suspended on silken threads between these looming monoliths of surgery and chemotherapy. So here I've been. Vegging like a pro and getting psyched up for the next big thing. A little anxious. A little bored. A lot optimistic.
I shared a bit of this on Instagram today, but I'll say it here, too. While 2016 had its flaws, it also had its bright spots (or was, at the very least, eye-opening for many). Even right at the end, my family found ourselves mourning the loss of my grandfather, who passed the day before my surgery. But the celebration of his immensely storied life that followed was as heartwarming a sendoff as any I've seen. He was a phenomenally generous human being. Warm and kind and interesting in the way only someone of 90 years can be. A veteran. A Mason. A farmer.
This cake is made with persimmons from my grandfather's tree, and even though I first assembled and photographed this recipe more than a month ago, I still find it fitting for the New Year. Fragrant and spiced, a worthy accompaniment for coffee or tea whether served after dinner or at the breakfast table. Nothing that would break any resolutions you might (not) have made, but cake all the same. And with an assertive black pepper and molasses-spiked date caramel that's as memorable as it is simple to make.
Peace and love to you in 2017, friends.
xo,
Em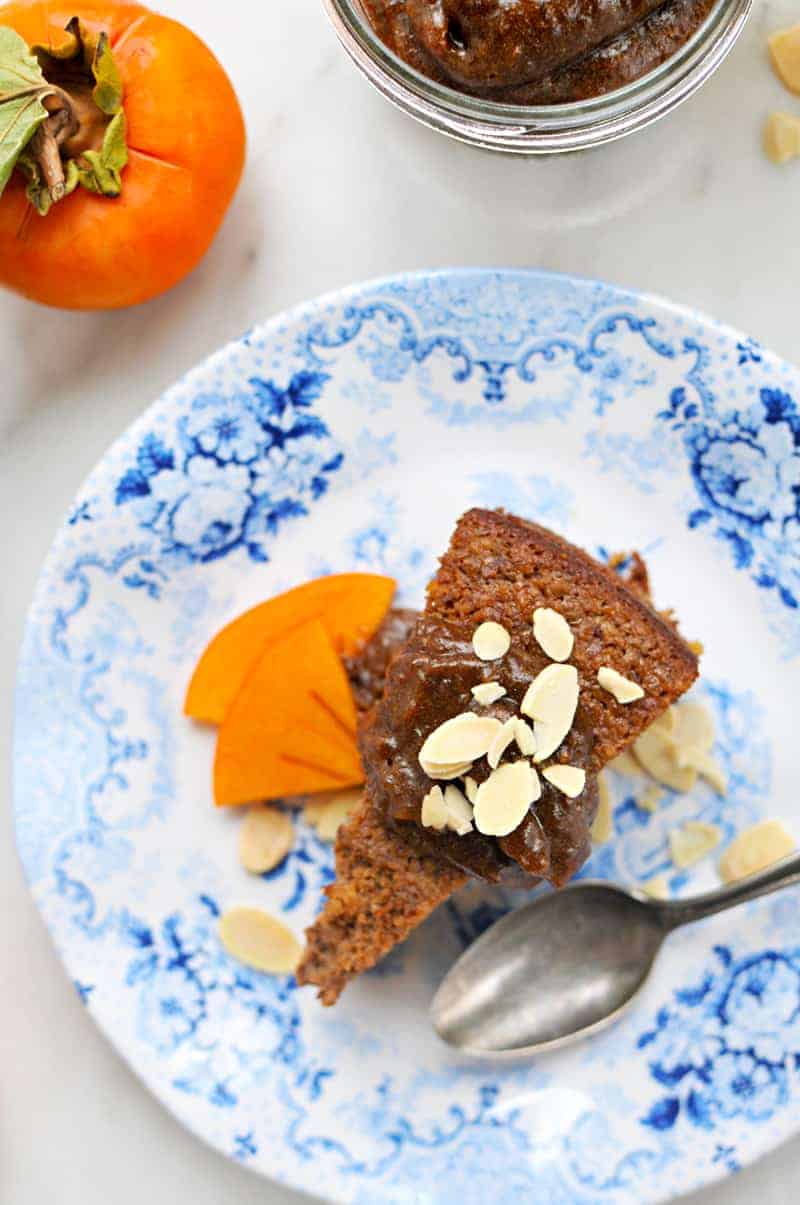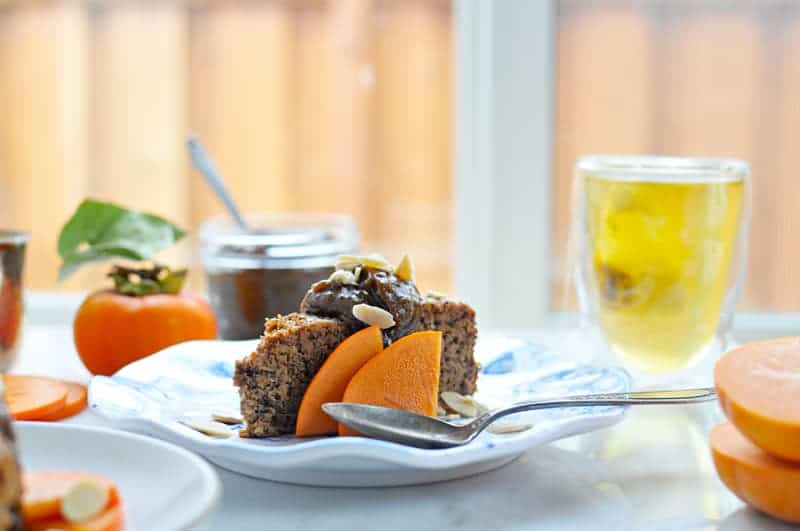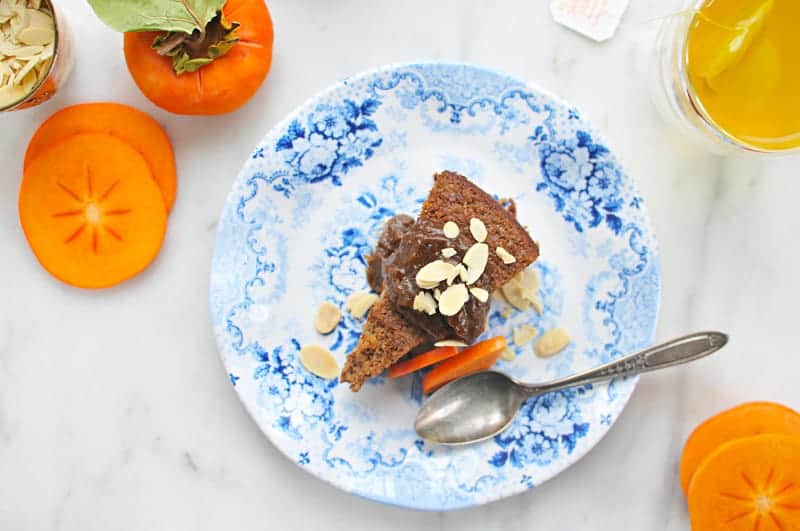 Flourless Persimmon Cake with Black Pepper-Molasses Date Caramel (DF/GF)
Ingredients
1 lb Fuyu persimmons, stems removed
6 eggs
1 cup coconut sugar
2⅓ cups ground almonds (preferred) or almond meal
1 heaping tsp baking powder
1 tsp cinnamon
generous pinch freshly grated nutmeg
coconut oil, for greasing
Black Pepper Molasses Date Caramel, for serving (recipe below)
toasted sliced or slivered almonds, for serving
Instructions
Put the persimmons in a pot, cover with cold water and boil for 2 hours. Drain, cool, and halve. Add cooked fruit to a food processor and pulse until finely chopped.
Preheat oven to 375F. Grease a 9″ springform pan with coconut oil and line the bottom and sides with parchment.
In a large bowl, beat the eggs; then add the coconut sugar, almonds, baking powder and spices. Add the chopped persimmons and stir well to combine. Turn the cake batter out into your prepared pan and bake for 45 mins, until an inserted toothpick comes out clean. If cake begins to brown too deeply, lightly tent it with a piece of foil for the remainder of its time in the oven.
Allow cake to cool completely in its pan on a wire rack before turning it out and removing the parchment. While it can be enjoyed immediately, for optimal taste and texture, let cake rest, covered, at room temperature or in the fridge overnight before slicing and serving with the date caramel sauce and a scattering of toasted almonds.
Notes
Regarding time: the 2 hour simmer on the fruit IS included in the prep time, but it's so very simple and hands-off; don't let it dissuade you from giving this recipe a try.
As with the
Clementine Cake
on which this recipe is based, this cake is best enjoyed the next day, rested either on the counter overnight or well-wrapped in the fridge.
Black Pepper-Molasses Date Caramel (Vegan)
Ingredients
1 cup pitted Medjool dates
¼ cup maple syrup
2 T molasses
½ cup full-fat coconut milk
1 tsp vanilla
pinch of salt
lots of freshly ground black pepper, to taste
Instructions
Combine all ingredients except pepper in a high speed blender and blend until very smooth and creamy, adding more coconut milk if needed to bring everything together (or to thin caramel consistency).
When caramel is creamy, add pepper (beginning with at least ¼ tsp) and blend briefly to combine. Taste, and add more pepper if needed. Repeat until pepper is prominently detectable above the caramel's sweetness.
Transfer caramel sauce to an airtight jar and store in the fridge until use. Enjoy!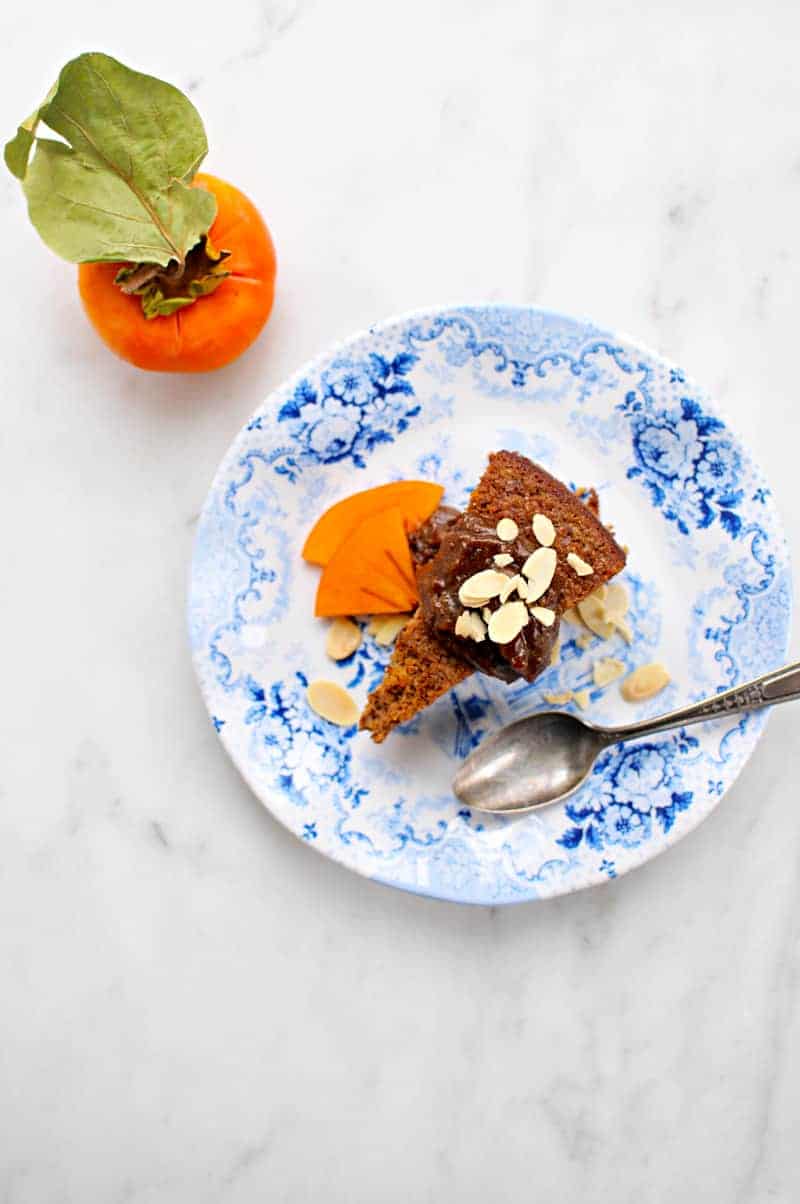 ————————————————–
OH! before you go…
Like whatcha see here — or have a question, feedback, or recipe hack to share? Join The Pig & Quill convo by commenting below (I love, luv, lurve comments) and hang out with me on Facebook, Twitter, Instagram and Pinterest. And don't forget to subscribe to P&Q emails or add me to your RSS reader with Feedly or Bloglovin' so you never miss a post. x's & o's!