Creamy Hummus Soup with Crispy Soyrizo Gremolata (Vegan)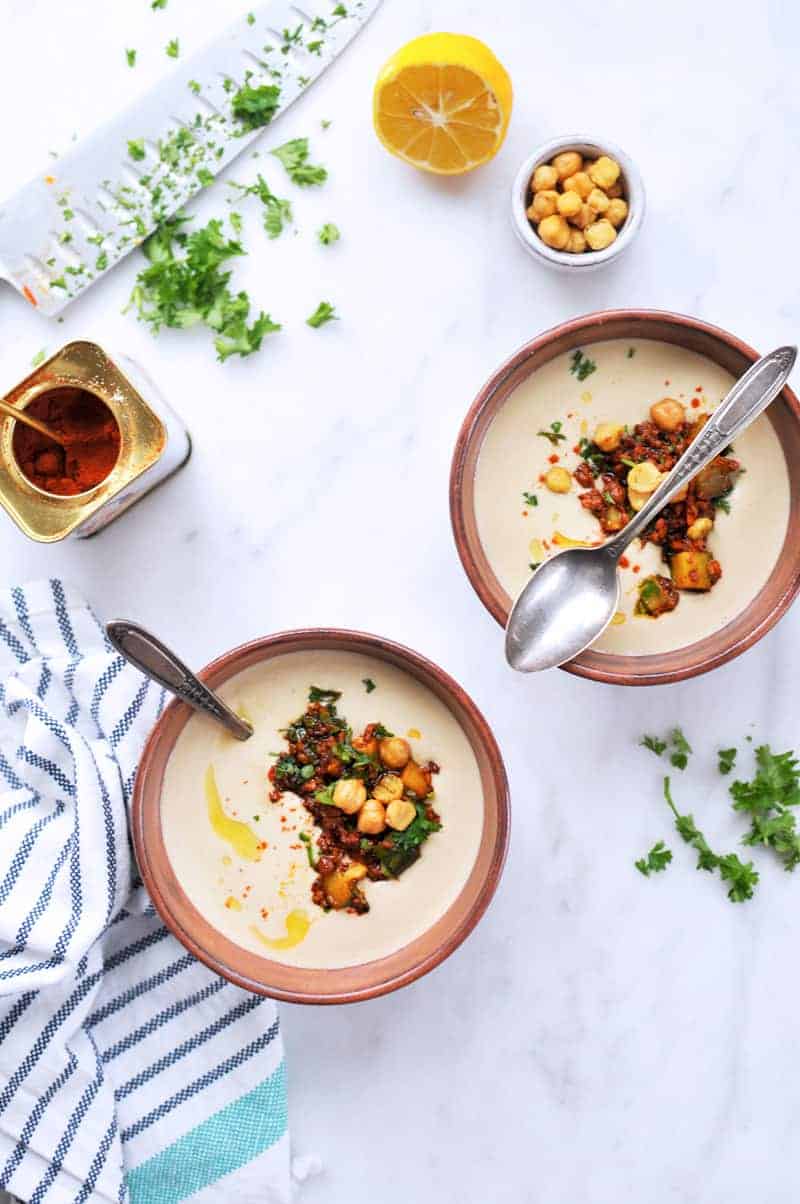 Creamy Hummus Soup, adapted from Kenji Lopez-Alt's Israeli Hummus Recipe (see recipe instructions below for given modifications)
drizzle extra-virgin olive oil, plus more for serving
6 oz loose Mexican-style soy chorizo, casing removed
½ English cucumber, diced
juice and zest of one meyer lemon
two large handfuls finely chopped parsley, plus more for topping
smoked paprika for topping, optional
crunchy sea-salted chickpeas for topping, optional (homemade or storebought, these have proven tasty)
Prepare hummus according to Kenji Lopez-Alt's method minding the following:
The Tahini Sauce called for is actually a separate recipe (here); in said recipe, pulsing the garlic unpeeled with the lemon juice is critical to the resulting flavor.
When blending the chickpeas, err on the side of using less of the simmering water, reserving whatever water you do not use for thinning the soup later if a saltier taste is desired.
Whisk in the tahini and taste the final product before proceeding. At this point, I'm assuming you have a lovely hummus - yay! If you're still tempted to proceed to make soup, heat the desired amount of hummus gently over medium heat until warmed through, thinning with either a little reserved simmering water OR plain water, depending on the saltiness of the soup, until soup thickly covers the back of a spoon (think bechamel).
To make the Gremolata: While soup is warming, heat drizzle of olive oil in a medium skillet. Add soy chorizo and fry until crispy in places, 5 mins. Add cucumber and saute until just warmed through. Turn off heat. Finish with lemon juice and zest and plenty of parsley.
Serve soup topped generously with the gremolata, a pinch of smoked paprika, more olive oil over the top and crunchy, salted chickpeas, if desired. Enjoy.
The first thing worth noting is the time. While much of the time is inactive (that is, about 2 hours of simmering and only 15 or 20 mins of actual active cooking or prep), this is a meal that requires some planning. Add an extra overnight soak if you're using dried chickpeas.

Second, it is not lost on me that this concept could be made exponentially simpler by taking your favorite take-out or store-bought hummus and thinning it into soup with a little good quality stock or water in your high-powered blender and heating it accordingly. Though you won't experience the same thrill of blending up all those silky little soaked chickpeas, I suspect the results would be passable if not applaudable. And I would still very much encourage the gremolata topping. ;)
Recipe by
the pig & quill
at https://thepigandquill.com/creamy-hummus-soup-with-crispy-soyrizo-gremolata-vegan/