Meet the Reverse Affogato — dark, rich espresso topped with luscious vanilla bean foam. The perfect coffee shop espresso at home.
This holiday season has thrown us so many curveballs. First, we spent nearly two full weeks indoors due to the windblown smoke from Northern California's wildfires. We baked and built forts and dance partied and worked our way through our entire collection of vinyl several times, but at some point, the novelty wears off. And then, a power outage struck the night before Thanksgiving with a pie in the oven, sherbet chilling in the freezer and a 13-lb brisket on the (electronically-tended) smoker. Fortunately, the pie and the sherbet both set up just fine, but a mere 90 mins without power set the brisket back, oh, I dunno — a cool 10 hours. And so Chris and I found ourselves going to bed at 7:30am on Thanksgiving day.
Tis the season for espresso.

Coffee Shop Espresso At Home
While I love the excuse to escape to the local coffee shop, these Peet's Espresso Capsules have come in so handy these past few weeks, particularly when we were cooped up at home — and most definitely on Thanksgiving morning when we blearily greeted guests with barely an hour of sleep under our belts.
We've always gravitated toward darker roasts, and Peet's Espresso Capsules deliver a whole new level of dark — rich, intense and nuanced. The perfect at-home espresso. For sipping straight (i.e. that fateful Thanksgiving morning), I love the Richezza, which is layered with notes of berry and brown sugar. But when I've got just little more time on my hands, it's the Crema Scura I'm after. Earthy and nutty, with a creamy finish, it's the perfect blend for my favorite at-home indulgence of the season, the Reverse Affogato. More on that in a minute.
I've been restocking my supply of Peet's capsules at Target (as if I need another excuse for a Target run especially at this time of year — have you SEEN the holiday home decor??) — but you can snag them on Amazon, too. Easy peasy. Peet's Espresso Capsules are made of aluminum, and all the blends are conveniently compatible with the Nespresso Original machines.

So…What's A Reverse Affogato?
So glad you asked! I love curling up on the couch with a latte or a classic cappuccino, but the thing that really makes me feel as if I'm enjoying a coffee shop espresso at home is if there's some (seemingly) fancy hook that I would trust only the hippest, most aloof barista to perform. Enter: the Reverse Affogato. Sounds fancy right? It's deceivingly simple. SO simple, in fact, that I'm a little embarrassed to be formatting it as a recipe, below. But here's the thing: Google bots really like formatted recipes. And if Google likes it, there's a better chance of people seeing it. And people NEED this espresso hack in their lives. They deserve it. You deserve it. I rest my case.
Where a traditional affogato is ice cream topped with a shot of espresso, a Reverse Affogato is — you guessed it! — a shot of espresso topped with ice cream. Melted ice cream. That's been whirled into a glorious cloud of vanilla bean-flecked foam. We're talking about a cappuccino here, in essence, but it's more special than that. It's sweet, rich and aromatic — without diluting or detracting from the espresso, itself. It's also perfect if your household, like mine, rarely stocks milk but almost always stocks ice cream. Because priorities.
This Reverse Affogato is the first thing I whipped up for me and Chris as we zombie'd our way through Thanksgiving prep — and it'll be the first thing I offer our house guests on Christmas morning. Regardless of how much sleep we've gotten.
Though I'm asking Santa for a full night's. 😉
xo,
Em
p.s. The brisket was spectacular.
If you like this Reverse Affogato recipe, be sure to check out:
This post is sponsored by Peet's Espresso Capsules. As always, I only endorse products that fit naturally into our home and lifestyle. All thoughts and opinions are my own.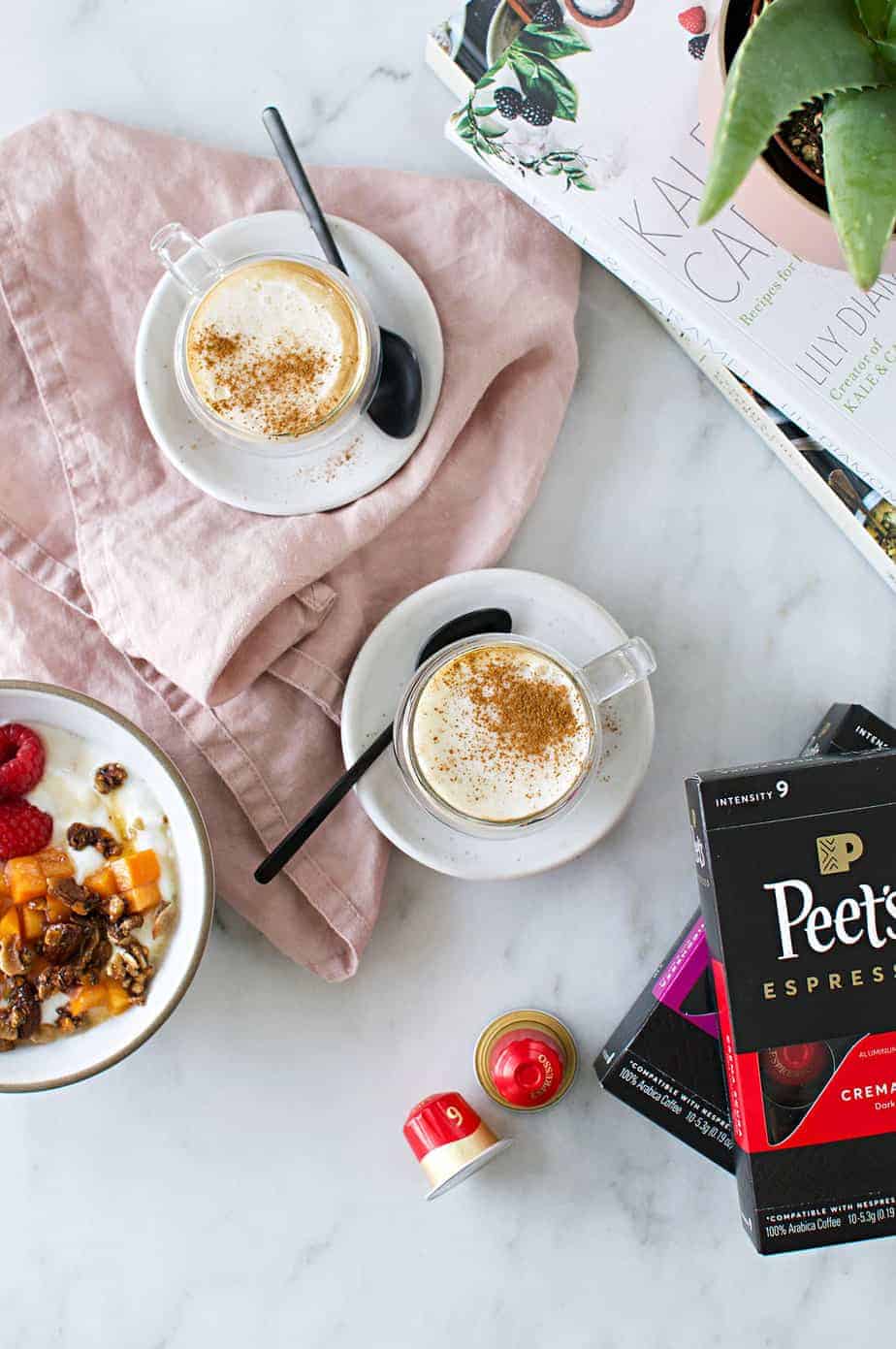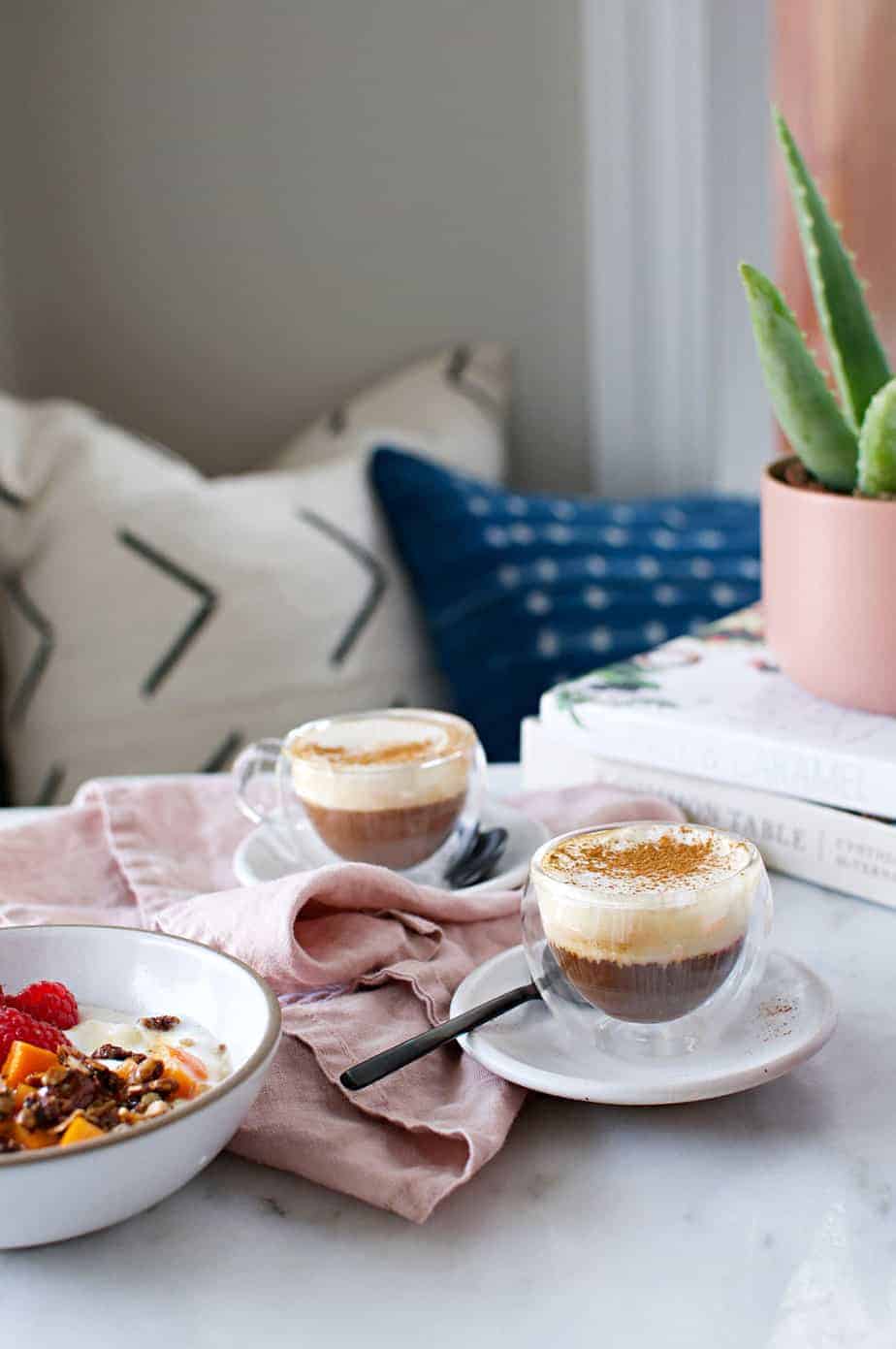 The Reverse Affogato
Meet the Reverse Affogato -- dark, rich espresso topped with luscious vanilla bean foam. The perfect coffee shop espresso at home.
Ingredients
2 shots of Peet's espresso (Cream Scura or Ricchezza are my go-to)
½ cup vanilla bean ice cream, melted at room temperature (see note)
ground cinnamon or cocoa, for serving
Instructions
Froth melted ice cream with a frothing wand or milk frother until foamy.
Prepare 2 shots of espresso in espresso cups large enough to accommodate the foam.
Spoon foam generously over each shot and dust with cinnamon or cocoa. Enjoy!
Notes
Note: if using an automatic milk frother, having room temperature melted ice cream is especially important as the frother will shut off when it thinks the serving temperature is reached. Starting with warm ice cream won't allow enough time for the ice cream to get truly foamy.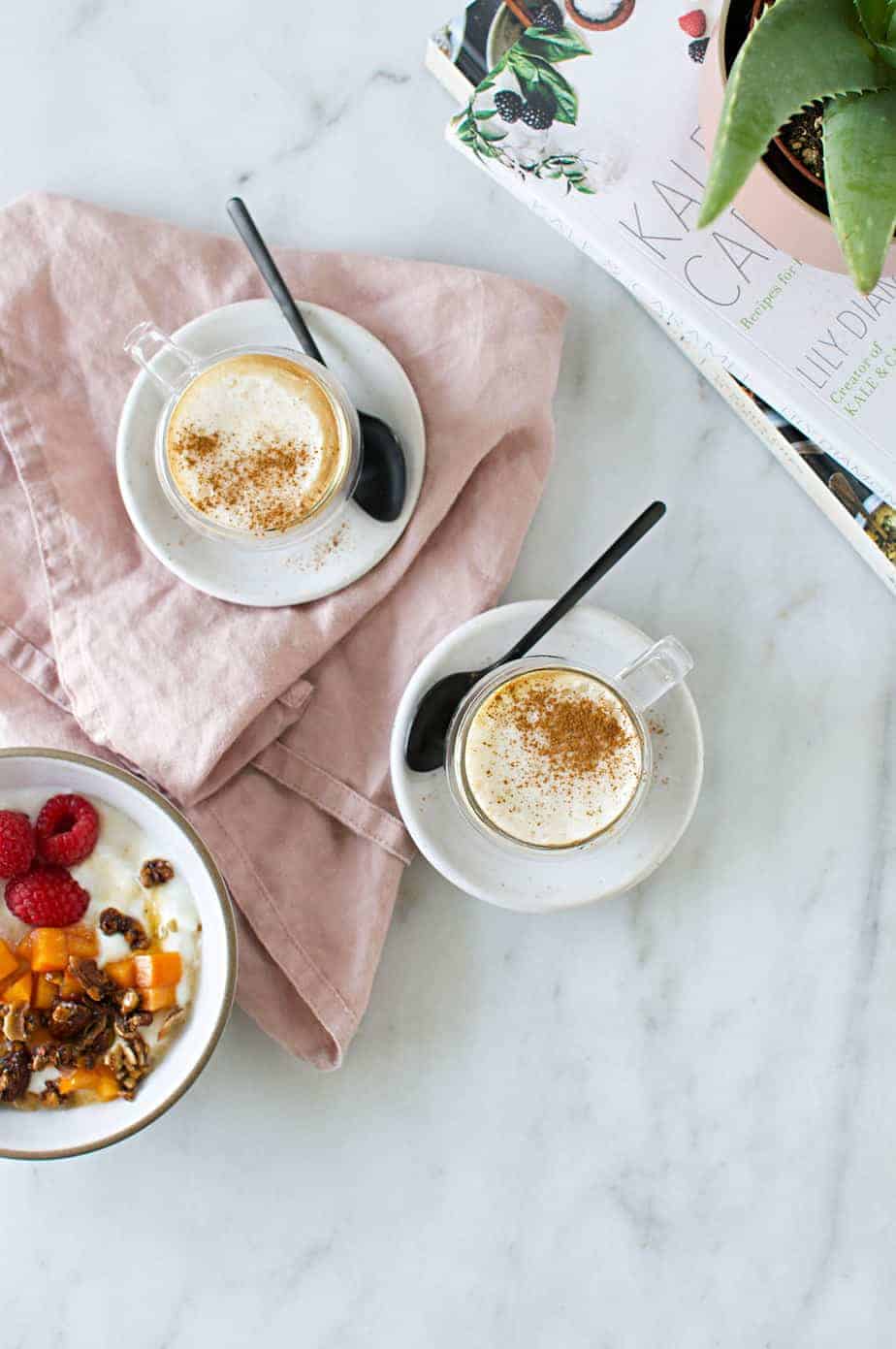 ————————————————–
OH! before you go…
Like whatcha see here — or have a question, feedback, or recipe hack to share? Join The Pig & Quill convo by commenting below and hanging out with me on Facebook, Twitter, Instagram and Pinterest. And don't forget to subscribe to P&Q emails or add me to your RSS reader with Feedly or Bloglovin' so you never miss a post. x's & o's!