Hey guys! Hope everyone's having a lovely Friday. With Christmas just around the bendarino, I thought I'd sneak in a quickie post today to highlight some of my fave giftables this season. Some of them are foodie; some of them are just things I want ever so badly (or currently use with great enthusiasm). Also, Chris is bro'ing out tonight, so I'm eating Oh!s for dinner and watching Nicholas Sparks movies and attempting to pass both of those things off as working by doing uh, this. I'm pretty much killing it dead.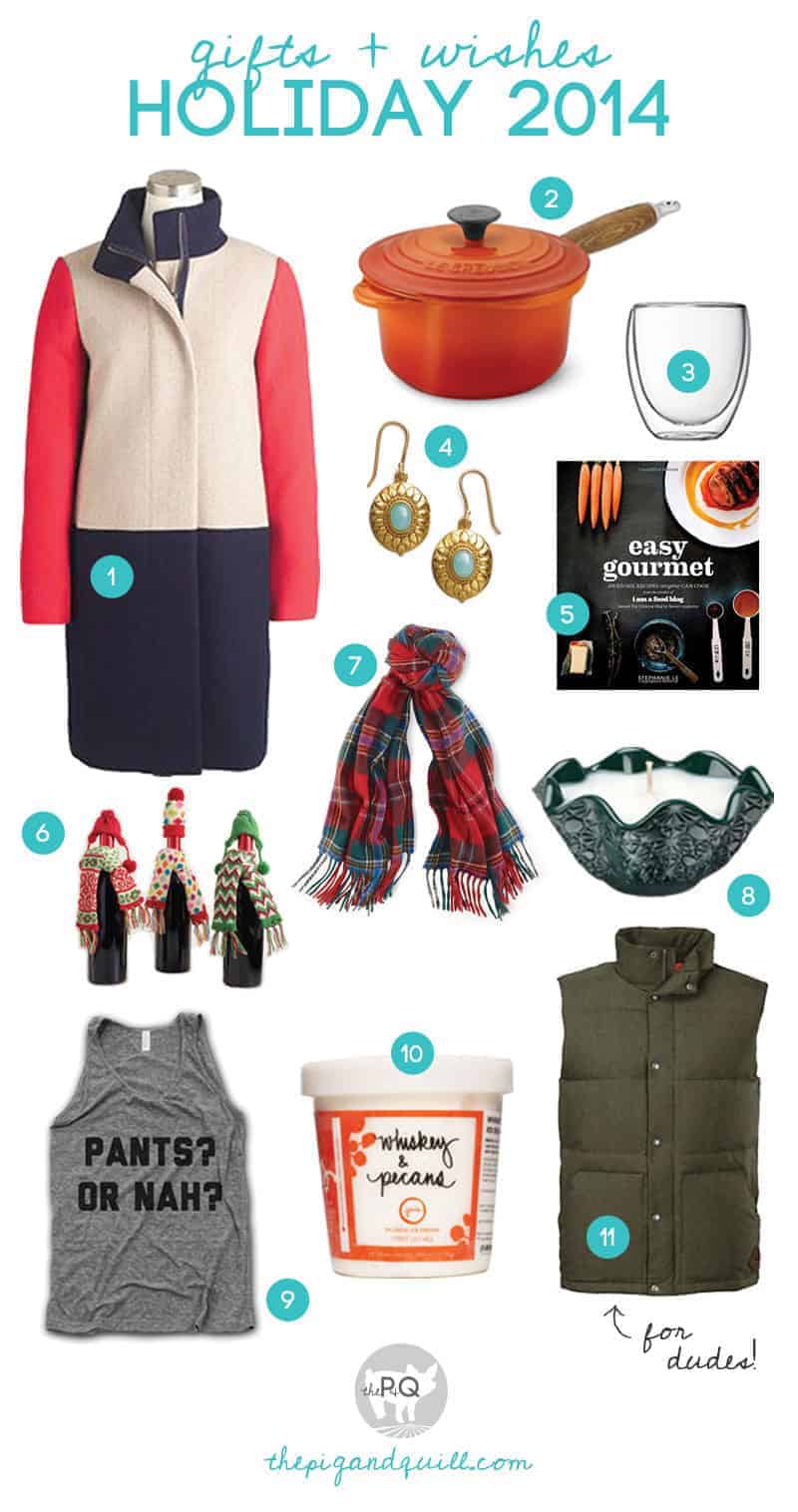 ONE. Color block everything! I fell in love with a similar coat (on a woman's body) when we were in Spain and didn't have the guts (or the Catalan-Spanglish skills) to ask about it. // TWO. Super similar to a couple of vintage pieces I lucked out and inherited from my grandpa (via my mom). Love that heirloomy-looking wood handle. // THREE. We use these double-walled glasses on the daily to keep our fancy, home-brewed coffee drinks hotter 'an hot. // FOUR. Everyday earrings with just enough dazzle — and they're a steal! // FIVE. For literally everyone you know who even remotely likes to cook. // SIX. Because I'm, like, 4 years old. And because yes, that $10 bottle of wine totally counts as a hostess gift if it's dressed for the occasion. // SEVEN. I mean, if the wine gets a scarf… (also: holiday plaid makes me happy!!) // EIGHT. Completely obsessed with all things winter-slash-pine-scented — and bonus: the cute fluted bowl can be reused for trinkets and jewelry. // NINE. Story of my life. P.S. How hip is the way I'm numbering this list? // TEN. You can take the girl out of Ohio…a.k.a. the best artisan ice cream you will ever eat, ever. // ELEVEN. I can't resist a dude in a vest. This one is functional and fashiony and ever-so-slightly retro without being overly hip or furry or any of that silly stuff.
Friday links!
Since I've also used my solo evening to give the interwebs a good scour, now seems like a good a time to throw in a few Friday Links. Maybe I'll even make a regular habit of it! But probably not. 😉
Funstuffs:
Foodstuffs:
HAPPY FRIDAY!
xo,
Em
p.s. — The header pic is San Sebastian being crazy beautiful in the fall. Yay, Spain!
————————————————–
 Oh hey, before you go…
Like whatcha see here — or have a question, feedback, or recipe hack to share? Join The Pig & Quill convo by commenting below (I love, luv, 
lurve 
comments) and hang out with me on
Facebook, Twitter, Instagram
and
Pinterest
. And don't forget to
subscribe to P&Q emails
 or add me to your RSS reader with 
Feedly
 or 
Bloglovin'
so you never miss a post. x's & o's!