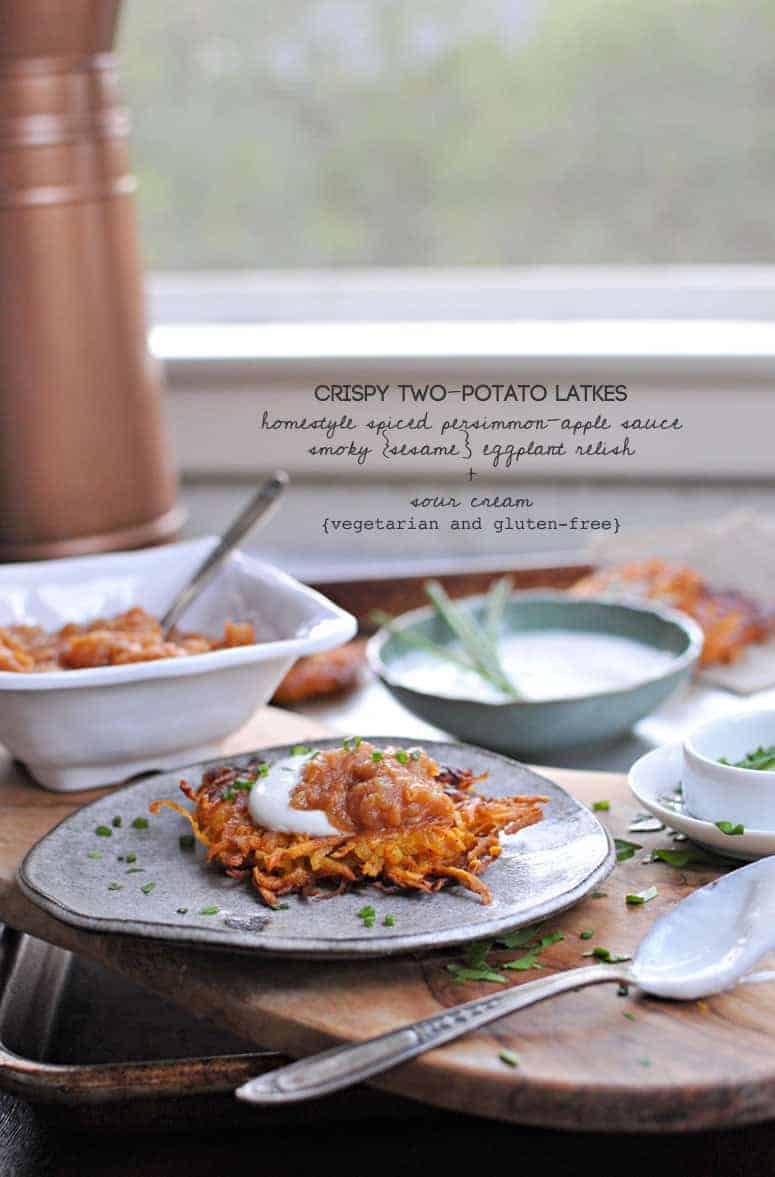 My mom has always said that we, the Chinese people, have an unspoken kinship with Jewish folks — insofar as "where Jewish people have guilt, Chinese people have shame." That, and we both love to eat.
Thirty seconds ago, I shared this theory with my Jewish friend, Randi (we're sitting on her sofa, re-watching the latest episode of Parenthood — because apparently we gluttons for punishment also share a passion for fug-faced sobbing) and she laughed. And then she agreed. And then she offered me a popsicle. So, there ya go, Momma. #nailedit
And with that, I give you: Chinese-approved Hanukkah foods.
Hellooooooooooo latkes!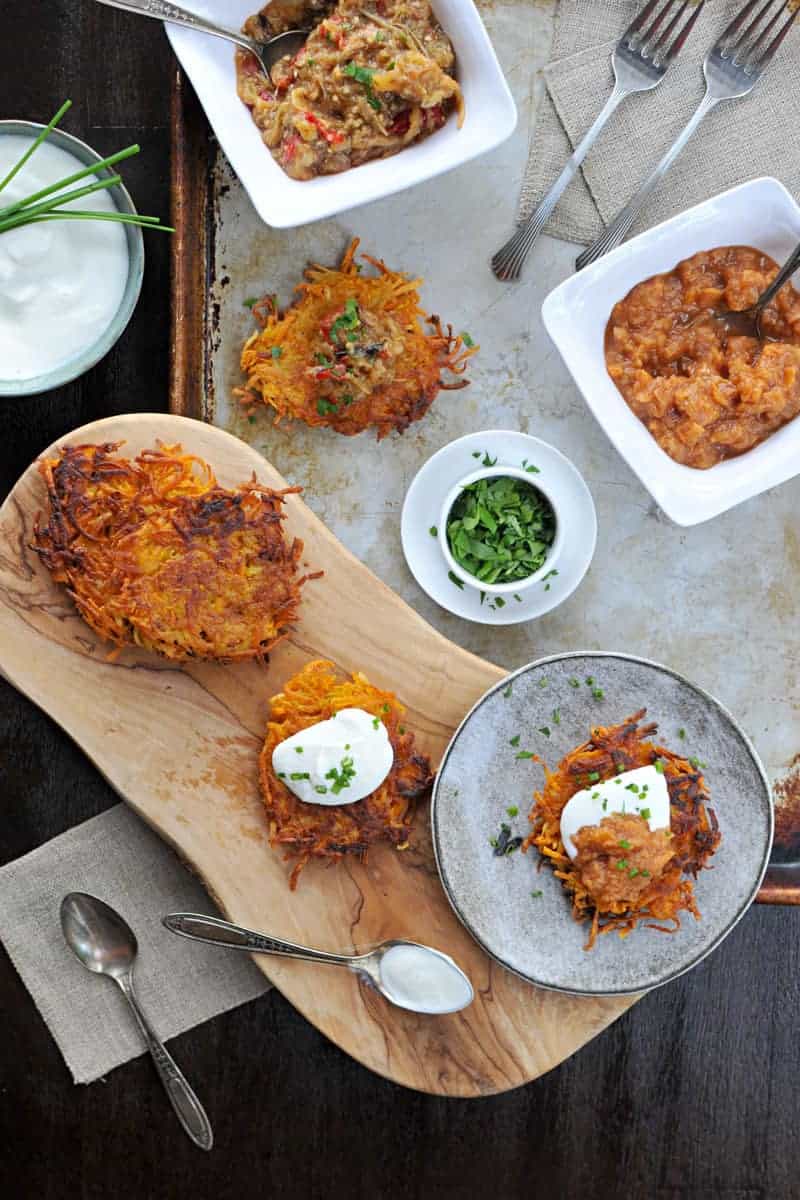 Remember that little discussion we had about how much I (read: the pigletus) am loving potatoes these days? I mean, yeah, the duck fat in that last recipe might have had something to do with it — because I would, quite frankly, eat a crate of packing peanuts a la lard d'mallard — but dem spuds be hollerin' at me something fierce.
(I'm sorry, I don't know what's happening to my vocabulary.)
So instead of putting one potato in these classically prepared tater cakes, I put two.
One potato, two potato…
That's all the potatoes.
But yay, right? Two-potato latkes. Because the alternative was Russeted Sweet Purrtayturr Pancakes, and you all would be like Russeted, Emily, really?
I mean…Give. Me. A. Break.
GurveMeABrurke.
gurmeabrek.
gubreka'me.
Oh my god.
So that's the latke portion. Pretty classic. Two potatoes, just enough onion, a dusting of flour (gluten-free or otherwise) just to help everything come together, and a fair bit of beaten egg. Fried — like, for real fried — in a lightly-flavored oil that lets all that 'taytoeyness shine right on through. The Jewnese people are all smiles!
Now let's talk toppings.





First up is this smoky, nutty roasted eggplant dip that I'm calling a relish because it's got a vinegary kick from pickled sweet peppers and capers and a zip of red wine vinegar and also because I said so. This stuff, you guys, is so complex and simultaneously stupid easy that there are almost no words — but humor me while I try.
It's at once everything I loved about so many of the eggplant dishes we enjoyed in Spain — simple and silky and almost creamy, perfumed with the warm earthiness of smoked sweet pimentón. And somehow homey and familiar in another way entirely thanks to an eensy hit of fragrant toasted sesame oil that, in childhood, almost always meant a smoking wok was near. With potatoes, it's darn delicious, but I can easily imagine heaping spoonfuls of this relish onto crispy toasted crostini, thick slices of cucumber or a melting slab of buttery, soft cheese. Brie still my beating heart!


And then there's the perennial favorite: applesauce. This one is as simple as can be, enhanced only with the natural jamminess of slow-cooked persimmons, plenty of good, hot cinnamon and a bit of vanilla. Tip in but three cloves for added warmth and holiday spice, and you're there. No oils, no sweeteners. And perhaps the best friend that a dollop of cool sour cream — spiked with plenty of fresh chives — could ask for.
Honestly, for Christmas breakfast, a New Year's cocktail party or just about any get-together where all the people eat all the things, latkes just may be the perfect food.
Happy (almost) Hanukkah, my brothers from another (tiger) mother!
LATKES FOR ALL.
Em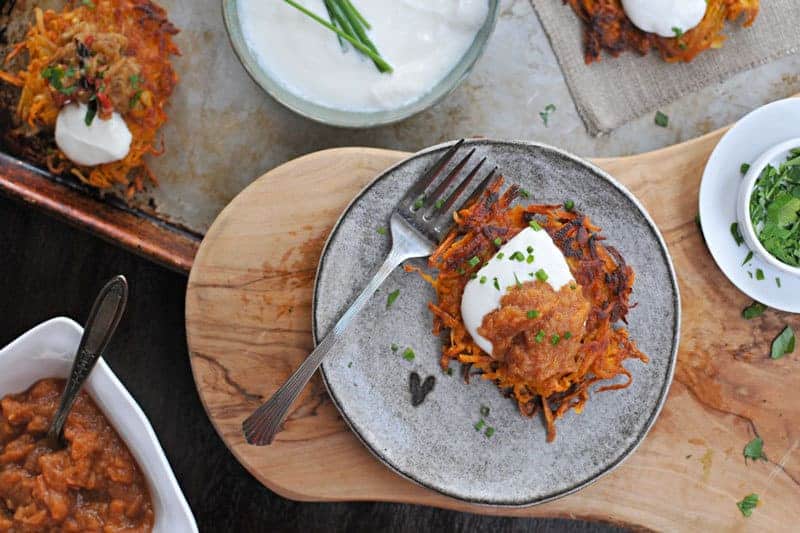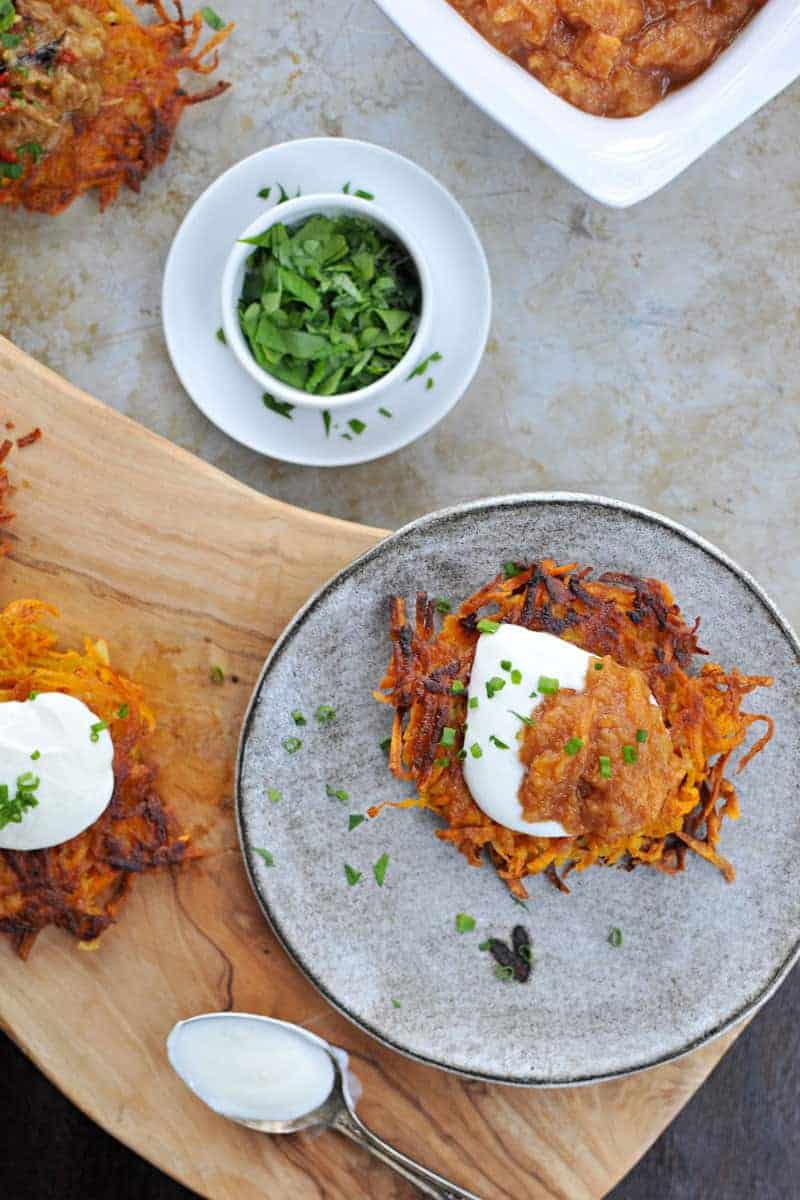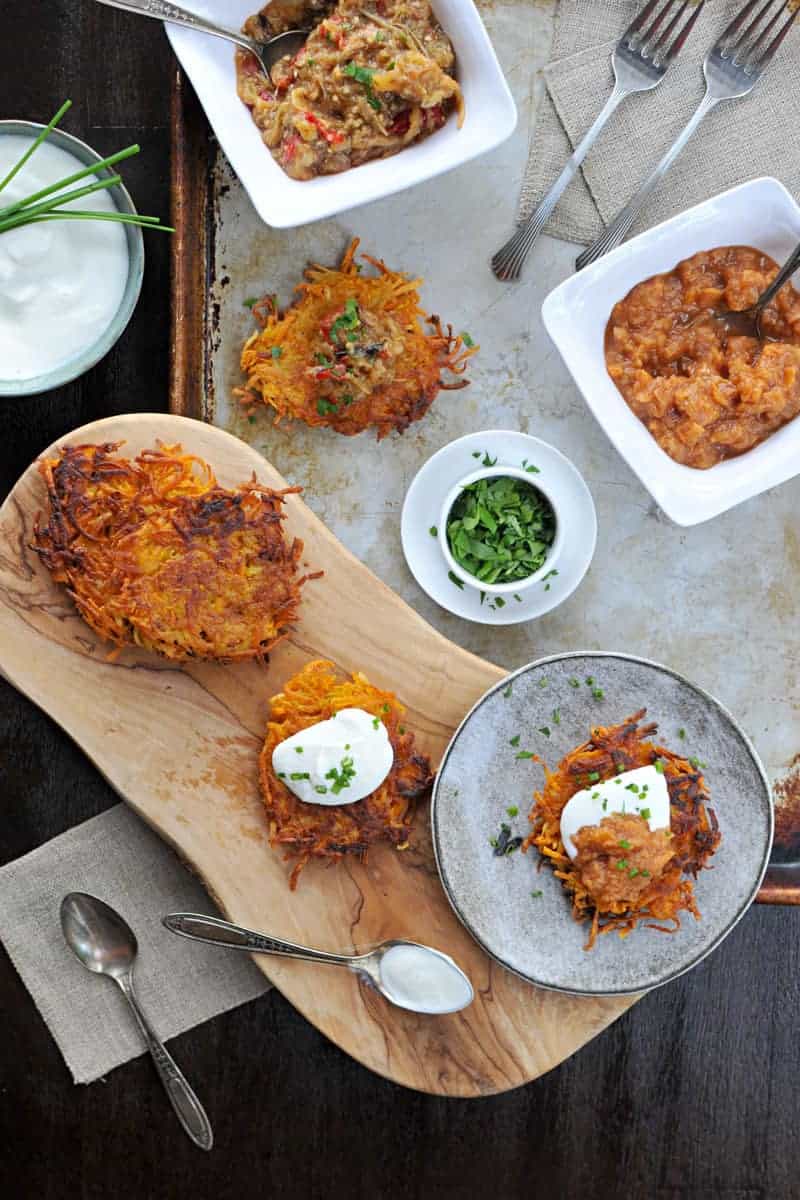 two-potato latkes with smoky eggplant relish, spiced persimmon-apple sauce + sour cream
Ingredients
½ medium onion
1 lb russet potatoes, peeled (about 3 medium potatoes)
1 lb sweet potatoes, peeled (about 3 medium sweet potatoes)
¼ cup flour (gluten-free or all-purpose will both work here)
1.5 tsp sea salt
1 tsp black pepper
2 large eggs, lightly beaten
light oil for frying, such as avocado oil (about 1 cup)
sour cream and freshly snipped chives, for serving
Smoky Sesame Eggplant Relish for serving (see recipe below)
Spiced Persimmon-Apple Sauce for serving (see recipe below)
Instructions
Shred onion and potatoes using the grater attachment of your food processor and add to a large bowl.
Add flour, sea salt, and pepper and toss to coat. Add eggs and toss again to coat. Transfer mixture to a colander set over a bowl and allow excess liquid to drain while you preheat oven/oil.
Preheat oven to 200F. Line a baking sheet with paper towels.
Heat about ¼" of oil to 360F in a large, heavy skillet. With a ¼ cup measure, scoop about 4 mounds of drained mixture into hot skillet, spreading out lightly with a fork to form about a 3" pancake. Fry until deeply golden, about 3 mins, then flip and brown on the second side, another 2-3 mins. Transfer to prepared baking sheet and keep warm in oven while you fry additional pancakes.
Serve latkes hot with sour cream, plenty of fresh snipped chives, the Smoky Sesame Eggplant Relish and Spiced Persimmon Applesauce. (Reheat any leftover latkes in a 350F oven or toaster oven until sizzling and crisp.) Enjoy!
Notes
Adapted from
Gourmet Magazine
. The recommended toppings here are on-point, super simple -- and just a tad unexpected -- but in a pinch, just the sour cream paired with a good, store-bought applesauce is still a classically delicious combo.
smoky sesame eggplant relish
Makes:
about 2 cups of relish
Ingredients
1 large eggplant
5-6 jarred sweet-hot cherry peppers (about ¼ cup), finely chopped
1.5 T capers, rinsed and finely chopped
1 T red wine vinegar
1 clove garlic, minced
½ tsp sesame oil
¼ tsp smoked sweet paprika
¼ tsp sea salt
2 T parsley, finely chopped
Instructions
Preheat oven to 450F. Cut eggplant in half and roast, cut-side down, on a rimmed baking sheet until tender, about 25 mins. Set aside until cool enough to handle.
Scoop cooled eggplant flesh into a large mixing bowl, discarding skins. Add remaining ingredients except parsley.
For best flavor, refrigerate overnight (although if you must it's still delicious when just prepared). Let relish come to room temperature before serving with fresh parsley stirred through. Enjoy!
Notes
Something about the combo of smoky paprika (a definite homage to all of the deliciously paprika'd dishes I enjoyed in Spain) and the nutty, subtly Asian kick from the sesame oil makes this relish supremely interesting -- and completely delicious. Try it as a topping for crostini or baked brie or as a jazzy addition to your grilled cheese -- you won't regret it! 🙂
spiced persimmon-apple sauce
Ingredients
1 lb apples, peeled, cored and diced
1 lb firm Fuyu persimmons, peeled and diced
1.5 tsp good cinnamon (we love this one)
3 whole cloves
1 tsp vanilla
pinch sea salt
½ cup water
Instructions
Combine all ingredients in a medium pot or Dutch oven. Bring to a boil, then cover and reduce to a simmer for 2 hours (for a chunkier sauce) or 3 hours (for a...slumpier?...sauce).
If desired, lightly mash any remaining chunks with a potato masher until sauce is desired consistency. Remove cloves before eating. Serve warm or cold. Enjoy!
Notes
This perfectly sweet (and surprisingly unsweetened!) recipe could certainly hold its own as a warm ice cream topping or a stand-in anywhere you'd use regular applesauce, but why you'd diss potatoes in such a way is beyond me. 😉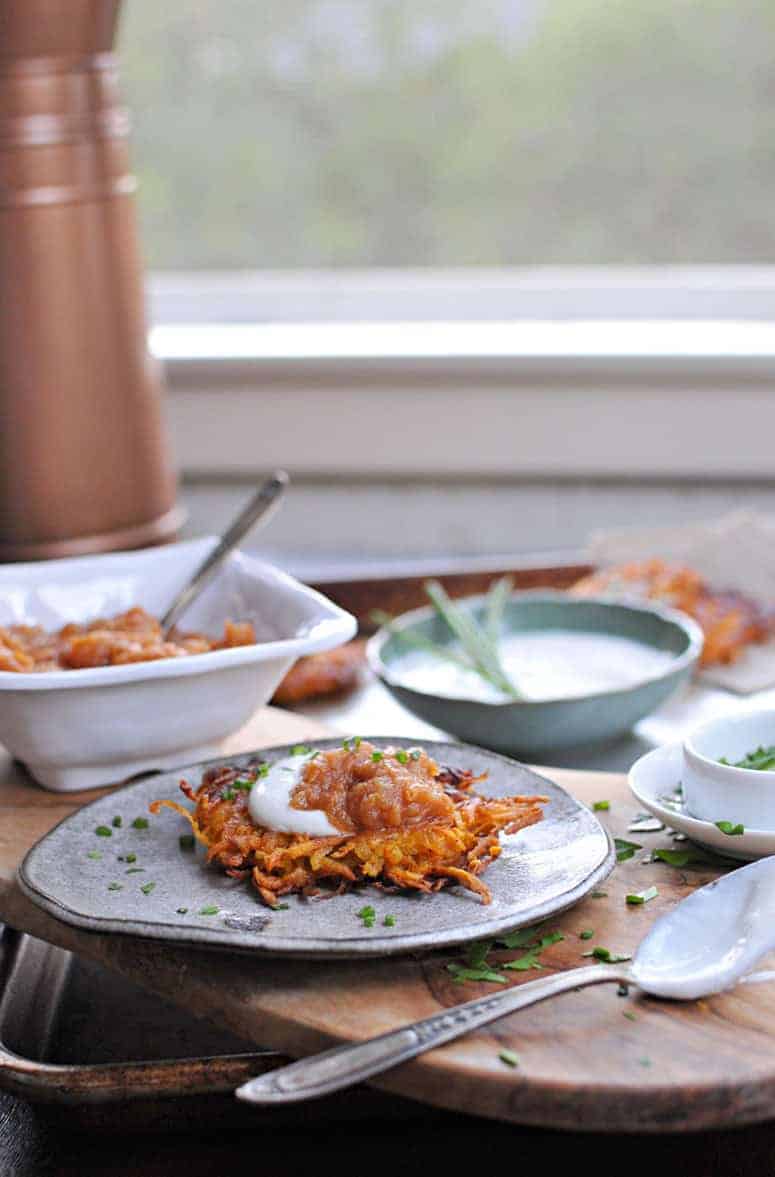 ————————————————–

 Oh hey, before you go…
Like whatcha see here — or have a question, feedback, or recipe hack to share? Join The Pig & Quill convo by commenting below (I love, luv, 
lurve 
comments) and hang out with me on
Facebook, Twitter, Instagram
and
Pinterest
. And don't forget to
subscribe to P&Q emails
 or add me to your RSS reader with 
Feedly
 or 
Bloglovin'
so you never miss a post. x's & o's!