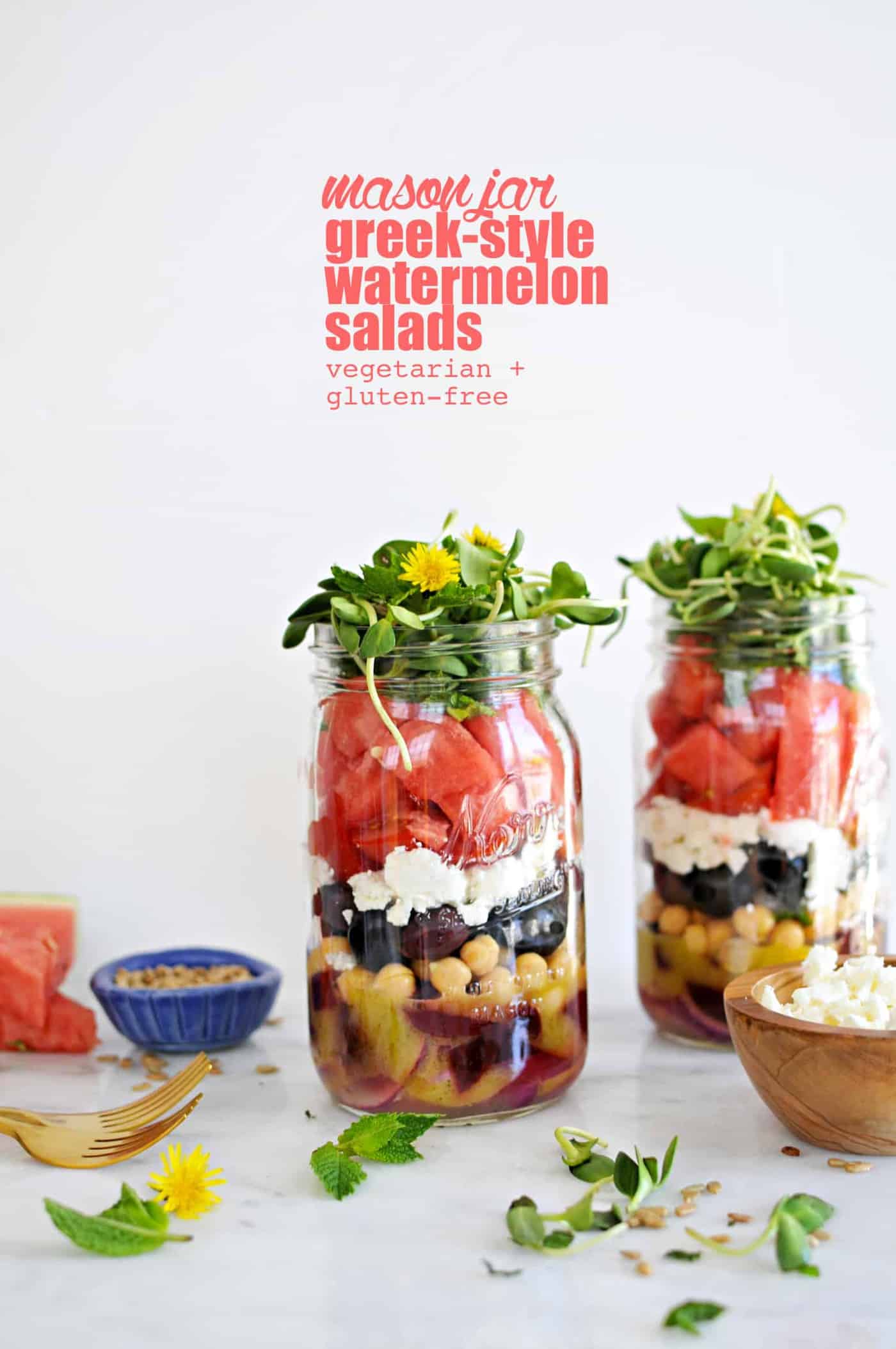 Thank you National Watermelon Promotion Board for sponsoring this post. Watermelon is the perfect portable food for enjoying wherever life takes you!
Lana's on break from school for the entire month of August, and somehow we're busier than ever. We've got swim, as usual, and we just added gymnastics (you should see the adorable wardrobe of unitards I'm building for her!) — but we're also excellent at staying busy with plenty of un-busy activities, too. We popped into the woods for hiking adventures the past two weekends, and long mornings on the beach are never a hard sell. This week, we put on our best "summer vacation" hats and drove to the lake to spend a few hours frolicking in Tahoe's crystal clear waters before bunking up at a family cabin that my parents frequent regularly but I haven't visited since college.
Seeing Lana dazzled by the same cabin quirks and traditions that I found so magical as a kid was so incredibly endearing. The gap in the wall alongside the top bunk that lets you peek down onto the living room below — just wide enough for "note fishing" with a bit of string and a paperclip. A bathroom utility closet through which you can spy on whoever's cooking in the kitchen. S'mores made in the microwave when it's too hot for a fire. A roaring river full of giant granite boulders, perfect for hopping.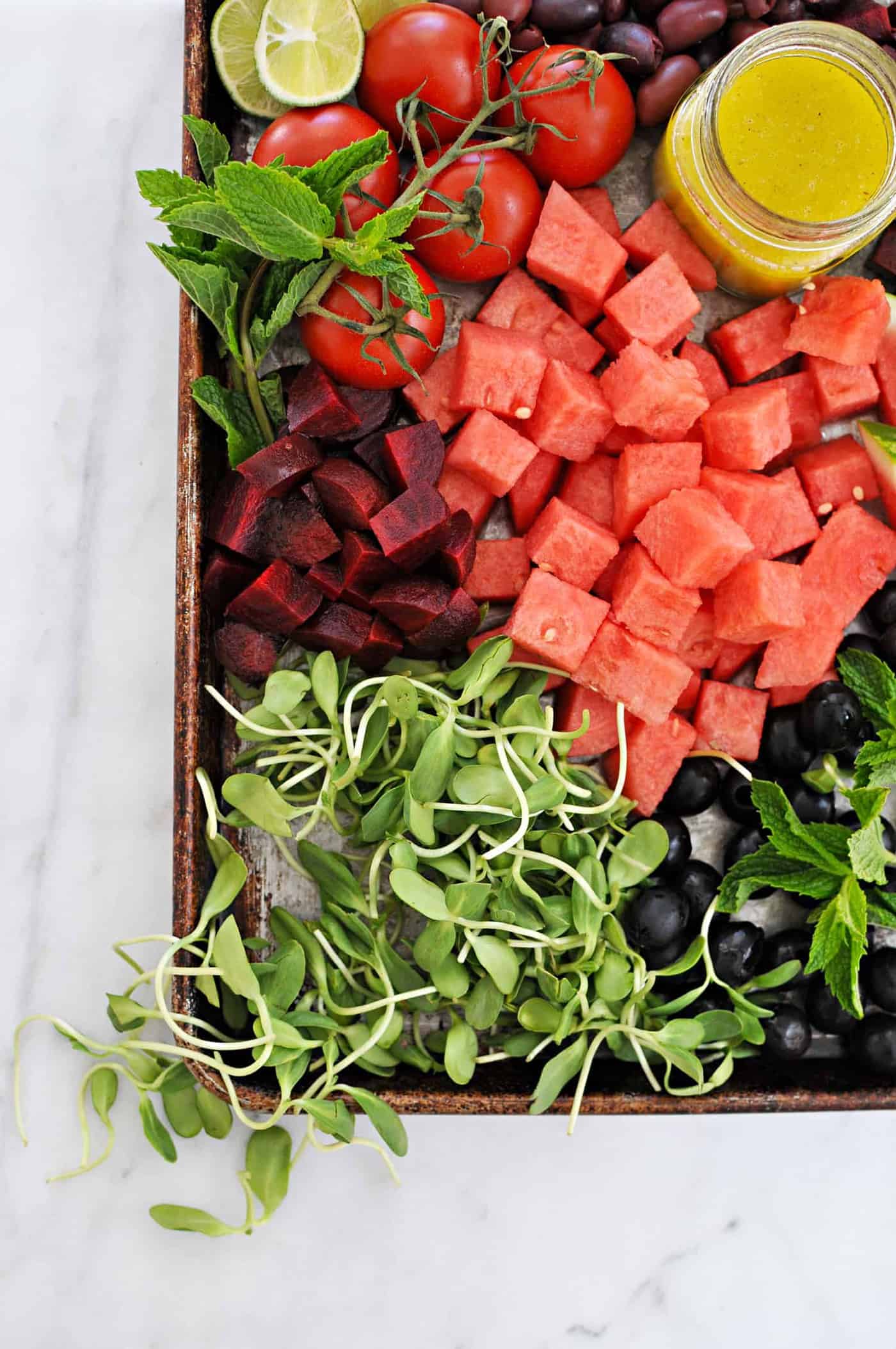 She was so at home on the trails that wrap around the little tract of cabins, stopping here and there to sniff out the syrupy fragrance of a Jeffrey Pine or to provide a status update on the suspended haze from the many fires burning in Northern California as we speak. ("It's not so smoky over there, mom. I think the firefighters probably put out the fire.")
Always moving, curious. Busy in a way that only a kid can be.
It's in the face of such unintentional busy-ness that we turn to recipes like these Mason Jar Greek-Style Watermelon Salads: easy, on-the-go meals that can sit in the fridge for a day or two, ready at a moment's notice if we find ourselves packing a bag for the beach or needing a ready-made lunch between errands. I love the classic, sophisticated combination of refreshing watermelon, bright herbs, briny olives and salty feta. Lana loves that all her favorite snack foods are assembled into something that counts as lunch.
Unsurprisingly, we both love how pretty these look layered into mason jars for ultimate portability.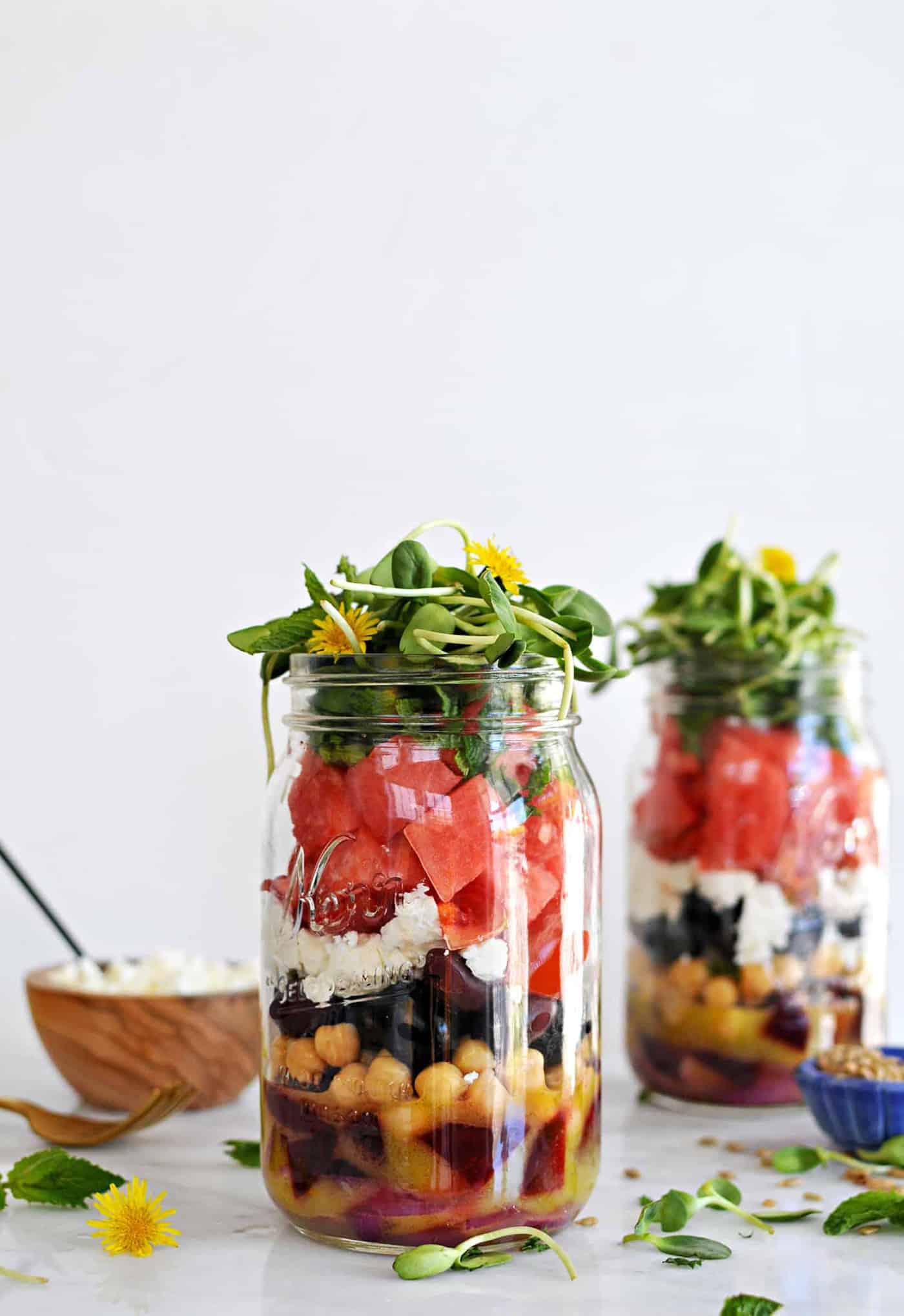 The key to building a successful mason jar salad is in the order of ingredients. Dressing in the bottom — a simple, lime juice vinaigrette that double-duties as a pickling agent for the red onions in the next layer. Roasted beets/chickpeas/olives next (they're also robust enough to handle the marinade, should it sneak up that way), a final buffer of salty feta followed by juicy tomatoes — and the star ingredient:
Sweet, crisp cubes of watermelon. I could wax poetic for days.
In the summer, especially, watermelon is a pretty regular staple in our fridge. I love that it keeps well in wedges or cubes for quick or on-the-go snacking. And when it's as hot as it's been, there are few things as hydrating and refreshing. (Fun fact: when we were potty training, we let Lana eat her fill of watermelon every day for a week just for the hydration alone. We juiced it, cubed it. She even ate the rind with a sprinkle of pink salt — who knew? — and now that's one of our favorite snacks!)
But back to the salads.Over top of the watermelon go the more delicate ingredients: fresh, vibrant mint (easily the most critical component, in my opinion); crisp-tender sunflower sprouts; and a scattering of roasted sunflower seeds for crunch. You can most definitely pour these right into the jar, but we almost always have an assortment of seeds and nuts packed in the diaper bag for snacking, so I add them just before eating.
And that, my friends, is it. A glorious, generously portioned salad that's as portable as it is delicious. Perfect for days that leave little room for formal mealtimes, #notsaddesklunches, kiddos who prefer their meals to resemble elaborate snacks, and the like.
xo!
Em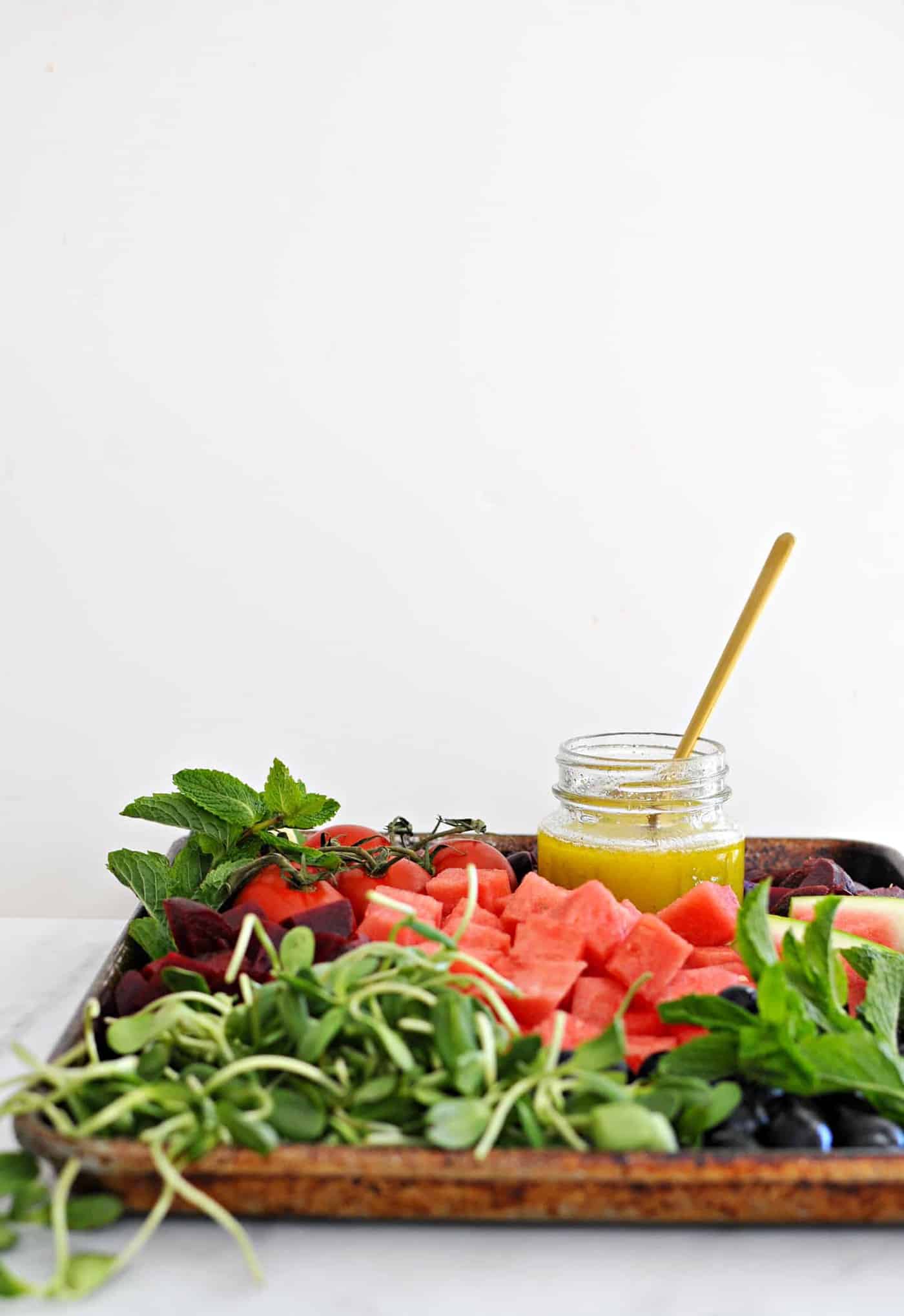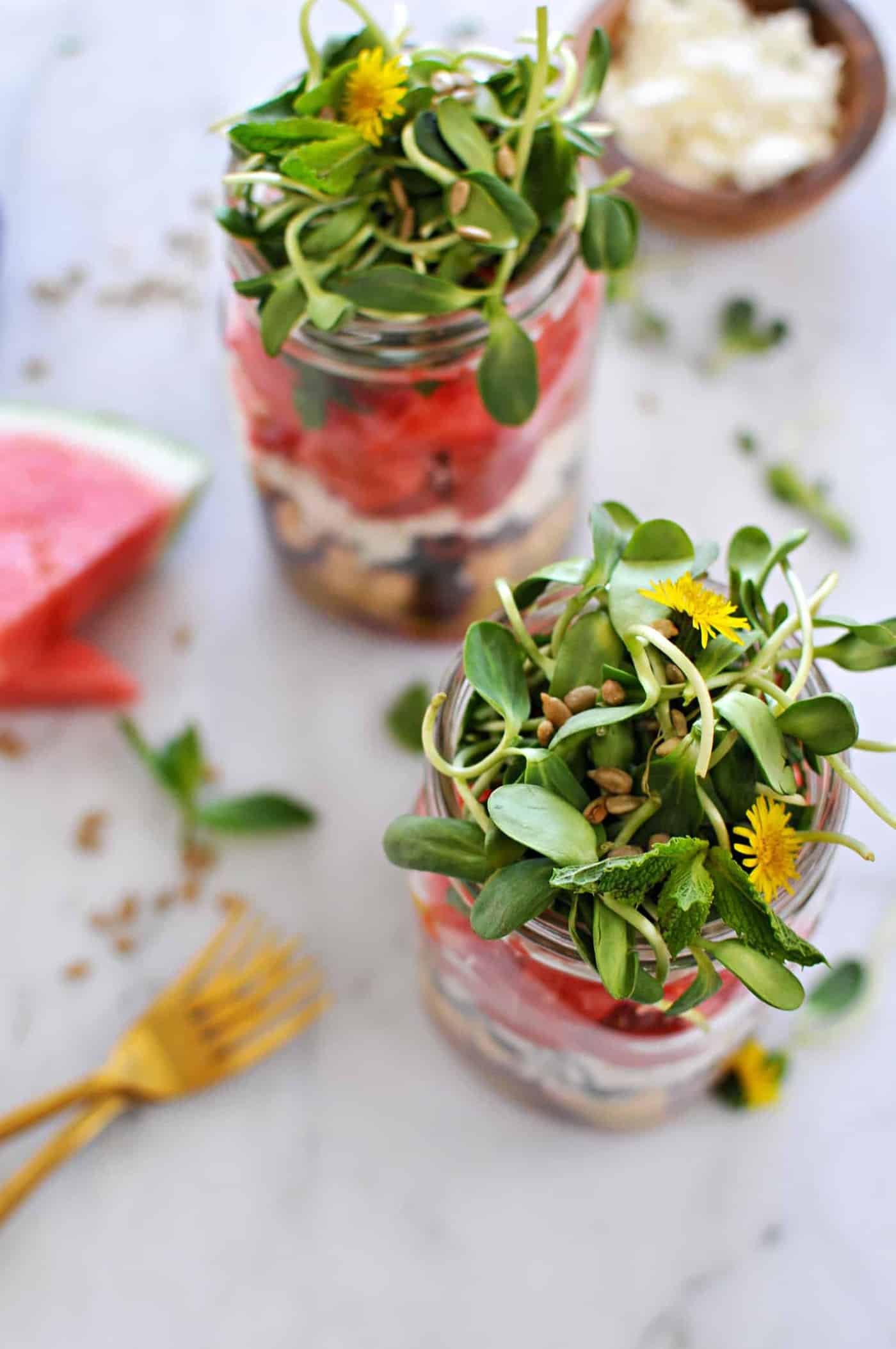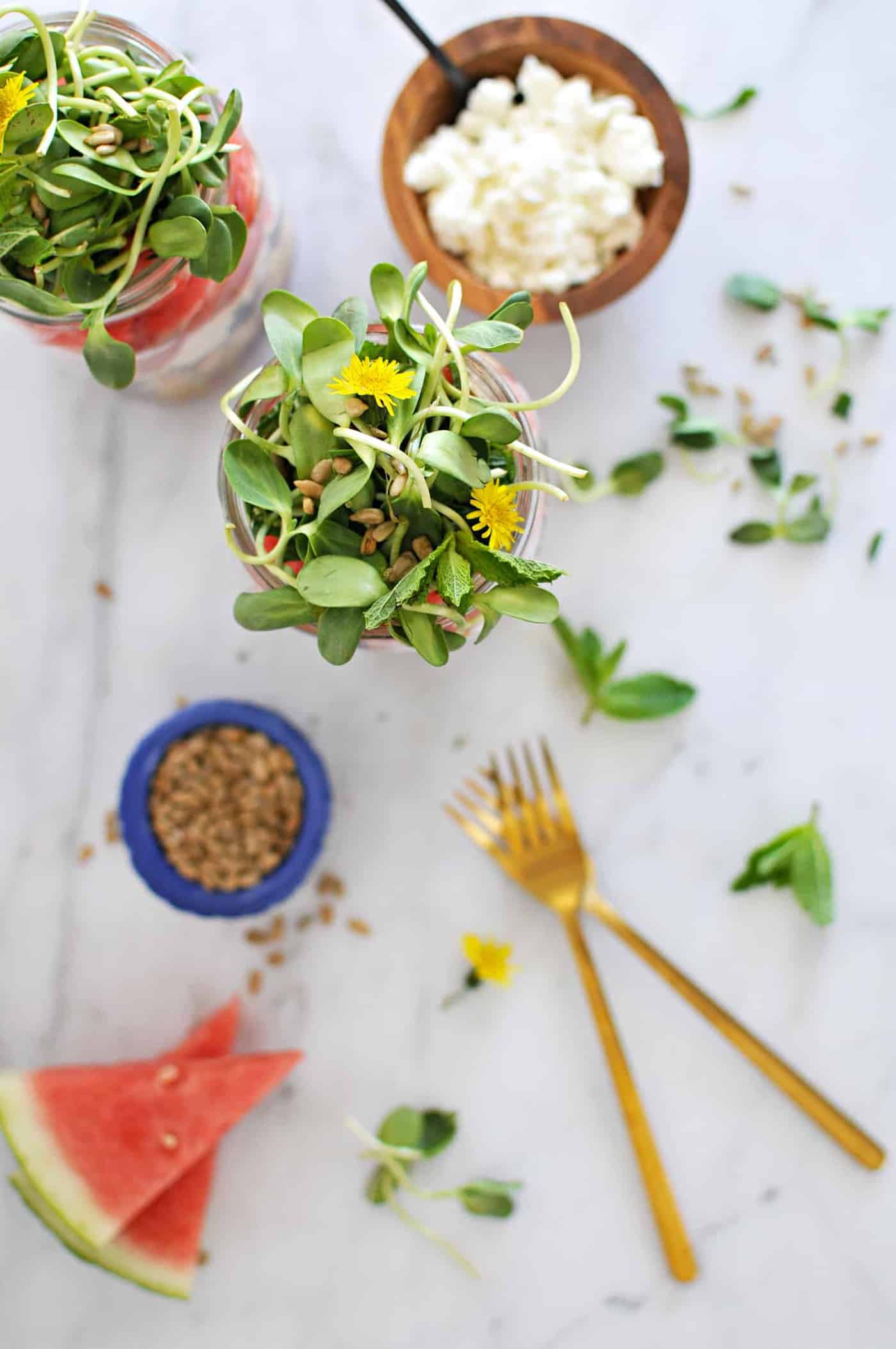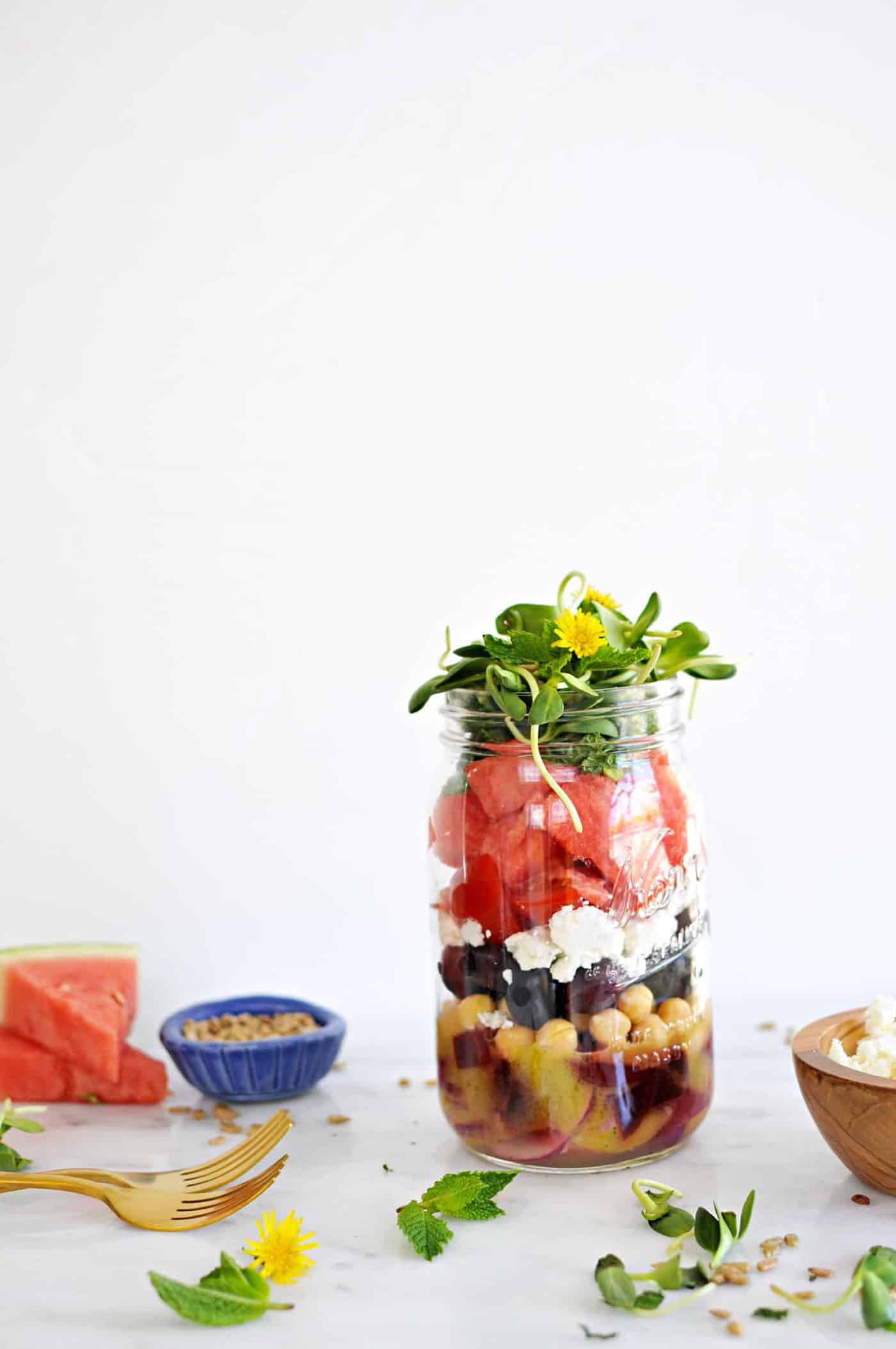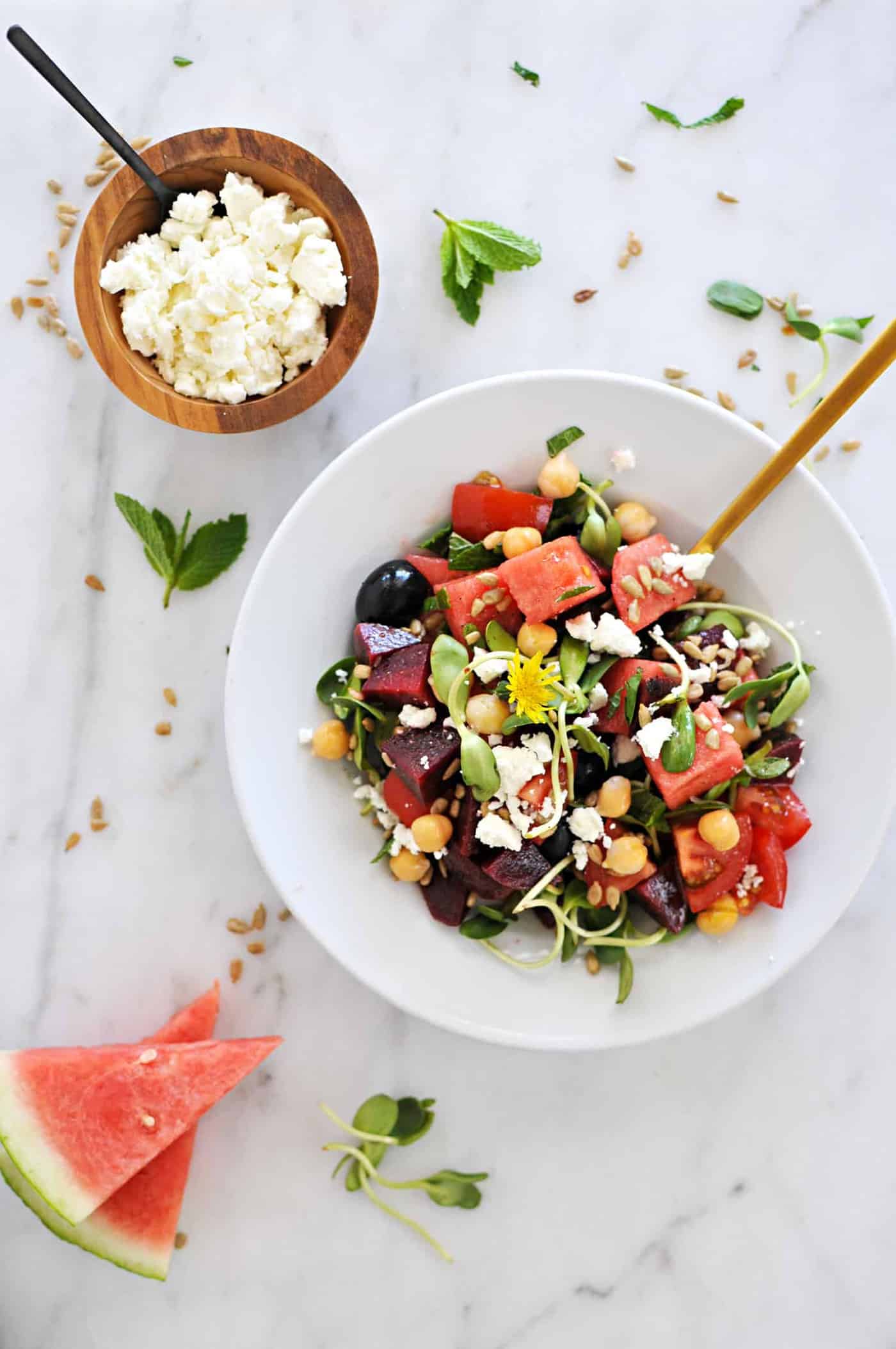 Mason Jar Greek-Style Watermelon Salads
Makes:
2 generous servings
Ingredients
For the Lime Juice Vinaigrette:
¼ cup freshly squeezed lime juice
¼ cup extra virgin olive oil
sea salt + black pepper
For the Salad:
¼ red onion, thinly sliced into half-moons + separated
heaping ½ cup cooked (roasted or steamed) beets
heaping ½ cup cooked or canned chickpeas
2 small handfuls black olives
2 small handfuls kalamata olives
4 oz feta cheese, crumbled
2 medium tomatoes, diced
2-3 cups cubed watermelon
handful mint, finely chopped
2 large handfuls sunflower sprouts
roasted/salted sunflower seeds, for topping
Instructions
Whisk together lime juice and olive oil. Season to taste with sea salt + pepper.
Divide all ingredients except sunflower seeds among 2 quart-sized jars, gently packing ingredients down in the order written (dressing, onions, beets, chickpeas, olives, feta, tomatoes, watermelon, mint, sunflower sprouts). Store in the fridge for a minimum of 2 hours (to allow onions to marinate) or up to 2 days.
Immediately before serving, shake salad to combine; top with sunflower seeds. Enjoy!
Notes
The measurements here are rough for a reason: change them to suit your taste! More chickpeas, less olives? Go for it. Just be sure to keep the ingredients layered in the order suggested so the dressing can work its magic on the more robust items.
I was selected for this opportunity as a member of CLEVER and the content and opinions expressed here are all my own.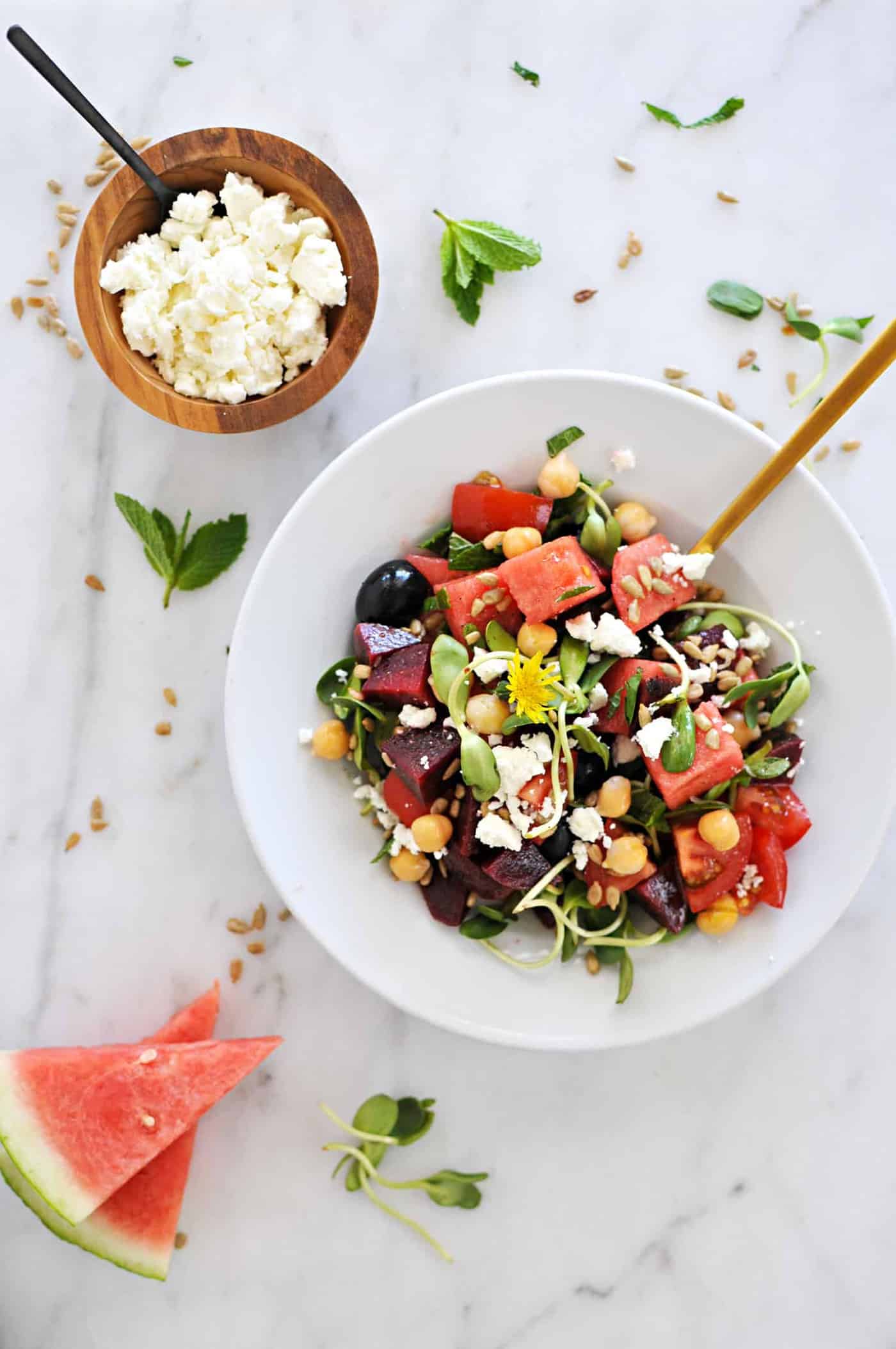 ————————————————–
OH! before you go…
Like whatcha see here — or have a question, feedback, or recipe hack to share? Join The Pig & Quill convo by commenting below and hanging out with me on Facebook, Twitter, Instagram and Pinterest. And don't forget to subscribe to P&Q emails or add me to your RSS reader with Feedly or Bloglovin' so you never miss a post. x's & o's!