Mason Jar Greek-Style Watermelon Salads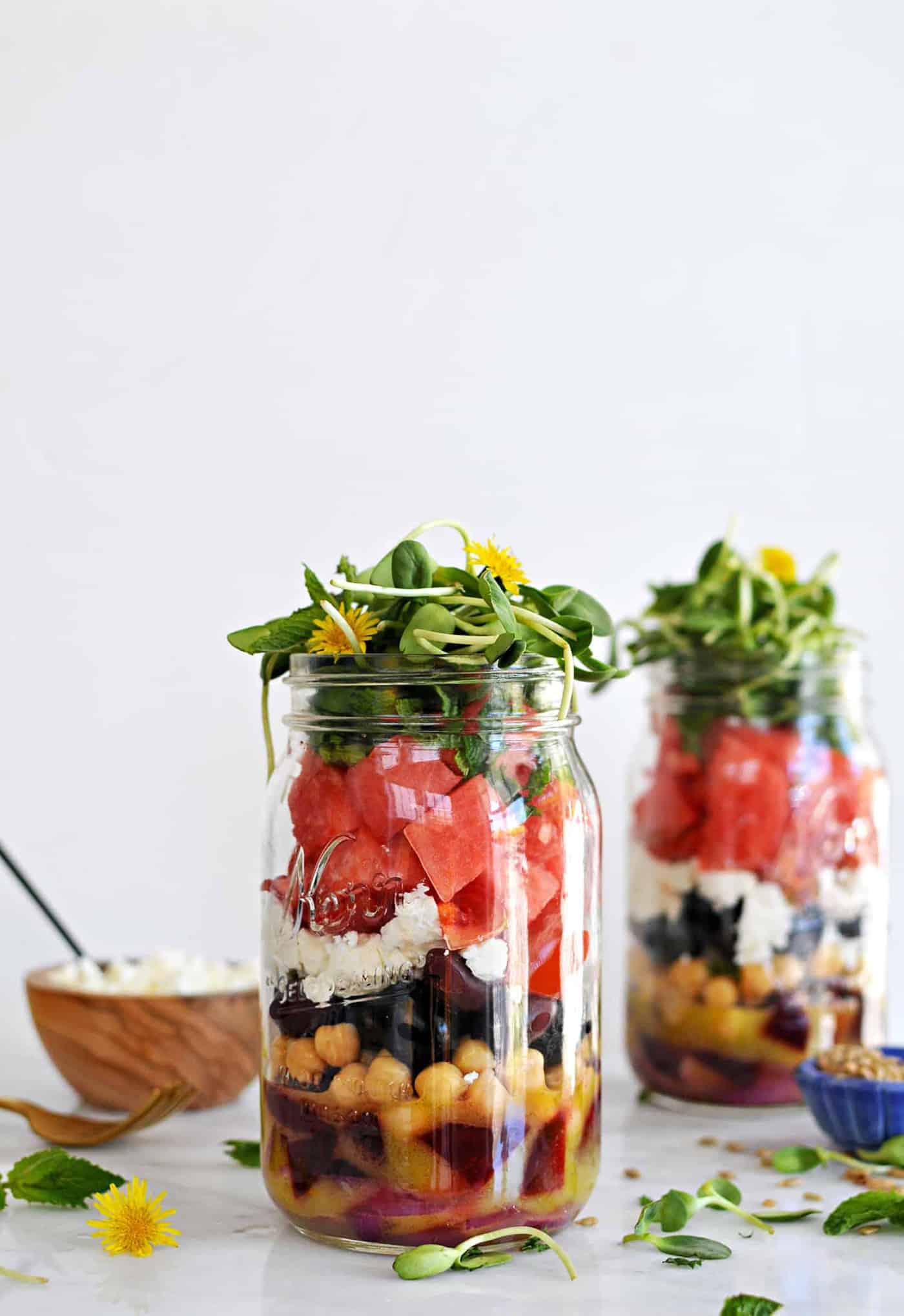 Makes:
2 generous servings
For the Lime Juice Vinaigrette:
¼ cup freshly squeezed lime juice
¼ cup extra virgin olive oil
sea salt + black pepper
For the Salad:
¼ red onion, thinly sliced into half-moons + separated
heaping ½ cup cooked (roasted or steamed) beets
heaping ½ cup cooked or canned chickpeas
2 small handfuls black olives
2 small handfuls kalamata olives
4 oz feta cheese, crumbled
2 medium tomatoes, diced
2-3 cups cubed watermelon
handful mint, finely chopped
2 large handfuls sunflower sprouts
roasted/salted sunflower seeds, for topping
Whisk together lime juice and olive oil. Season to taste with sea salt + pepper.
Divide all ingredients except sunflower seeds among 2 quart-sized jars, gently packing ingredients down in the order written (dressing, onions, beets, chickpeas, olives, feta, tomatoes, watermelon, mint, sunflower sprouts). Store in the fridge for a minimum of 2 hours (to allow onions to marinate) or up to 2 days.
Immediately before serving, shake salad to combine; top with sunflower seeds. Enjoy!
The measurements here are rough for a reason: change them to suit your taste! More chickpeas, less olives? Go for it. Just be sure to keep the ingredients layered in the order suggested so the dressing can work its magic on the more robust items.
Recipe by
the pig & quill
at https://thepigandquill.com/mason-jar-greek-style-watermelon-salads/