Hello from the land of Still Avoiding the Ice Cream Truck. Is summer over yet? JK. Sorta.
Lana is down to her last two weeks of preschool before a monthlong break, so in a sense, summer in our house is just about to get started. I've been not-so-subtly hinting to Chris that we should use this time to get outta dodge — preferably somewhere with both an on-site spa and swimming pool — while simultaneously reminding myself that we live smack in the midst of a vacation destination and the simpler (ahem, more affordable) thing to do would be to stay very well put. And then this mom at swim told me about a resort in Calistoga with Olympic-sized mineral spring pools, and I've already spent like a week researching the shit out of a vacation that will very likely not take place. The meals, the toddler-friendly hikes, the day trip we'll take to the wineries.
It's this sick, torturous hobby of mine, planning elaborate getaways that only sometimes work out. Right up there with loading up my Amazon cart and then saving it all for later because one day it'll make sense.
Like, maybe now is the time to pull the trigger on that American flag bodysuit I was eyeing three years ago. And the 200-pack of A7 envelopes? Sure, why not.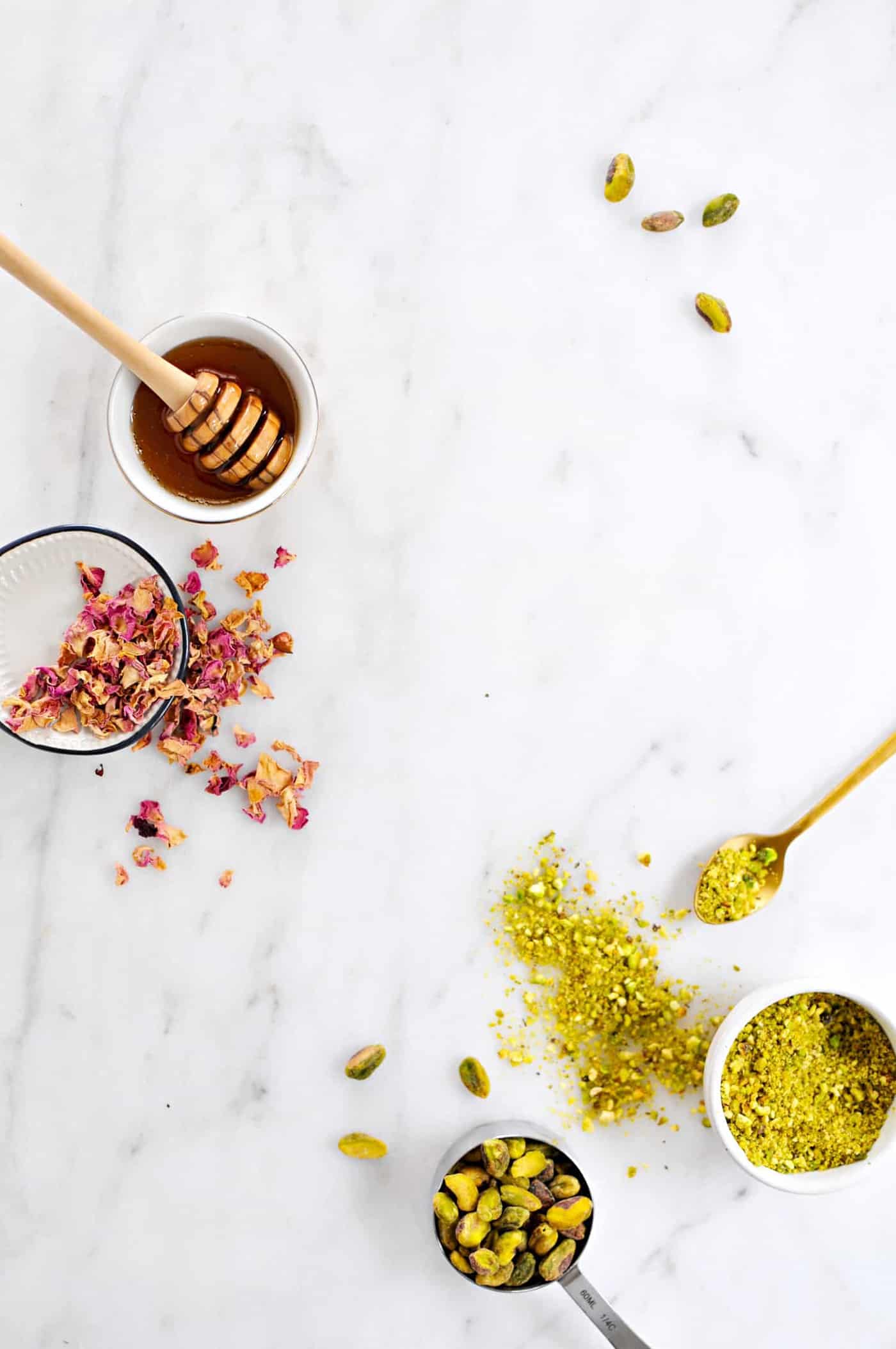 But even if our summer getaway remains little more than a daydream, my mouth will be in vacation mode thanks to a constantly replenished freezer stock of exotic ice pops. Last time we chatted I brought you these Honey Hibiscus Tea Popsicles — and today, in a similarly floral vein, we're talking Rose Milk.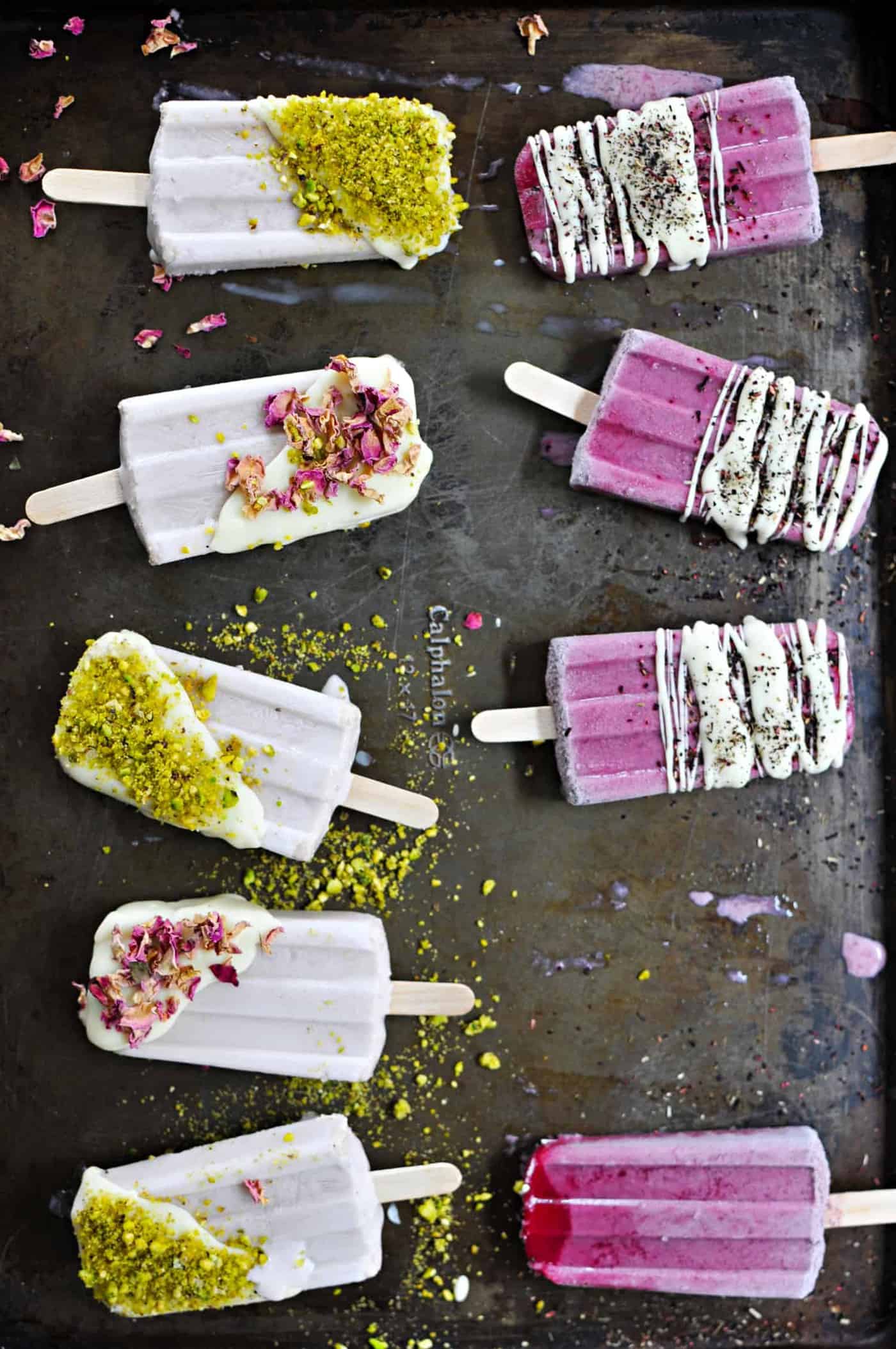 (left: Rose Milk Popsicles / right: Honey Hibiscus Popsicles)
These popsicles are a subtler, even more refreshing interpretation of Rose Milk, which I liken to a sophisticated version of Strawberry Quick in its generous employment of sugar and food dye. But in place of the rose syrup classically used to make Rose Milk, these pops are sweetened with honey, and the rose essence comes from steeped rose petals and rose water. The rose flavor is prominent without being cloying, and there's nary an artificial color in sight (which explains their romantic, muted hue). Taking them over the top — remember, we're competing with the ice cream truck 7 days a week over here — we generously dunked each pop in white chocolate and sprinkled them with pretty garnishes, to boot.
Not exactly vacation, but a detour from your run of the mill popsicle, to be sure. 😉
xo,
Em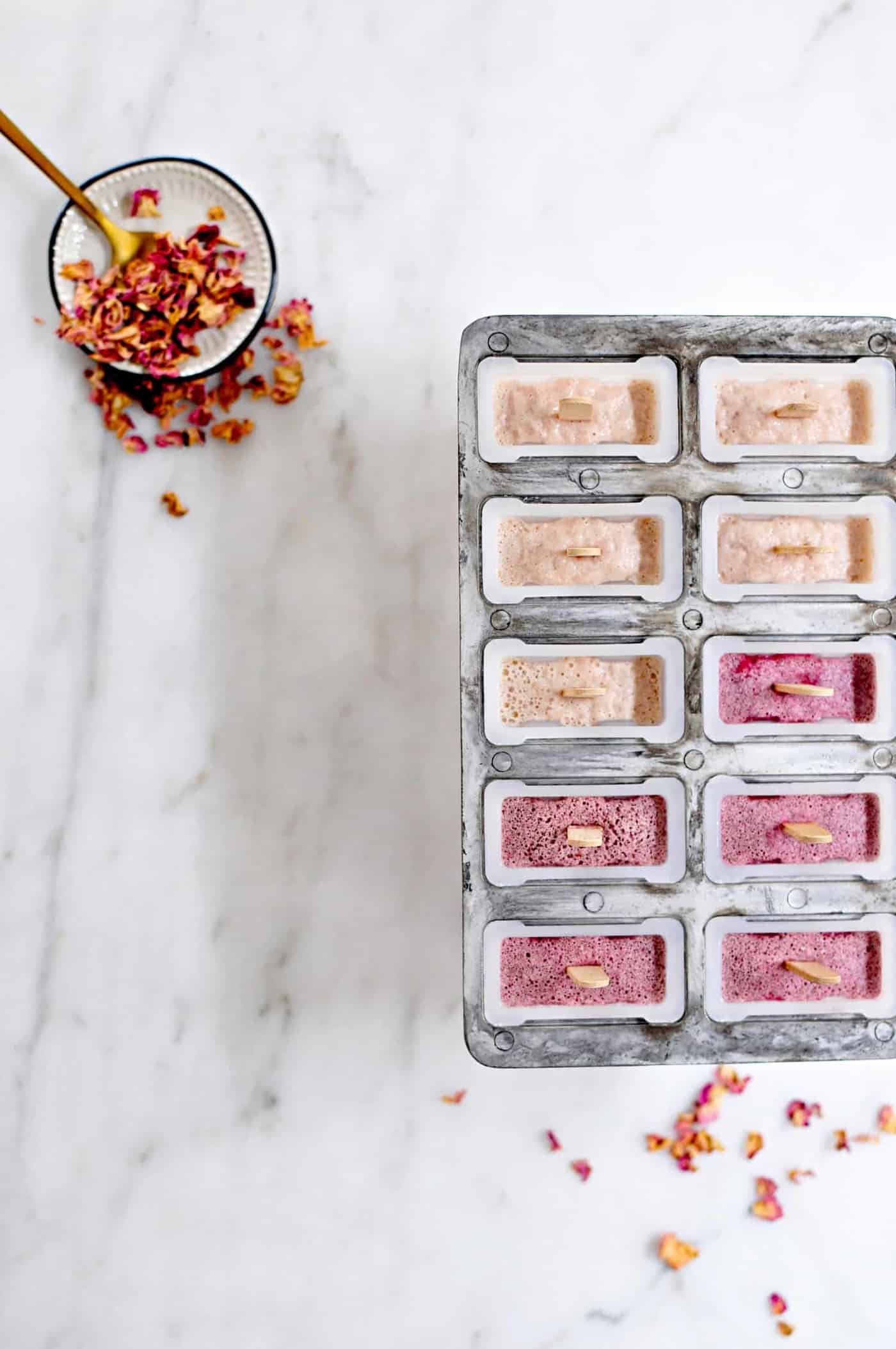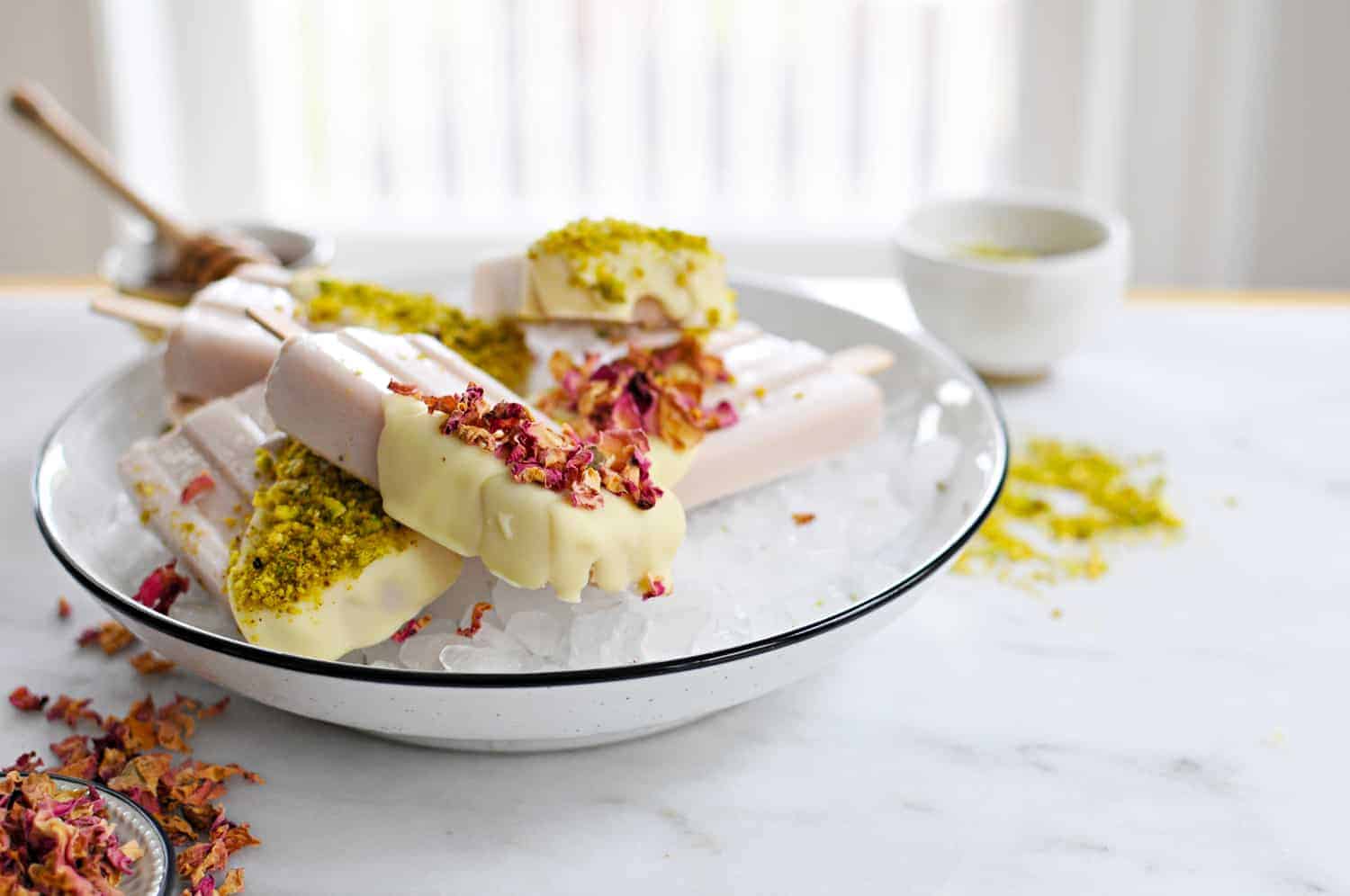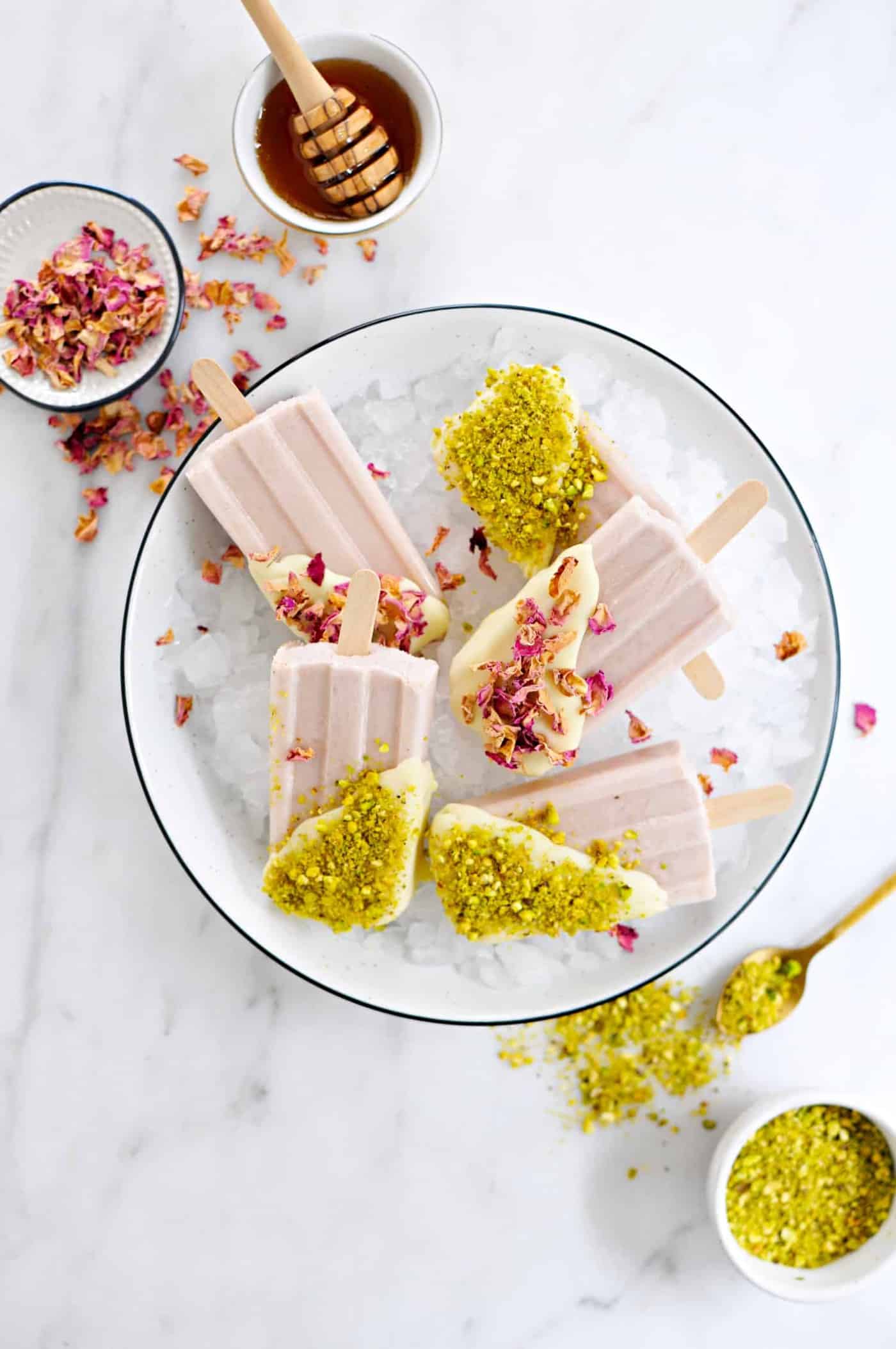 Rose Milk Popsicles
Makes:
about 5 3-ounce popsicles
Ingredients
For the Popsicles
1 (13.5 oz) can light coconut milk
1½ T honey
2 tsp rose water
For the White Chocolate + Pistachio Topping (optional)
¼ cup white chocolate chips
½ T coconut oil
crushed pistachios
Instructions
In a medium saucepan, combine coconut milk, honey and rose petals. Heat, stirring frequently, until mixture just begins to bubble around the edges. Turn off heat, cover and let steep for 15 mins.
Transfer mixture to a high-powered blender and process until smooth.
Allow mixture to cool slightly. Stir in rose water.
Pour rose milk into popsicles molds of choice (we use these popsicle molds with great success). Insert popsicle sticks and freeze until completely solid, at least 6 hours or overnight.
If using drizzle: combine white chocolate chips and coconut oil in a microwave-safe bowl and heat in 30 second increments until completely smooth. (Alternatively, melt together over a double-boiler.) Briefly run popsicle mold under warm water to release popsicles; generously spoon melted chocolate over each popsicle, arrange in a single layer on a baking sheet, sprinkle with crushed pistachios and return to freezer until drizzle is completely set, about 10 mins. Enjoy!
Notes
If you're only making 5 popsicles as this recipe suggests, you'll end up with a shot or two's worth of leftover rose milk. Simply serve it ice cold -- your little preview of what's to come as the pops freeze.
————————————————–
OH! before you go…
Like whatcha see here — or have a question, feedback, or recipe hack to share? Join The Pig & Quill convo by commenting below and hanging out with me on Facebook, Twitter, Instagram and Pinterest. And don't forget to subscribe to P&Q emails or add me to your RSS reader with Feedly or Bloglovin' so you never miss a post. x's & o's!