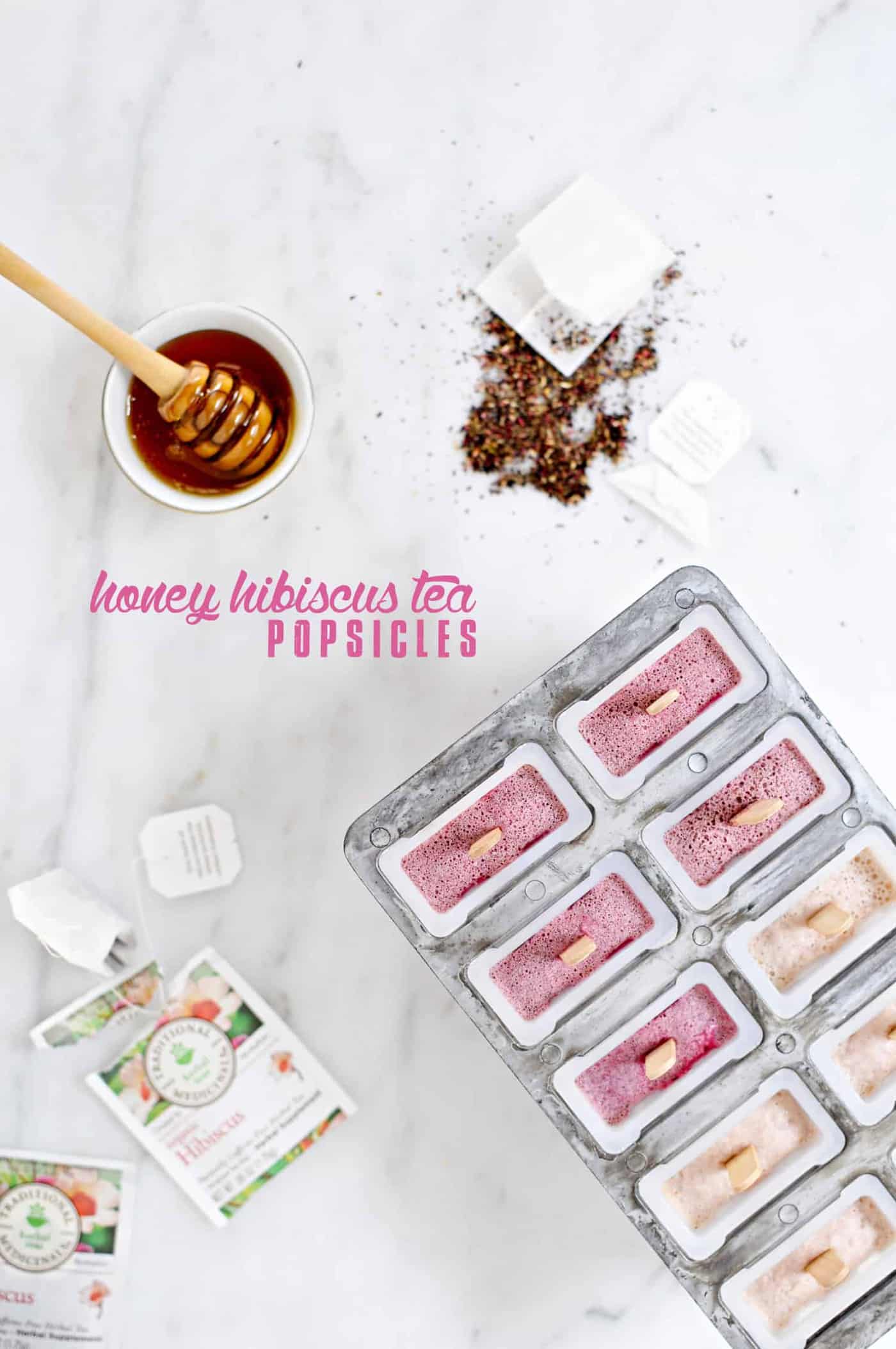 Last week, Chris took the car-with-the-carseat to the shop for routine maintenance. Sans vehicle, Lana and I were determined to make the most of our new neighborhood, which is close to all that this little seaside town offers: coffee shops galore, our favorite lunch spot (the hen of the woods sandwich, my worddd), the library, playgrounds big and small, the bourgeois grocery store, the decidedly un-bourgeois grocery store — and my personal fave: THE BEACH.
If you follow me on Instagram, you know how this day went. It was, let's say, challenging. Remember when I published that lovely post last week touting my relatively good-natured three year-old? It was, apparently, written in the midst of temporary memory loss, brought on by the trauma that was: The Whiniest Day in All of History. It started with an insufferable amount of Belligerent Demanding (if there's one thing I won't tolerate as a parent, it's demands — meaning, yes, I am that mom that rephrases every request to begin "mom, may I please…") and progressed to include Copious Food Wasting, Olympic Toy Throwing, and Screaming Bloody Murder At The Suggestion of Going Potty.
She ran. me. ragged. But the beach beckoned, and against all odds, we made it happen. In fact, it turned out to be one of the best times we've had since moving here. A beach day as classic as they come, painted in tones of warm, golden sand, sudsy teal waves and a cobalt sky.
It felt like summer.
Not even half a mile from home, it felt like…vacation.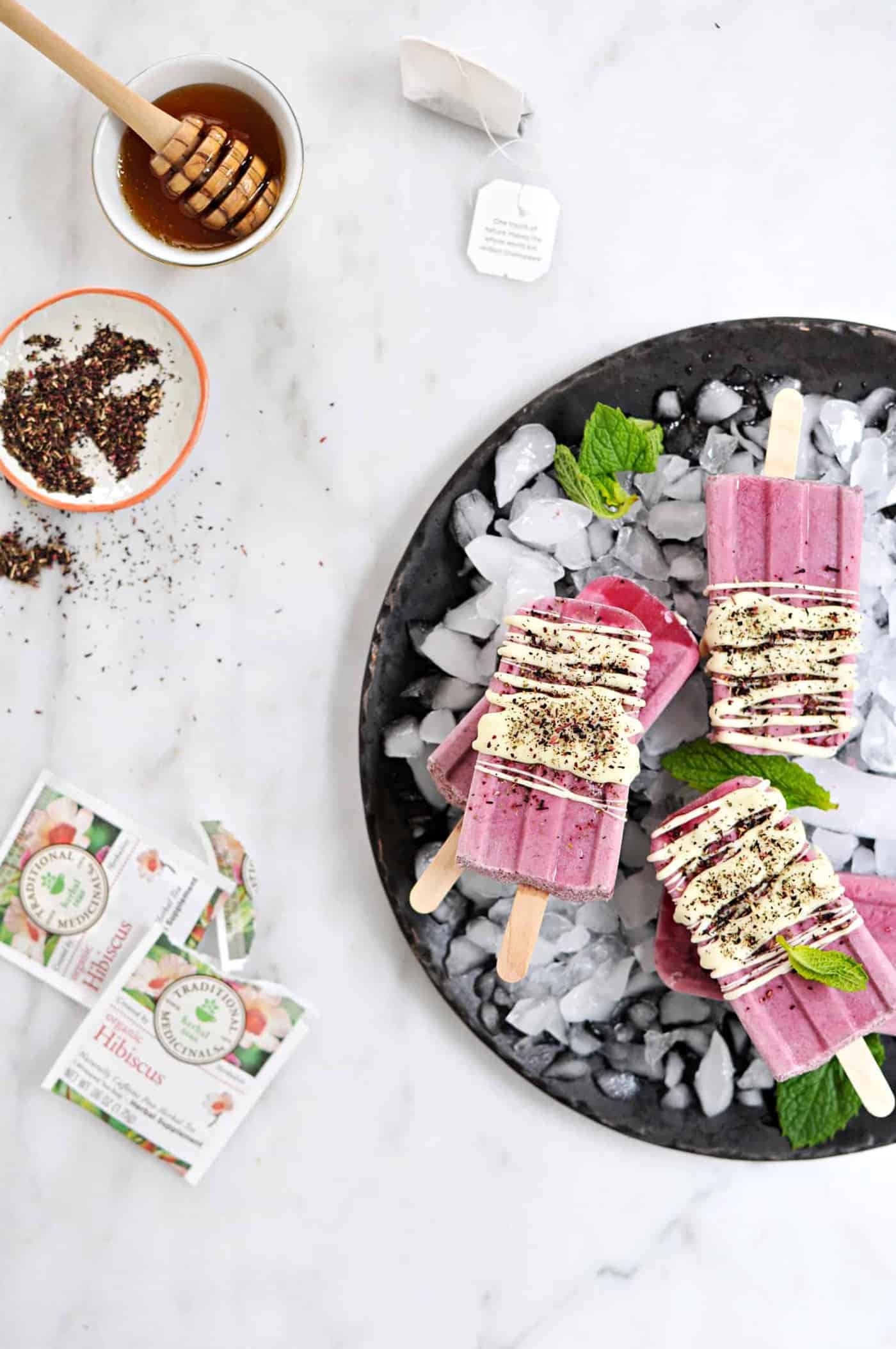 So when the jingle-jangle of the ice cream truck coaxed us out of our afternoon naps a few hours later, the only option, it seemed, was to chase it down. What better way to ride that vacay wave than with refined sugar, I figured. We'll do it the one time — a singular, corn syrupy experience to round out a day of extreme highs and lows. "This is a treat," I reminded her, as she crunched through the "chocolatey coating" on her first Drumstick cone. "The ice cream truck doesn't come by every day."
Famous last words.
Turns out that bastard does come by every day, flaunting its tinkly tune and sun-bleached Good Humor labels with reckless abandon. And don't think she didn't notice.
I spent the first three days attempting to use reason: "we don't need ice cream every day, Bug" (it's no wonder I wasn't very convincing when I don't believe it myself…).
The next three days, I turned up the Kidz Bop at the first detection of Turkey In the Straw.
And on the seventh day, I made popsicles.
If you can't beat 'em, join 'em. Or at least improve 'em.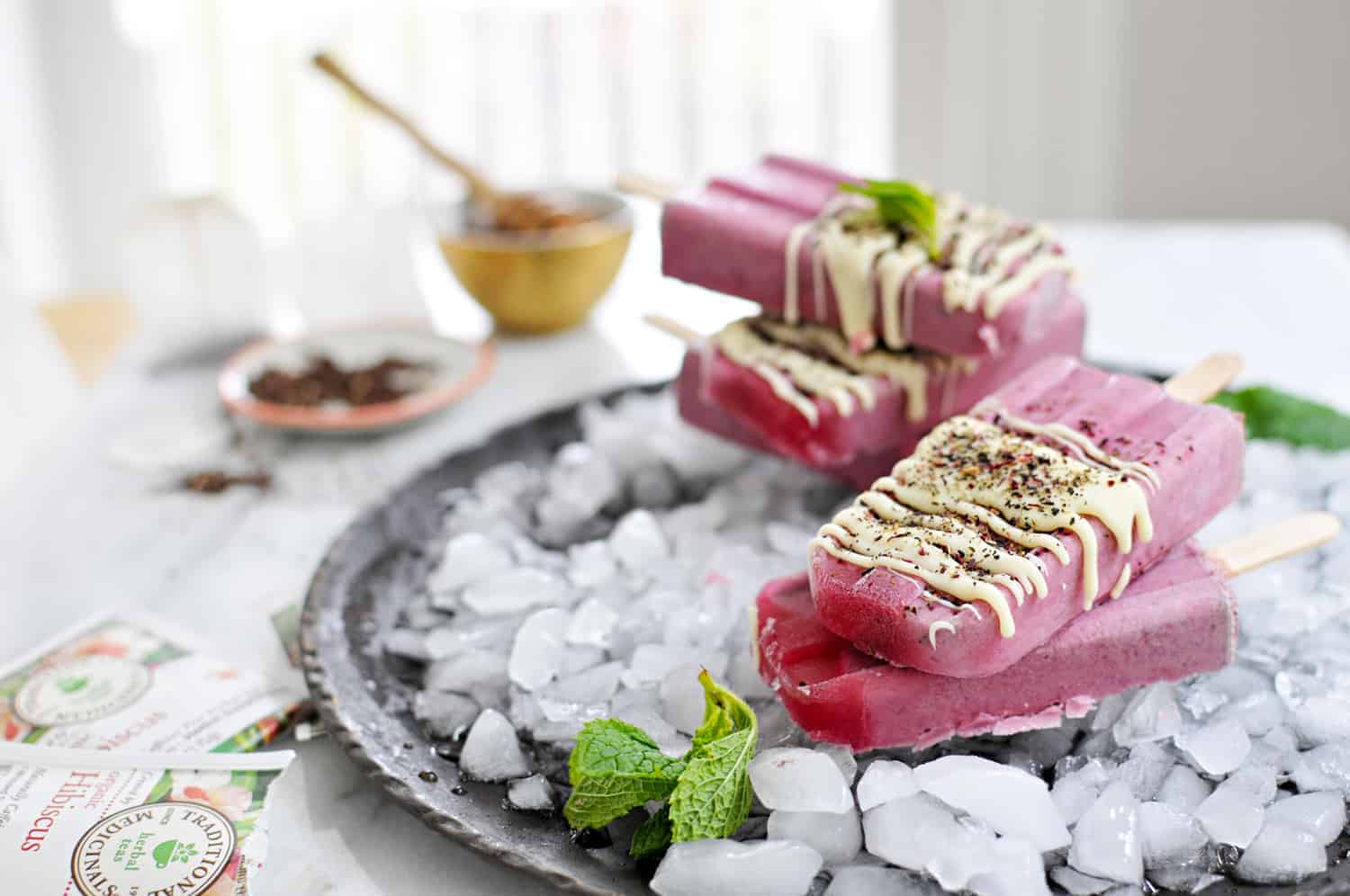 These Honey Hibiscus Tea popsicles are alluringly fuchsia — v important for a toddler who, against all odds, is impossibly girly — tantalizingly sweet-tart, and sweetened with only honey, so while they're still a treat, they're loads less processed than anything we'd find on that ol' crack wagon. The citrusy, floral tea is instant refreshment. And while I could easily consume two or three or all five popsicles in a sitting, the flavor is just grown-up enough that Lana is satisfied after one — a treat, in itself, for any parent opposed to the GIMMES.
While we used light coconut milk for the base of these pops, you could totally use full-fat, but we almost always have the former on hand, and I like the iciness it imparts. There's a white chocolate drizzle that's entirely optional, as well. It ups the ante when you're competing against neon packaged ice cream treats, but if you're avoiding the extra sugar (and this is most definitely sugar sugar), skip it. (That said, if you're skipping the drizzle for dietary reasons, these pops could be made entirely dairy-free/vegan by swapping maple syrup for the honey and coconut butter for the white chocolate).
In the name of the best defense being a good offense, I'm seriously hopeful that stocking a freezer full of homemade treats will keep the summer whining to a minimum. (If you have young kids, I'm going to pretend you're laughing with me.) And at the very least, maybe these'll help keep my own personal meltdowns at bay.
They certainly can't hurt.
xo,
Em
p.s. It's #PopsicleWeek! Head over to Wit & Vinegar (hi, Billy!) for frozen treat inspiration from more than 75 bloggers.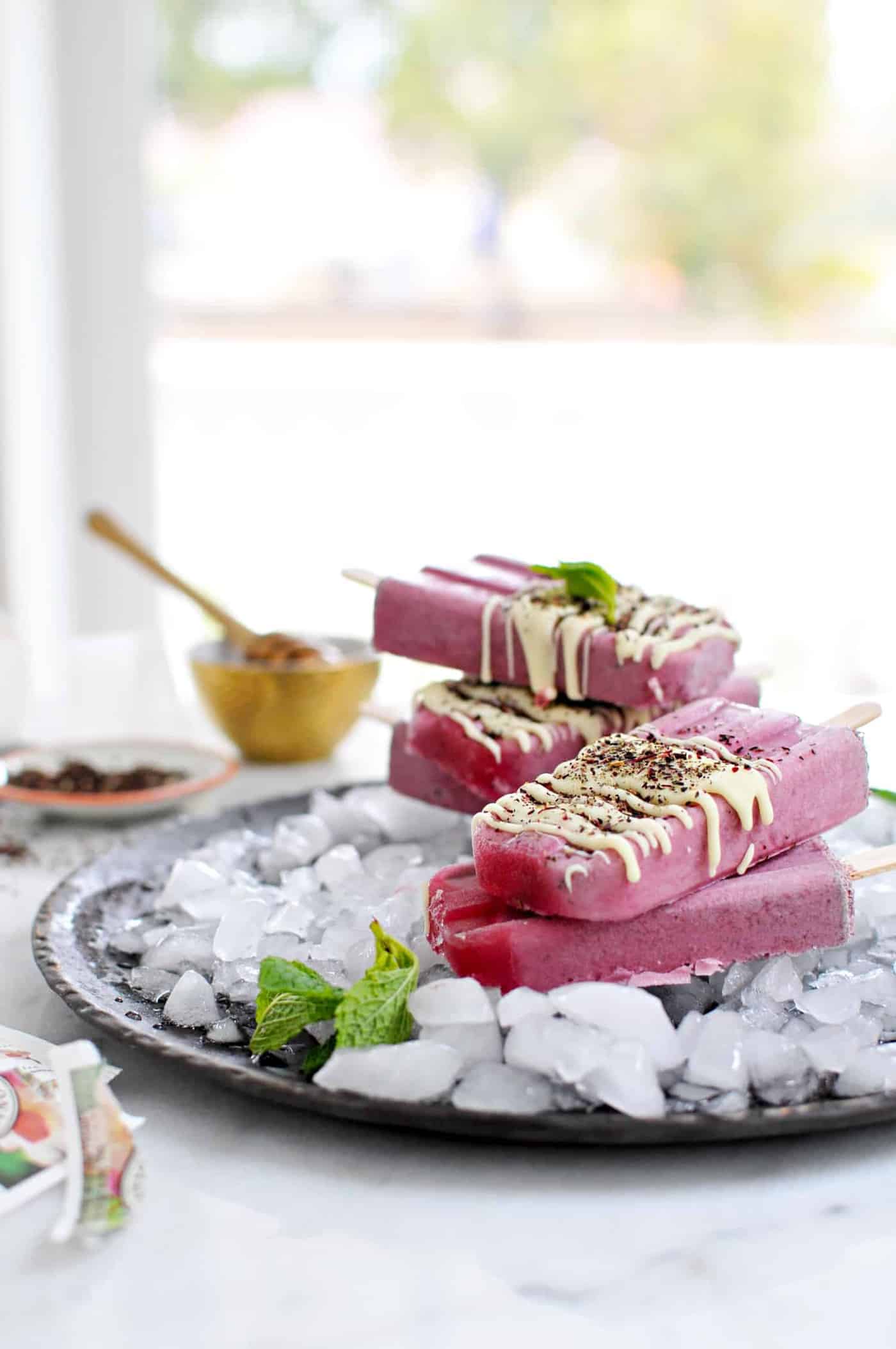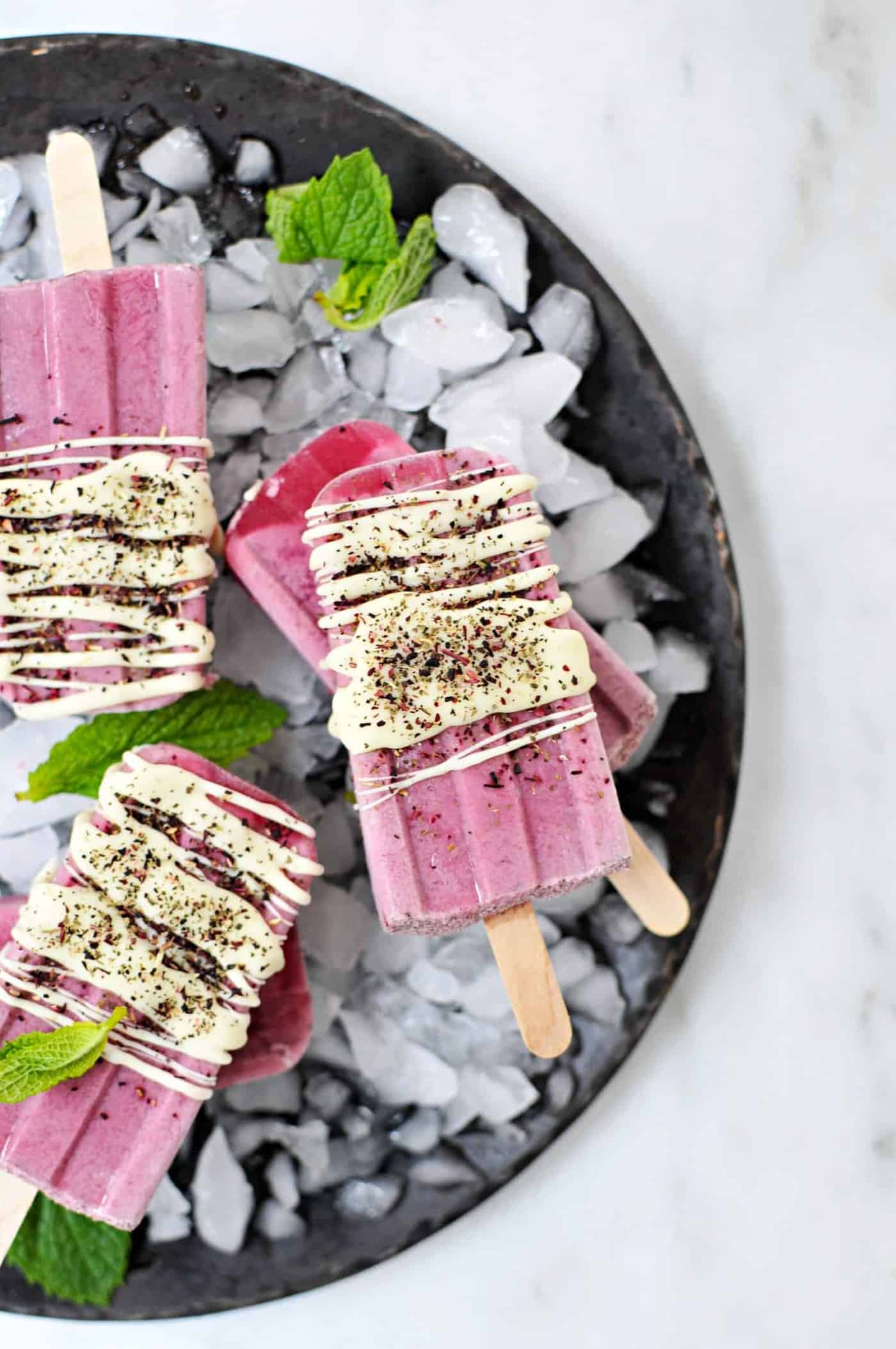 Honey Hibiscus Tea Popsicles
These bright, floral popsicles come together quickly (using easy to find ingredients) and are the epitome of summer refreshment.
Makes:
about 5 3-ounce popsicles
Ingredients
For the Popsicles
1 (13.5 oz) can light coconut milk
3 T honey
3 hibiscus tea bags (see note)
For the White Chocolate Drizzle (optional)
¼ cup white chocolate chips
½ T coconut oil
Instructions
In a medium saucepan, combine coconut milk, honey and the emptied contents of the three (3) tea bags. Heat, stirring frequently, until mixture just begins to bubble around the edges. Turn off heat, cover and let steep for 10 mins.
Transfer mixture to a high-powered blender and process until smooth.
Allow to cool slightly before pouring into popsicles molds of choice (we use these popsicle molds with great success). Insert popsicle sticks and freeze until completely solid, at least 6 hours or overnight.
If using drizzle: combine white chocolate chips and coconut oil in a microwave-safe bowl and heat in 30 second increments until completely smooth. (Alternatively, melt together over a double-boiler.) Briefly run popsicle mold under warm water to release popsicles; drizzle each with the melted white chocolate (and a sprinkle more tea, if you so desire), arrange in a single layer on a baking sheet and return to freezer until drizzle is completely set, about 10 mins. Enjoy!
Notes
Hibiscus tea is more readily available than dried hibiscus petals, but those could certainly be used here, too. When it comes to hibiscus teas, read the labels carefully. Some are pure hibiscus (obviously!), but some feature additional (sometimes artificial) flavorings. I personally like the blends that feature blackberry or raspberry leaf and lemongrass, such as
Traditional Medicinals
.
Vegan version: swap the honey for maple syrup and the white chocolate for coconut butter (omitting the additional coconut oil).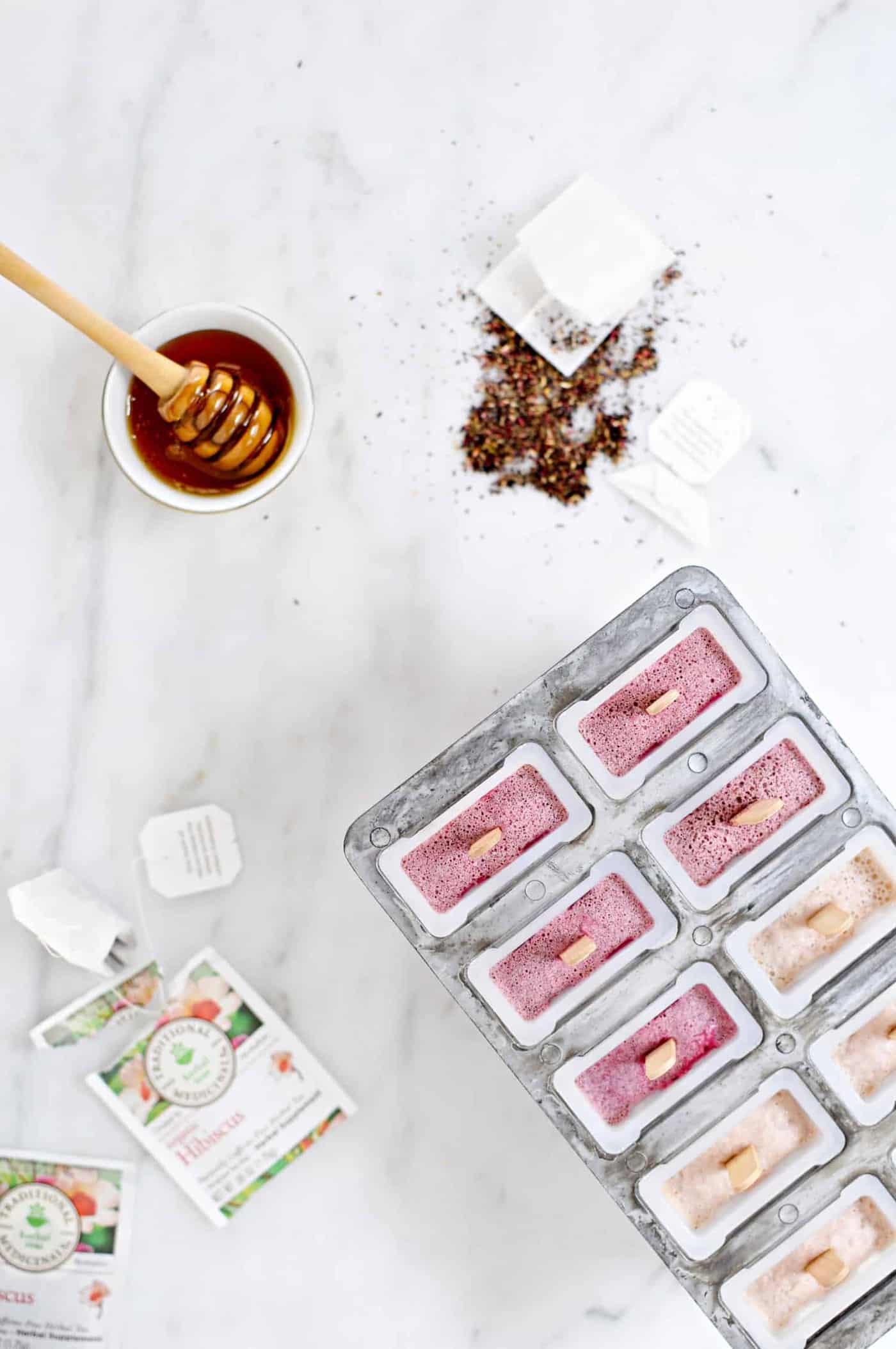 ————————————————–
OH! before you go…
Like whatcha see here — or have a question, feedback, or recipe hack to share? Join The Pig & Quill convo by commenting below and hanging out with me on Facebook, Twitter, Instagram and Pinterest. And don't forget to subscribe to P&Q emails or add me to your RSS reader with Feedly or Bloglovin' so you never miss a post. x's & o's!