10 Tips to Get Kids to Love Veggies – a short list of ideas for helping your kids to appreciate veggies — without any gimmicks or sneaky purees.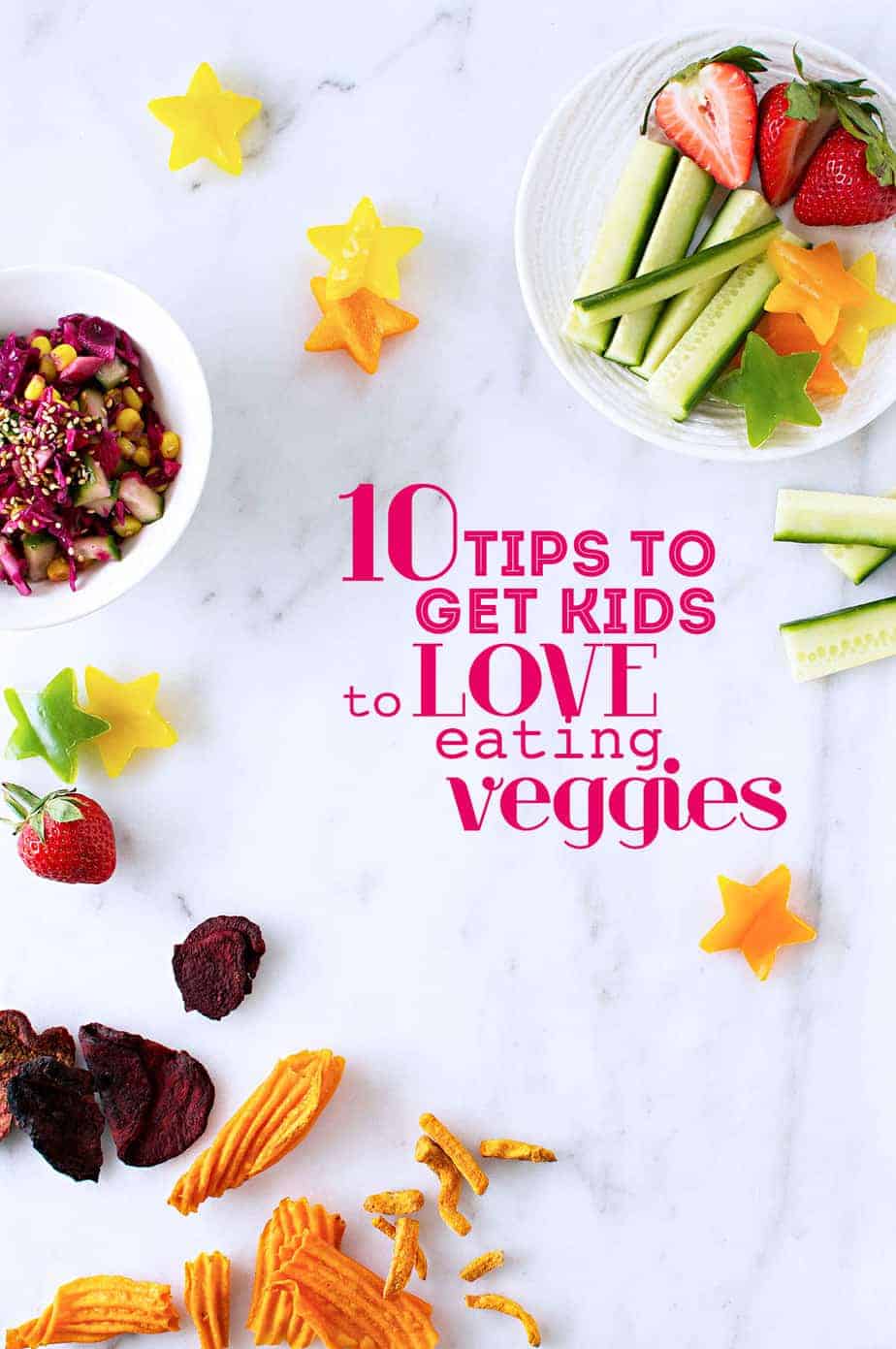 We've all read the tips about how to trick your kiddos into eating their veggies. Processing them into smoothies or soups, hiding them in mac n' "cheese" (Lana probably ate her weight in butternut squash "cheese" sauce in her first 18 months), slipping purees into muffins and, if it really comes down to it, succumbing to fruit + veggie juice blends. And it works for a reason: your kids don't know they're there. But what if your little ones truly loved veggies? And not just being 100% aware of the veggies they were eating but *gasp* looking forward to them?
I won't claim that my own (almost 4-year-old!) mini-me is a saint when it comes to eating — she's got her days, tuhhhrust me — but more often than not, she is genuinely excited to eat her vegetables. Here are our top 10 tips for giving your kids the best chance at loving them, too.
10 Tips to Get Kids to Love Veggies
1) Serve the veggies first at mealtime. Ever taken your kids out to sushi? Consider how much edamame they wolfed down while you waited for your food to arrive. This is the exact same deal. Serve the veggie component of your meal as an "appetizer" while you plate the rest of the food. Anxious littles will let their appetite get the best of them and start snacking without even realizing it. Bonus points here if the veggies happen to be in finger food form — roasted into "fries," for example.
2) Roast all the things. Speaking of roasted veggie fries, sending our veggies for a long roast in a hot oven is the most surefire way to get Lana to try something new. She can't resist the crunchy, caramelized edge of a well-roasted tuber, and cruciferous veggies (broccoli, cauliflower, Brussels sprouts) become wonderfully savory and nutty in a hot oven. Just toss your veggies of choice generously with olive oil and pink salt, arrange them in a single layer, and pop them into a 400F oven until they're deeply colored, tossing once or twice in the process. We love these Sweet Potatoes, especially.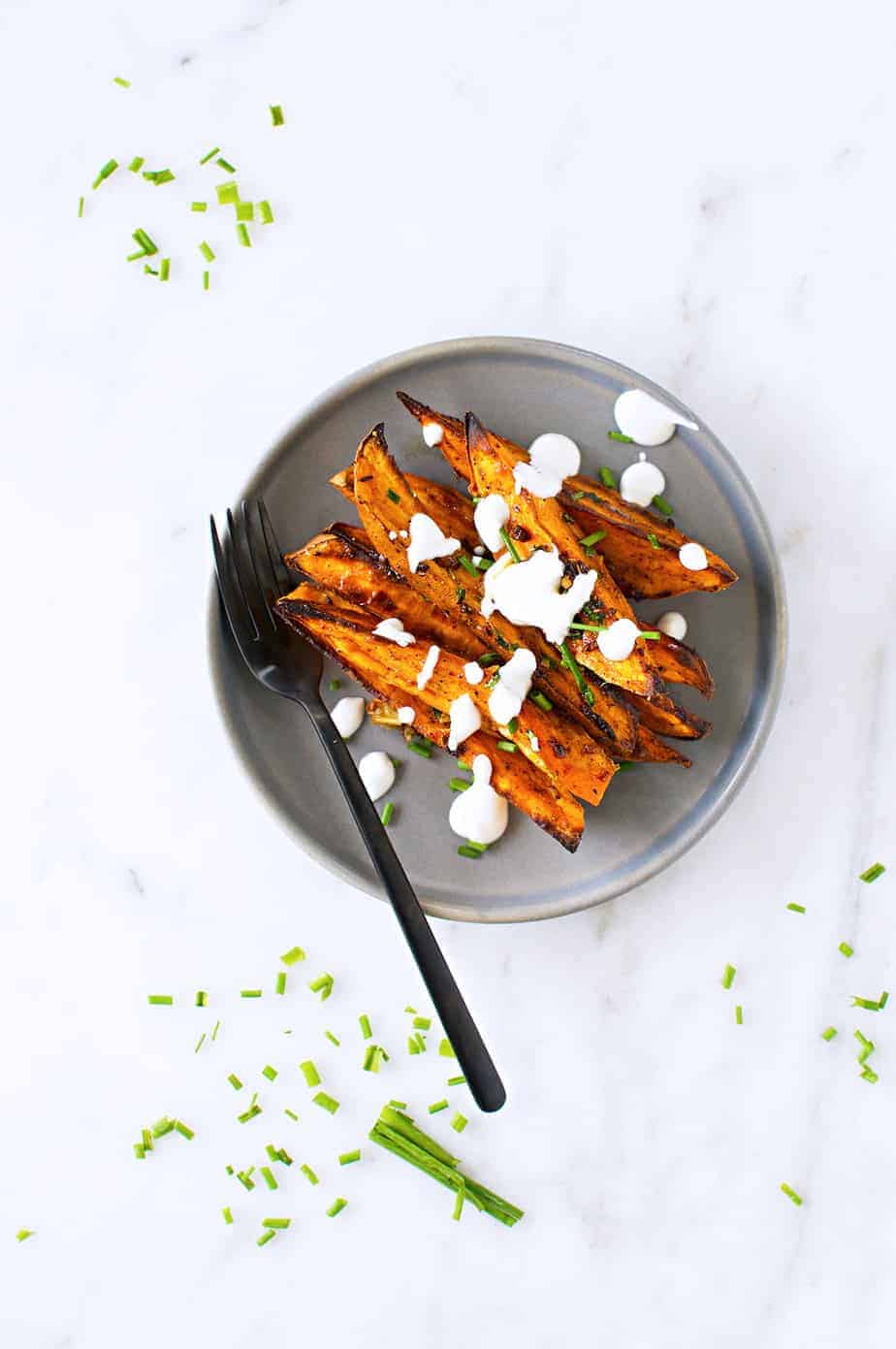 3) Pickle all the things. If your little ones like the tang of a familiar dill pickle spear, try quick-pickling other veggies, like green beans, asparagus or beets — or pick up a jar of sauerkraut or kimchi in your market's refrigerated section. (I started stocking up on sauerkraut early on, and it's still one of our favorite veggie shortcuts for nights when we're in a pinch for time. Chicken nuggets, apple slices and sauerkraut — it could be a lot worse.)
4) Involve them in the meal planning as much as possible. I wouldn't say Lana shares my passion for cooking (yet!), but she sure does like showing off her breadth of skills as a "big girl." And if those skills involve pushing the grocery cart, choosing a rainbow of veggies for the week, and even using the stove (with supervision, of course), so much the better. If our menu for the week isn't strict, I'll just give her a little guidance in the produce section — "two green veggies, two orange veggies, something purple and something we've never tried before" — and most of the time, she's asking to eat the items she's selected before they're even washed and put away. The other night, she made one of our simplest go-to meals, Sausage, Beans + Greens, nearly on her own. (I sliced the sausage and helped her with the stove, but she prepped and cooked everything else.) It was a meal she had chosen, shopped for and prepared, and when it came time to eat, she gobbled up her portion (including nearly half a bunch of kale) without a second thought. She was so freaking proud of herself. And for good reason!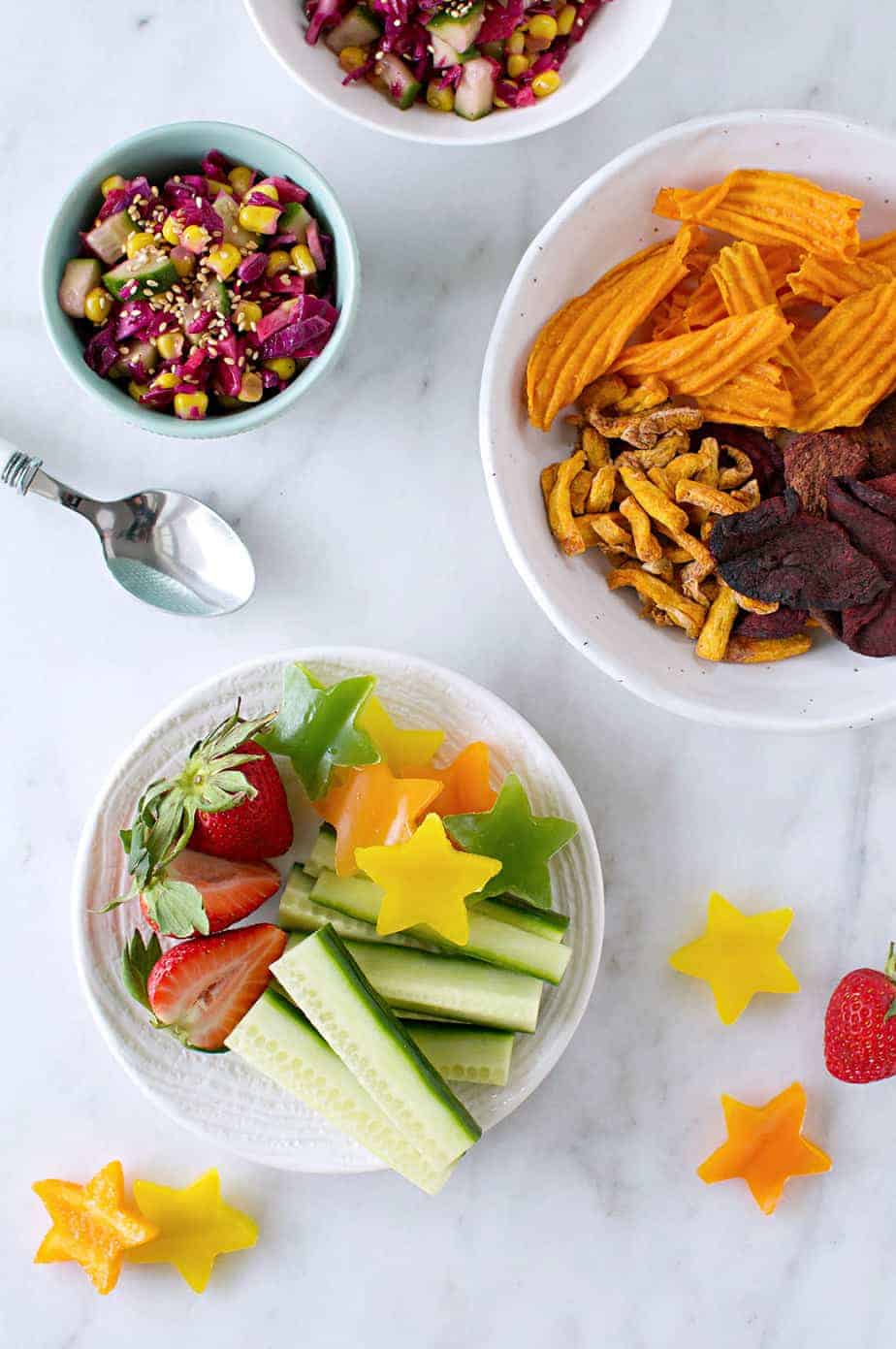 5) Make every salad a "chopped" salad. Sometimes a bowl of big, leafy salad greens or overwhelming broccoli spears can seem be a little intimidating to kiddos. We've found Lana is way more likely to pop something into her mouth if it's easily scooped up. Whenever we serve salad, we quickly dice up her portion with two knives so that she can eat it with a spoon. For this reason, cabbage based salads (like the one pictured here) and slaws are super popular in this house. This Purple Power Salad is another perfect example and super popular in our house.
6) Cut veggies into fun shapes. Ok, this one is a little gimmicky, but it's just like it sounds. Lana likes peppers, but she likes them even better when they're pepper stars. I once made a flower out of sliced roasted beets, with a cherry tomato center and a cucumber stick stem. SUPER simple stuff, but she thought I was the Van Goh of veggies.
7) Stock your pantry with "veggie snacks." Lana will almost always opt for a "pantry snack" over all else, so we keep our pantry stocked with a variety of low-ingredient veggie "crunchies." Freeze-dried or oven-baked beet chips, broccoli chips, kale chips and even carrot "fries" are readily available at our local supermarket (Trader Joe's has an awesome selection), and while I'd rather she eat the fresh stuff, these are a great alternative to crackers or potato chips — and they're a fun way to introduce young tastebuds to new veggies in a highly snackable format.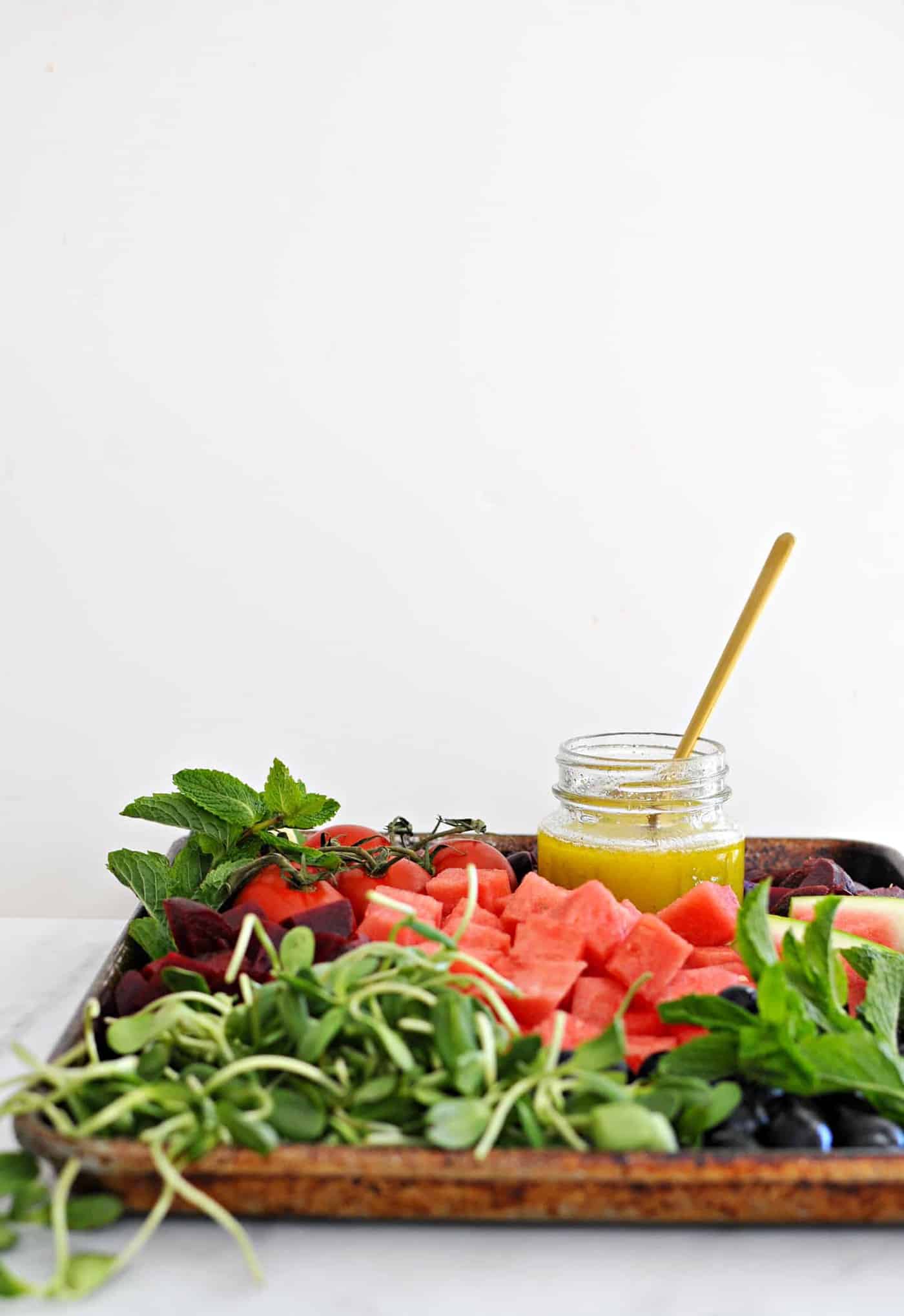 8) Put 'em on a platter. Lana is instantly more drawn to anything that looks like it's being prepped for use in something else — and, in that respect, she feels like she's cheating the system a little. Getting a sneak peek, I guess. In the picture above, I was prepping a large watermelon salad, and Lana couldn't resist poaching beets, tomatoes, and even sunflower sprouts from the tray every time she passed through the kitchen. Now, when I know we've been a bit deficient on veggies, I rummage through the fridge and casually arrange a rainbow of whatever fruits and veggies we have onto a large sheet tray or a serving board and leave it on the kitchen counter. It catches her eye every time she walks by — and mine, too.
9) Introduce them in a snack box. We pack a snack box almost every day that we're out and about (you can see all of our most recent snackboxes here!), and Lana is rarely picky about its contents if we've had a long day of errands or a particularly exhausting playground session. Since she often eats her snack box in the car, where I'm not exactly available to regulate its consumption, we make sure to pack it full of a variety of healthy options so there are no bad choices. Staples include whole milk cheeses, nuts, seeded crackers, fruit and, of course, veggies (bell peppers, carrot sticks, sliced jicama + cucumbers are always a hit).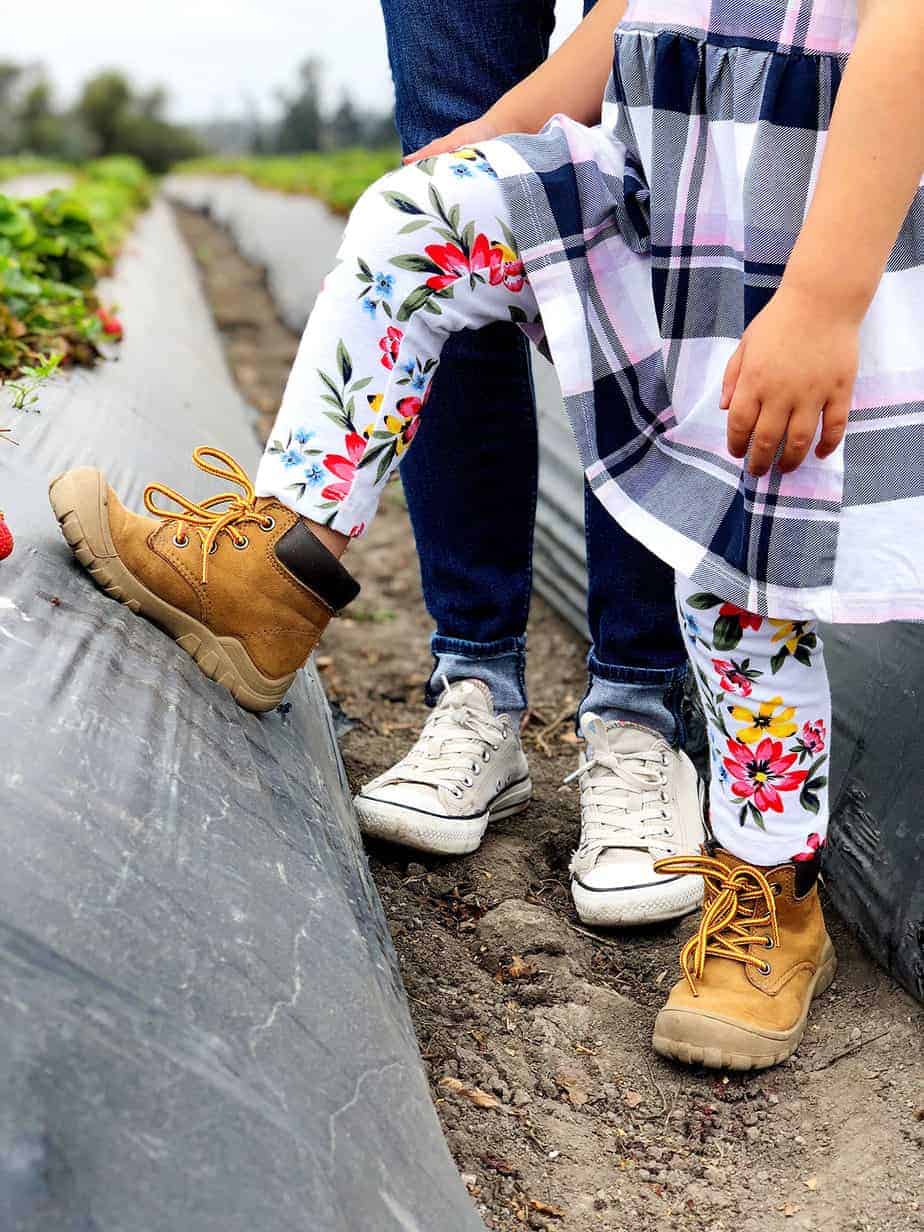 10) Grow 'em yourself! My black thumb of death is twitching as I type this, but if yours is on the greener side, plant a small garden and involve your kiddos in choosing, raising and, finally, eating (!) a variety of veggies. We have access to a large local farm, and every time we visit, all of the kids are eager to try whatever is ripe for the picking. Tomatoes and strawberries are obvious faves, but I've never seen tiny people (or big!) consume raw cabbage, kale or broccoli with so much enthusiasm.
Like this post on getting kids to love veggies?
Be sure to check out:
xo!
Em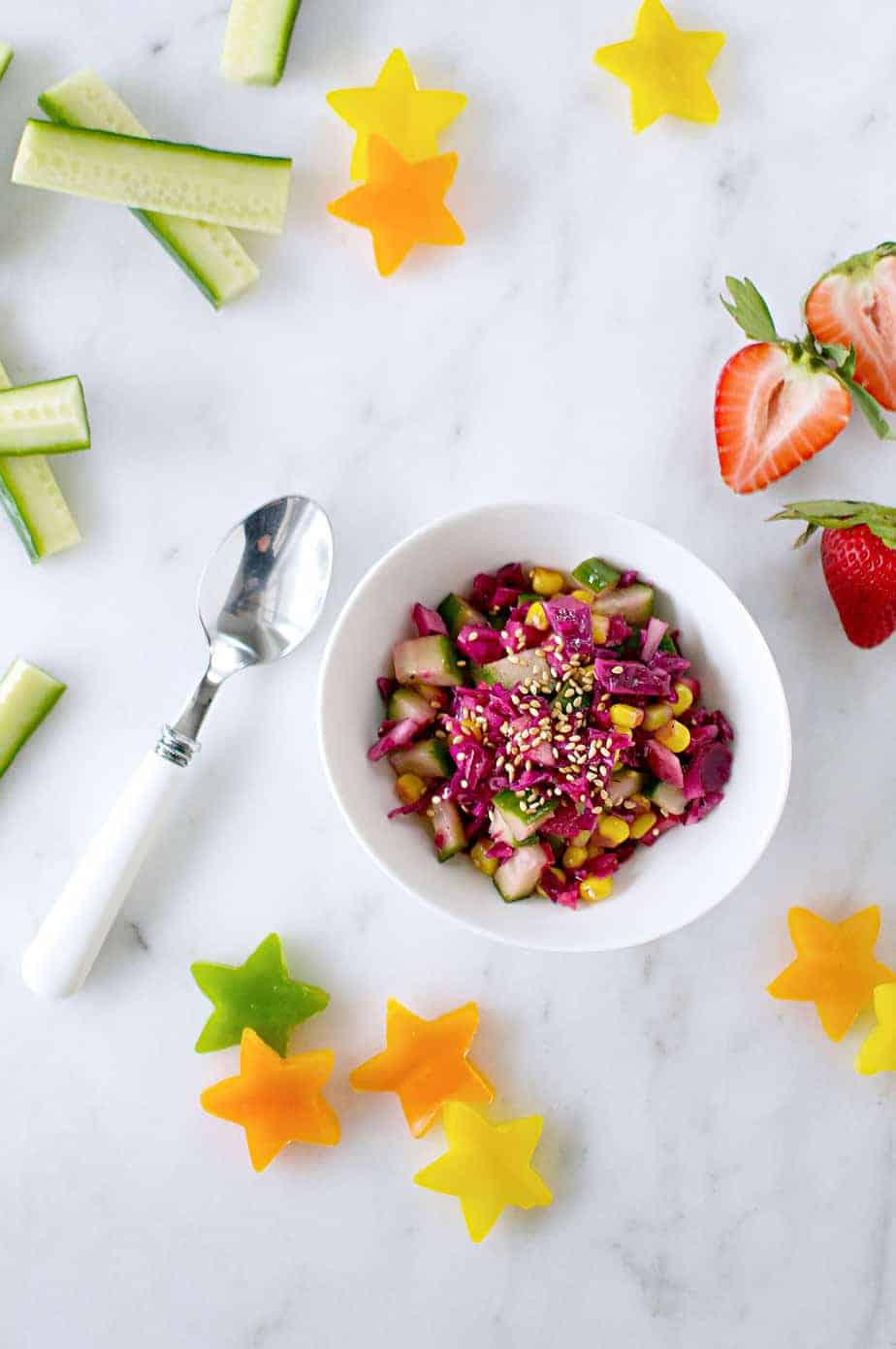 ————————————————–
OH! before you go…
Like whatcha see here — or have a question, feedback, or recipe hack to share? Join The Pig & Quill convo by commenting below and hanging out with me on Facebook, Twitter, Instagram and Pinterest. And don't forget to subscribe to P&Q emails or add me to your RSS reader with Feedly or Bloglovin' so you never miss a post. x's & o's!