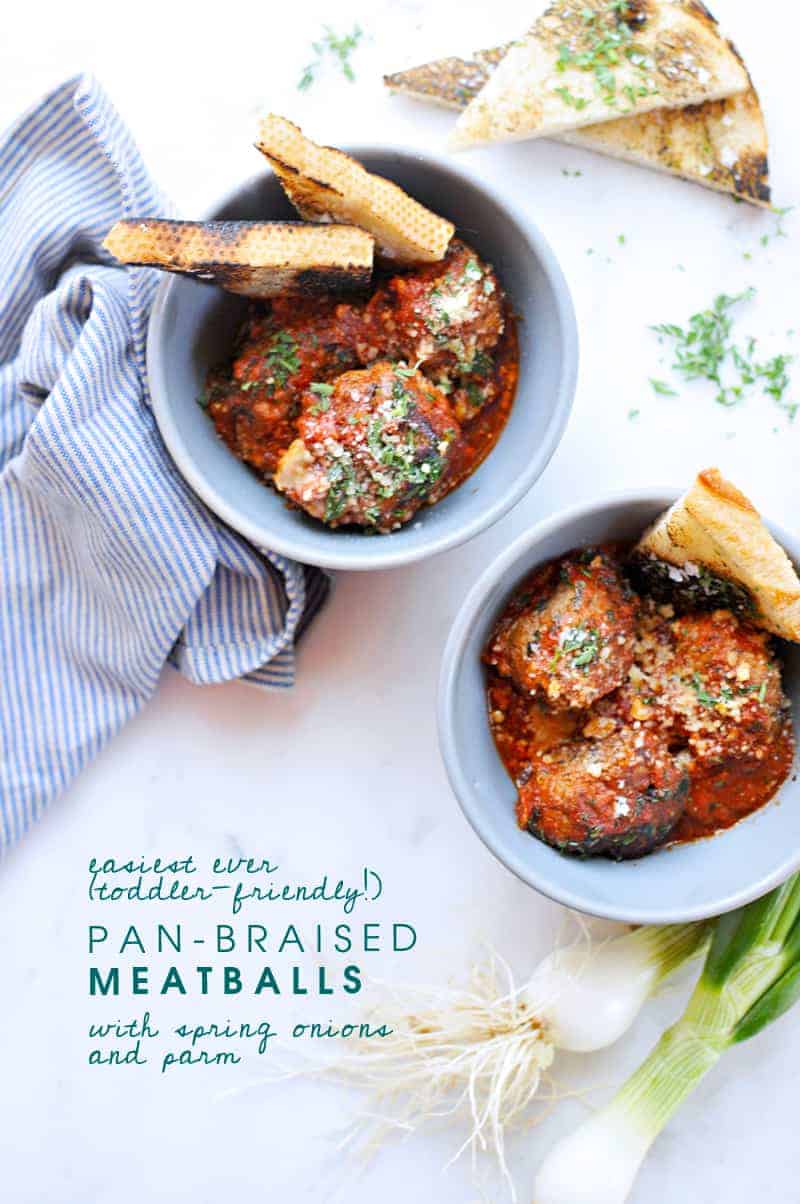 First, a tremendous thank you for the comments, messages, virtual hugs and social media shares in light of my last entry. Shortly after pressing publish, I asked Chris how he felt about the post, and he pushed back with "how do you feel after writing it?" To which I offered, "Better." So. Thank you for listening, for allowing this spot to be about more than just side hustle and SPAM. For indulging me. If I could hug and squeeze every one of you, I would. But as I cannot, I'll offer up this — the coziest, most comforting gift I can share via the internet: meatballs.
I've talked before about the beckoning allure of meatballs — how they'll call to me from one of the glossy covers at the checkstand and suddenly my carefully strategized meal plan is abandoned on the spot. (Kidding. I don't meal plan.)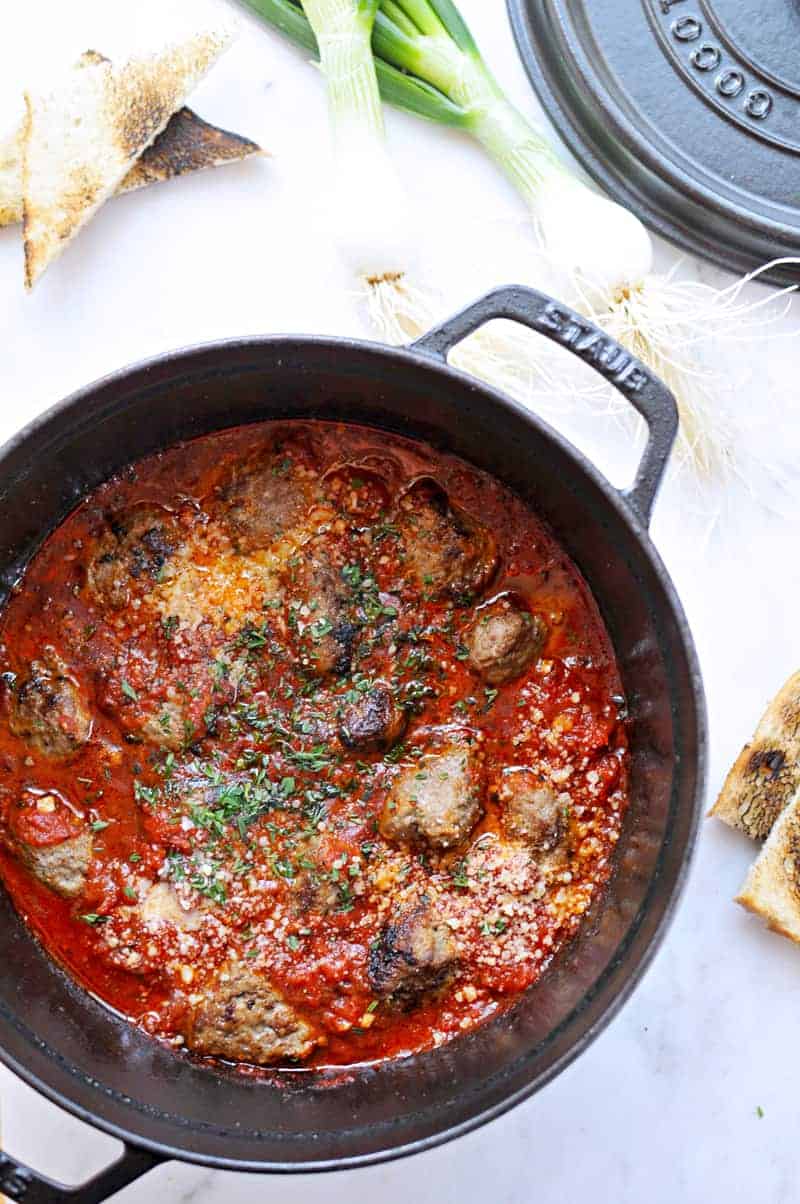 Even in the current phase of my life, where I'm actively seeking more sustenance from plants than animals, the solitary promise of a saucy, perfectly braised meatball is an easy reminder that moderation will always remain the name of the game around here. Meatballs for breakfast, lunch and dinner? A lovely idea, but nay. (Though you'll soon learn these pan-braised gems are simple enough that you could easily make them for all three…)
Meatballs when it matters? Like, say, that time you got super weepy about chemo and the internet lifted you up up and away with its virtual soothing rhythms? For damn sure.
Bonus points: they're the perfect kiddo food.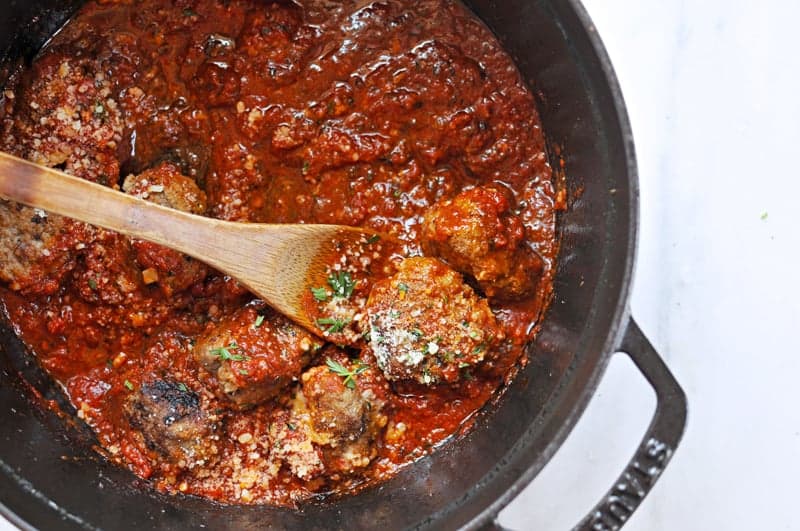 If you've had the joy of parenting a toddler at any point in your life, chances are you're familiar with super particular food preferences. And even for a kiddo that has a pretty diverse palate — pickled eggs, ginger, sauerkraut, salmon roe, tofu — Lana is no exception.
She picks the little black pokey thing out of the bottom of her banana (but really, who doesn't?). She likes her milk to come from nuts, not cows. And she'll gladly eat her weight in Ikea meatballs while their homemade counterparts are merely regarded as rubble to be stacked precisely alongside her dinner plate.
Until these guys.
Knowing how clutch texture can be when it comes to tiny humans, I took some of my favorite meatball components — grassfed beef, spring onions, handfuls of parm — for a spin in the food processor, and wouldn't you know? After a quick stovetop braise (a cocotte or Dutch oven works wonders here), these guys are tender, silky, and juicy as can be. Deeply savory.
And exactly what toddler dreams — and virtual hugs of gratitude — are made of.
xo, loves.
Em
p.s. speaking of gratitude, tremendous thanks to Staub for generously providing the matte black cocotte pictured in this post! 😉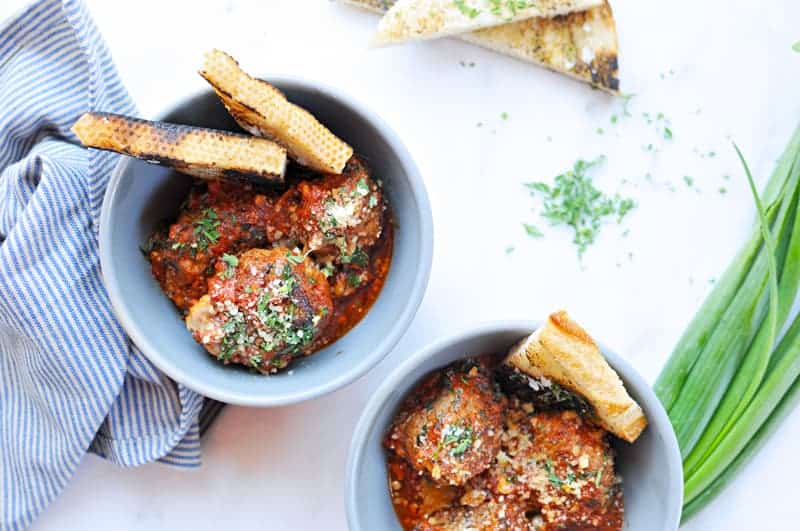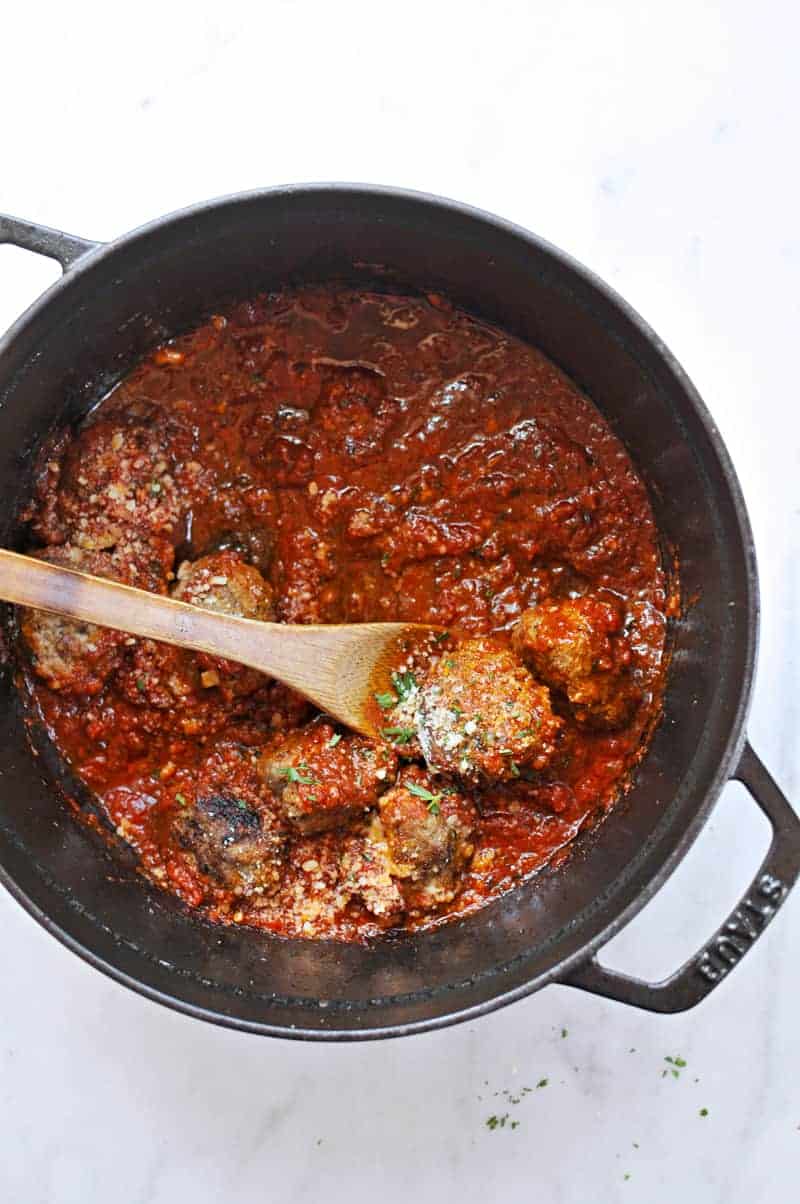 Pan-Braised Meatballs with Scallions + Parm (Toddler Friendly!)
Makes:
16-18 meatballs (about 4 large servings)
Ingredients
1 med spring onion, whites and greens (or 3-4 scallions, whites and greens)
2 cloves garlic
½ cup milk
¼ cup grated parm, plus more for topping
1 large egg
1 large slice sourdough bread cut into cubes (or equivalent GF bread)
1½ tsp salt
Lots of black pepper
1⅓ lbs organic grass-fed ground beef
Avocado oil, for browning (or other high-heat tolerant cooking oil)
1 jar good, store bought (or equivalent homemade) marinara sauce (optional)
Instructions
Combine ingredients onions through black pepper in a food processor and pulse several times until onions are finely diced and bread is broken down. Add ground beef and pulse until well combined.
Heat a generous drizzle of avocado oil in Dutch oven over medium to med-high heat until shimmering but not smoking. Using wet hands, roll meatball mixture into 16-18 golf ball-sized balls.
Working in batches, if necessary, brown meatballs about 2-3 mins side, until browned on all sides. (At this point, meatballs will probably be cooked all the way through, so if you're making this recipe sans sauce, you're all done!)
Add meatballs back to pan, pour marinara sauce over the top, bring to barely a bubble and then reduce heat and simmer 10-15 mins. Serve meatballs (scattered with lots of extra parm) over hot pasta or quinoa or with lots of grilled, buttered bread for dipping (!!). Enjoy!
————————————————–
OH! before you go…
Like whatcha see here — or have a question, feedback, or recipe hack to share? Join The Pig & Quill convo by commenting below (I love, luv, lurve comments) and hang out with me on Facebook, Twitter, Instagram and Pinterest. And don't forget to subscribe to P&Q emails or add me to your RSS reader with Feedly or Bloglovin' so you never miss a post. x's & o's!