Pan-Braised Meatballs with Scallions + Parm (Toddler Friendly!)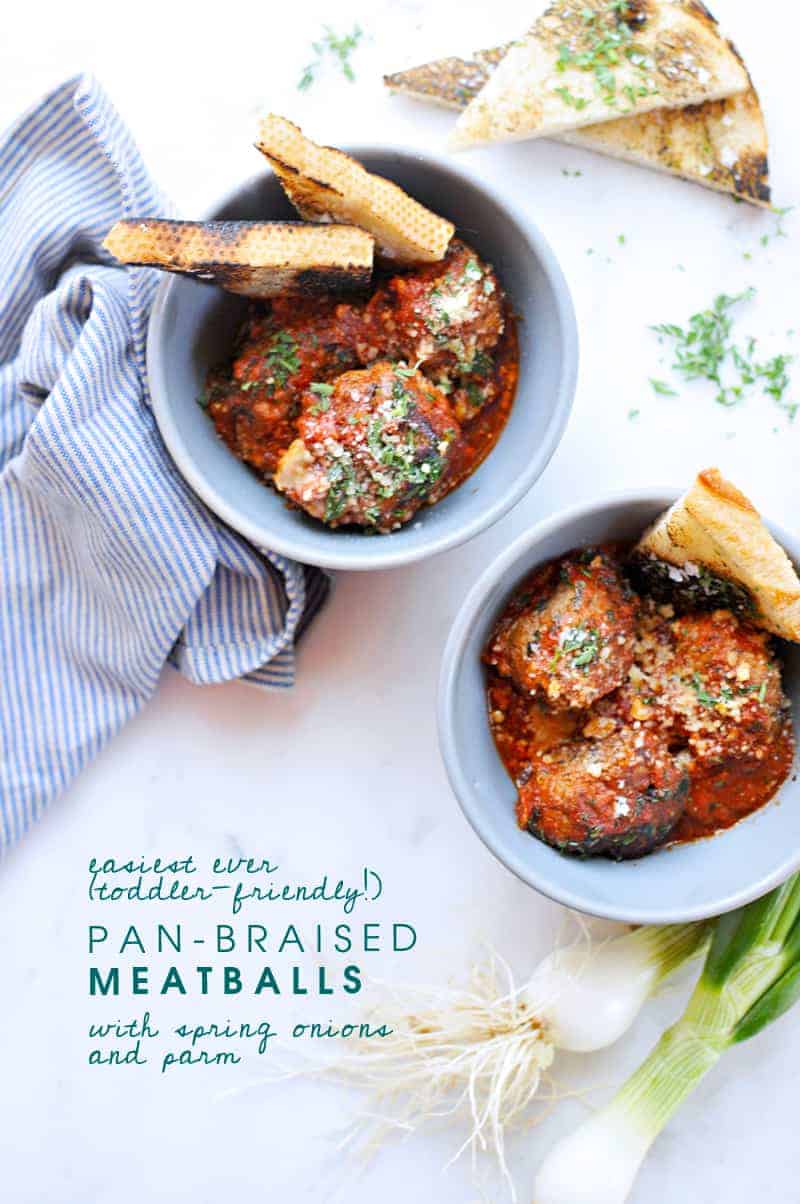 Makes:
16-18 meatballs (about 4 large servings)
1 med spring onion, whites and greens (or 3-4 scallions, whites and greens)
2 cloves garlic
½ cup milk
¼ cup grated parm, plus more for topping
1 large egg
1 large slice sourdough bread cut into cubes (or equivalent GF bread)
1½ tsp salt
Lots of black pepper
1⅓ lbs organic grass-fed ground beef
Avocado oil, for browning (or other high-heat tolerant cooking oil)
1 jar good, store bought (or equivalent homemade) marinara sauce (optional)
Combine ingredients onions through black pepper in a food processor and pulse several times until onions are finely diced and bread is broken down. Add ground beef and pulse until well combined.
Heat a generous drizzle of avocado oil in Dutch oven over medium to med-high heat until shimmering but not smoking. Using wet hands, roll meatball mixture into 16-18 golf ball-sized balls.
Working in batches, if necessary, brown meatballs about 2-3 mins side, until browned on all sides. (At this point, meatballs will probably be cooked all the way through, so if you're making this recipe sans sauce, you're all done!)
Add meatballs back to pan, pour marinara sauce over the top, bring to barely a bubble and then reduce heat and simmer 10-15 mins. Serve meatballs (scattered with lots of extra parm) over hot pasta or quinoa or with lots of grilled, buttered bread for dipping (!!). Enjoy!
Recipe by
the pig & quill
at https://thepigandquill.com/pan-braised-meatballs-with-spring-onions-parm-toddler-friendly/