Gluten-Free Hummus, Feta + Broccoli Fritters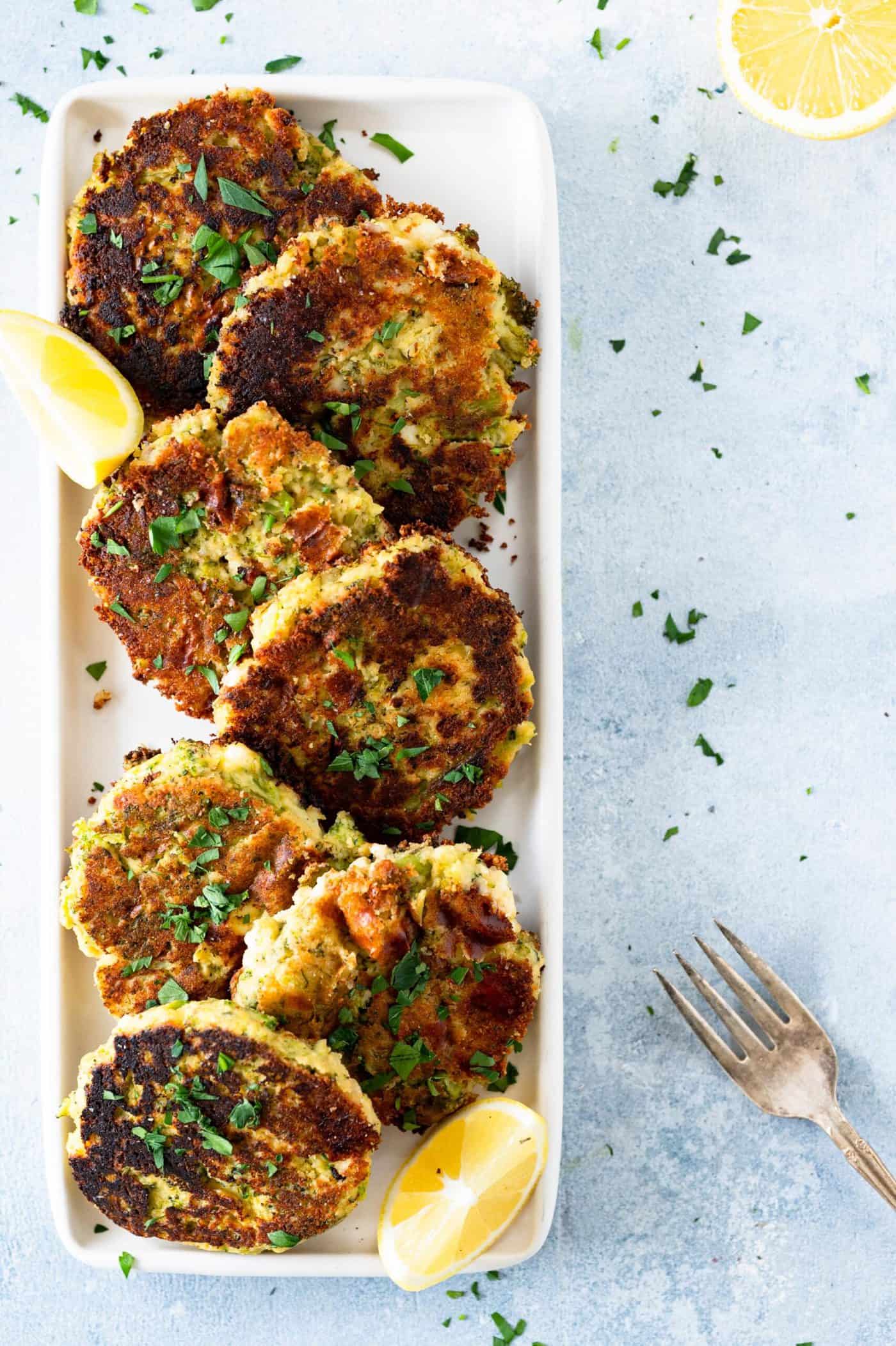 FOR THE FRITTERS
2 packed cups frozen broccoli, thawed, wrung out and roughly chopped (about 1 16-oz bag)
1 10-oz container Boar's Head Traditional Hummus
2 cloves garlic, grated or finely chopped
8 oz feta, crumbled
1 cup almond flour
1 T spicy mustard
½ teaspoon salt
½ teaspoon oregano
½ teaspoon thyme
½ teaspoon garlic powder
½ teaspoon cumin
fresh black pepper (to taste)
2 eggs
avocado oil, for frying
FOR SERVING:
fresh lemon wedges
finely chopped parsley
Boar's Head Tzatziki
O Organics Jalapeno Hot Sauce
In a large, microwave safe bowl, defrost broccoli in the microwave, about 2-3 mins. Transfer broccoli to a colander and drain, pressing with the back of a spoon or a large ladle to extract as much water as possible. Roughly chop broccoli. Wipe out large bowl and return broccoli to bowl.
To broccoli, add all remaining ingredients except avocado oil. (If using a flavor of hummus other than Traditional, taste mixture before adding spices and egg in case you need to scale back seasonings accordingly.) Combine mixture well.
Heat a large cast-iron or nonstick skillet over medium heat and add 1 tablespoon of avocado oil, swirling to coat. Which oil is just shimmer, drop fritter mixture by ¼ cup measure into the pan, lightly pressing each scoop down into a patty. (I can cook 4 at a time in my pan.) Allow fritters to cook, undisturbed, for 3-4 minutes or until deeply browned, checking frequently to make sure they're not burning and adjusting your heat accordingly, if needed. Gently flip (fritters will be delicate!) and cook another 3-4 mins.
Remove fritters to a cooling rack, and repeat with remaining fritter mixture, wiping out any brown bits from the skillet and adding another tablespoon of oil between batches, if needed.
Scatter fritters with fresh parsley. Serve fritters at room temperature with a squeeze of lemon and tzatziki sauce and hot sauce on the side. Enjoy!
See "Tips" section in post above for perfect fritters. Leftovers can be enjoyed a myriad of ways -- I love making them into a Benedict, of sorts, or adding them to a lunchbox.
Recipe by
the pig & quill
at https://thepigandquill.com/hummus-feta-broccoli-fritters-gluten-free/