UPDATE: This contest is now closed. Thanks to all who entered! 
Have you entered our Luv Yo Momma giveaway yet? No? So I guess you don't wanna win a Breakfast in Bed set from Q Squared, then. Ok. Up to you. (Check it out!)
Confession number one. I just ate a pop tart.
Well, ok, some non-GMO, organic approximation of a pop-tart, but it hit all the same pop-tarty notes. Scalding hot, jammy inside. Crackling sugary crust. It was all sorts of delicious. I want another. Maybe in time I'll DIY some for the bliggy.
Confession number two. I'm about half a pound into these sunchokes (salty after sweet, duh), which are also called Jerusalem artichokes, or — as I've recently learned — fartichokes, based on their reputation as a gastrointestinal nightmare. Fortunately, when I say recently learned, I don't mean firsthand. I think scarfing down gobs of cauliflower and curries may have strengthened my tummers, because these guys ain't got nothing on me. I mean, a Chipotle bowl packs more poison. But that's just me.
If you're in the same boat, then you're a lucky little devil, because sunchokes are DEE. LICIOUS. They crisp up beautifully on the outside while becoming meltingly tender and creamy on the inside. And the FLAVOR. They're buttery and sweet. Like a parsnip married an artichoke. Or, since parsnips taste a little like a potato married a carrot, I guess they taste like a potato married a carrot and an artichoke.
Must be from Utah.
I love the idea of maximizing sunchokes' sweet creaminess with a velvety soup — this one from Sarah looks like bliss in bowl — but if you've seen a sunchoke, you know they're kind of betch to peel. And sunchoke soup is prettier sans peels. So I'll leave that to the pretty girl with the pretty house in the pretty hills.
While my lazy ass gets to roasting.
I adore the flavor garam masala, and I'm confident it complements these sunny 'chokes quite nicely. Both are earthy and subtly sweet, and the fragrance of the spice is so warm and savory — it's a treat just to have these perfume the kitchen while they become golden and nutty.
Punched up with cool mint, salty feta and bright lemon, this dish is everything your mouth wants when it's 90% spring and 10% WTF-is-with-this-wind.
And still pretty, too, no?
Happy Friday!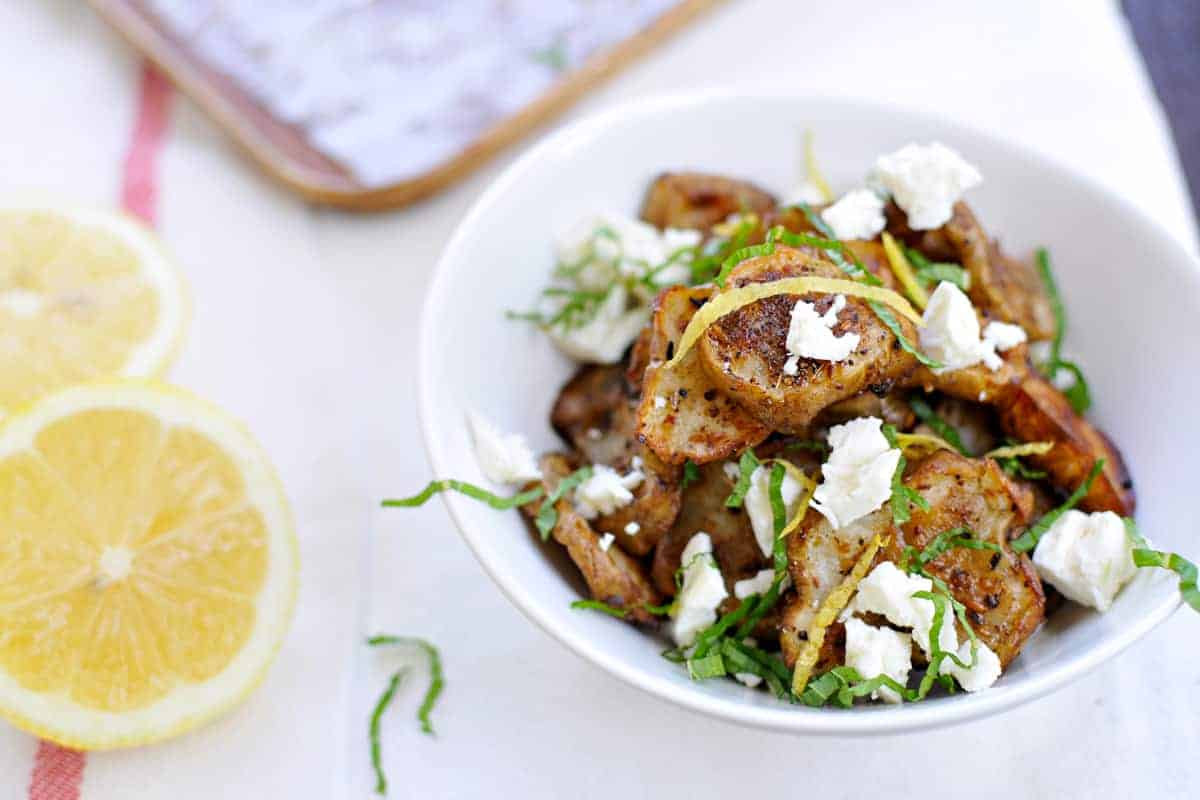 Masala Roasted Sunchokes with Feta, Mint & Lemon
By Emily Stoffel
Cook time: 40 mins | Serves 2 generously as a side
Note: These are delicious piping hot out of the oven — but they're even lovely served at room temperature. Tossed with a little arugula and a few pistachios or slivered almonds, this would also make a fine main course.
Ingredients:
1 lb sunchokes, scrubbed (unpeeled) and sliced 1/4″ thick
2 T olive or coconut oil (liquid state)
1 T garam masala
1/2 tsp sea salt
2 oz feta, crumbled
handful mint, thinly julienned
zest and juice of one lemon
Instructions
Preheat oven to 400F. Scrub sunchokes clean and slice crosswise into pieces about 1/4″ thick. Toss well with oil, garam masala and sea salt. Arrange on a baking sheet in a single layer and roast for 30 mins or until tender and golden brown, tossing once. Serve sunchokes hot, room temp or chilled with lemon juice squeezed over the top. Scatter with mint, feta and zest. Enjoy!
————————————————–
Like whatcha see here — or have a question, feedback, or recipe hack to share? Join The Pig & Quill convo by commenting below (I love, luv, lurve comments) and hang out with me on Facebook, Twitter, Instagram and Pinterest. And don't forget to subscribe to P&Q emails (see that nifty box up there in the right sidebar?) so you never miss a post. x's & o's!