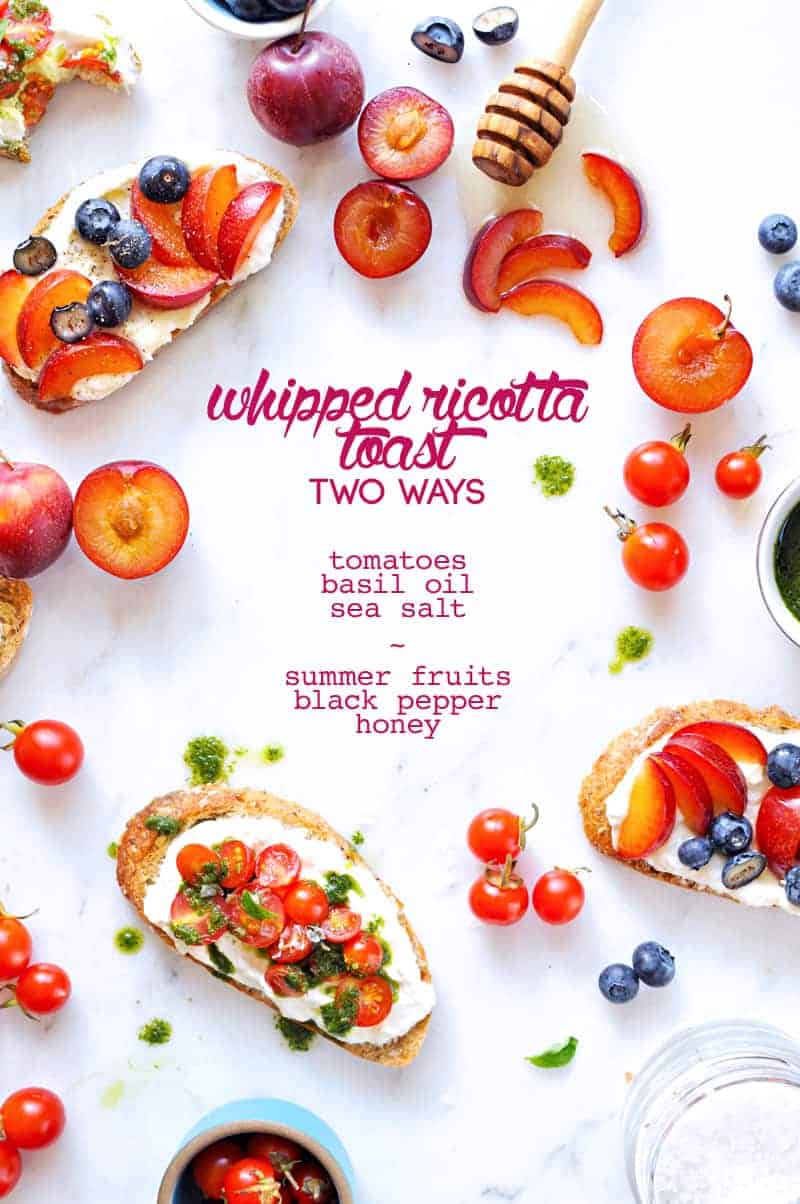 I've been debating getting into this for a few weeks now, and the last thing I want to do is detract from such a pretty post with an undeniably ugly topic, but you guys.
The Bachelorette. 
WHAT IS EVEN HAPPENING.
I won't give any radical spoilers because I totally get that in a Hulu World not everyone has seen it, but why she's not just going full Kaitlyn rogue and humping Luke in a barn somewhere is beyond me. And do we really need to get into it over Robby's hair? I know it's completely unfair to just personally attack these people, that they're real people with real feelings, but I'm a real person with real opinions and I'ma tell you that boy needs some mussin' up. As in, someone stole a tub of Garnier pomade from my gym locker in 1998 (I HAD UNRULY BANGS) and I am now 419% certain it was Swimmer Bod.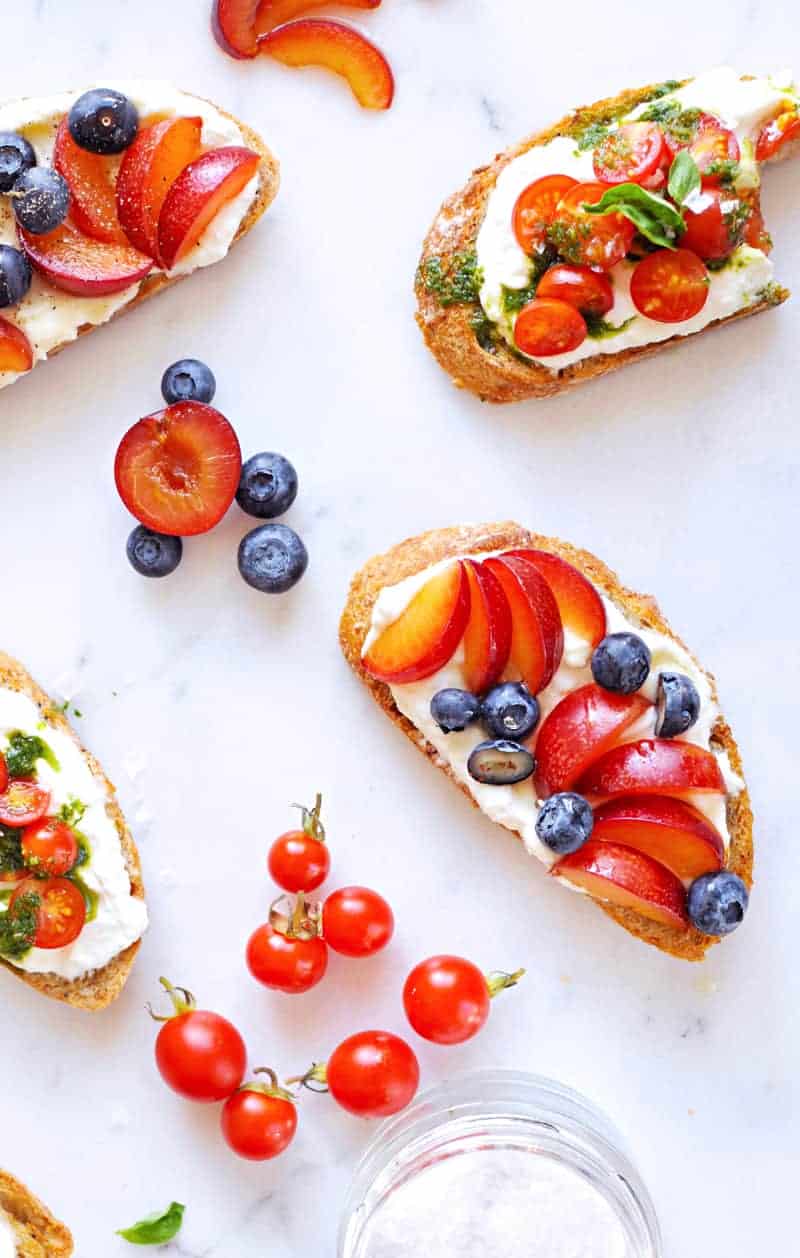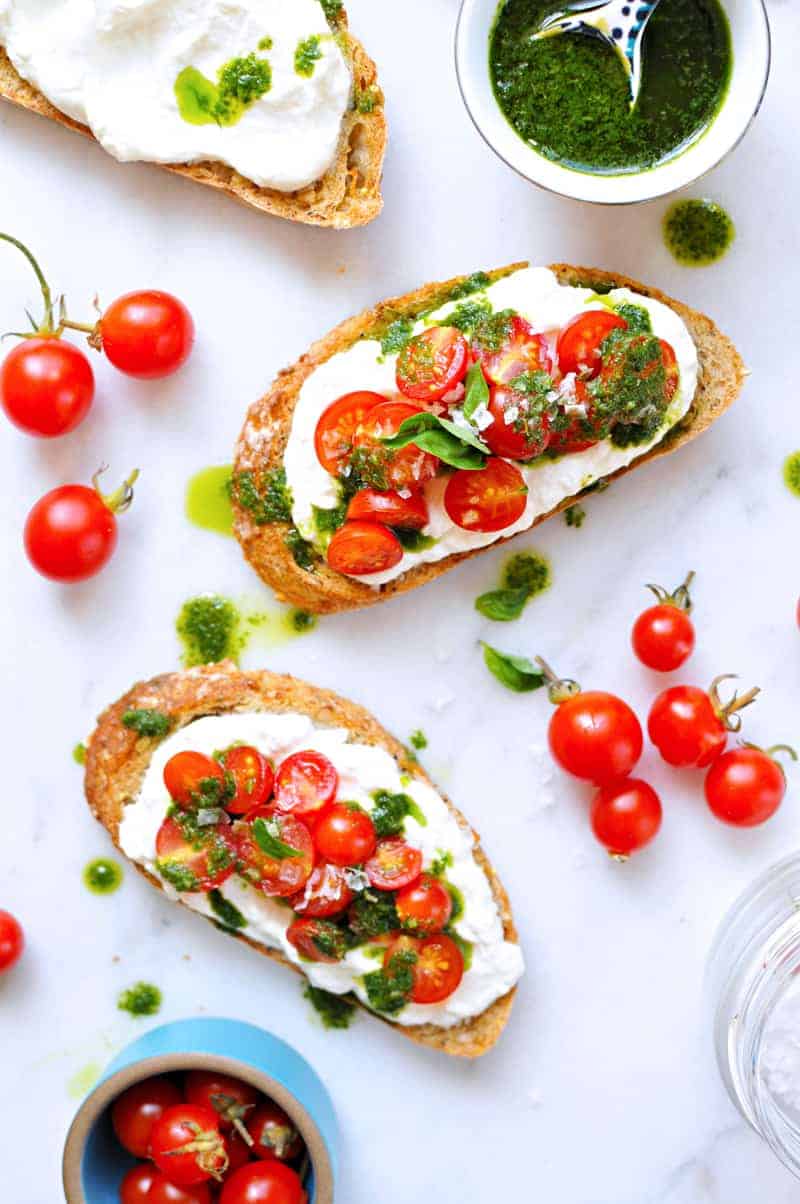 But really. Get those bowed legs wrapped around ya and call it a season, girl. If for no other reason than Christina and I can have late-night snapchat (username: @thepigandquill) conversations about something else, like the weather. Or how it would make my life if she moved back to California. Or — here's an idea — our babies.
I don't even want to talk about Jordan.
So instead: toast.
This whipped ricotta situation, you guys. It's so ridiculously simple, I'm embarrassed that I'm even formatting the damn thing as a recipe, but, you know, search engines. So.
Until we get to the actual "recipe" (um, put beautiful, seasonal things on toast; insert into mouth; make sex noises), let's just talk about what's really going on here, and that is: a celebration of the season.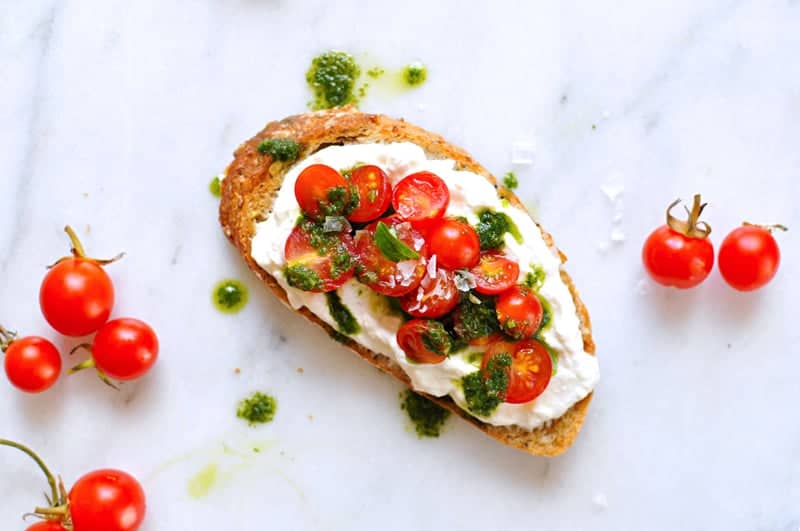 Ricotta toast is one of those things I seem to always forget about, and when I remember I get wildly excited and eat nothing else for three weeks straight, only to forget about it again once I've run a few tubs dry. The great thing is, once it's come front of mind again, the seasons have usually changed, and with it, the bounty I set atop each sumptuously slathered slab.
For this summer version, I chose the teensiest cherry tomatoes, grown ever so lovingly by Chris and our bug, a verdant basil oil that's just a little brighter and cleaner than your basic pesto (yet just as versatile); and sea salt. The kind that crunches as you shatter each crystalline flake, if you've got it.
And on the sweet end of the spectrum: stone fruit, of course. I've chosen these little plum-cherry hybrids that beckoned to me from the market, which are decidedly more plummy in flavor but do possess a smooth tartness that grooves really well with the woodsy, almost piney sweetness of blueberries, floral local honey and plenty of cracked pepper. But if such a specific variety is unavailable in your area, no worries. Any good stone fruit will do, and at this time of year, peaches and nectarines are pure candy on the tongue.
I could assume the same thing of Luke.
Happy Thursday, homies!
xo,
Em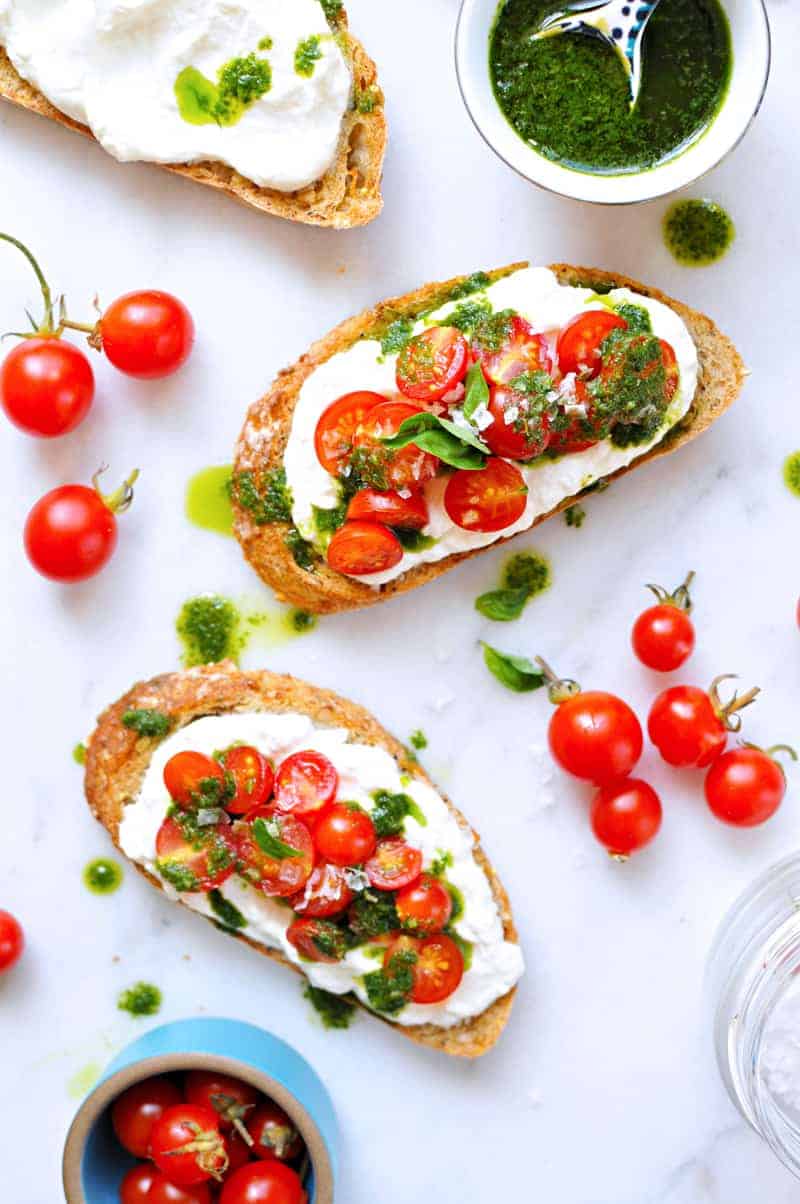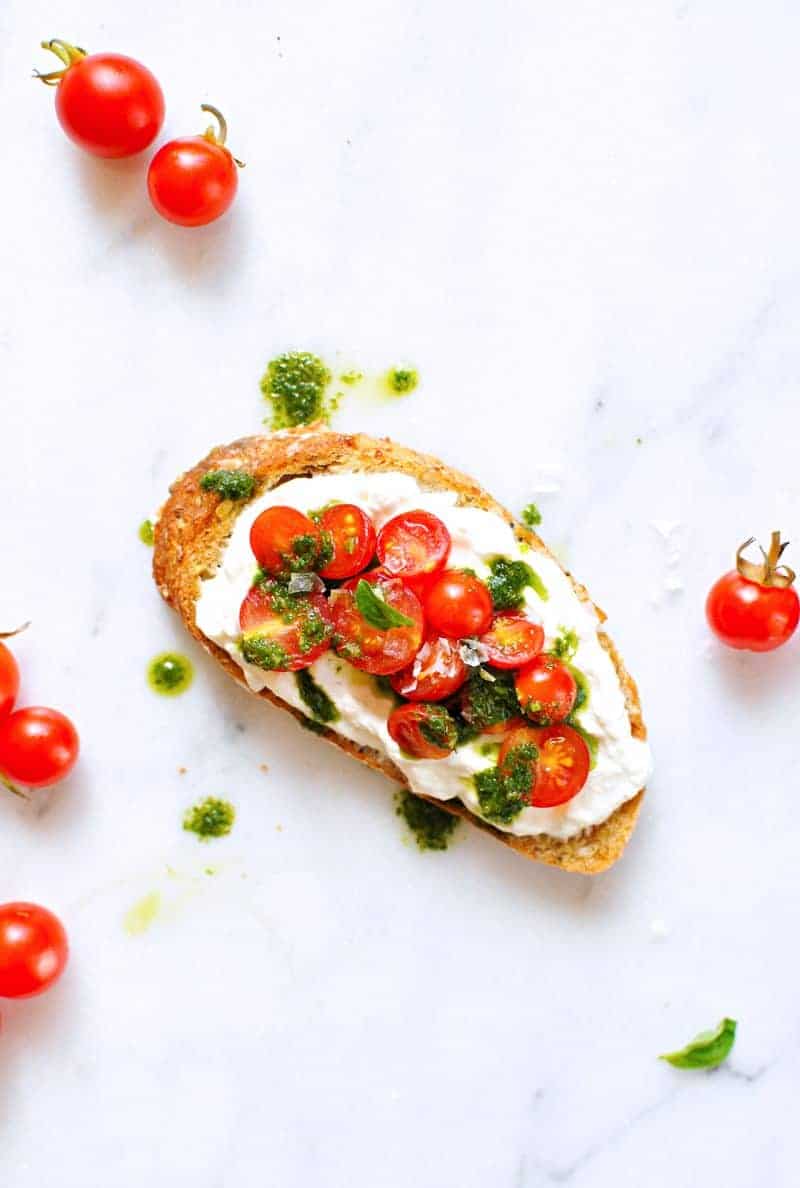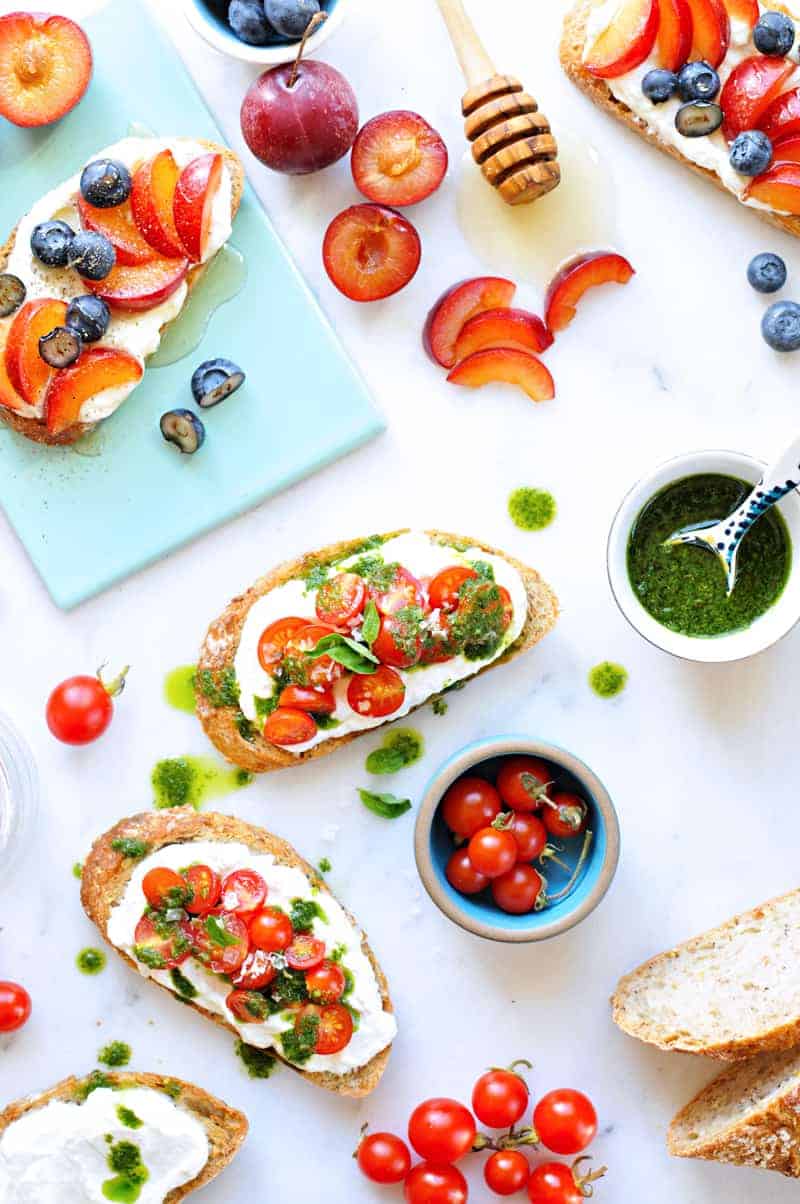 Summer Whipped Ricotta Toast Two Ways
Calling this a recipe is nearly fraud - just take the tastiest farmer's market finds you can get your hands on, mound 'em up over a thick slab of crisped toast towering with whipped ricotta and finish everything with a drizzle of something sweet, salty or herbacious. It's tough to get wrong. 🙂
Ingredients
For the Toast
6-8 slices rustic whole grain bread (or as much as you desire!)
15 oz whole milk ricotta
olive oil
For the Savory Toppings
couple handfuls cherry tomatoes, halved
basil oil (recipe follows)
flaked sea salt
For the Sweet Toppings
sliced stone fruit, such as plums or nectarines
blueberries
honey (raw/local, if possible!)
freshly cracked black pepper
Instructions
Drizzle sliced bread liberally with olive oil and broil until golden brown.
Meanwhile, turn ricotta out into a large bowl and beat with a hand mixer until slightly more voluminous and very creamy, about 2 mins.
Spread toast with whipped ricotta and adorn with toppings of choice. Enjoy!
Basil Oil
This super versatile oil is simpler and "cleaner" than pesto but just as tasty. I love it over fresh sliced tomatoes, a strawberry salad or anything grilled.
Ingredients
1 cup basil leaves (packed)
½ cup olive oil
sea salt + pepper
Instructions
Blanch basil leaves in boiling water for 10 seconds. Remove, drain and pat dry.
Add to blender or food processor with oil and process until almost completely smooth. Season with plenty of salt and a touch of pepper. Keeps for about a week in the fridge. Enjoy!
————————————————–
OH! before you go…
Like whatcha see here — or have a question, feedback, or recipe hack to share? Join The Pig & Quill convo by commenting below (I love, luv, lurve comments) and hang out with me on Facebook, Twitter, Instagram and Pinterest. And don't forget to subscribe to P&Q emails or add me to your RSS reader with Feedly or Bloglovin' so you never miss a post. x's & o's!