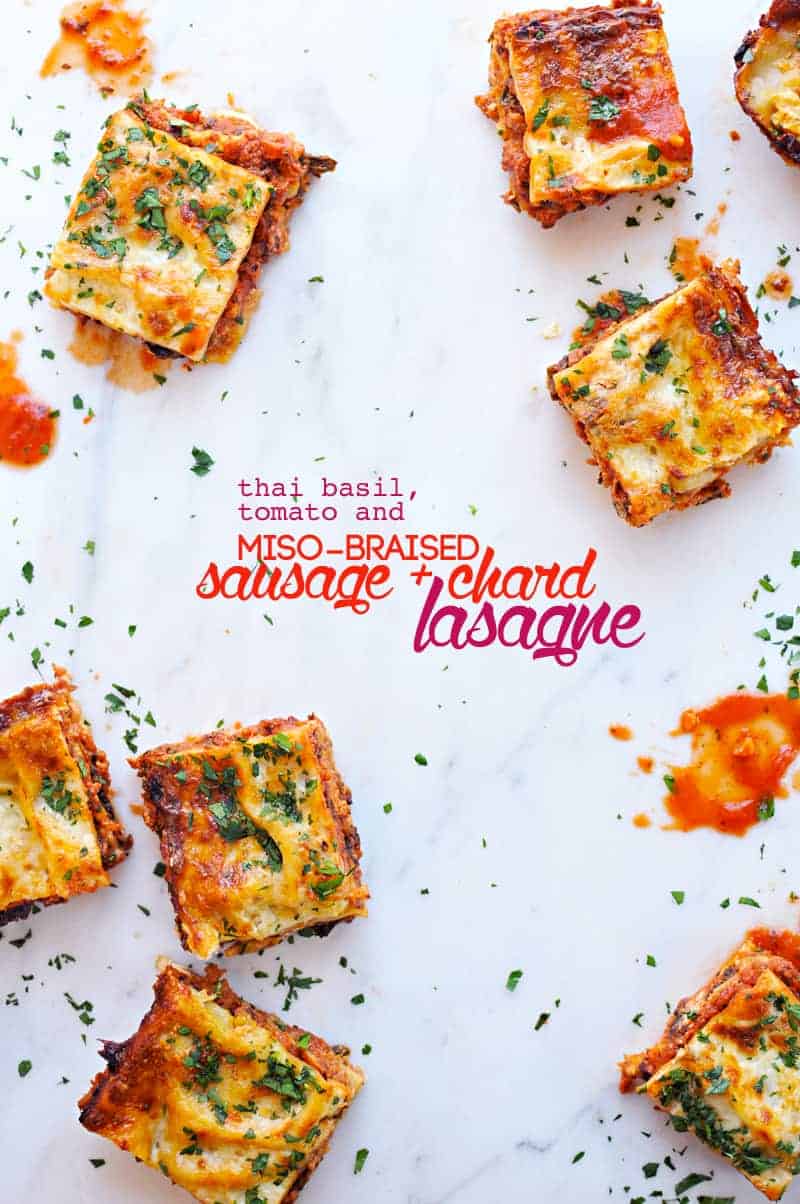 When I was 12 years old, I had a fever-induced dream that I was walking through a canyon of lasagne, towers of noodles and jarred red sauce closing in on me from all sides while I scrambled to pick up brittle twigs of dry angel hair pasta before they crumbled between my fingers. I knew that, somehow, collecting up the angel hair was my way out, but it was an impossible task, multiplying before my eyes. I awoke in a cold sweat, crying, and tugged on my (then) step-sister's arm.
"Tiffany, I had a bad dream. About lasagne."
She took it about as seriously as you can imagine.
It should come as no surprise, then, that lasagne wasn't really my thing growing up. Somewhere between the feverish dream, pasty pans of frozen Stouffer's and many a prime time commercial convincing me that the dreaded lasagne pan was the only thing standing between me and domestic supremacy, it just didn't hold much appeal.
But I've grown up a bit. So when method challenged me to cook up the dish of my dreams (heh) as part of their #fearnomess campaign, I figured I'd show that nineties kid in me there's nothing to be scared of. Lasagne, I now know, is as simple as it is delicious. And with method in hand, that 'dreaded' pan? It ain't no thang at all.
This lasagne is a little different from your standard fare in a couple of ways. One — the flaaaaaaayvah! Based on my favorite-ever tomato soup, the sauce is straightforward but super savory: intensely sweet San Marzano tomatoes, licoricey Thai basil and — for the salt component — nutty, umami-rich miso. Plus Italian sausage and summer's bounty of Swiss chard, it's a meal to behold.
And two: it's overnight lasagne! As in, you assemble it one day, let it sit in the fridge, and bake it the next — no boiling required. Which makes it entirely possible to have a pan of bubbly, piping hot lasagne for breakfast, if you so choose. It also means you can prep it tonight and bake it off lickety-split for dinner guests tomorrow.
Which just happens to be…National Lasagne Day.
No, I'm serious. How's that for timing?

I know you guys will absolutely dig this dish as much as I do (hello, remember that time I teased it on Instagram and it was double-tapped, like, a whole bunch?). And if you know me, you know that, partnership stuff aside, we seriously dig method's whole line-up in this house. Because they embrace everything that's important to us as we raise dat little bug of ours, yes (everything is biodegradable, recyclable and never tested on animals – yay!) — but also because they get the job done.
Oh yeah, and they make my counters look kyOOt-AF.
Wink.
Happy Thursday, pals! Here's to making all your non-freaky lasagne dreams come true!
xo,
Em
p.s. in case you missed it, last week's prettiest-ever ricotta toast! <3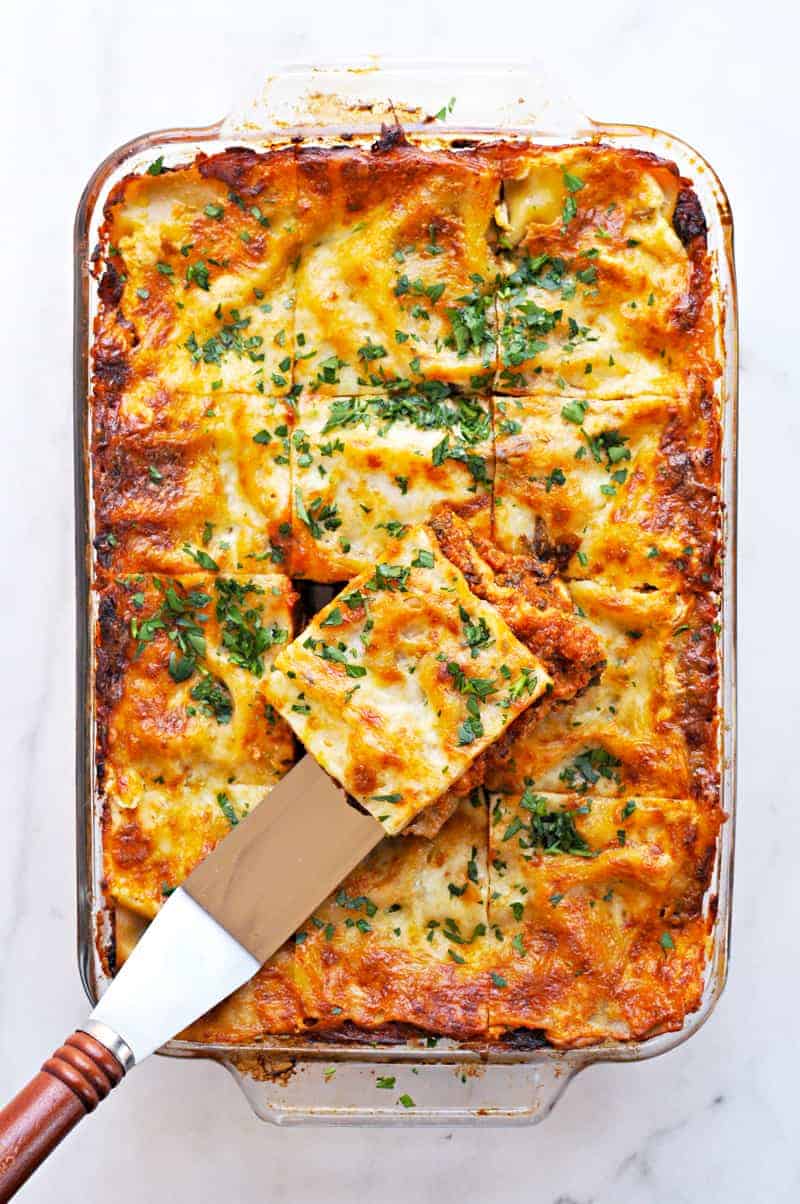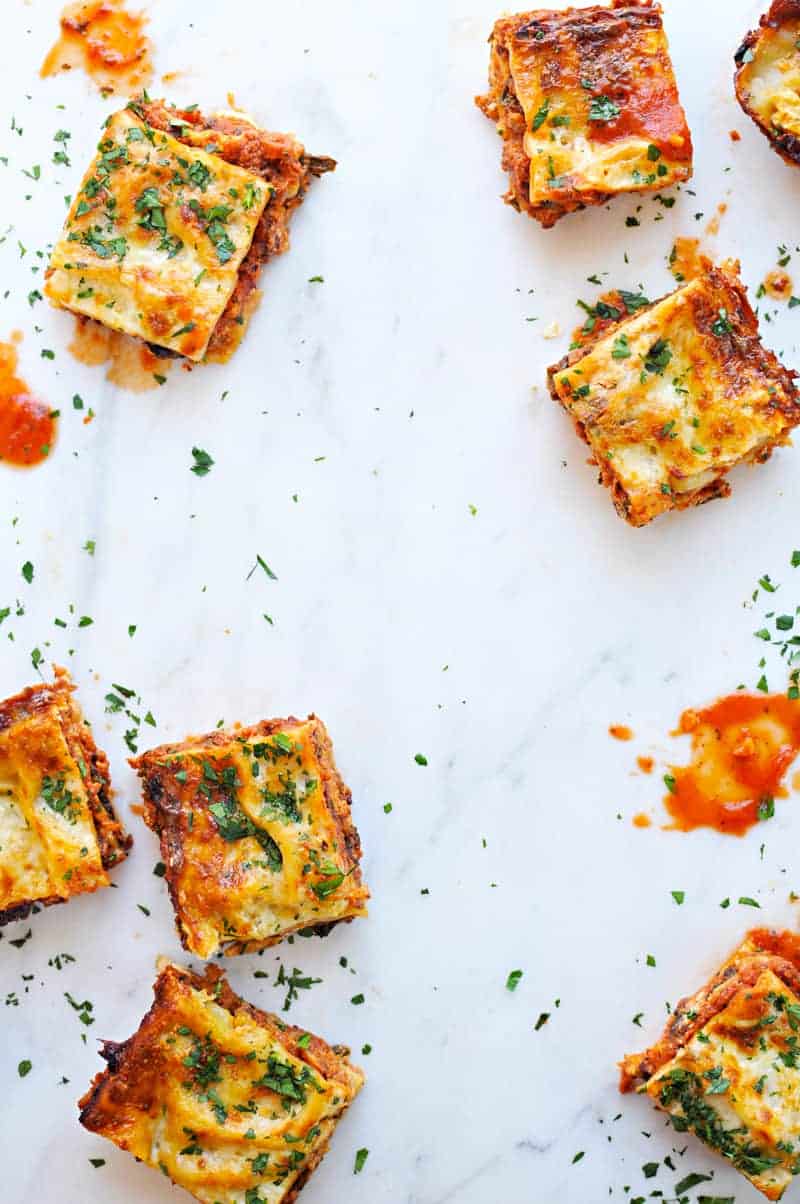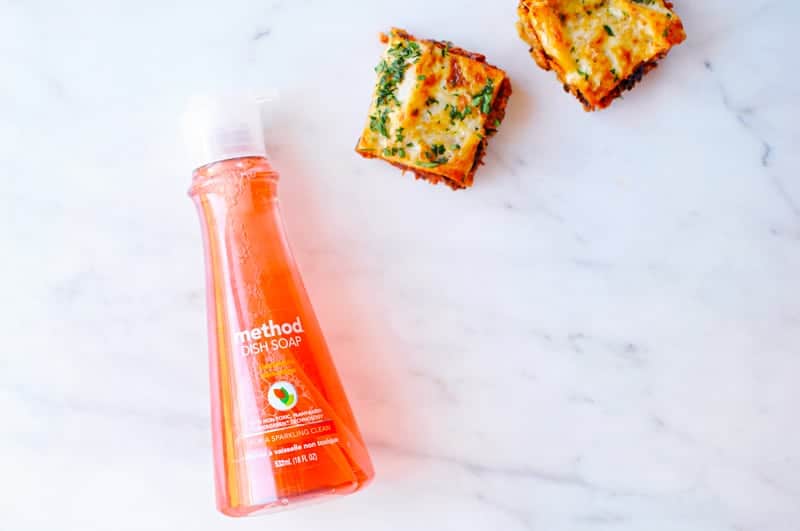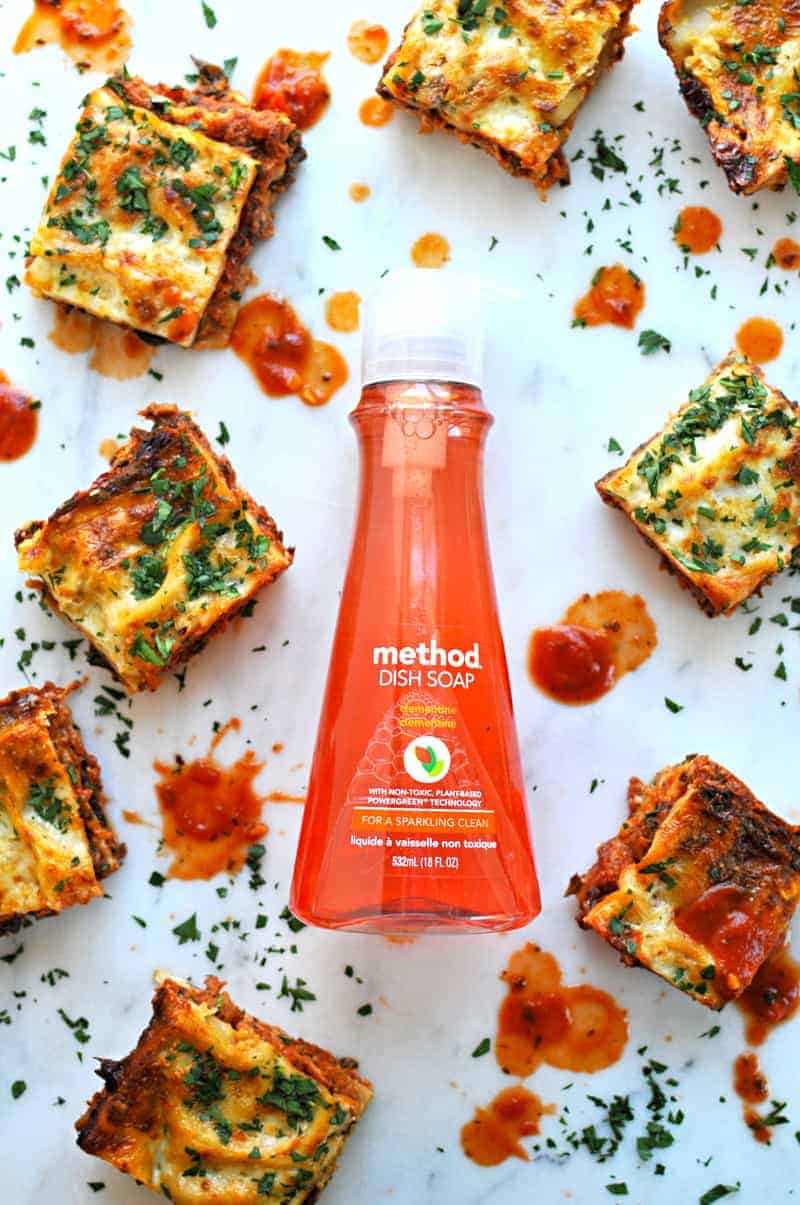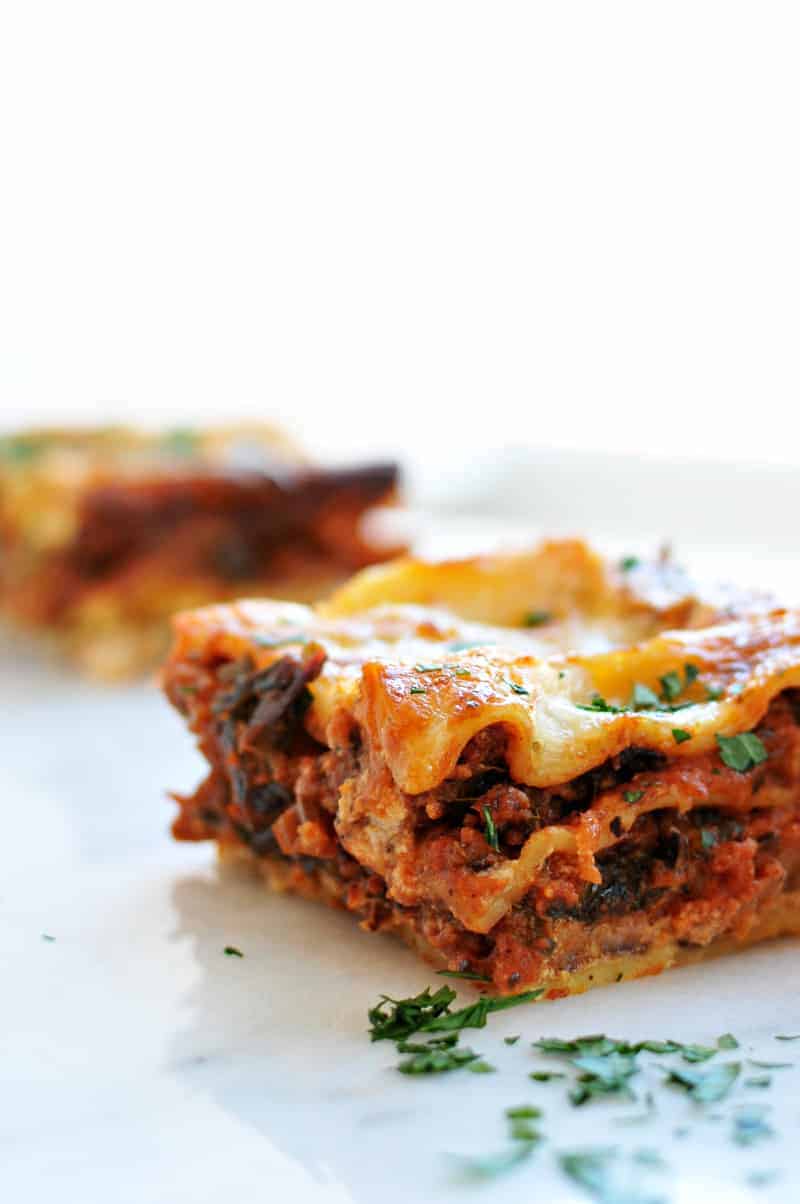 This post is sponsored by method. As always, I only support partners whose products and practices complement those employed in The Pig & Quill kitchen. Thanks for supporting the brands that help keep this piggy cooking!

Overnight Miso-Braised Sausage + Chard Lasagne
The miso in this recipe is subtle, but it adds an element of nutty savoriness to an otherwise absurdly simple tomato sauce. Married with the sweet, licoricey Thai basil, it's the perfect complement to fennel-rich Italian sausage and earthy chard.
Makes:
12 small or 6 large servings
Ingredients
1 lb sweet Italian chicken sausage
1 shallot, diced
1 large bunch swiss chard, leaves and stems separated
1 28 oz can San Marzano tomatoes
1 small bunch fresh Thai basil leaves (about ½ cup)
heaping ¼ cup mellow white miso
¾ lb low-moisture mozzarella, shredded
⅓ lb asiago, shredded
15 oz whole milk ricotta cheese
freshly grated nutmeg
9 no-boil lasagne noodles
light cooking oil for sautéing, such as avocado oil
black pepper
Instructions
Remove sausage from casing. In a large pot or dutch oven, brown sausage and shallots in a little avocado oil over medium-high heat, stirring occasionally, until sausage is deeply caramelized, about 15 mins.
Meanwhile, combine tomatoes, miso and basil in a food processor and pulse until miso is fully incorporated and basil is finely chopped.
Shred mozzarella and asiago cheeses. Chop chard leaves into pieces and finely chop card stems.
When sausage is browned, add chard stems and leaves. Reduce heat to medium, stir to combine, and sauté until leaves are wilted, 5 mins. Add tomato mixture and stir to combine. Bring to a bubble, then reduce heat to low, cover and simmer for 15 mins.
To assemble lasagna, spread a little of the tomato sauce mixture in the bottom of an 8x11 pan and layer as follows:
- 3 noodles
- ⅓ of the ricotta cheese
- freshly grated nutmeg (conservative freshly grated sprinkle)
- ⅓ each of the shredded cheeses
- ½ the meat sauce
- 3 noodles
- ½ of the remaining ricotta cheese
- nutmeg
- ½ of the remaining shredded cheeses
- remaining meat sauce
- 3 noodles
- remaining ricotta cheese
- nutmeg
- remaining shredded cheeses
Allow to cool slightly, then cover tightly with foil and refrigerate at least six hours or overnight.
When ready to bake: preheat oven to 350F. Bake casserole, covered, for 60 mins, or until filling is hot and cheese is bubbly. Remove foil and bake another 15-20 mins to brown cheese. (For an extra browned top, you can also broil the lasagne for a minute or two, keeping a very careful eye on it.) Allow to rest 15 mins before cutting into 12 pieces and serving. Enjoy!
Notes
I love the extra sweet, licoricey note that Thai basil lends to this dish, but Italian basil will absolutely do if that's what's convenient. And since the sauce is so simple, San Marzano tomatoes -- which have a sweet, almost concentrated tomato flavor -- are highly recommended. If you use a traditional canned tomato, you may want to add a couple pinches of sugar and/or a few tablespoons of tomato paste. Lastly: our kiddo has a mild egg allergy, so I've left the traditional egg out of the ricotta portion of the recipe. Most lasagne noodles, however, DO contain eggs. If you're looking to make this completely egg-free, be sure to choose an egg-free pasta, like
these guys
.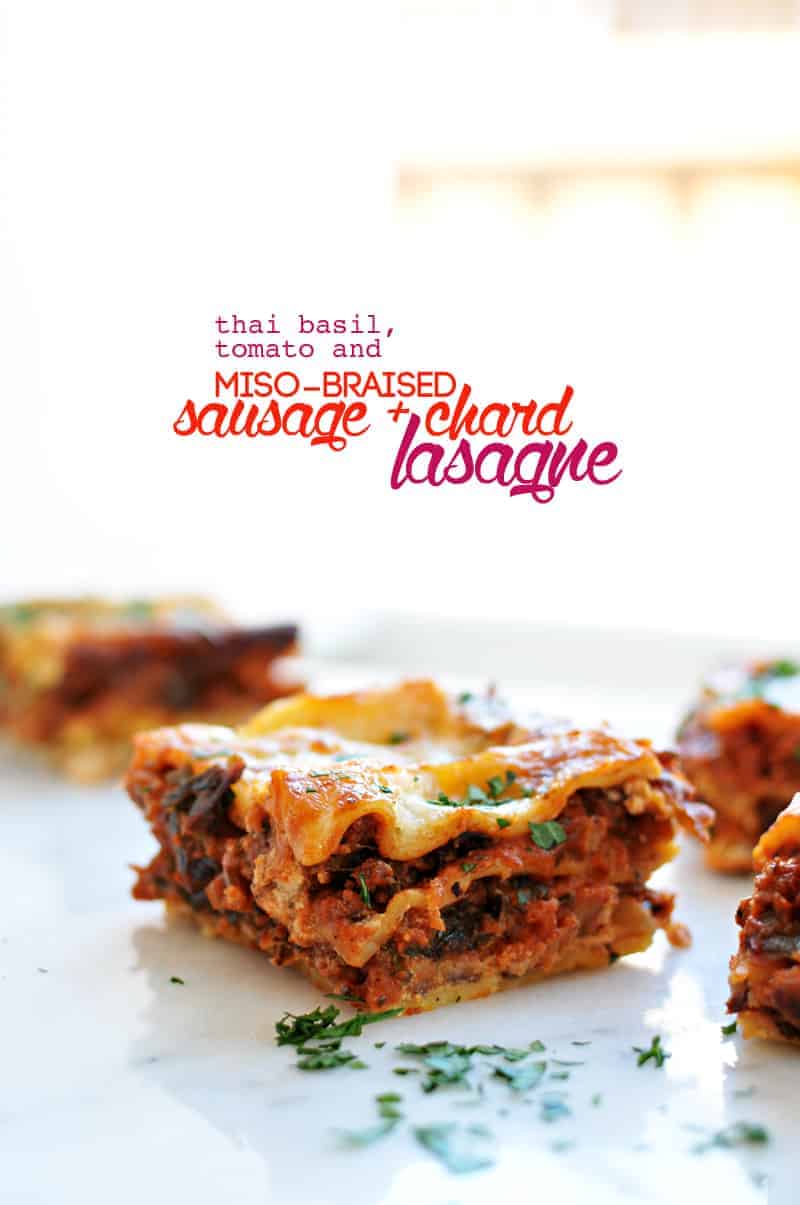 ————————————————–
OH! before you go…
Like whatcha see here — or have a question, feedback, or recipe hack to share? Join The Pig & Quill convo by commenting below (I love, luv, lurve comments) and hang out with me on Facebook, Twitter, Instagram and Pinterest. And don't forget to subscribe to P&Q emails or add me to your RSS reader with Feedly or Bloglovin' so you never miss a post. x's & o's!