Basilmic, get it?! I worked extra hard to make that one work, you guys, getting all HTMellie up in the title. That stuff takes work, I hope you know. Also, you're welcome.
So, today I'm extra excited because IT'S POPSICLE WEEK!!!!!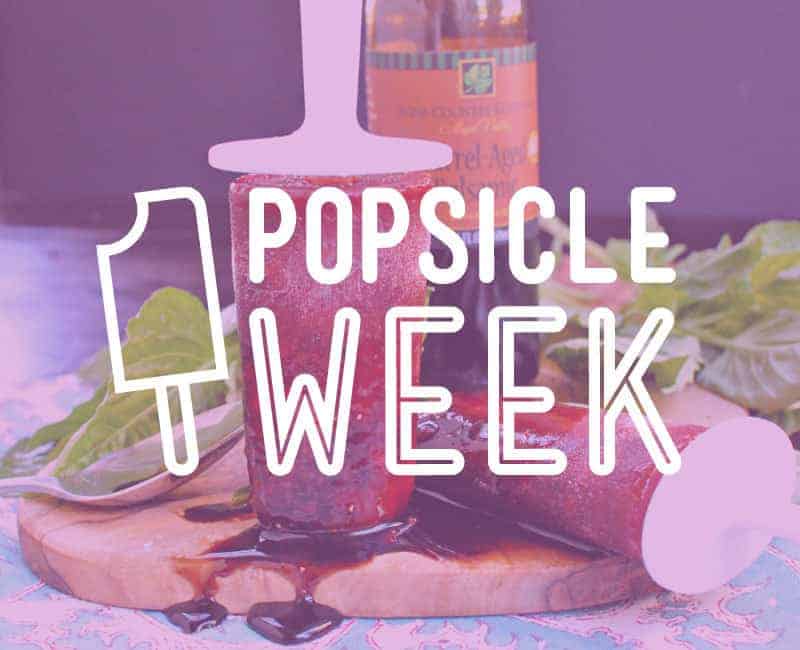 It's all thanks to Billy, with Wit & Vinegar, who is championing popsicles like a fat kid champions Little Debbies. Which means A) super hard and B) with contagious fat-kid enthusiasm. And if you're wondering, Billy is not a fat kid. He's actually a rather lean, HILARIOUS food blogger who makes all other food bloggers feel stupendously unfunny and also completely endeared by his, uh, wit. Just don't ask him if you can be his bestie, because I already did that, and he already said yes. Nananananana seems the right phrase for this.
Under Billy's careful coordination, 26 bloggers are creating icy treats designed to slap summer right up in its face a la Erica Kane. (Dude, Susan Lucci owns the soap slap, amiright?) Billy's got the whole list on his site, including his own Vegan Peanut Butter Fudgesicles that probably have the Reese's people running to dig up their money from under the tool shed. And lucky for me, these oh-so clever ice pops are joining in on the fun.
The base is simple: summery berries, blitzed with a coconut sugar-based simple syrup. Have you guys tried coconut sugar? It's easily going to become my next addiction, I can just feel it. It's got this toasty, caramelized thing going on right out of the bag that pumps up that jammy, berry flavor like nobody's business. I urge you to give it a shot. And the sticky swirl of mouthwateringly tangy balsamic is, like, come onnnnnnnn good. Even as I type, those little zingy spit glands in my jaw are going all boingy-boink.
Now. With alllllll that said, there's a step in this recipe that's a nice-to-have, not necessarily a need-to-have. And it's the part where basil joins the sandbox. Not like basil doesn't get along with the other kids; he's fine. In fact, they play better when he's around. Red Rover, Red Rover, Send Basil On Over is totally their favorite game to play, by the way, but only because Duck Duck Basil sounds like the lunch special at Thai Palace.
(HOLD. What am I talking about? I think all this Southern heat and humidity is getting to me.)
But do you get what I'm saying? The basil adds another step. It's not tough or time-consuming, but it's one more thing. And even though it's such a lovely, subtle thing, I'm not going to tell you to boil fistful after fistful of basil if it means an extra trip to the market.
Also, please don't ruin your pretty dishtowels when making these for the sake of a sexy food photo, mmmmkay?
Just a little tip from me to you.
Enjoy!
Strawberry Basilmic Ice Pops
By Emily Stoffel
Cooking time: 30 minutes | Makes 4-6 ice pops (depending on your molds)
Note: Ok, for the basil water, trust me on this as it's weird. In a medium saucepan, bring 3 cups of water to a boil. Meanwhile, prepare a bowl of ice water. When water boils, quickly add 2 HEAPING handfuls of basil leaves, about 2 cups, pushing down to submerge. Cook for 30 seconds, until leaves have just turned bright green. Immediately remove basil from water and submerge in ice water bath. Reserve basil water for ice pops. Use the blanched basil to make a beautifully green pesto or this money tomato & watermelon salad. For the balsamic, the good, syrupy, aged stuff can be pricey. To get the same effect, simmer 1 cup balsamic vinegar until reduced by half — OR, pick up a bottle of this good stuff from trusty TJs. 
Ingredients:
1 lb organic strawberries
2 cups basil water (see note)
1 cup coconut sugar (or white or demerera sugar)
very good, syrupy aged balsamic vinegar OR balsamic vinegar glaze (see note)
a few finely sliced basil leaves for serving (optional)
Instructions
In a small saucepan, bring basil water to a boil and add sugar, stirring to dissolve. Keep water at a reasonable boil (steady but not rolling too crazily) until liquid is reduced by half, about 10-15 minutes. Allow to cool slightly.
Meanwhile, add 3/4 of strawberries to a blender or food processor and blend until smooth. Add reduced sugar syrup (between 3/4 cup and the full cup, depending on the sweetness of your berries) and blend again. Add remaining 1/4 portion of strawberries and pulse until integrated but still somewhat chunky.
Using a teaspoon, drizzle sides of popsicle molds with balsamic glaze, about 1/2 tsp per mold. It'll pool in the bottom a little, no biggie. Evenly divide strawberry mixture among popsicle molds and freeze 6 hours or overnight, until firm.
Unmold ice pops, and swoon a little at the now extra syrupy balsamic enrobing each little pop. While messy, this is a very, very good thing. Serve scattered with tiny ribbons of fresh basil, if desired.