Posting from the road, as promised — and on a full stomach, no less. Would you believe Ma and I have just had one of the tastiest meals on our Southern road trip at a little vegan diner in Chattanooga's Northshore neighborhood? Potstickers, collard greens and some of the most delightfully textural breaded and grilled tofu (+ veggies + sweet chili sauce + herbs, peanuts and brown rice!) I've ever laid teeth on. Plus plenty of local breakfast recommendations to wash everything down. Methinks I love Chattanooga.
Ok, well, to be fair, methinks I love Tennessee. Because Nashville is overflowing with kind, chatty folks drawling in warm, syrupy accents that you could tune into for days on end. Cupcakes that are so much more than the trend suggests. Some of the best pizza I've had the pleasure of tasting, live music at every turn AND buy 1 get 2 free cowboy boots. Buy ONE. Get TWO free. The marketing genius behind that one is either tremendously brilliant or devastatingly broke — but to tell you the truth, I couldn't care less. Because THREE FOR ONE boots.
I could go on for days about the ridonk eats we're getting done down here, but I've got to save at least some of it for the official recap post…which will come who knows when, but I'm officially saying it'll happen here, so there's at least a 13% chance that it's true.
In the meantime, what I'm really itchin' to get on with is balls. (That could have been bad.) I hinted at balls on Tuesday, and balls you shall have. How about a sweet and savory, Thanksgiving-spiced version with lean turkey, plenty of ground sage and a tart and tangy dipping sauce? How about if they come together in less than 10 minutes and cook in less time than it takes to watch an episode of TOWIE? And what if I promised that your kids would like them, your ubsterpickity sig-o would like them — and they'd make one heck of a ballsy little sammy for lunch tomorrow?
Moreover, what do I expect you to say to these endless strings of questions? Who knows. Just make the balls — and I'll keep on trucking 'cross the country. Instagrammin' all the way. Check it out.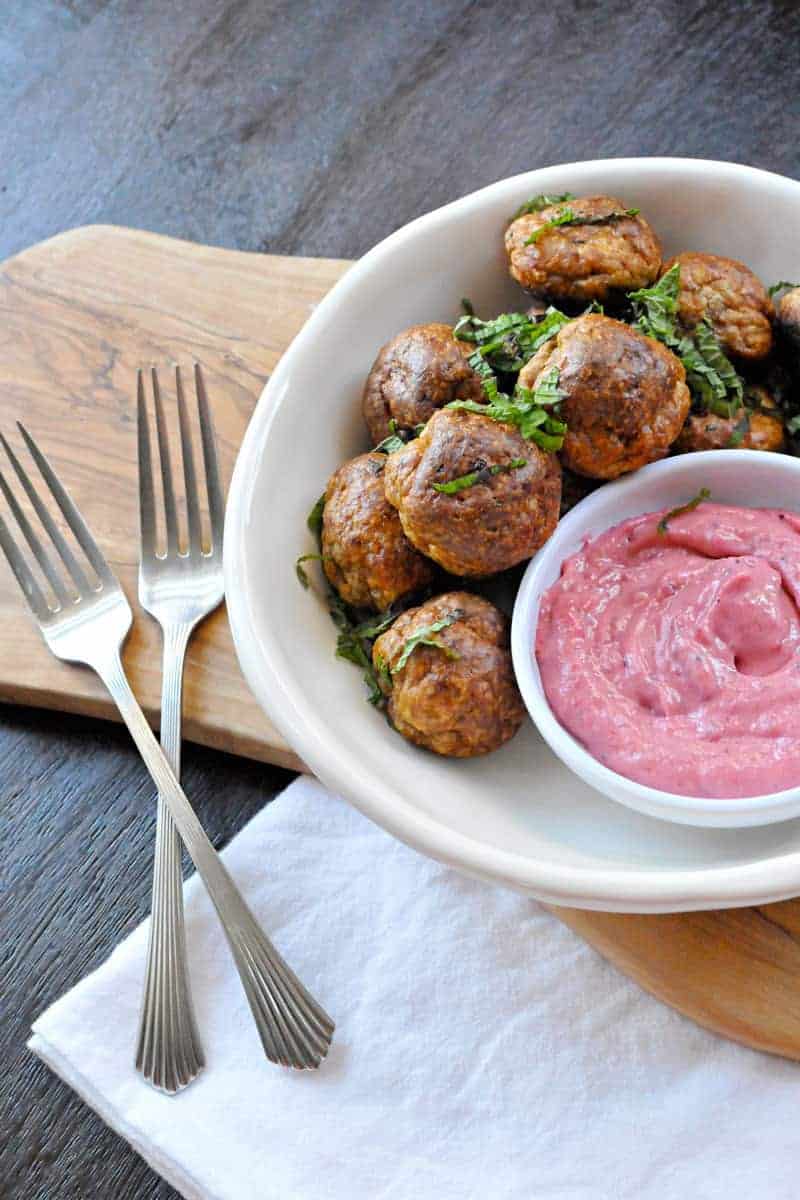 Roasted Turkey Meatballs with Cranberry-Mustard Sauce
By Emily Stoffel Cook time: 35 mins | Serves 4 (Makes about 25 balls)
Ingredients:
1 1/3 lbs ground turkey (about one storebought package, 93% lean)
2 tsp salt
2 tsp onion powder
1 tsp freshly cracked black pepper
1 tsp ground dried sage
1 tsp smoked paprika
1 generous tsp real maple syrup
1/2 cup good bread crumbs
olive oil
3 T chunky cranberry sauce
2 T good mayonnaise
1 – 2 tsp spicy mustard
Instructions
Preheat oven to 450F. Lightly mix together turkey through bread crumbs. With slightly wetted hands, roll turkey mixture into walnut-sized balls — you should get about 25 — and arrange on an ungreased, rimmed baking sheet. Drizzle balls lightly with olive oil. Roast on center rack for 20-25 minutes until meatballs are golden-brown and just cooked through.
While meatballs are roasting, stir together cranberry sauce, mayo and mustard. Serve roasted meatballs with cranberry-mustard sauce alongside for dipping or drizzling.