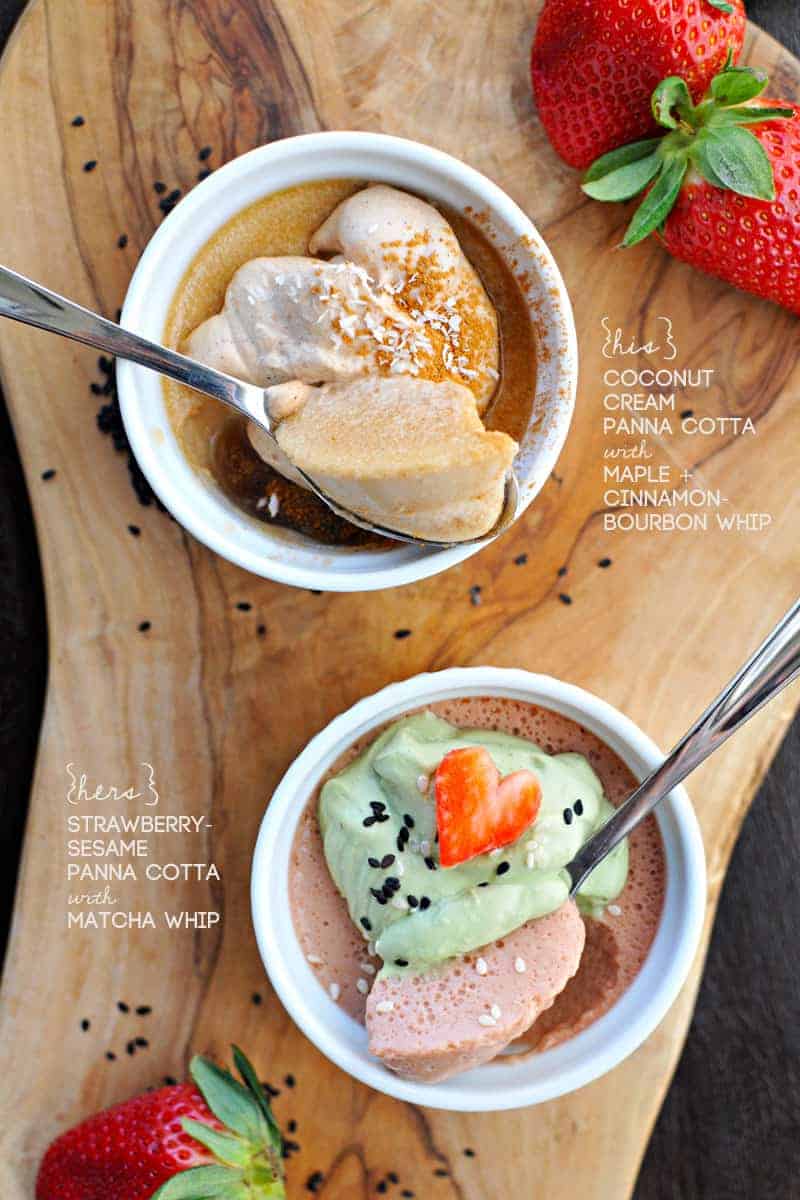 Let's talk about how I just spent almost half an hour trying to pinpoint the crackling sound coming from the freezer only to realize it's coming from a wood-wick candle I left burning on the bathroom counter.
And now my kitchen is littered with frozen food and I get to play my favorite-ever freezer game "hide the banana(s)." Except it's not nearly as fun or dirty as it sounds and more like I really, really need to make banana bread some time in 2015.
Yikes. A. Bee.
Now (Bachelor spoiler) let's talk about how Farmbeezy Chreezy almost totally redeemed himself this week by ditching not one but TWO girls in the Badlands and then flying away in a helicopter all double-oh-seveny!!! Those girls, though. Kelsey, though. How likely is it that she's gonna pull a real life Gone Girl on some poor dude? I feel like VERY LIKELY is the only answer. She got that special kind of Calculated Crazy going on that you just don't fuck around with. Super scary.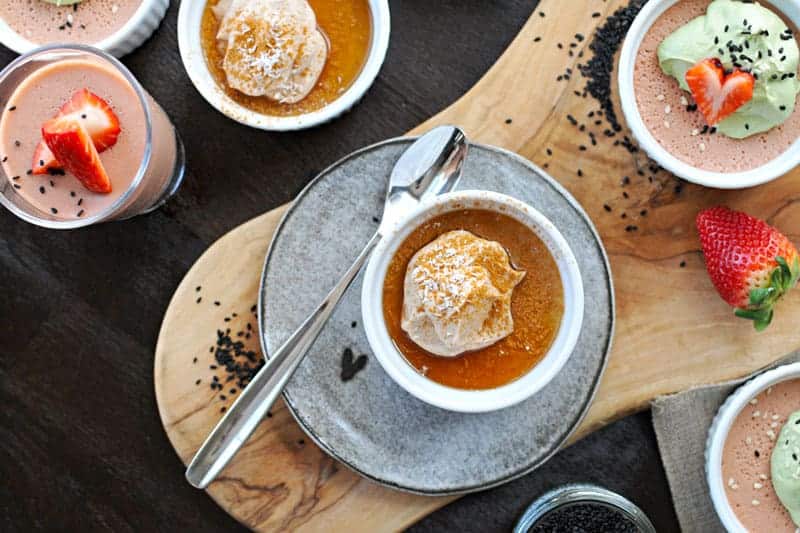 Ok, now let's talk about panna cotta. It might seem like kind of a goofy stretch to jump from The Bachelor to Valentine's Day, but real life, Chris and I watch The Bachelor together every week, and it's maybe the cutest thing ever. I was so anti at first, you guys. I just didn't get it. But I think watching it with a spouse is the way to go. It 1) makes you feel like the luckiest bastards ever, because even reality TV dating looks like the total pits, and 2) judging crazies with your boo is a super special bonding experience.
Like:
Me: Babe look, Barbie Eyes is shooting guns aaaaand riding horses. She is definitely headed for the Fantasy Suite! Buh-bye, VeeeeeCaaaaaard!!!!
Chris: Oh, definitely.
Me: OMG I LOVE YOU ALL OVER AGAIN.
So squishy romantic, I don't even know.
So these panna cottas — we did a little his n' hers dance because Chris likes things manly and conventional and I like things light and fluffy and Asian flavored…or something. And treating your speshul someone to their own little VDay sweet just seems kind of cute. (Little known fact: I love cute. I don't do enough cute. See those li'l strawberry hearts? Stupid cute. I love them. Never again, but I mean kyoooot, right?)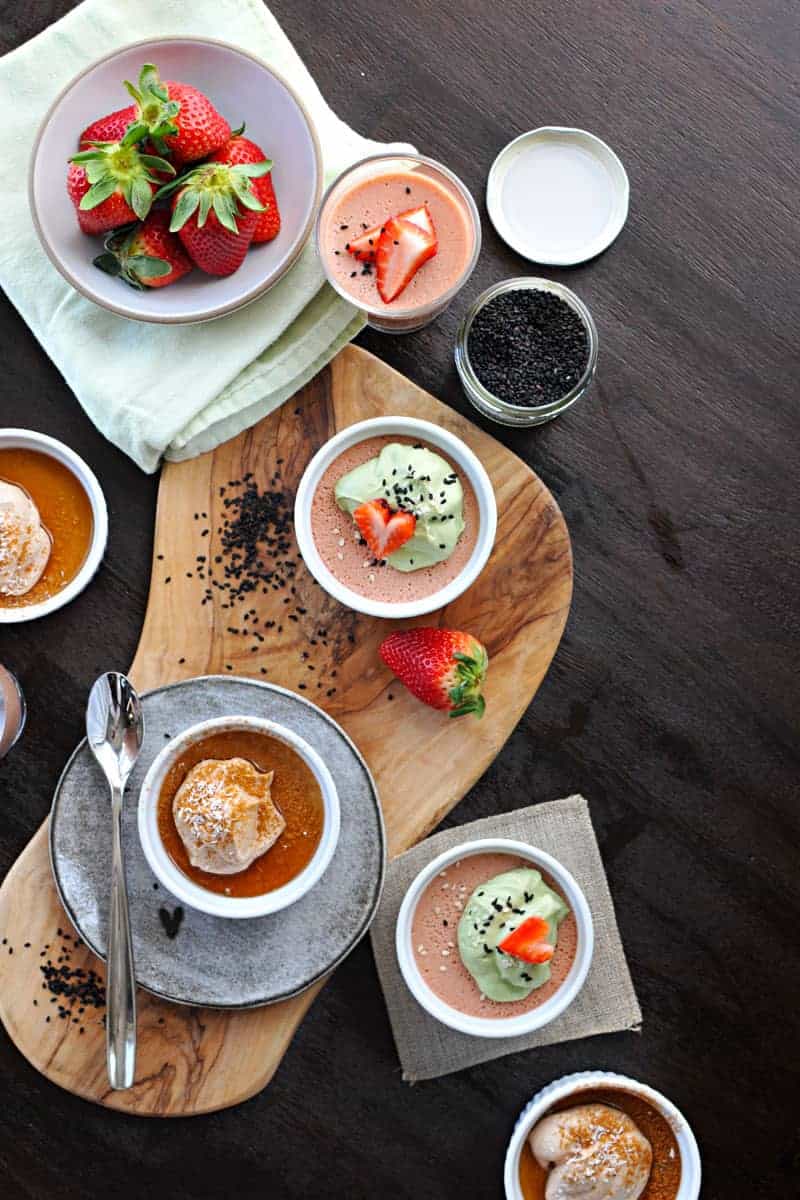 For the His version, we're talking about a denser, coconut cream base simply flavored with vanilla and cinnamon. Maple syrup and a warming, cinnamon-bourbon whip over the top and — BOOM — you're sitting in a room that smells like leather looking at little ships in glass bottles. Also, there might be a hidden gun vault behind a painting of a stag. MAN. LY.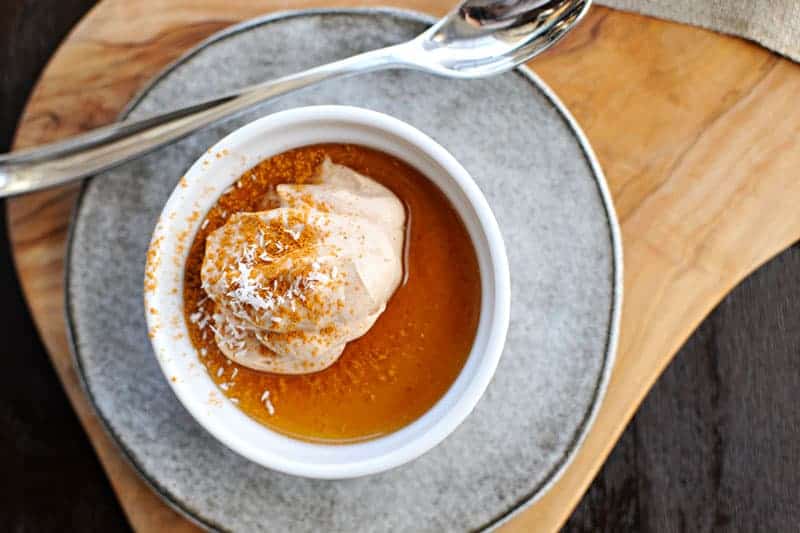 And for the Her version, sweetened strawberries are whirled with light coconut milk, kissed with fragrant sesame and topped with a bright matcha whip. It's mousse-y and cloudlike and not at all too sweet. Plus more berries on top because pretty.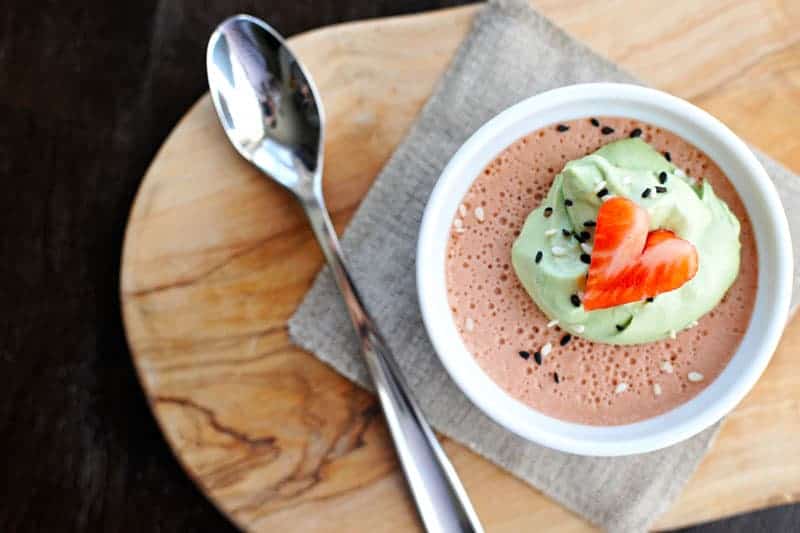 Having diplomatically eaten more than my fair share of both versions, I can attest that you can't go wrong with either. (Ok, Chris is not a fan of sesame-flavored anything, so he might argue that you can kiiiinda go wrong with the lady 'cotta if you're not into that. If, on the other hand, you dig subtly sweet, kinda-savory, Japanesque desserts, your boat will be fully floated.)
Sorry I said lady 'cotta.
And then said it again.
While I'm saying weird things, I'll mention that we're coconut milking all over the place, so both these guys are dairy free. Yahoo.
Ok, I'm done.
His n' hers panna cotta, peeps!!!
Loony hotties!!!
Seriously, frozen bananas everywhere!!!
Happy Valentine's Day. ♥ ♥ ♥
xo,
Em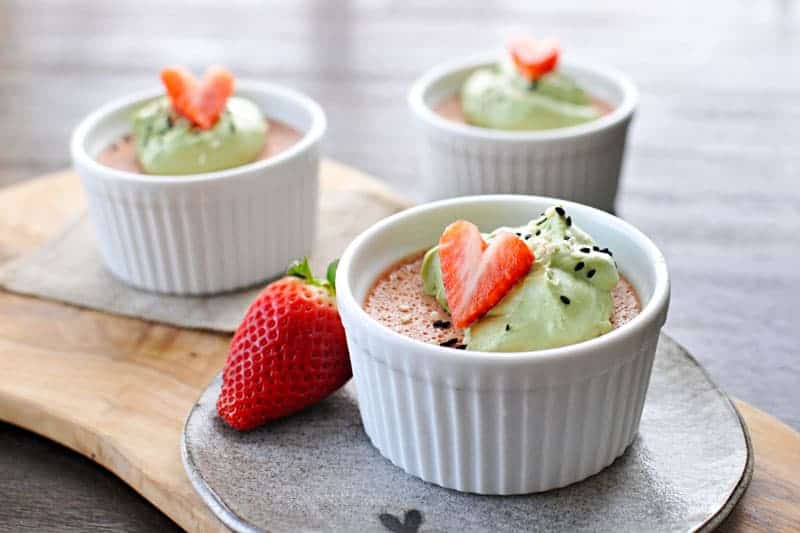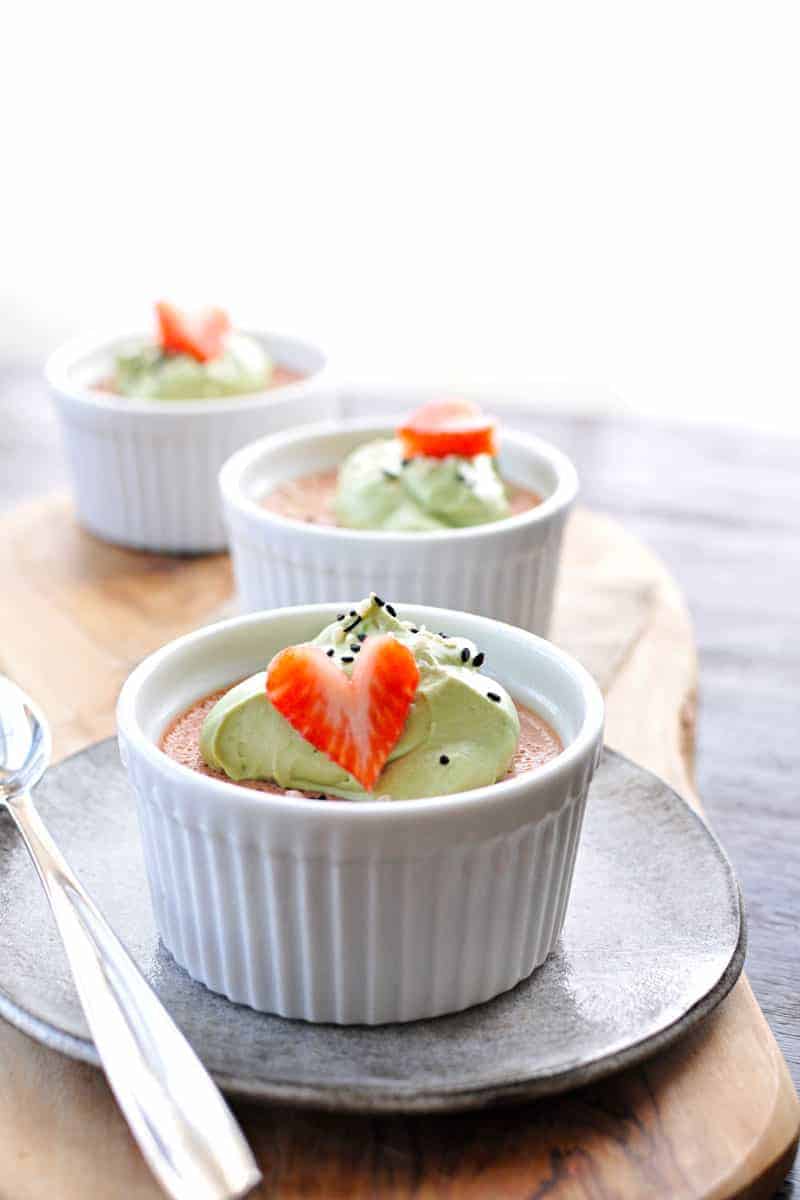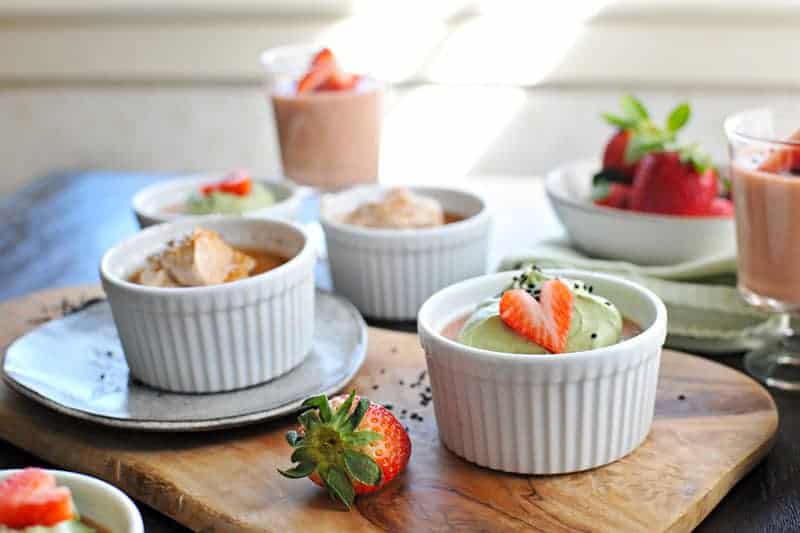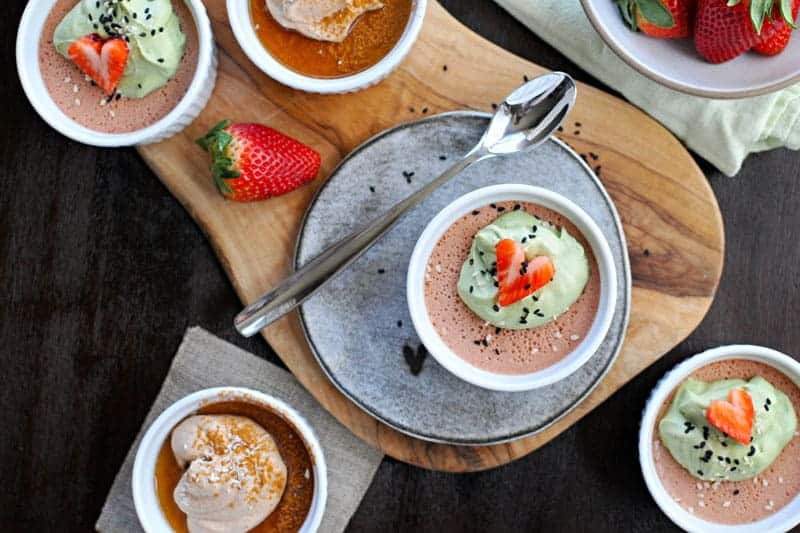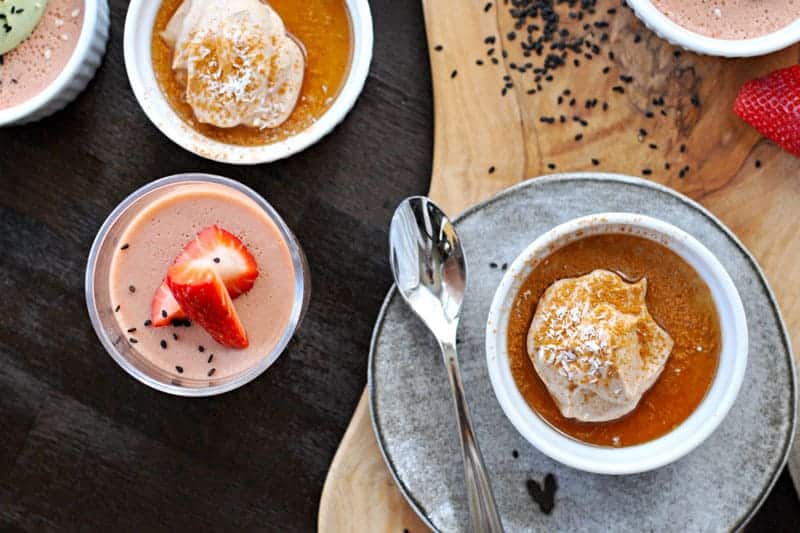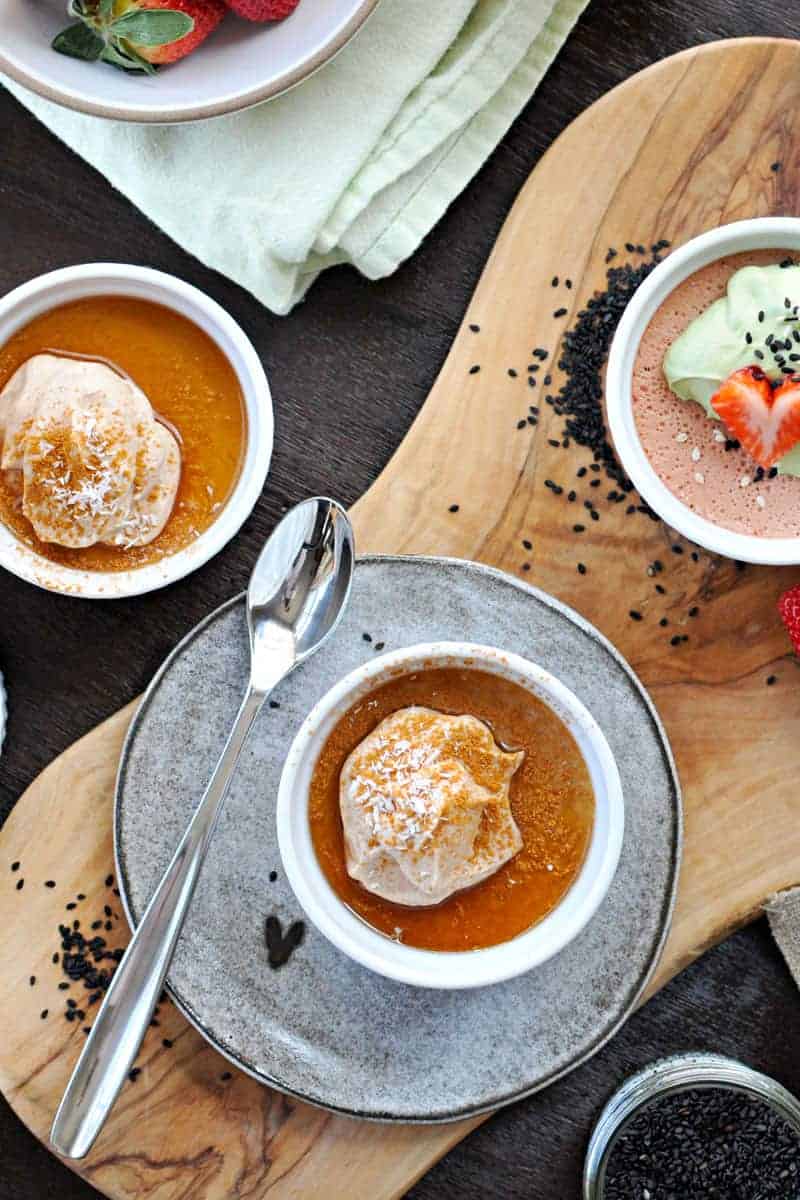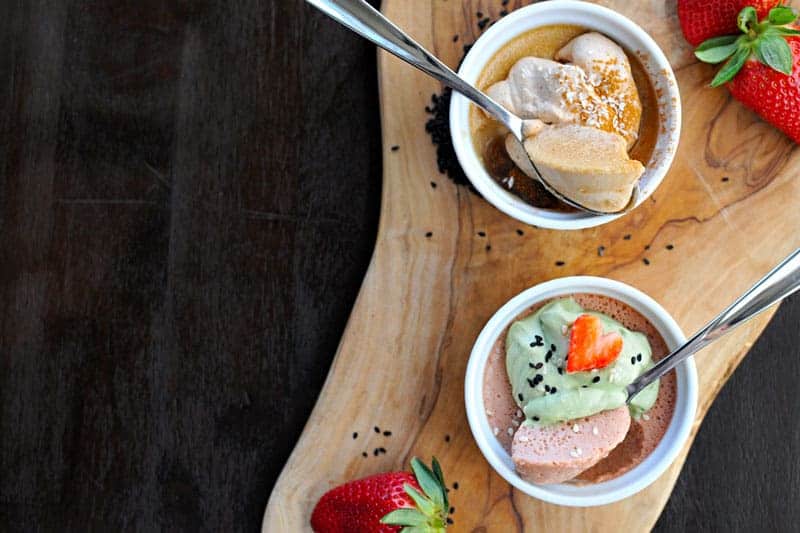 coconut cream panna cotta w/ cinnamon-bourbon whip (dairy-free)
Ingredients
1 can coconut cream (readily available at Trader Joe's)
1.5 tsp gelatin
¼ cup packed coconut sugar
1.5 tsp good ground cinnamon, divided (plus more for dusting)
1 tsp Mexican vanilla
good maple syrup
½ recipe basic coconut whip (see recipe below)
1 tsp cinnamon
1 tsp bourbon
Instructions
Scoop coconut cream into a small saucepan and whisk over very low heat until smooth. Turn off heat and evenly sprinkle over gelatin, whisking to combine. Allow mixture to sit for 10 minutes so gelatin can bloom.
When gelatin has bloomed, turn heat to medium low and whisk in coconut sugar; continue to whisk until gelatin and coconut sugar are mostly dissolved. DO NOT BOIL.
Transfer warm mixture to blender. Add ½ tsp cinnamon and vanilla and blend on low speed until all ingredients are thoroughly combined and fully dissolved.
Pour mixture into ramekins and allow to chill for 4 hours or overnight.
To make cinnamon-bourbon whip, whisk remaining 1 tsp cinnamon and 1 tsp bourbon into basic coconut whip.
Top panna cotta with a drizzle of maple syrup, a dollop of cinnamon-bourbon whip and a dusting of cinnamon, if desired. Enjoy!
Notes
Don't be surprised to find that this panna cotta is richer and denser than the usj. (That's thanks to the coconut cream!) Also, conventionally, it's a no-no to bloom gelatin in warm or hot liquids, but I haven't run into any issues adding the gelatin to the warmed coconut cream here. It does its thing just fine. 🙂
strawberry-sesame panna cotta w/ matcha whip (dairy-free)
Ingredients
heaping 1.5 cups strawberries, quartered
6 T coconut sugar, divided
¼ cup water
1 packet powdered gelatin
1 can light coconut milk
1 tsp sesame oil
1 tsp Mexican vanilla
pinch sea salt
½ recipe basic coconut whip (see recipe below)
1 tsp matcha powder
sliced strawberries and sesame seeds (white and/or black) for serving
Instructions
In a medium bowl, mix strawberries with 2 T coconut sugar and stir to combine. Set aside for at least 15 minutes to macerate. (Can also be done the night before.)
Meanwhile, add ¼ cup cold water to a shallow bowl. Evenly sprinkle over contents of gelatin packet. Allow to sit 10 minutes to bloom.
Transfer macerated strawberries and all accumulated juices to a high-powered blender. Add coconut milk, remaining 4 T coconut sugar, sesame oil, vanilla and pinch sea salt and blend until completely combined and smooth. Add bloomed gelatin and blend again, increasing to high speed, until very smooth and slightly frothy, about 10-15 seconds. DO NOT LET MIXTURE BOIL IN BLENDER.
Pour into glasses or ramekins of choice and chill until set, about 4 hours or overnight.
To make matcha whip, whisk matcha powder into basic coconut whip.
Top panna cotta with matcha whip, sliced strawberries and sesame seeds. Enjoy!
Notes
The texture here is light and almost mousse-like; the perfect complement to the delicate flavors in the recipe. For a slightly richer texture, use full-fat coconut milk.
basic coconut whip
Ingredients
1 can coconut cream (available at Trader Joe's), chilled overnight
2 T maple syrup (or more/less, to taste)
1 tsp vanilla
pinch sea salt
Instructions
Scoop out contents of coconut cream into a large bowl. It will have a shortening-like consistency.
With an electric mixer or by hand, whisk until smooth and light and fluffy in texture.
Whisk in maple syrup, to taste, vanilla and sea salt. Adjust for sweetness, if necessary, and add additional flavorings, if desired. Use anywhere you'd use whipped cream!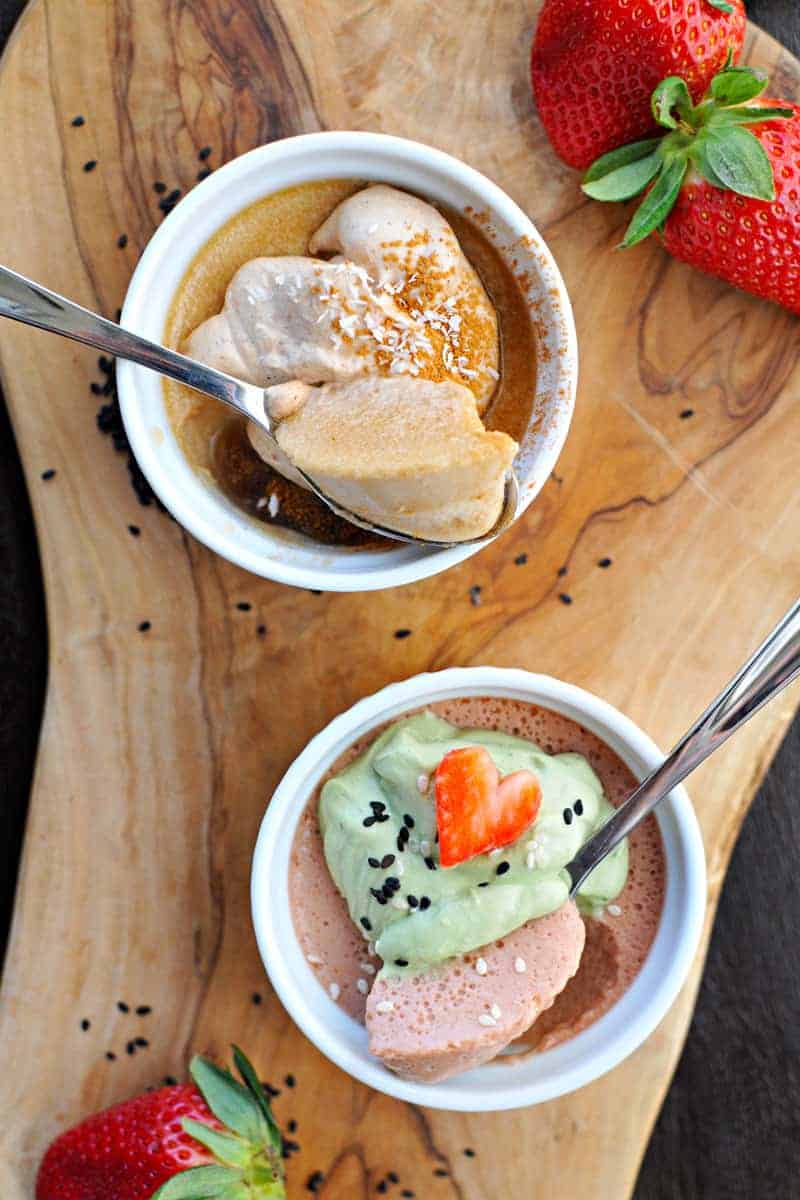 ————————————————–
OH! before you go…
Like whatcha see here — or have a question, feedback, or recipe hack to share? Join The Pig & Quill convo by commenting below (I love, luv, lurve comments) and hang out with me on Facebook, Twitter, Instagram and Pinterest. And don't forget to subscribe to P&Q emails or add me to your RSS reader with Feedly or Bloglovin' so you never miss a post. x's & o's!