strawberry-sesame panna cotta w/ matcha whip (dairy-free)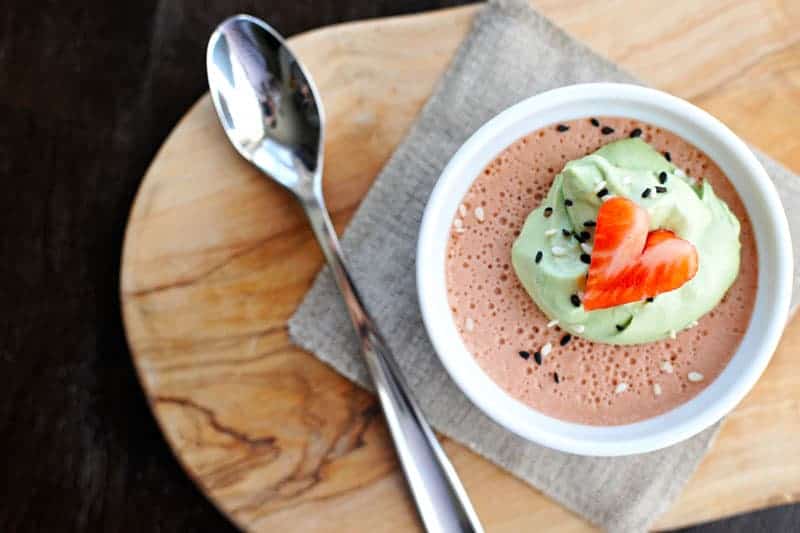 heaping 1.5 cups strawberries, quartered
6 T coconut sugar, divided
¼ cup water
1 packet powdered gelatin
1 can light coconut milk
1 tsp sesame oil
1 tsp Mexican vanilla
pinch sea salt
½ recipe basic coconut whip (see recipe below)
1 tsp matcha powder
sliced strawberries and sesame seeds (white and/or black) for serving
In a medium bowl, mix strawberries with 2 T coconut sugar and stir to combine. Set aside for at least 15 minutes to macerate. (Can also be done the night before.)
Meanwhile, add ¼ cup cold water to a shallow bowl. Evenly sprinkle over contents of gelatin packet. Allow to sit 10 minutes to bloom.
Transfer macerated strawberries and all accumulated juices to a high-powered blender. Add coconut milk, remaining 4 T coconut sugar, sesame oil, vanilla and pinch sea salt and blend until completely combined and smooth. Add bloomed gelatin and blend again, increasing to high speed, until very smooth and slightly frothy, about 10-15 seconds. DO NOT LET MIXTURE BOIL IN BLENDER.
Pour into glasses or ramekins of choice and chill until set, about 4 hours or overnight.
To make matcha whip, whisk matcha powder into basic coconut whip.
Top panna cotta with matcha whip, sliced strawberries and sesame seeds. Enjoy!
The texture here is light and almost mousse-like; the perfect complement to the delicate flavors in the recipe. For a slightly richer texture, use full-fat coconut milk.
Recipe by
the pig & quill
at https://thepigandquill.com/his-n-hers-panna-cotta-coconut-cream-w-cinnamon-bourbon-whip-strawberry-sesame-w-matcha-whip/