coconut cream panna cotta w/ cinnamon-bourbon whip (dairy-free)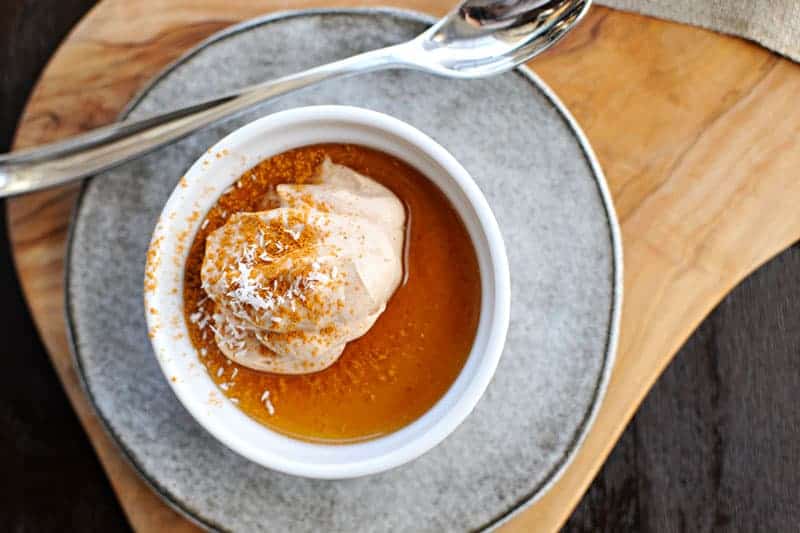 1 can coconut cream (readily available at Trader Joe's)
1.5 tsp gelatin
¼ cup packed coconut sugar
1.5 tsp good ground cinnamon, divided (plus more for dusting)
1 tsp Mexican vanilla
good maple syrup
½ recipe basic coconut whip (see recipe below)
1 tsp cinnamon
1 tsp bourbon
Scoop coconut cream into a small saucepan and whisk over very low heat until smooth. Turn off heat and evenly sprinkle over gelatin, whisking to combine. Allow mixture to sit for 10 minutes so gelatin can bloom.
When gelatin has bloomed, turn heat to medium low and whisk in coconut sugar; continue to whisk until gelatin and coconut sugar are mostly dissolved. DO NOT BOIL.
Transfer warm mixture to blender. Add ½ tsp cinnamon and vanilla and blend on low speed until all ingredients are thoroughly combined and fully dissolved.
Pour mixture into ramekins and allow to chill for 4 hours or overnight.
To make cinnamon-bourbon whip, whisk remaining 1 tsp cinnamon and 1 tsp bourbon into basic coconut whip.
Top panna cotta with a drizzle of maple syrup, a dollop of cinnamon-bourbon whip and a dusting of cinnamon, if desired. Enjoy!
Don't be surprised to find that this panna cotta is richer and denser than the usj. (That's thanks to the coconut cream!) Also, conventionally, it's a no-no to bloom gelatin in warm or hot liquids, but I haven't run into any issues adding the gelatin to the warmed coconut cream here. It does its thing just fine. :)
Recipe by
the pig & quill
at https://thepigandquill.com/his-n-hers-panna-cotta-coconut-cream-w-cinnamon-bourbon-whip-strawberry-sesame-w-matcha-whip/