Soy Chorizo and Black Bean Empanadas: warmly spiced soy (or traditional) chorizo, black beans and sweet potatoes encased in a golden-brown, tender, flaky crust. These veggie hand pies are simple, satisfying and adorably portable.


There's been some major crankypants happening around here lately. Maybe it has something to do with the post-vacation blues (kind of a real thing) or the post-vacation head-turned-chest cold (definitely a real thing), but I have been reallll whiny. Things like emptying bags of Trader Joe's brand Funyuns into my face seem to be helping marginally, although I refuse to call them by their given name, Snack-O's, which has got to be the most generic name for a generic snack food I have ever heard. If it weren't that the snack is actually O-shaped, the lameness of this name might be enough to prevent me from buying them altogether. I mean, helloooo, Fun-yOHs! OnYUMs! YUMyuns! Did none of these far more obvious yet superiorly radder names cross Hipster JoBro's mind when ripping off the Funyun? I guess not.

Adorably handheld Veggie Hand Pies!
But back to the topic at hand – let's chat about these Soy Chorizo and Black Bean Empanadas, eh?
Just to frame it up for you all:
I love empanadas.
Is it the pie crust? Yes.
Is it the deeply savory filling? Yes.
Is it saying the name empanadas? Yes.
I. LOVE. EMPANADAS.
I originally intended to make these little veggie hand pies in advance and reheat them for Meatless Monday, but then, whoops, we ate them on Sunday, fresh outta the oven. And they were oh-so dreamy.
Maybe it's because I'm sick, maybe it's because anything wrapped in pie crust just lights my fire, but these Soy Chorizo and Black Bean Empanadas have me so smitten. So much bold flavor, so little work.
And aren't they just a prize to look at? Even that little runty one at the top (yes, the one that I dropped while adjusting it on the tray to make it just so — lesson learned) is kinda purty in a lumpy, rustic way.
How to Make Soy Chorizo and Black Bean Empanadas
As much as I love a sweet hand pie (hello, pop tarts), savory guys like these veggie hand pies are my kryptonite. They start with a fresh pie crust (homemade or storebought – either will work here), but it's the filling that really shines. Garlic and onions, sweet potatoes, black beans — and, yep, soy chorizo — browned together and then braised until tender with a splash of sherry wine. I like to wash the crusts with mayo, because it imparts a matte, golden color (and why waste an entire egg on a few hand pies?). Eating meat? Traditional beef or pork chorizo will work in this recipe, too, but we tend toward plant-based proteins more and more these days, and soy chorizo packs so much classic flavor. Like, I can't get enough.
Which reminds me! If you love (soy) chorizo as much as me, be sure to check out these Chorizo + Scallion Sour Cream Biscuits, Chorizo Hash + Eggs, or Twice Baked Sweet Potatoes with Crispy Chorizo, too. You won't regret it.
xo!
Em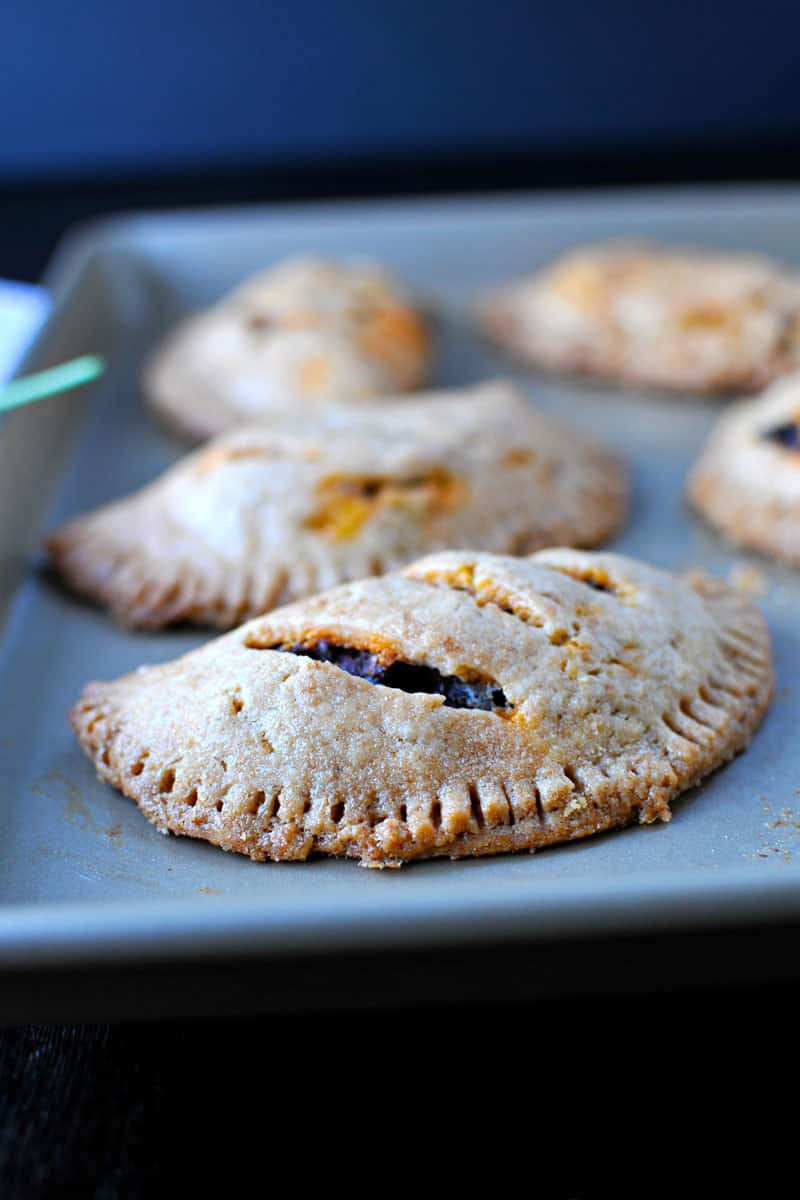 Soy Chorizo & Black Bean Empanadas
Soy Chorizo and Black Bean Empanadas - warmly spiced traditional (or soy) chorizo, black beans and sweet potatoes encased in a golden-brown, tender, flaky crust.
Makes:
about 8-10 empanadas
Ingredients
1 T coconut oil
3 cloves garlic, crushed
½ tsp cinnamon
½ tsp good curry powder (we always use Penzey's Vindaloo variety)
1 med sweet potato, peeled and finely diced
1 can black beans, lightly drained
6 ounces soy chorizo (or chorizo), casing removed
½ cup dry marsala or sherry wine
¼ cup grated parmesan
1 recipe double pie crust (or two frozen pie crusts, thawed)
1 T good mayo, thinned with just a splash of water
sour cream, salsa and cilantro for serving (optional)
Instructions
Preheat oven to 375F.
Heat coconut oil over a medium-high flame and add garlic and spices. Saute until fragrant, about 30 seconds. Add sweet potato, black beans, chorizo and wine and stir to combine. Cover and simmer about 10 minutes or until liquid is mostly absorbed and potatoes are tender. Turn off heat and stir through cheese. Allow mixture to cool slightly.
Meanwhile, roll out dough and cut out 5"-6" rounds, re-rolling/cutting scraps as necessary, until you have about 8 to 10 rounds. Place a generously heaping tablespoon of filling on half of the round, leaving about a ½" border. Brush the exposed edge of dough lightly with water, then fold top half over, pressing lightly to seal. Crimp edges firmly with a fork. Brush with mayo. Cut a few slits in the dough so steam can escape.
Arrange empanadas on an ungreased baking sheet and bake in preheated oven for 30-40 minutes or until deeply golden, rotating pan halfway through cooking. Serve with sour cream, cilantro and salsa, if desired. Enjoy!
Notes
I used a lovely, fresh batch of homemade pie dough that my mom gifted me after deeming her peaches "too pithy" to make a pie. Thawed, frozen pie dough will also work just fine. Leftover filling? Roll it up in tortillas, secure with a toothpick and give 'em a quick shallow fry. Ta-da, taquitos!
————————————————–
OH! before you go…
Like whatcha see here — or have a question, feedback, or recipe hack to share? Join The Pig & Quill convo by commenting below and hanging out with me on Facebook, Twitter, Instagram and Pinterest. And don't forget to subscribe to P&Q emails or add me to your RSS reader with Feedly or Bloglovin' so you never miss a post. x's & o's!