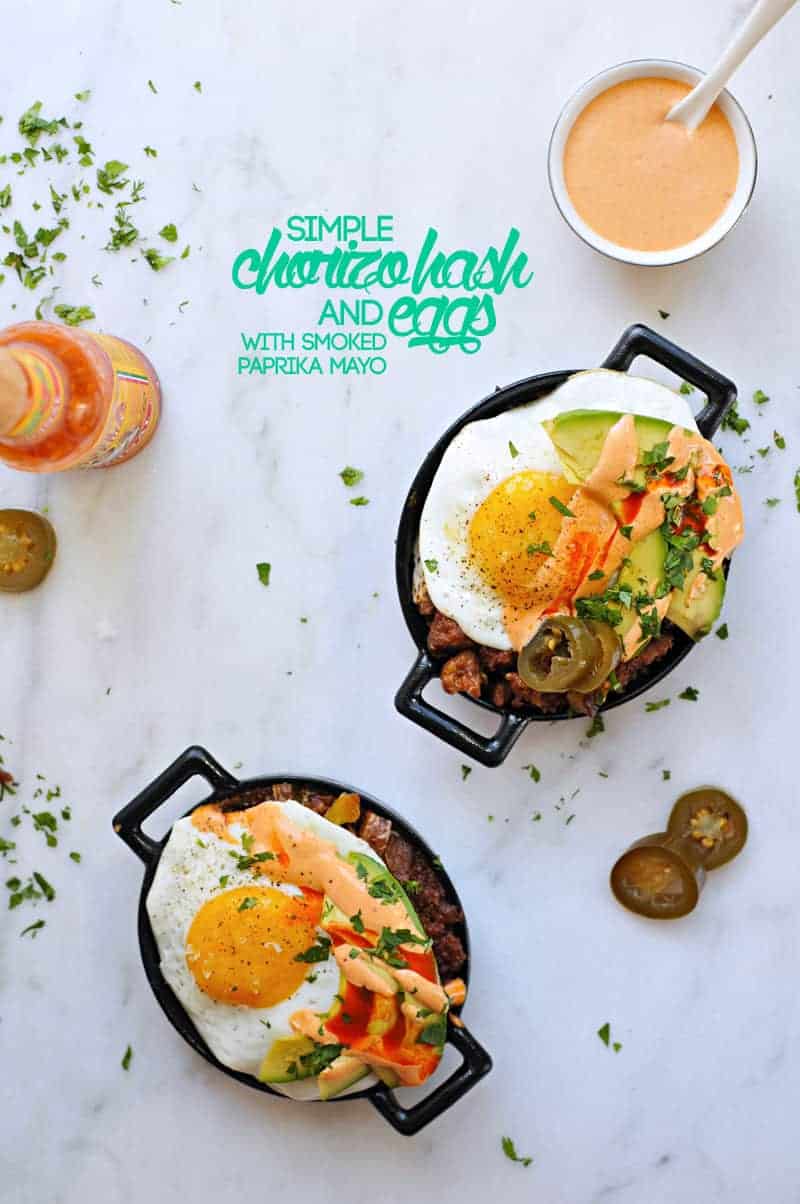 Ok, so first: I realize that posting a Cinco de Mayo on actual Cinco de Mayo is probably not helpful at all, but what if I told you this is a Cinco de Mayo recipe that also happens to be fiiiiiiiiine Mother's Day brunch fare? Does that make things better? How about if we acknowledge that it only takes 30 mins to make? More importantly, do we really need an excuse to get foodstuffs as lovely as this into our faces? I think not.
When Mother's Day came around last year, I was still finding my new momma footing, cradling a teensy Lana who wasn't even three weeks old and just barely beginning to shed the weight of that suffocating, wet blanket that is the baby blues. Our parents drove out for the day and brought with them a veritable feast of homemade favorites that any emotionally stable momma would clap her hands at in glee — fried rice amply studded with chinese sausage and roast pork, barbecued ribs, foil trays expertly loaded with chicken enchiladas — and yet I barely managed to mime my way through the day's events. Present, but not fully participating. Functioning in a kind of safe mode, all chunky pixels and basic drivers and low-resolution parenting. Numb.

This year, however, I fully intend to embrace the holiday weekend (it IS the whole weekend, right?). Saturday night steaks, a little pampering on Sunday. Forced cuddles with our now ONE YEAR OLD holy hellllllll whenever I can get them. (She gives kisses now and it fills me with such an abundance of joy I'm almost surprised it's not radiating from my body in pink and yellow beams of light.)
Oh, and another run of this hashy hash hash.
Hash.
Hash hash.
It's not even a word any more.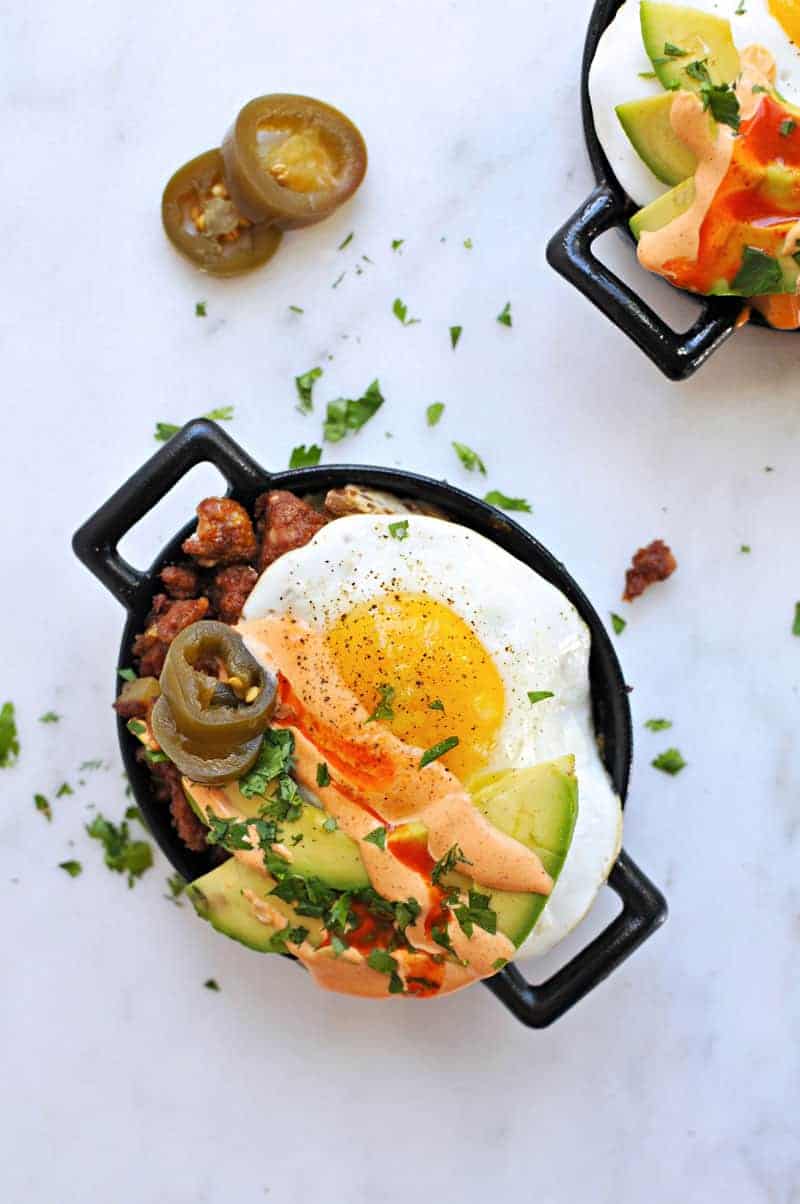 Appropriately, this hash is a bit of an homage to the main moms in my life: my own momma, who instilled in me at a very early age an appreciation for all Mexican-themed breakfast foods (I'll take a skillet of huevos rancheros over a platter o' pancakes any day) and Chris' momma, whose huevos con chorizo is the thing camping breakfast dreams are made of. It's no wonder they became fast friends upon first meeting. Food is love, guys. Food. Is. Love.
As the title promises, this dish is pretty much as simple as it gets: browned sausage, potatoes, fried eggs — but when topped with creamy avocado and creamier smoked paprika mayo, it transcends basic and becomes Angels Singing Delicious. Silky, salty, crispy and cool with a richness (thanks, egg yolk) that's perfectly punctuated by pickled, vinegary hot things.
Happy Mother's Day, indeed.
I mean Cinco. Happy Cinco.
xoxo!
Em
ps – speaking of mom stuffs, I started a new little Instagram series that documents summa the fun things Lana and I have been lunching on as of late — #lunchingwithlana — yay!
pps – more P&Q Mexi-themed yummies here!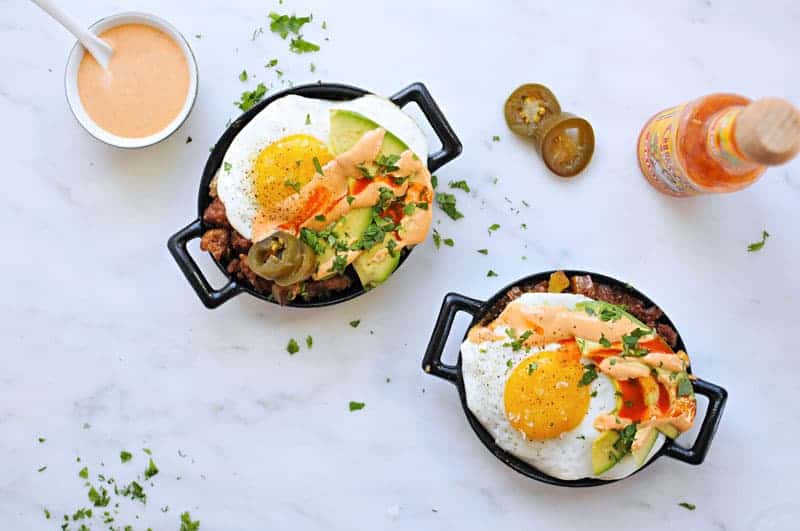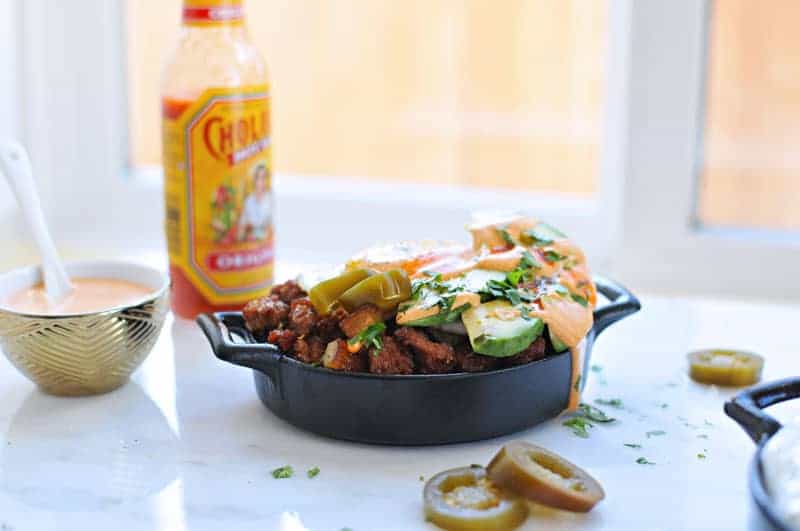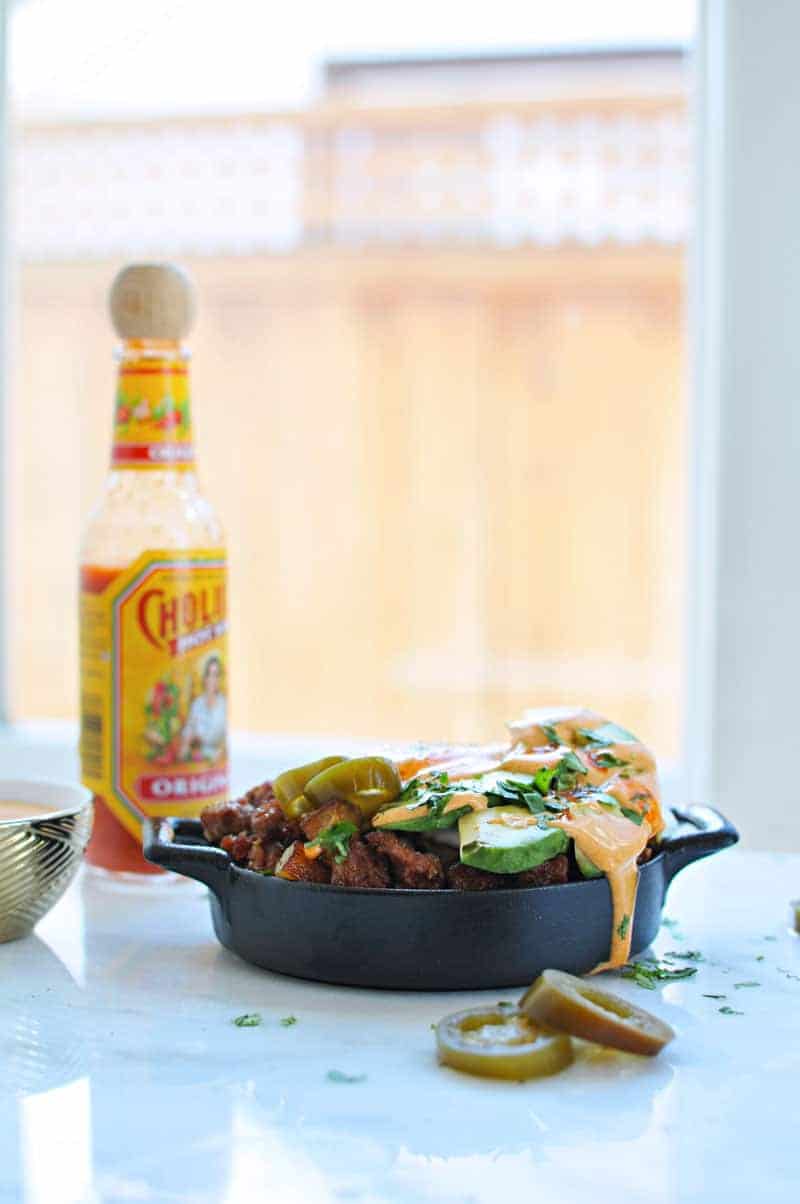 chorizo hash and eggs with smoked paprika mayo
Ingredients
For the Hash
avocado or other high-heat cooking oil
1 lb fresh chorizo sausage, casing removed (see note)
½ lb waxy potatoes, diced
sea salt
4 eggs
avocado, cilantro, hot sauce and pickled jalapeno, for serving
For the Mayo
¼ cup good mayo
1 T pickled jalapeno juice (or lime juice)
½ tsp smoked paprika
Instructions
Add a drizzle of oil to a large skillet set over a med-high flame. Add sausage and cook, breaking into pieces with a wooden spoon, until brown and crumbly, about 10 minutes. Remove with a slotted spoon and set aside.
Pour off all but about 2 T oil. Add potatoes to drippings, season with a little salt, and cook, stirring occasionally, until brown and crispy, 8-10 mins.
Meanwhile, stir together all mayo ingredients in a small bowl.
Plate chorizo and potatoes to small skillets or serving dishes and allow to cool slightly while you fry eggs in same skillet (adding another drizzle of oil, if needed) to desired doneness.
Set eggs atop hash and top generously with sliced avocado, cilantro, hot sauce, jalapenos and mayo. Enjoy!
Notes
Unlike most hash (hashes?), this recipe is heavy on the breakfast meat and light on the potatoes, so the chorizo you choose is pretty key. Go for a fresh, linked or loose Mexican-style chorizo from your butcher's case rather than the cured Spanish-style chorizo you'd use in tapas or the super finely processed chorizo you'd find pre-packed in the refrigerator case.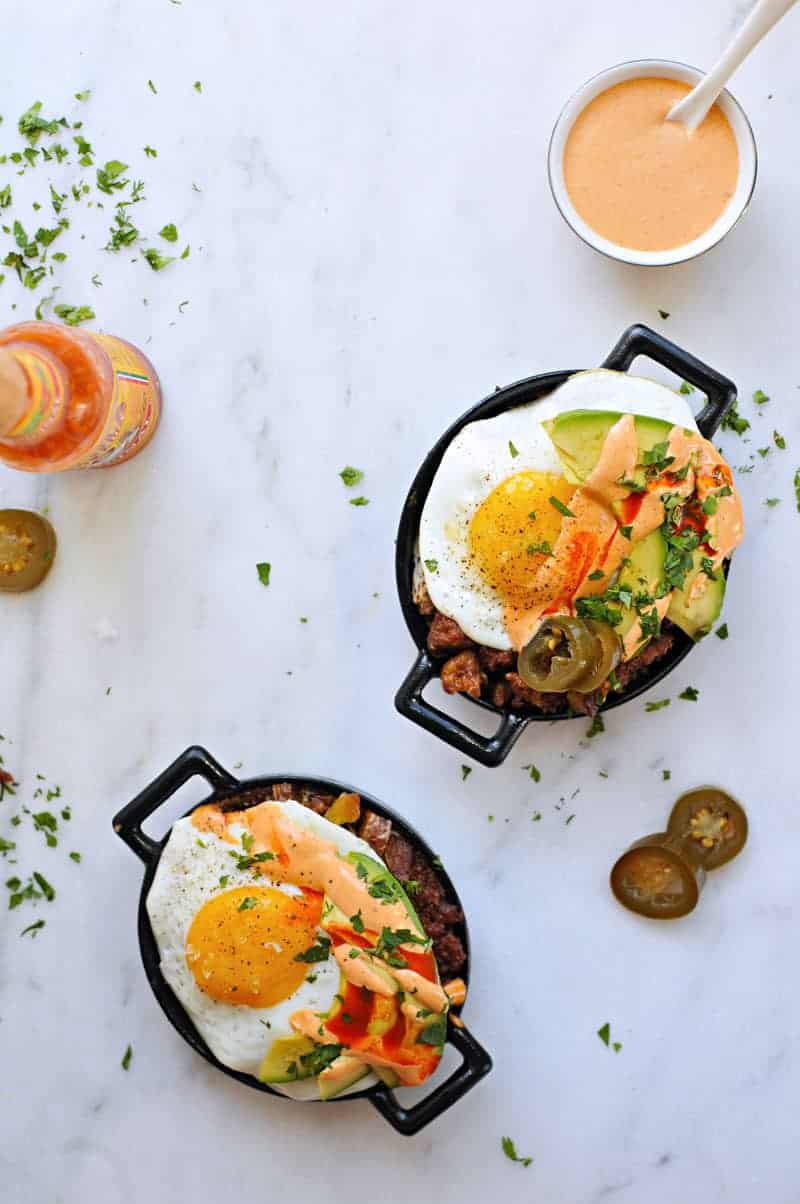 ————————————————–
OH! before you go…
Like whatcha see here — or have a question, feedback, or recipe hack to share? Join The Pig & Quill convo by commenting below (I love, luv, lurve comments) and hang out with me on Facebook, Twitter, Instagram and Pinterest. And don't forget to subscribe to P&Q emails or add me to your RSS reader with Feedly or Bloglovin' so you never miss a post. x's & o's!