chorizo hash and eggs with smoked paprika mayo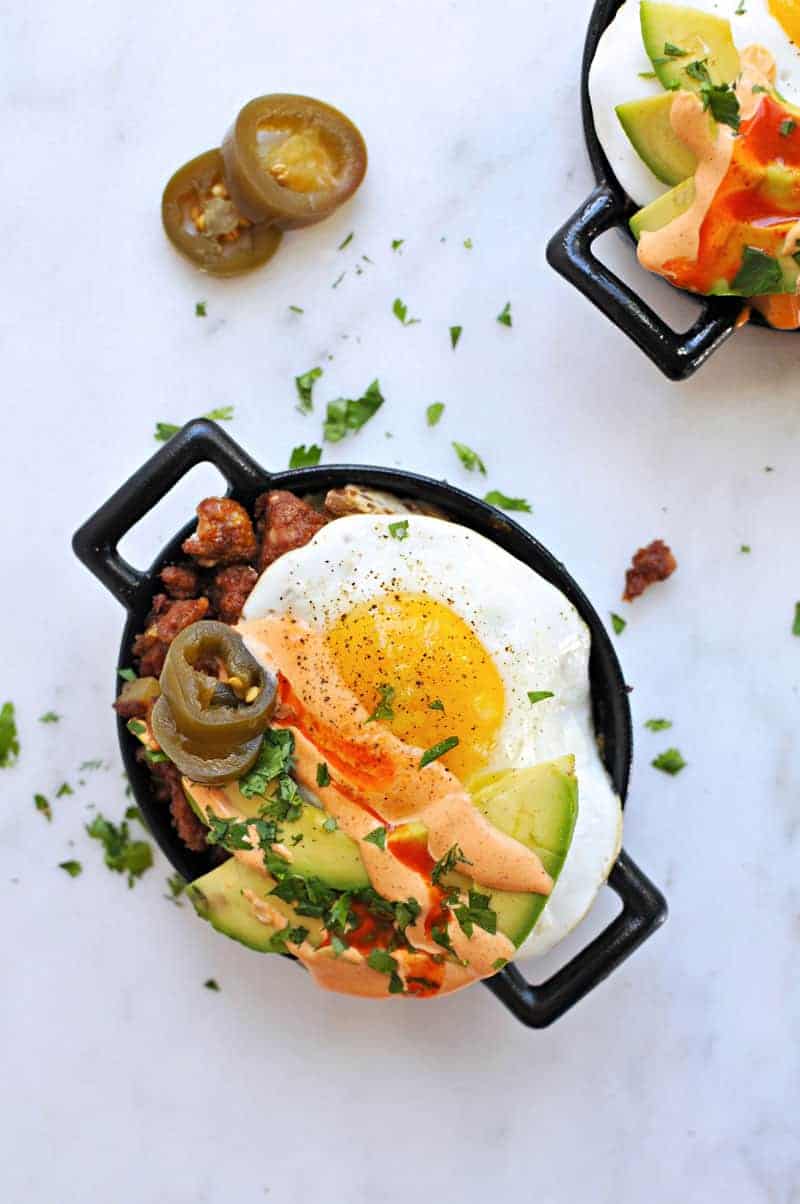 For the Hash
avocado or other high-heat cooking oil
1 lb fresh chorizo sausage, casing removed (see note)
½ lb waxy potatoes, diced
sea salt
4 eggs
avocado, cilantro, hot sauce and pickled jalapeno, for serving
For the Mayo
¼ cup good mayo
1 T pickled jalapeno juice (or lime juice)
½ tsp smoked paprika
Add a drizzle of oil to a large skillet set over a med-high flame. Add sausage and cook, breaking into pieces with a wooden spoon, until brown and crumbly, about 10 minutes. Remove with a slotted spoon and set aside.
Pour off all but about 2 T oil. Add potatoes to drippings, season with a little salt, and cook, stirring occasionally, until brown and crispy, 8-10 mins.
Meanwhile, stir together all mayo ingredients in a small bowl.
Plate chorizo and potatoes to small skillets or serving dishes and allow to cool slightly while you fry eggs in same skillet (adding another drizzle of oil, if needed) to desired doneness.
Set eggs atop hash and top generously with sliced avocado, cilantro, hot sauce, jalapenos and mayo. Enjoy!
Unlike most hash (hashes?), this recipe is heavy on the breakfast meat and light on the potatoes, so the chorizo you choose is pretty key. Go for a fresh, linked or loose Mexican-style chorizo from your butcher's case rather than the cured Spanish-style chorizo you'd use in tapas or the super finely processed chorizo you'd find pre-packed in the refrigerator case.
Recipe by
the pig & quill
at https://thepigandquill.com/simple-chorizo-hash-and-eggs-with-smoked-paprika-mayo/