First off, thank you so much for all your kind words on my last post. As you guys know, I like to treat this as a "no secrets" kinda space, even in my typical posts (you're welcome/sorry), but it still felt a little different publishing a new brand of ramblings that didn't culminate in a recipe. Your comments here and on the P&Q social spots were such a welcomed reminder of why I come back to this place over and over again. To shoot the breeze about the many things I like to put in my face, of course — and then why such phrases should probably come with a PG-13 disclaimer. But at the very root of things, it's to share, indulge and connect with you. You guys get me. Or maybe you tolerate me. You know I'll gladly take either.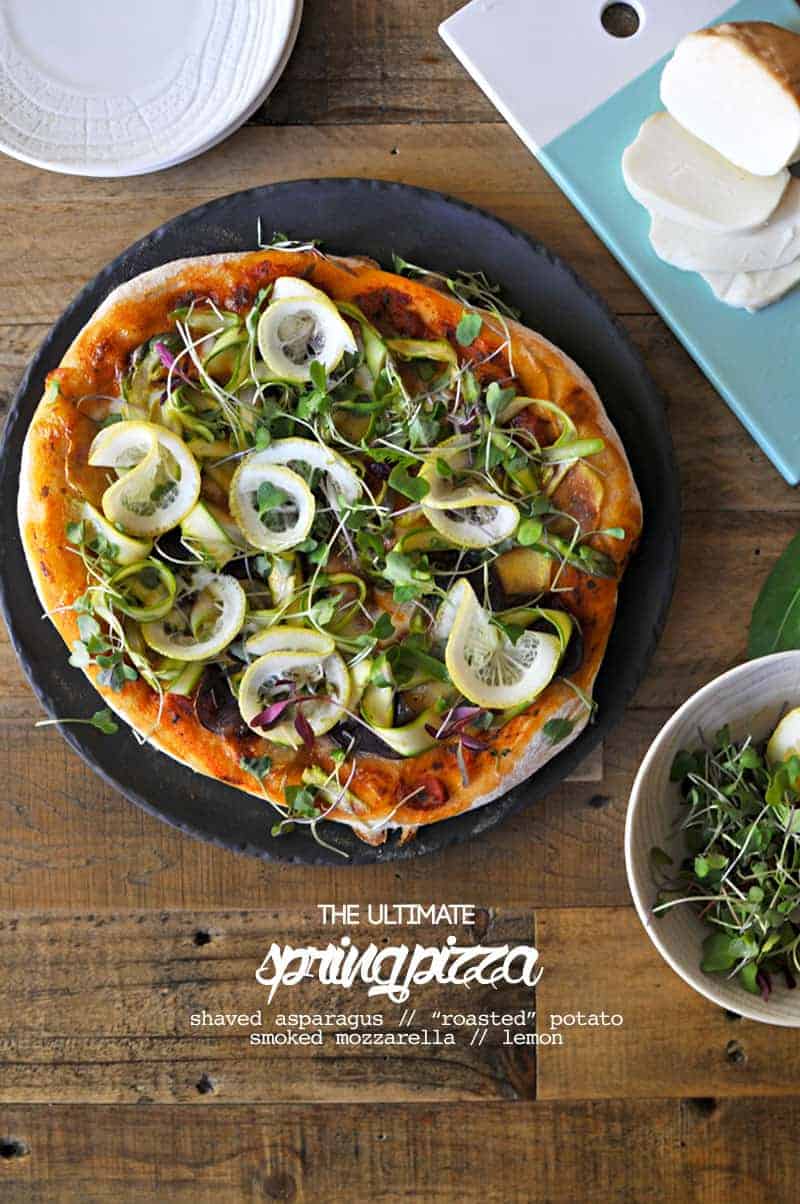 So, let's talk about pizza. We are on a SERIOUS pizza making kick over here (complete with baby pizzas for baby babies!) and this, guys and gals, is the hot diggy that kicked it all off. With a base of smoked mozz and potatoes and a scattering of lemony asparagus and, uh, lemonier lemons, it's both springy and comfy and bright and zippy and it's got that whole hot-pizza-adorned-with-cold-toppings thing going on that I really, really enjoy. And, bonus, it's ready in under half an hour, which I also really enjoy. In fact, there's very little I don't enjoy about this pizza (anypizza), TBH. Except, perhaps, trying to get things in and out of a 500-degree oven when there's a tiny being clinging to your pantleg. But what's life without a little risk?
Speaking of risk, those of you out there who have been following along for the past eleven months will note that this pizza — like many of its tasty brethren — does not fit into my dairy-free sentencing. It was a sensory experiment, let's call it, much like the baking soda volcano from your grade school days, and, sadly, with similar eruptions from the small one. So here we are again, on the wagon and positively foaming at the mouth for the cheese this pizza promises anyone but me.
But I digress.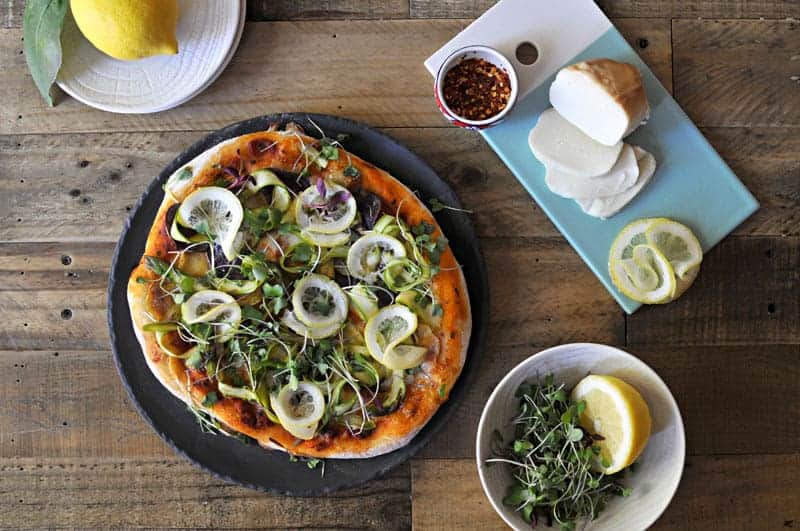 The key to making pizza at home that doesn't, well, suck (I KNOW there are a few of you out there who looked at this and thought YES! But homemade pizza is never that good…) is using a baking surface that tolerates heat well and then getting said surface as.hot.as.freaking.possible BEFORE the dough goes down. A baking stone or steel will work wonders — or at the very least, a sheet pan that'll get ripping hot. Pop it into your cold oven and bring the whole thing up to temp as high as possible. For most home ovens, that's somewhere in the 500F-550F range, but if your oven gets hotter, embrace that fi-yah.
Or that e-leck-tri-ci-tay.
You know.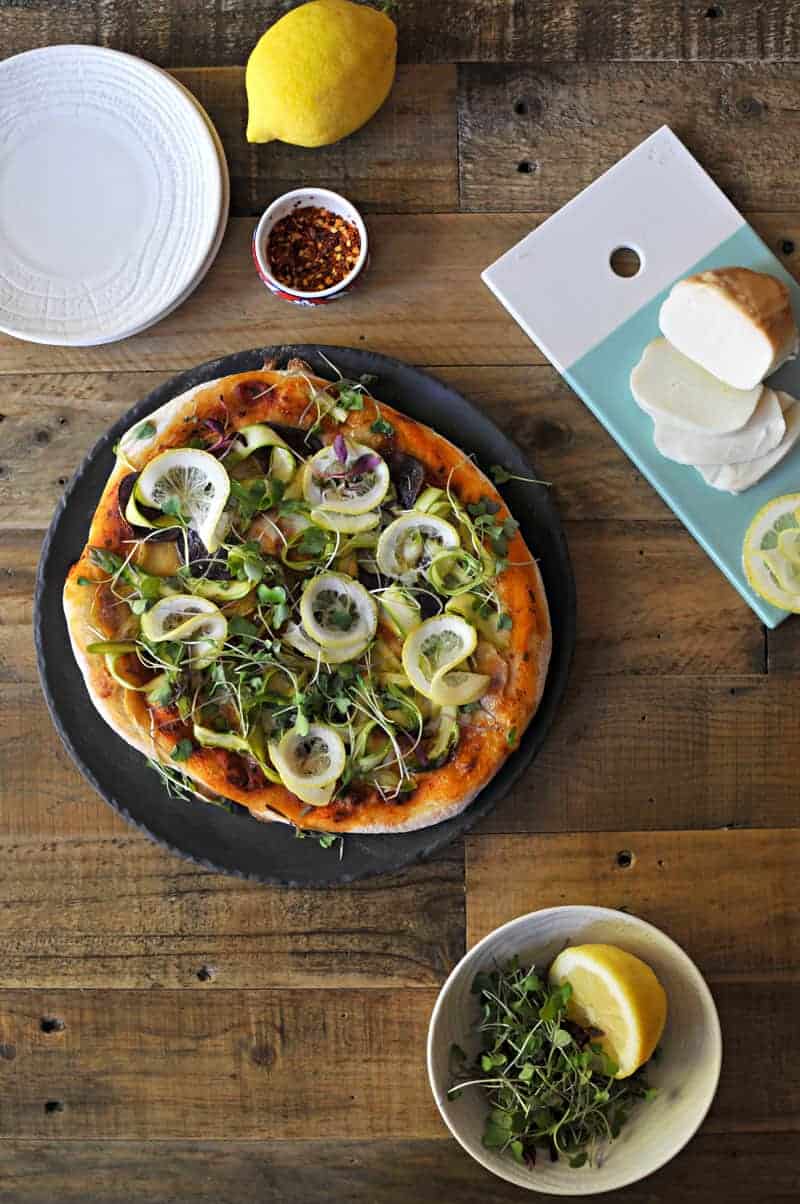 For this pizza — and likely all future pizzas ever to be made in my home — I used the slate-like French porcelain baking stone from Revol that is pictured in these photos. Yeah, that thing that the pizza is on is freaking porcelain. Crazy, no? It withstands super high baking temps, is dishwasher safe, turns out a perfectly crisp-chewy crust at home, and is kinda portion-perfect for what I would consider to be a generously personal-sized pizza. I'm also quite taken with pretty much every Revol product I've gotten my hands on of late. Those little white plates with a decidedly arboresque thing going on? They're just the ideal size for serving up a slice or plating a Lana-sized lunch. (See their companion serving bowls in this post, here. Stunning, right?) Plus that whole woodland charm thing just feeds my fantasy of being a real life Snow White. And since I've trained Lana to come thumping along at the sound of my singing voice, I'm pretty much living the dream.
Revol was founded in France in 1768 and, to this day, remains one of the few porcelain makers in the world to make their own clay. (Um, hi, how cool is that? I'm not sure I even knew clay was something that you made. Pretty sure I thought it was, like, mined from the earth or something…) Each piece is crafted using a combination of cutting-edge production technology and generations old hand finishing techniques, resulting in heirloom quality collections that boast surprising durability and artisanal cachet. I'm fairly certain I'd give almost anything to check out the factory in person, but in the meantime, shopping their new US e-commerce site Revol1768.com will just have to do.*
* Real talk: yes, this is a sponsored post, but I'm honestly That Smitten. Skim this manifesto (skip all the way to the little numbered part at the bottom if you're short on time) and you will be, too. Such cool stuff, guys.
Ok, I'm off to wrap up the details for someone's very first birthday this week (SERIOUSLY HOW DID THAT HAPPENNN), which I'll most definitely talk more about soon. Until then, hope everyone is having a most delightful humpday. Pizza party on, folks!
xo,
Em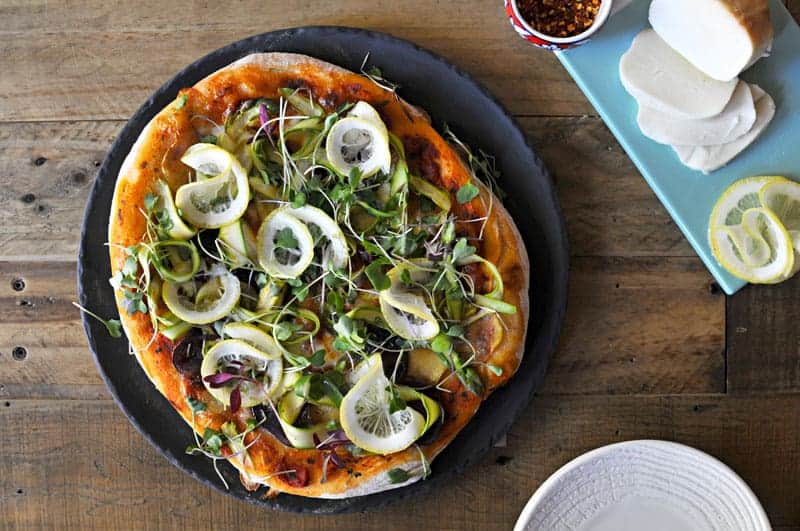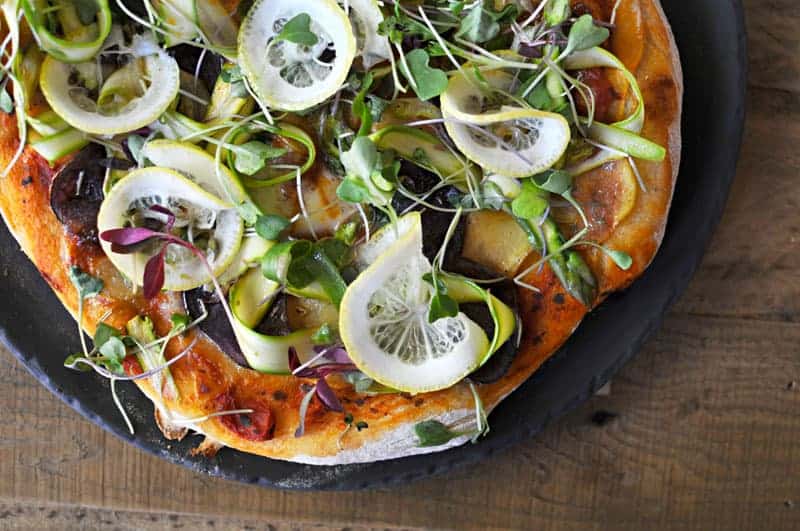 This post is sponsored by Revol, who provided the gorgeous French porcelain pieces you see here. (Yes, even that "slate" pizza stone is porcelain!) As always, I only support partners whose products and practices complement those employed in The Pig & Quill kitchen. Thanks for supporting the brands that help keep this piggy cooking!

the ultimate spring pizza // shaved asparagus, roasted potato, smoked mozz + lemon
Ingredients
½ lb pizza dough
2 baby potatoes, sliced paper thin (I used this mandoline slicer)
½ tsp dried rosemary, crushed
¼ - ½ cup prepared pizza or marinara sauce
4 oz smoked fresh mozzarella, thinly sliced
3 stalks asparagus
1 lemon
olive oil, salt, pepper
micro greens, for serving
crushed aleppo pepper, for serving
Instructions
Turn dough out onto lightly floured cutting board or rolling surface and bring to room temperature. Place pizza stone or baking sheet in cold oven and preheat to 550F.
Meanwhile, prep your fixins: 1) Combine sliced potatoes with a drizzle of olive oil, salt, pepper and rosemary in a small bowl. 2) Using a veggie peeler, thinly shave asparagus into ribbons and toss with juice from half the lemon. 3) Slice remaining half lemon paper thin. 4) Roll or stretch dough into a 12" round.
When oven is preheated, carefully remove baking stone or sheet and quickly arrange dough on surface. Top with pizza or marinara sauce to taste; brush edges with olive oil, if desired. Arrange sliced mozzarella and potatoes in an even layer over top. Bake for 10-12 minutes or until crust is puffed and deeply browned on edges.
Remove from oven and top with shaved asparagus, sliced lemons, micro greens and aleppo pepper. Allow to cool slightly before slicing and serving. Enjoy!
Notes
After much trial and error, I've found that the key to getting a thin, crisp crust at home is preheating your baking surface with your oven and getting it nearly as hot as it will go. We love this
porcelain pizza stone
from Revol 1768, which is perfectly sized for baking and serving a pizza that serves one generously (or two with a salad on the side).
This is also one of the very rare instances that I bust out my
mandoline slicer
, which allows you to get the potatoes thin enough to cook through in the time it takes for the pizza to bake -- and the paper-thin lemon slices are as refreshing as they are pretty. Trust me on this.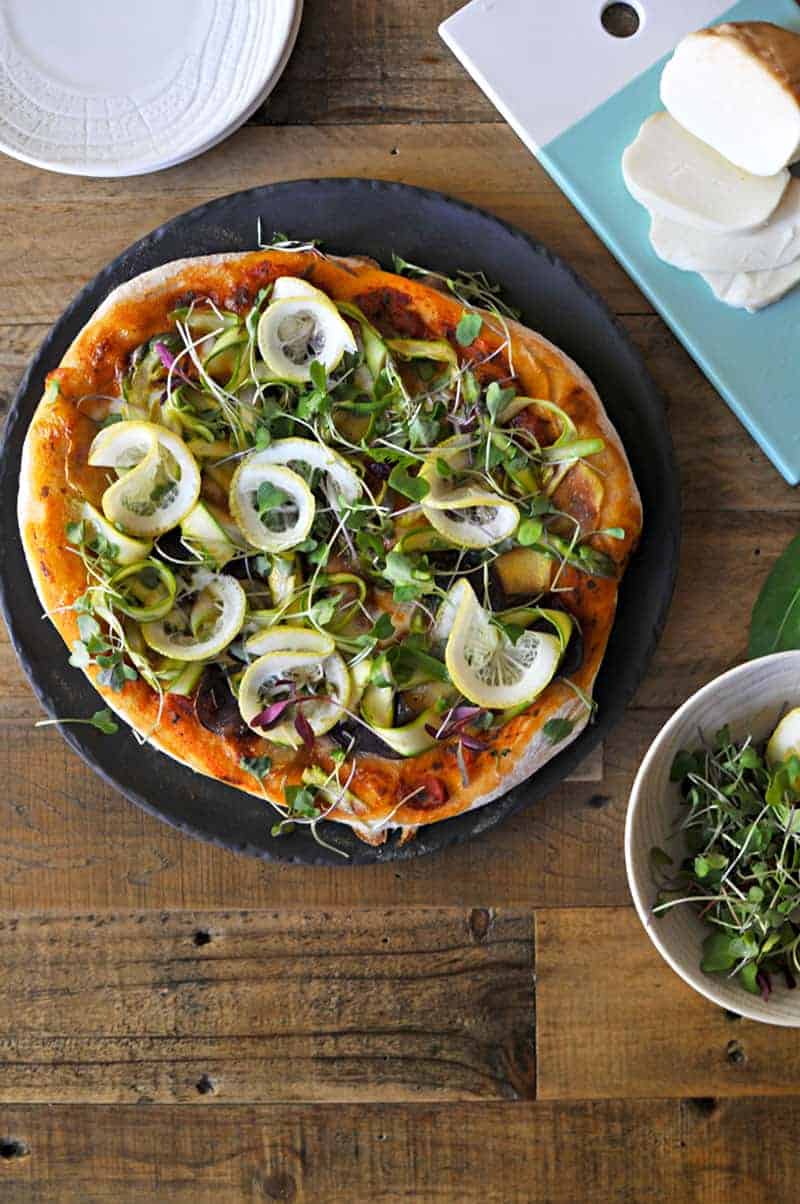 ————————————————–
OH! before you go…
Like whatcha see here — or have a question, feedback, or recipe hack to share? Join The Pig & Quill convo by commenting below (I love, luv, lurve comments) and hang out with me on Facebook, Twitter, Instagram and Pinterest. And don't forget to subscribe to P&Q emails or add me to your RSS reader with Feedly or Bloglovin' so you never miss a post. x's & o's!