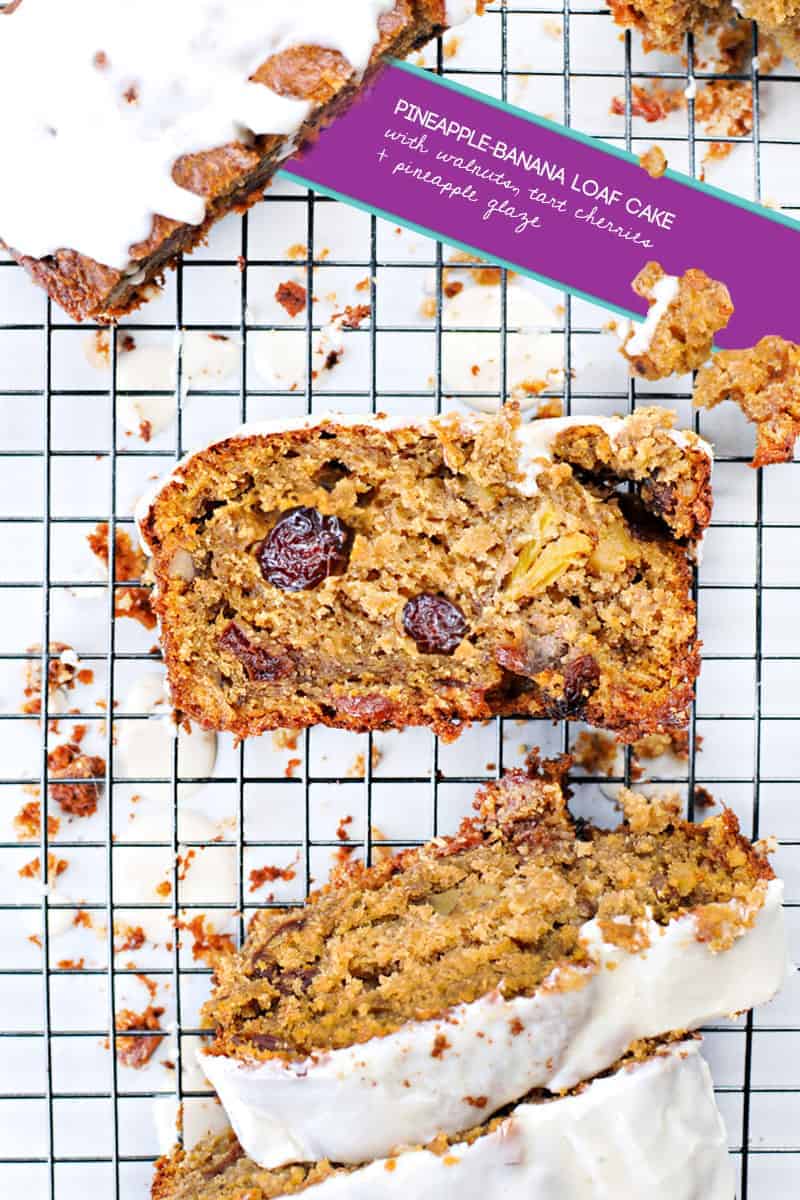 The past couple of weeks have been such a whirlwind. I know I allude to something of that nature every few posts or so, but I'm not sure I've ever experienced time moving at quite this rate of speed before. Isn't there some convention that pregnancy flies by until you hit the last month or so and then everything suddenly stills while you wait…and wait…and wait…?
I can tell you, I'm closing in on that last month, and I'm not sure there will ever be enough days between today and the day to tick all the boxes on all the lists.
Waaah.
One of the lists I've almost-barely-but-not-really managed to get under control is the meal prep and planning 'majiggy I put together for our first few weeks back at home with the wee one. I'm thinking I'll give you guys the quickie rundown either this week or next, but the main idea is to stock the freezer and pantry with a variety of meals that can come together with next to zero effort when we're fighting the battles of cloth diapers and fatigue. Variety, I'm figuring, is key — so we've got a couple of casseroleish things and a couple of egg dishes. Some hand-held wrappy-foods. My favorite soups.
And, just for good measure, a couple of sweets that can be easily thawed and enjoyed as breakfast treats or afternoon snacks when gleeful hoards of baby-snugglers come a'knockin'.
Like this cake, which happily represents the long-awaited demise of those god awful bananas that kept threatening to blacken a toenail every time I opened the freezer door. Take that, ye killer fruits!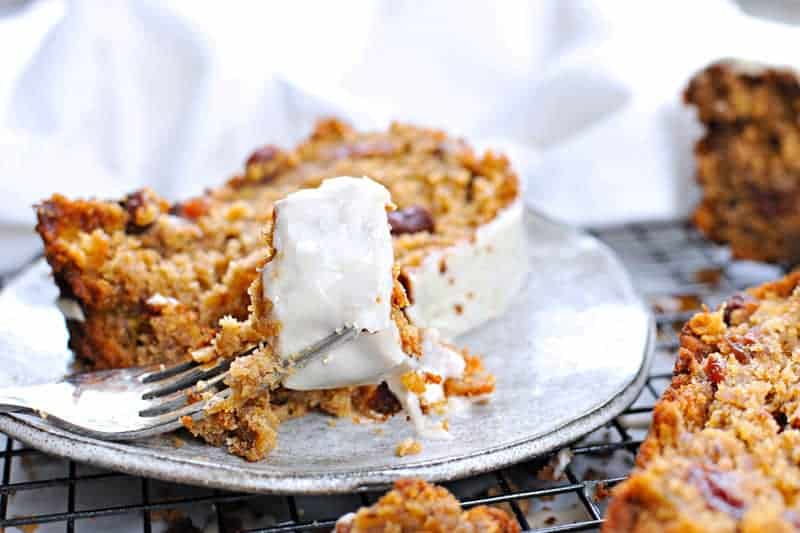 While some might argue that this could be more classically described as a quick bread (much like your typical banana iteration), one skim of the ingredient list (fresh pineapple! sweet-tart cherries that plump in the oven! confectioner's glaaaze!) proves it's a closer relative of dessert, so I'ma call it like I see it and go with loaf cake. Elegant, right? And, hey — it works for Starbuck's. One wonders how many fewer slabs of that signature golden, iced lemon loaf cake they'd sell from their bakery cases if they started marketing them as plain ol' lemon (more like laaaame-on) bread.
Does one wonder that?
Am I the only one that wonders?
Are you one-dering when I'm going to make a Oneders pun and start quoting That Thing You Do?
Give me some credit, guys.
I….
…I quit.
(*runs away*)
I promptly glazed and devoured the first of the two loaves that this recipe makes — and then wrapped the second (unglazed) cake up in parchment, cling wrap and heavy-duty foil before popping it in the freezer for future nibbling.
We'll see if it survives the wait.
Lots of loaf!
xo,
Em
p.s. happy 10 years of love and laughs to my one and only! ♥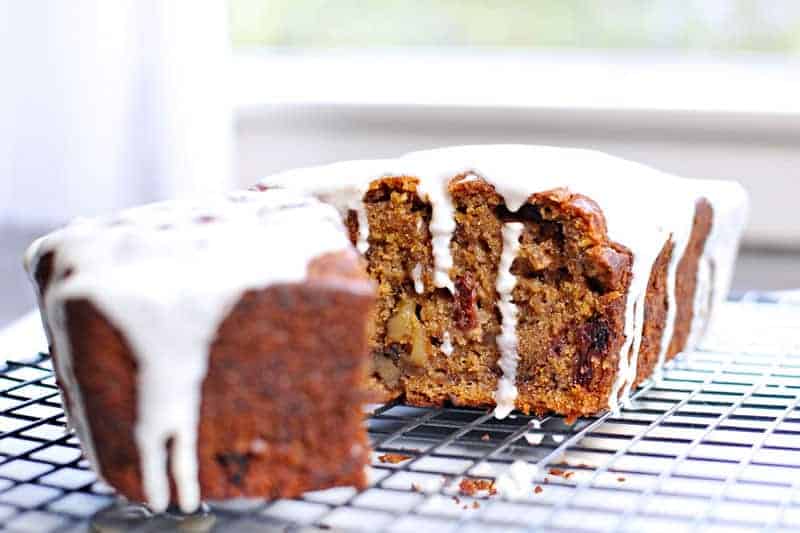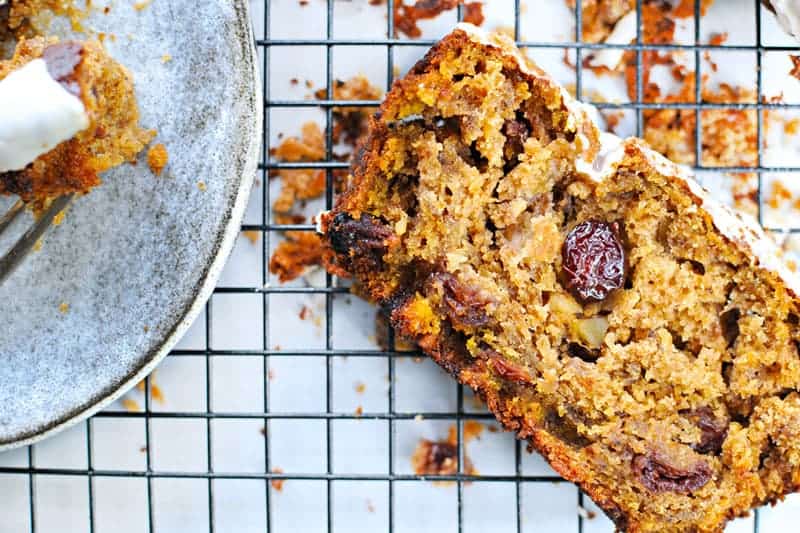 glazed pineapple-banana loaf cake with walnuts + cherries
Ingredients
For the Cake:
3 cups flour
1.5 cups coconut sugar
1 tsp sea salt
1 tsp baking soda
1 tsp cinnamon
3 eggs
1¼ cups cooking oil
2 tsp vanilla
1¼ cup fresh pineapple, (about ½ fresh pineapple, cut into chunks, pulsed until coarsely chopped and lightly drained - reserve juice!)
1¼ cups mashed very ripe bananas (about 4-5 bananas -- I use frozen and thawed bananas that end up ultra gloopy and sweet)
1 cup walnuts, chopped
1 cup dried tart cherries
For the Icing/Glaze:
1 cup confectioner's sugar
reserved pineapple juice
Instructions
Preheat oven to 350F. Grease two loaf pans with melted butter or oil.
In a large bowl, combine flour, sugar, salt, baking soda and cinnamon.
In a separate bowl, combine, eggs, oil, vanilla, bananas and pineapple.
Stir wet ingredients into dry ingredients until just moistened. Fold in walnuts and cherries.
Divide batter between loaf pans and bake for 60-65 mins or until an inserted toothpick comes out clean. Cool on wire racks before removing from pans.
To make glaze: gradually stir pineapple juice into confectioner's sugar one teaspoon at a time until you reach desired consistency (less juice for a firmer, spreadable glaze; more for a drizzle-able glaze). Pour or spread glaze over cooled cake and enjoy!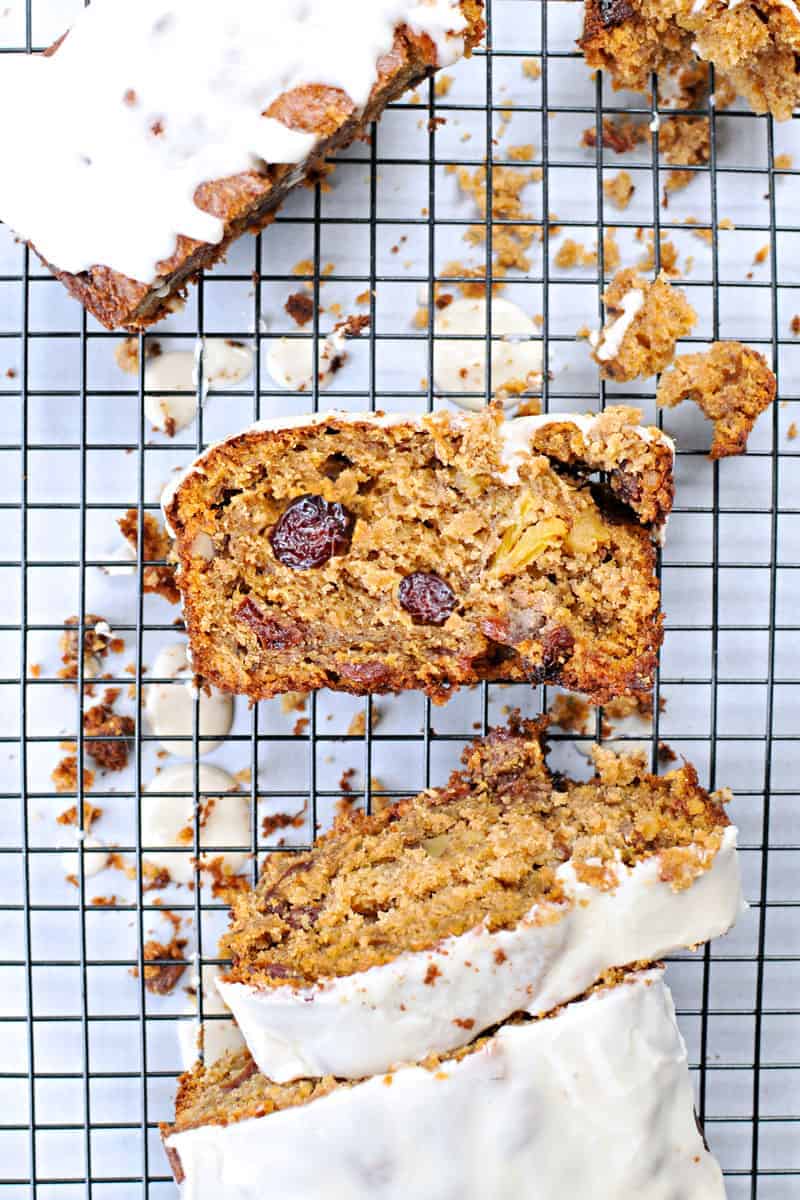 ————————————————–
OH! before you go…
Like whatcha see here — or have a question, feedback, or recipe hack to share? Join The Pig & Quill convo by commenting below (I love, luv, lurve comments) and hang out with me on Facebook, Twitter, Instagram and Pinterest. And don't forget to subscribe to P&Q emails or add me to your RSS reader with Feedly or Bloglovin' so you never miss a post. x's &