glazed pineapple-banana loaf cake with walnuts + cherries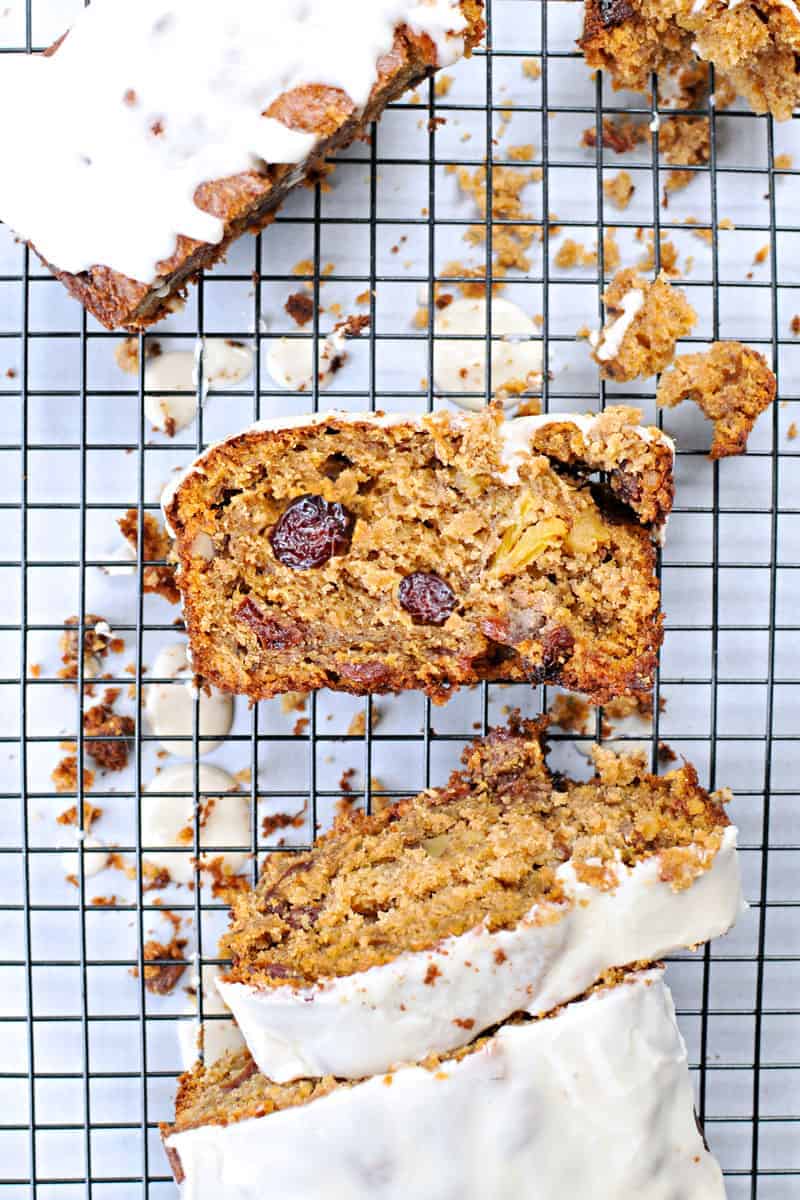 For the Cake:
3 cups flour
1.5 cups coconut sugar
1 tsp sea salt
1 tsp baking soda
1 tsp cinnamon
3 eggs
1¼ cups cooking oil
2 tsp vanilla
1¼ cup fresh pineapple, (about ½ fresh pineapple, cut into chunks, pulsed until coarsely chopped and lightly drained - reserve juice!)
1¼ cups mashed very ripe bananas (about 4-5 bananas -- I use frozen and thawed bananas that end up ultra gloopy and sweet)
1 cup walnuts, chopped
1 cup dried tart cherries
For the Icing/Glaze:
1 cup confectioner's sugar
reserved pineapple juice
Preheat oven to 350F. Grease two loaf pans with melted butter or oil.
In a large bowl, combine flour, sugar, salt, baking soda and cinnamon.
In a separate bowl, combine, eggs, oil, vanilla, bananas and pineapple.
Stir wet ingredients into dry ingredients until just moistened. Fold in walnuts and cherries.
Divide batter between loaf pans and bake for 60-65 mins or until an inserted toothpick comes out clean. Cool on wire racks before removing from pans.
To make glaze: gradually stir pineapple juice into confectioner's sugar one teaspoon at a time until you reach desired consistency (less juice for a firmer, spreadable glaze; more for a drizzle-able glaze). Pour or spread glaze over cooled cake and enjoy!
Recipe by
the pig & quill
at https://thepigandquill.com/glazed-pineapple-banana-loaf-cake-with-walnuts-cherries/