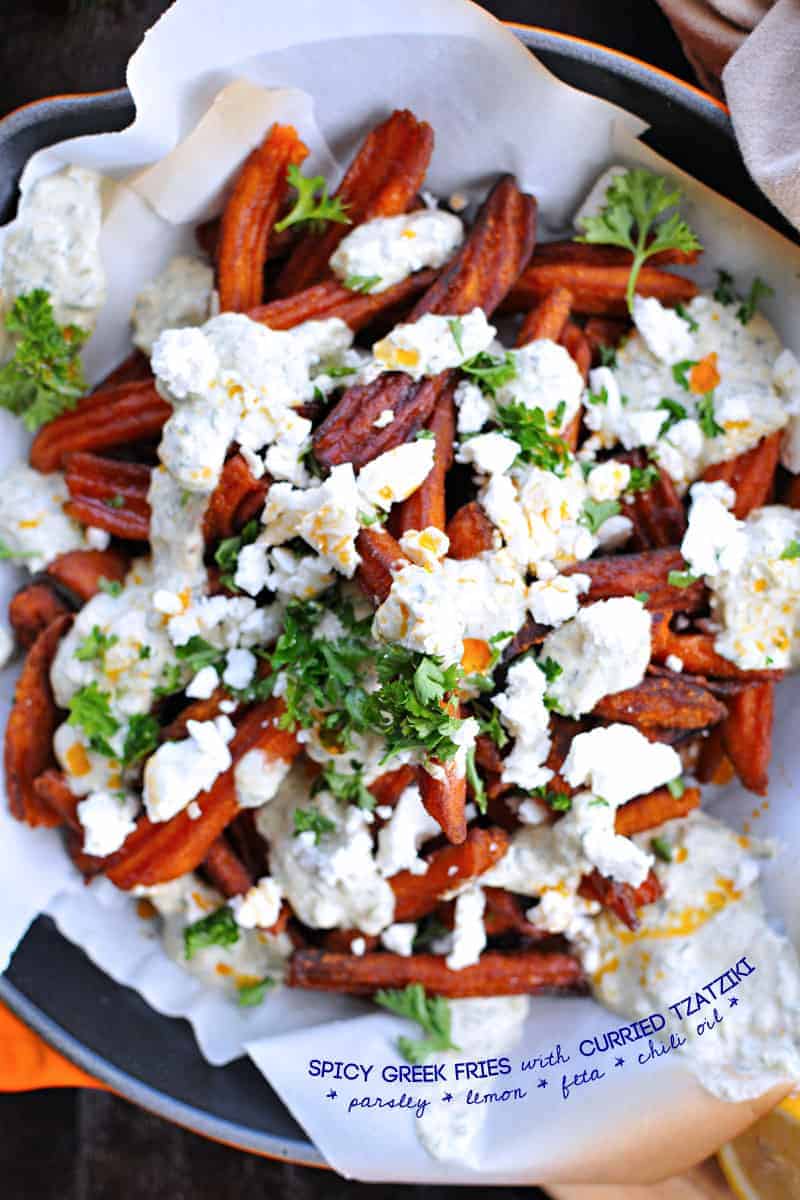 Just a shortie today because I've got roughly three weeks of freezer meals calling out to be labeled and organized and tetris'd into a spot that was previously occupied by six frozen 'naners. Which have now become two ginormous loaves of pineapple-banana loaf cake, also headed for the freezer.
Systems are failing.
(PS – Do you guys have any interest in the whole freezer food game plan? Mehbeh I'll do a little posty-post about how it's all coming together and then a Part Deux when it all gets cooked up for countless post-baby dins and inevitably falls miserably apart. Is that completely, totally boring? Comtotesboringo? Snoresville? Lemme know.)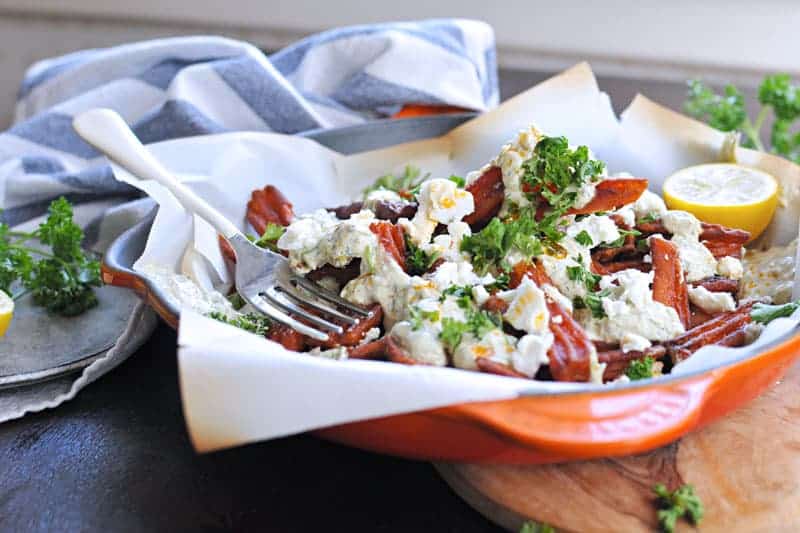 This past weekend Chris and I had a small non-shower at the corner bar chock fulla beers and burgers and chicken strips and cuppycakes and exactly zero games and it was awesome. We're so lucky to be surrounded by friends that have truly become our second family — and as only children, it's so comforting to know that our little babes will grow up with more honorary aunties and uncles than she can count. (Well I mean, when she can count, she'll be able to count them, but I'ma keep things low-presh…)
In addition to lots of sage wisdom and belly chuckles, we left the shower positively rich with leftovers — including pounds upon pounds of the crispiest, pubbiest sweet potato fries. Generously cut and perfectly crinkled, they were just begging to be (re)crisped up in the oven and dressed in their best attire for an event I like to call: humpday hangry. Wherein I eat all the fries. All on my own. On a Wednesday. And call it lunch.
If your cup doesn't happen to runneth over with 19 takeout boxes from the local bar, not to fear. This recipe (which is more about the toppings, after all — ummm, hello curried tzatziki!!!) works just as well with a batch of homemade sweet potato fries or a bag of your favorite frozen variety.
Happy snacking!
xo,
Em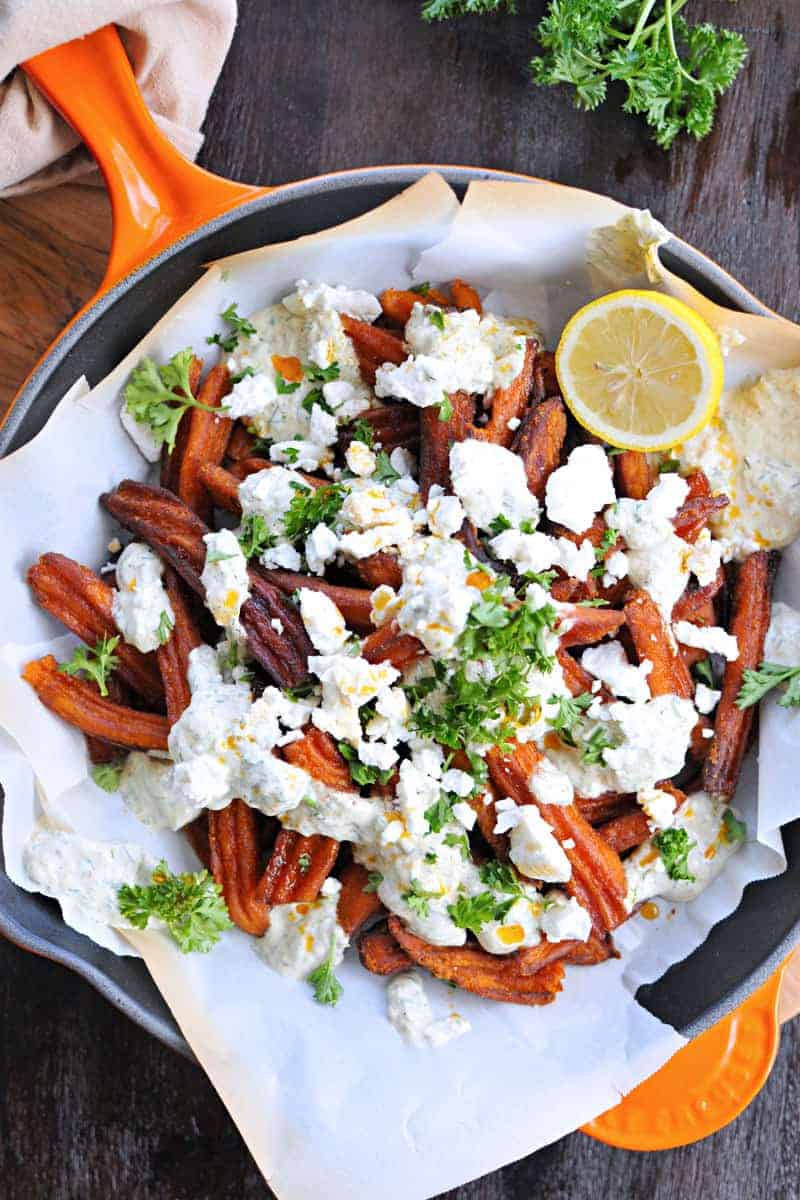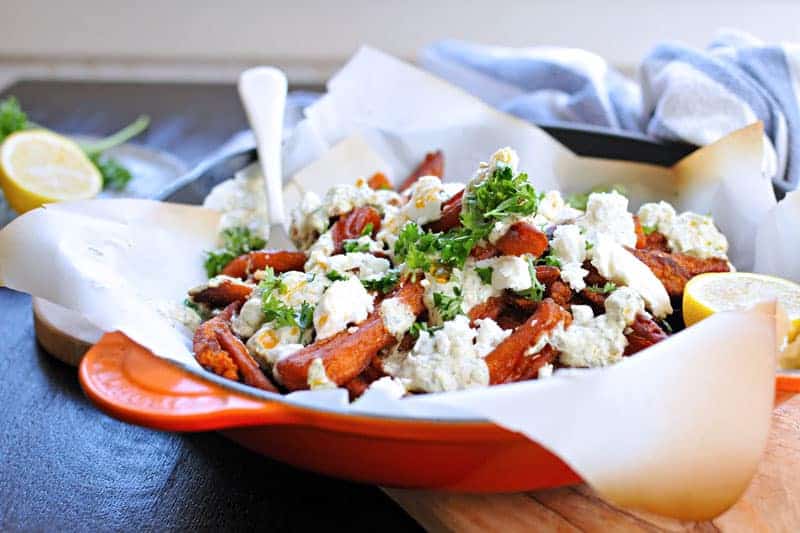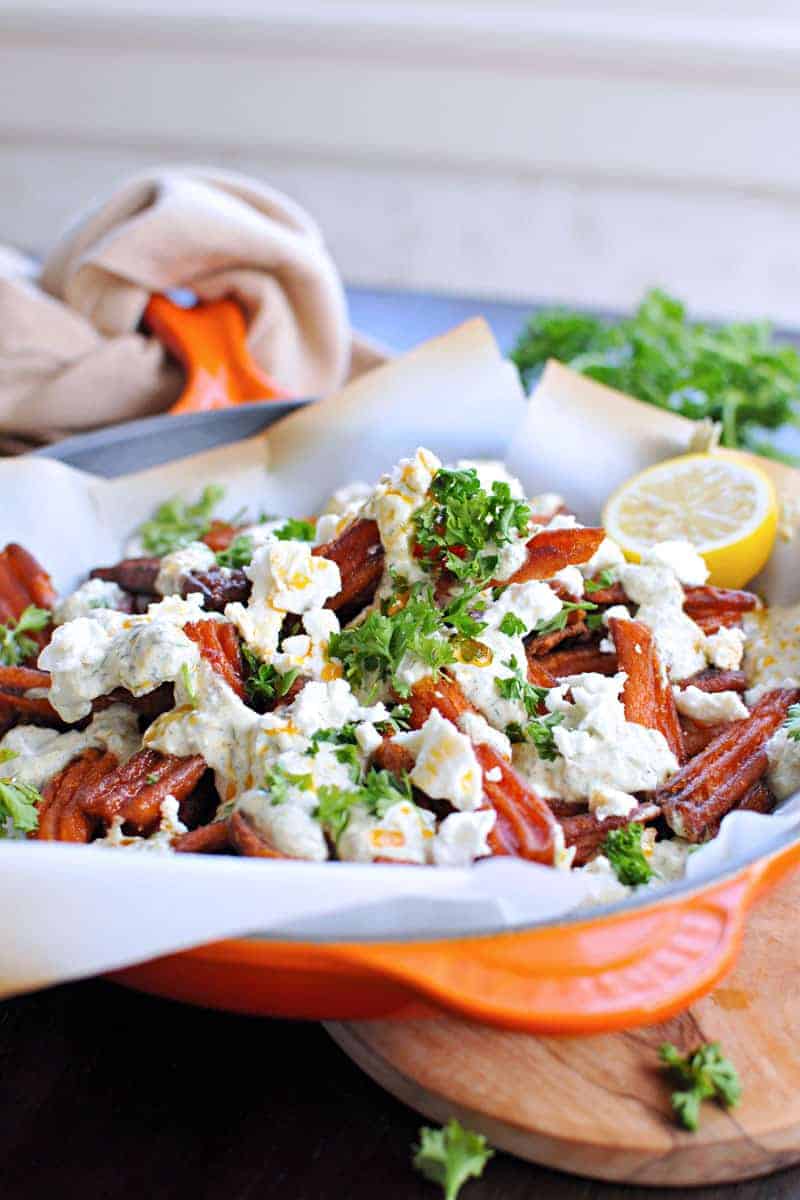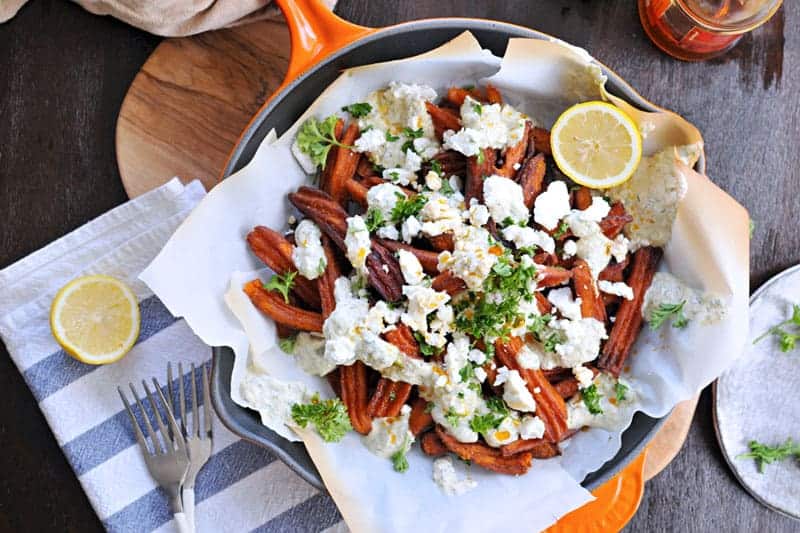 greek sweet potato fries with curried tzatziki (GF)
Ingredients
1 tsp hot curry powder
1 cup Greek yogurt (I used 0%)
½ English cucumber, seeded and very finely shredded
1 large clove garlic, very finely minced or microplaned
1 T lemon juice (or more, to taste -- plus extra for serving)
1 tsp dried dill (or 2 T fresh, chopped)
½ tsp sea salt
freshly ground black pepper
1 lb freshly prepared sweet potato fries (see note)
crumbled feta cheese
chopped parsley
hot chili oil
Instructions
To make the tzatziki sauce, toast the curry powder in a small, dry skillet over medium heat until nutty and fragrant, about 1-2 mins. Do not let spices burn. Combine spices with yogurt, cucumber, garlic, lemon juice, dill and salt. Season with pepper to taste. Adjust for more lemon juice, if needed.
Serve fries topped generously with sauce, feta, chopped parsley, lemon juice and a drizzle of chili oil. Enjoy!
Notes
There are too many good recipes for sweet potato fries out there, so I'll leave it up to you to find your favorite -- I happen to like
Sherrie's
use of cornstarch to create a crisp, seasoned-fry crust that is oh-so tasty! Store-bought, frozen sweet potato fries are a lovely option, too. Either way, the toppings are really what takes them over the top!
The cook time for this recipe assumes your fries are ready to go. If you're making the fries from scratch (or heating a frozen batch), you'll want to account for another 20-45 mins cooking time.
————————————————–
OH! before you go…
Like whatcha see here — or have a question, feedback, or recipe hack to share? Join The Pig & Quill convo by commenting below (I love, luv, lurve comments) and hang out with me on Facebook, Twitter, Instagram and Pinterest. And don't forget to subscribe to P&Q emails or add me to your RSS reader with Feedly or Bloglovin' so you never miss a post. x's & o's!