We have friends in town this weekend. And you know what friends in town means.
Swiffering the hair off the bathroom floor.
And also: brunch!
Now that we've awkwardly linked hair and food and I've lost a good number of readers, let's the rest of us delve a little more into the brunch thing. From my (clearly very chaotic) point of view, brunch is the king of mealtimes for a numbers of reasons.
A) It's a hybrid word. Maybe the first ever. In fact, yes, I'm pretty sure linguistic anthropologists would tell you that back in the day, like when dudes-with-beards-and-leather-sandals-were-cool-Round-One, the hippest of bearded dudes woke up a little late one morn and slurred his hungry ass right into brunch. And then decided to make it a thing, which is totally warranted. Because it's the Brangelina of meals. And just try to compete with that.
2) It's the only meal of the day when pretty much everything is fair game. Sweet and savory on one table and eggs all around. Syrup on salty and salty on sweet. Fancy flutes of booze. And, if you live in California, the near guarantee of avocados. Schwing.
We've done pan-fried quinoa cakes a few times for supper, but when it comes to brunch, I'm looking for something as fuss-free as possible. And quinoa cakes can be, well, a little fussy. You've got to get the texture just right and they're tricky to form, always threatening to tumble apart into a less-than-elegant quinoa pile if too much or too little pressure is applied when shaping the patty. Your hands end up dotted with all those little quinoas and you freak yourself out because they're actually kind of creepy looking. And then there's the whole gentle flipping thing, which requires a certain amount of restraint.
In short: eww-scray the atties-pay. Let's make a real fuggin' cake.
In goes the quinoa, a heap of spinach, a boatload of savory spice, too much cheese and a few eggs. (It is brunch, after all.) One mixing bowl, one greased Springform pan and 30 minutes later, this is what you've got. NO forming. NO flipping. NO sweat.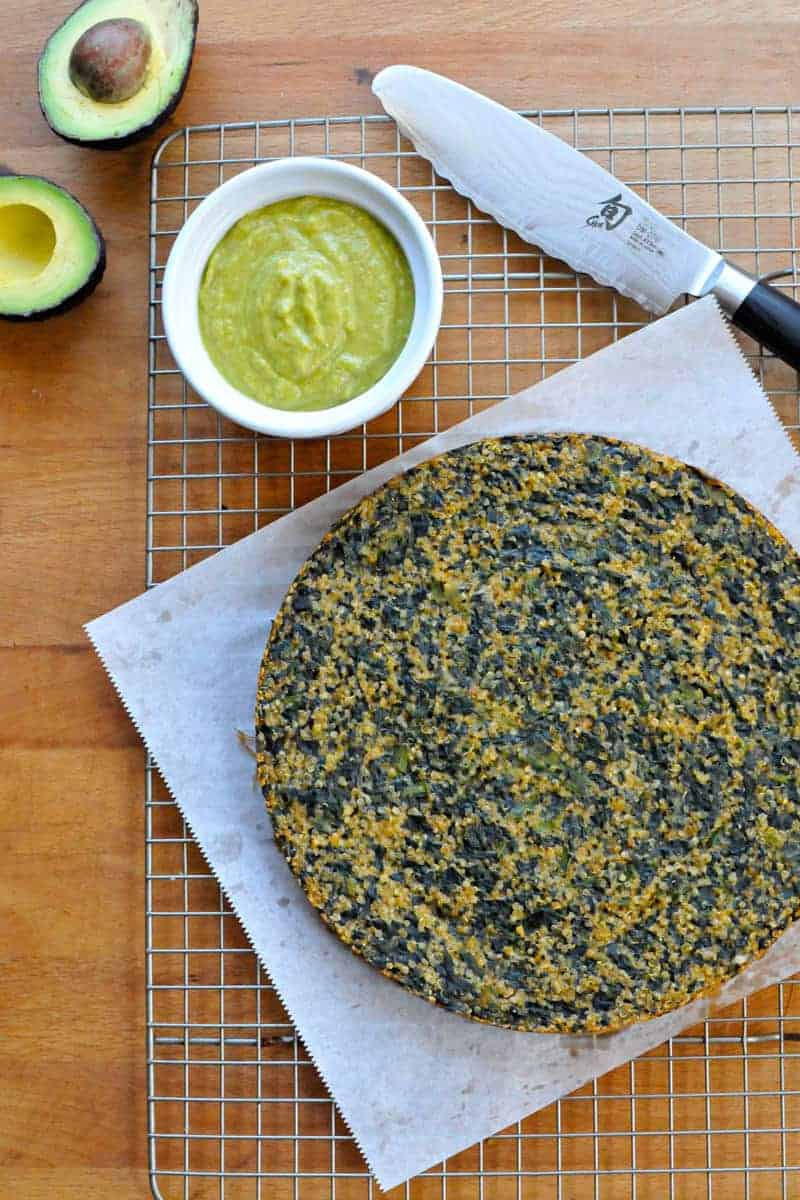 AND, because you've now got this lovely pocket of time during which your cake takes care of itself, you can whip up a fine little topping for your creation. Something along the lines of an avocado whirled with aromatic curry spices and a splash of sweet coconut milk sounds just about perfect. Maybe with a little sautéed onion for oomph. Yep, that'll do pig.
Are you taking in the fierce green color up there, you guys? That's nothing compared to the flavor. It's like India and Thailand had a baby and it was adopted by a couple of gay guys in the Castro. With grilled shrimp or tofu it'd be summer squared. And I'm not going to go as far as to use the word mouthfeel, but OMG the mouthfeel.
Sorry, it couldn't be helped.
So yeah, this quinoa cake (singular) — with its championship ease and velvety blanketing of avocado curry — ranks pretty dern high on my list of super brunchable foods. (Chicken & Waffles may never be dethroned, but deservingly so.) And since it packs up GREAT for leftovers, you don't even need the excuse of "friends in town" to whip it up.
Although having friends in town certainly helps substantiate formal celebration at brunchtime. Which, conveniently, means an A-OK on the morning booze.
As if you needed my approval.
Cheers!
Spinach & Quinoa Cake with Avocado Curry Sauce
By Emily Stoffel
Cook time: 45 mins | Serves 4
Note: Curry powders run the gamut when it comes to heat and flavor. For this recipe, a good, fresh curry powder will payoff tremendously. (Embarrassingly, we just swapped our years-old curry powder for a fresh stock and it's about 90 times better.) If you can stand some heat, the Vindaloo curry from Penzey's is a super delicious balance of fragrance, flavor and fire.
For the Quinoa Cake:

1 tsp coconut oil
1.5 cups cooked quinoa
16 oz frozen chopped spinach, thawed and drained
3 large eggs, beaten
1/2 cup finely grated parm
2 tsp chili powder
1 tsp garlic powder
1/2 tsp salt
dash nutmeg
For the Avocado Curry Sauce:
1 T coconut oil
1 small or 1/2 large sweet onion, finely diced
1/2 tsp salt
1/2 T good curry powder, or more to taste (see note)
1 avocado, lightly mashed
Instructions
Preheat oven to 400F. Lightly grease bottom and sides of Springform pan with coconut oil.
In a large bowl, combine all ingredients quinoa through nutmeg and mix thoroughly. Turn mixture into greased pan and pack down into an even layer using a large spoon or rubber spatula. Set Springform pan on a rimmed baking sheet (or wrap bottom with foil to prevent leaks) and bake in preheated oven for 30 minutes or until edge slightly pulls away from pan, top is golden and center is firm when pressed.
Allow to cool slightly before removing from pan.
Meanwhile, heat 1 T coconut oil in a small saute pan. Add onion and salt and cook several minutes until onions soften slightly. Do not brown. Add curry powder to onions and cook until very fragrant, about 30 seconds.
Turn onions (with all spices) out into a blender or small food processor and add mashed avocado and coconut milk. Process until almost completely smooth. Salt to taste.
Carefully remove quinoa cake from Springform pan using a knife or long spatula to release the bottom, if necessary. Cut into wedges and serve with the avocado curry sauce.