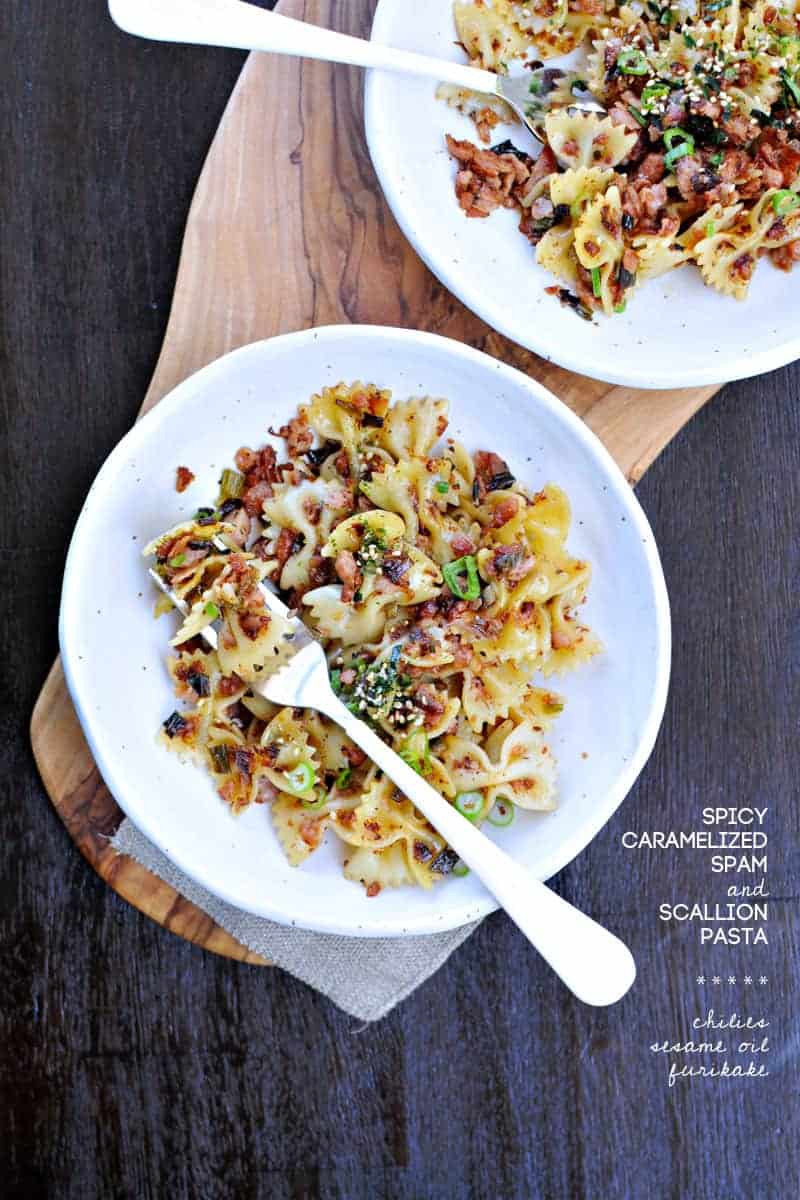 You know those foods you can't help but eat on repeat? Those (often pantry-based) dishes that you come back to again and again, even when the fridge is freshly stocked and the cooler weather is begging you to finally crank the oven and get creative? If you know me, you know I'm talking hot dog sammiches, breakfast for dinner, stick-to-your ribs soup. Yes, soup. Even in the summer I can't get enough.
And this pasta.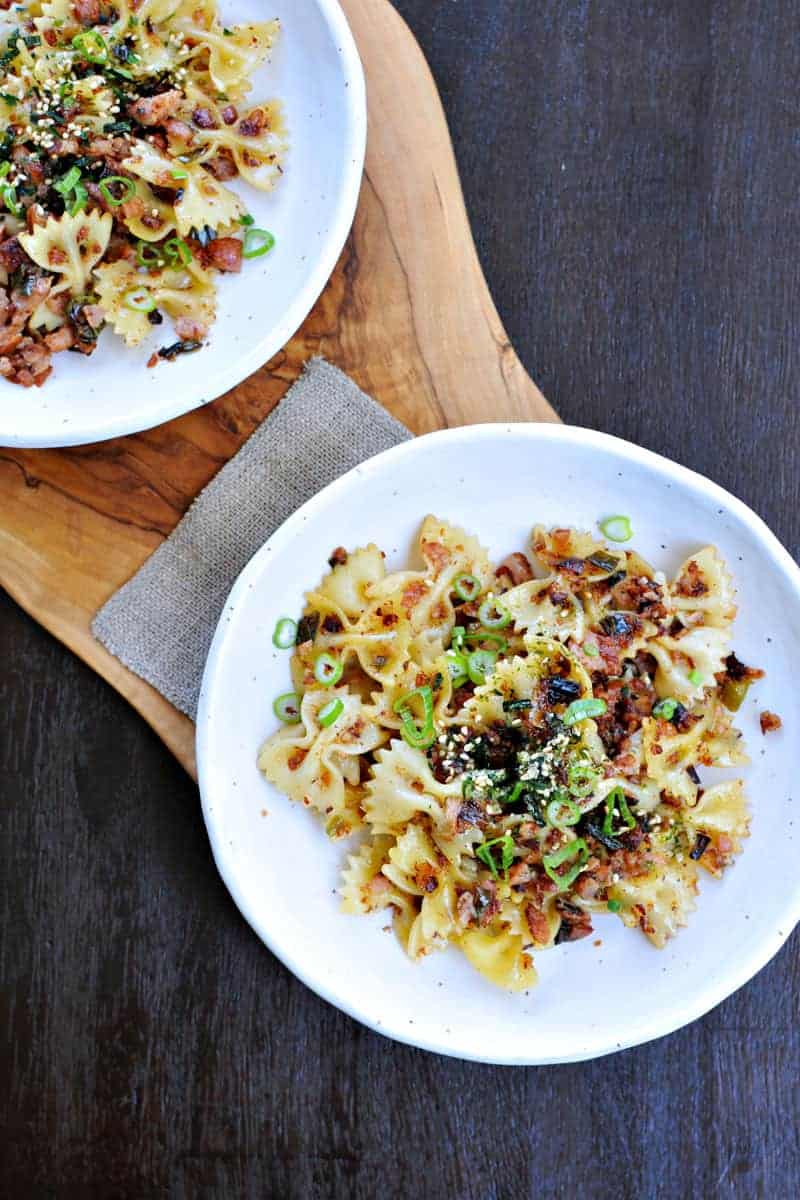 You guysssss, I can't oversell this pasta enough — and trust me, I'm about to try.
It's fast, simple and positively addictive. Topped generously with furikake, it's like musubi married pasta. Married corned beef hash. I LOVE CORNED BEEF HASH. But, like, the glorious, should-be-reserved-for-camping canned kind that you can get all super crispy on the edges. Did I lose you? Are you like, gerl, corned beef hash is not at all where it's at.
If you are, I'ma bet you're also like, gerl, spam is for email filters, not mah mouf!
To which I say: you're wrong. And then I beg of you: let this pasta change your mind. Just…just trust me.
This one time. Because crumbly browned bits is why. Because caramelized. Because it's spam that's been liberated from the limits of its jellied, rectangular, so often misunderstood form.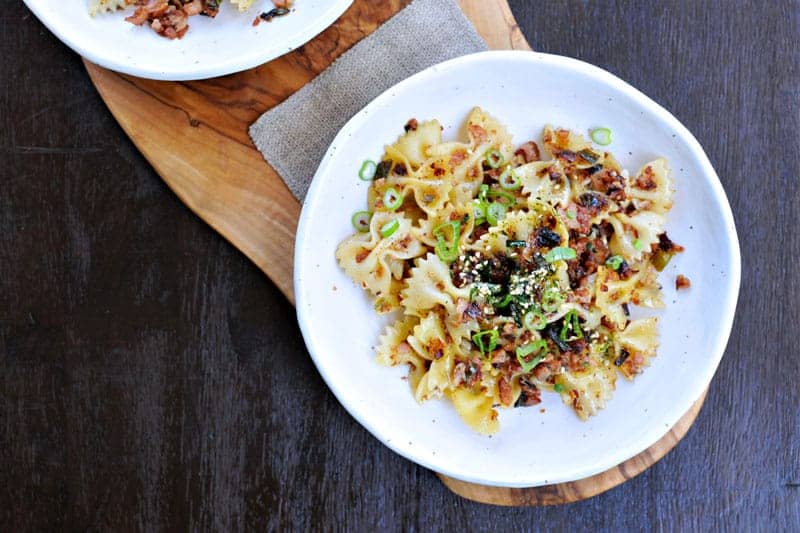 Weirded out by the idea that you're literally mashing canned meat with an implement intended for boiled potatoes? No worries. You'll feel better when we add it to a panful of sharp and sweet scallions. Mine were plucked straight from this week's heaping CSA bounty. Do I get a sick sense of satisfaction mixing farm-fresh green things with tinned food that was surely intended to survive the apocalypse? You betchur cloth-diapered butt I do.
Speaking of Lana, she's so close to giggling I can hardly stand it. I don't know when that shit typically happens, but I can see her trying so hard. Instead, she smiles these huge, gummy grins and coos with such ferocity I think sometimes she surprises even herself. Like, multi-syllabic coos that are no doubt indicative that Chris and I have created a lyrical genius who is prepared to melt America's hearts with her long lashes and Mexicasian allure. We're crossing our fingers she's over this whole spit-up phase by then, but I feel like with those heavenly pipes, people would surely forgive a dribble or two.
Sorry, detour.
Ok, make this pasta, duuuuudes! And then make it again. And most probably again. And bring it to all the potlucks. And then make it one more time.
Get it? On repeat. Because that's how…that's how I, um, started the post…
Yeah, you got it.
K, bye.
xo!
Em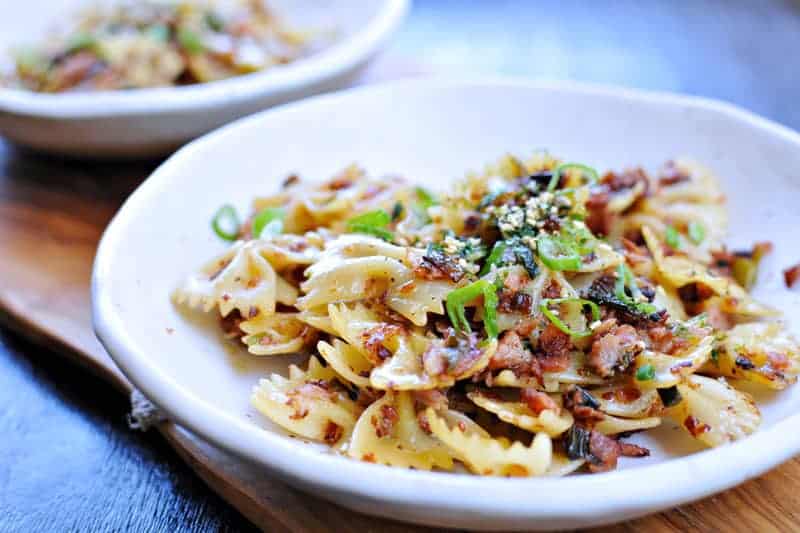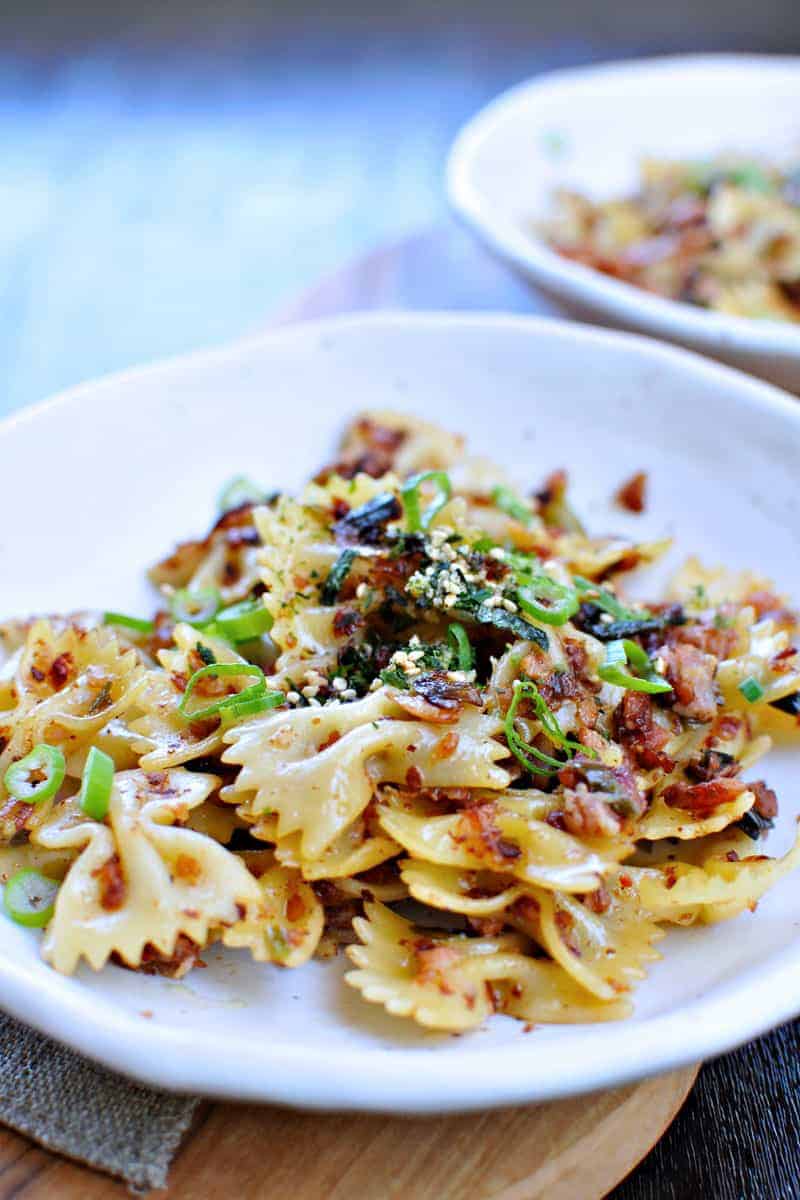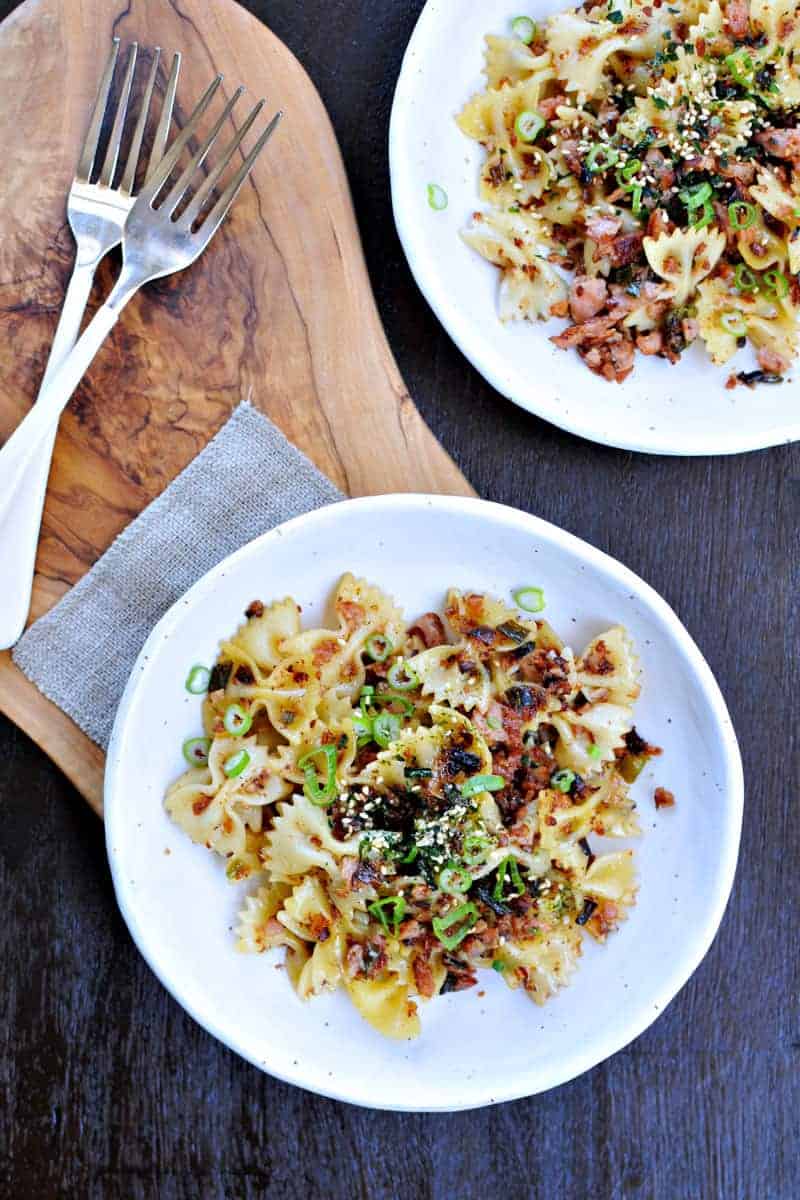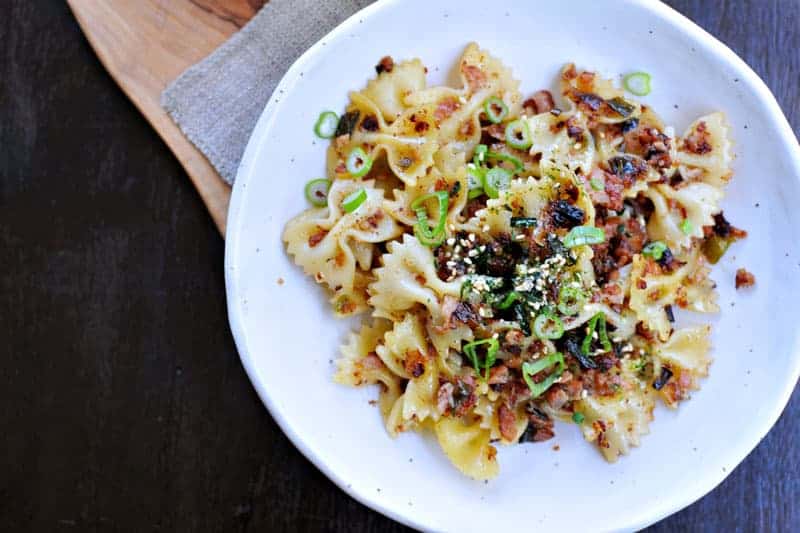 spicy caramelized spam + scallion pasta
Ingredients
2 T butter
small bunch scallions (about 5-6), finely chopped, plus extra for serving
salt and pepper
6 oz (half can) spam
½ T sugar
½ T sesame oil
generous pinch crushed chile flake
hot cooked pasta of your choice (about ⅓ pound precooked weight)
¼ cup reserved pasta cooking water
furikake, for serving
Instructions
Cook pasta until al dente according to package instructions; drain and set aside, reserving ¼ cup cooking water. (I like bow ties for this, but orecchiette would be awesome, too.)
Heat butter in a medium saucepan or Dutch oven over med-high flame until just frothy. Add chopped scallions, season with salt and pepper, and sauté until bright green, 2-3 mins.
Meanwhile mash spam with a potato masher until crumbly (about the texture of ground pork). Add spam, sugar, sesame oil and chile flakes to pan and cook until spam is browned and crisp in places and scallions are deeply golden and caramelized.
Add pasta along with a splash of the reserved cooking water (start with a tablespoon or two -- we're just looking to help things cling together) and cook another minute to allow everything to meld and heat through.
Serve pasta (either piping hot or at room temp) topped with more chopped scallions and plenty of furikake. Enjoy!
Notes
This pasta dish comes together super fast, is ridiculously flavorful (and, ok, a little indulgent) -- and is guaranteed to make even the wariest of eaters a big ol' fan of spam. It's great served piping hot, but I've eaten leftovers enough times to note that it's great at room temp -- or even cold, straight from the fridge -- too, which makes it kinda perfect for picnics of potlucks. Yum!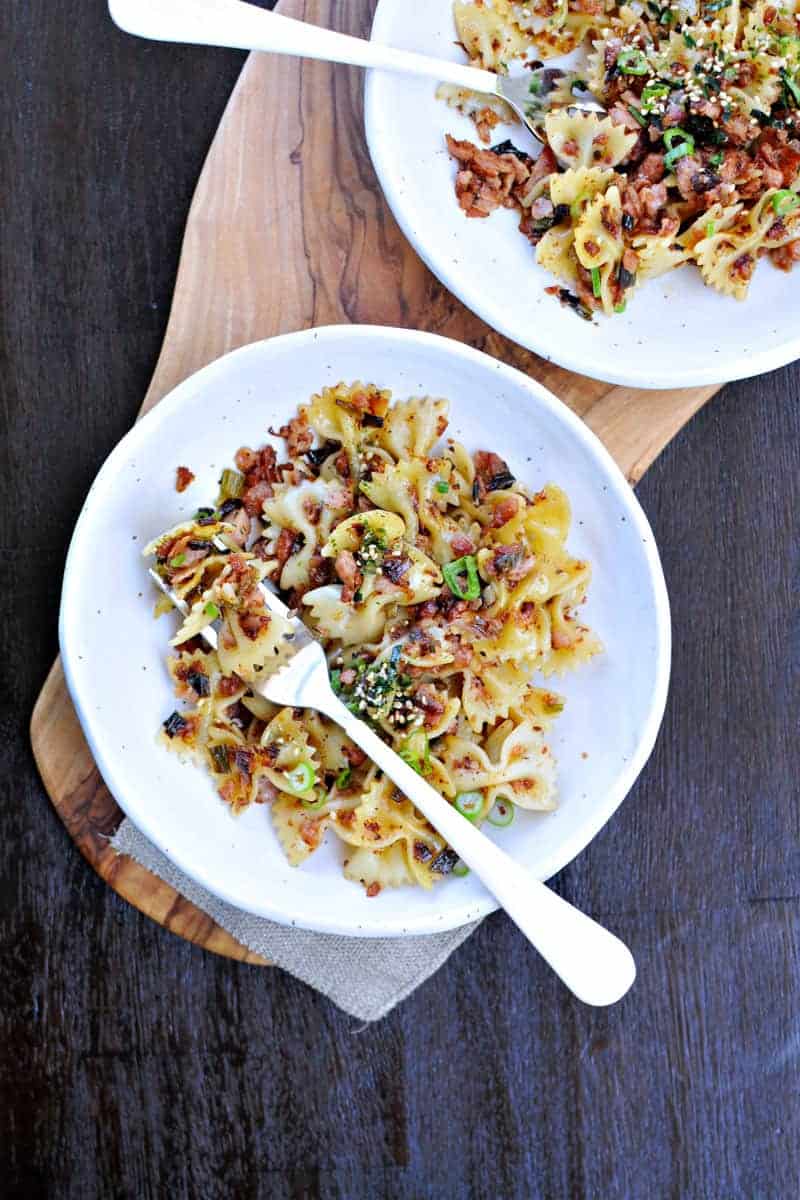 ————————————————–
OH! before you go…
Like whatcha see here — or have a question, feedback, or recipe hack to share? Join The Pig & Quill convo by commenting below (I love, luv, lurve comments) and hang out with me on Facebook, Twitter, Instagram and Pinterest. And don't forget to subscribe to P&Q emails or add me to your RSS reader with Feedly or Bloglovin' so you never miss a post. x's & o's!