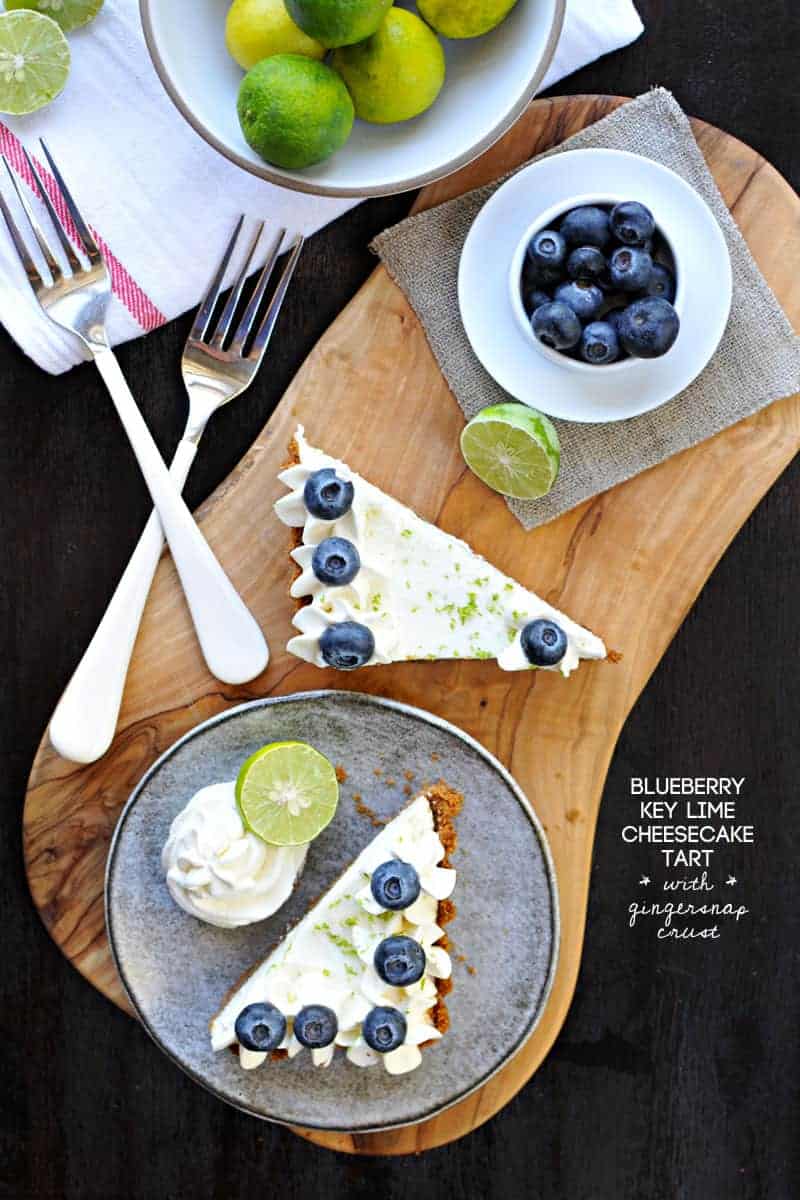 Hi guys! Just a quick one this week because the long weekend beckons! Around here, that means firing up the grill, strolling the streets of the Peninsula's many charming downtowns and farmer's marketing until we can't take it any more. We're also keeping up the tradition of mixing a little Ohio into our 4th of July weekend — although this year, Ohio is coming to us in the form of my bestie, Amanda. It'll be her first time snuggling the bug in person and I have a feeling seeing two of my favorite people ever meet face to face will have this momma's tear ducts in overdrive.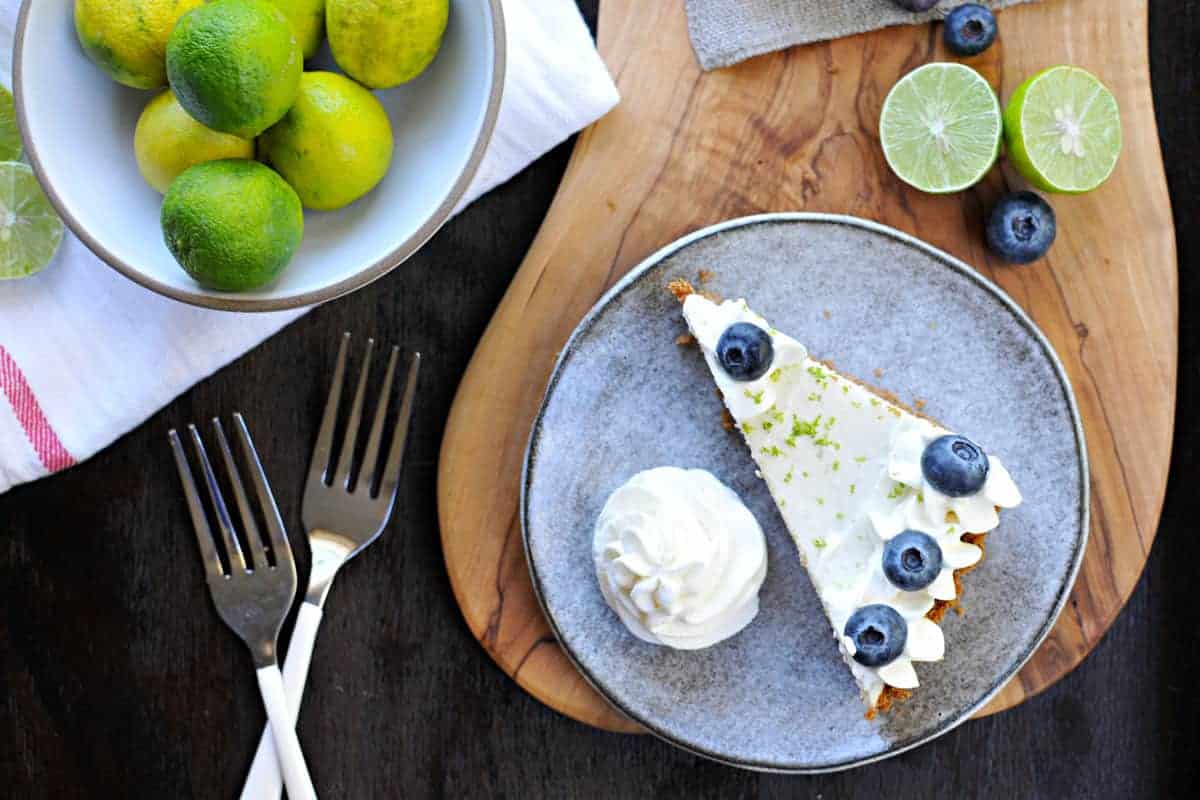 Something else that's got me crying these days is this tart! One, because it's too dang pretty. (And too dang easy! Because I don't make complicated bakenanigans…) And two because I'M OFFICIALLY OFF DAIRY CUE ALL THE SADFACES. At least for the time being. Lana's either got a mean case of reflux or a mean case of dairy aversion. Or a mean case of momma's milk is shooting down her throat like a fire hose and if you were fed with a fire hose you'd have indigestion, too. Yep, it's a thing. It's called "heavy letdown."
Really, it's like you guys actually believe I'm going to stop talking about my boobs around here.
So I'm kinda coping with the latter, but I also decided I'd try cutting out dairy for a few weeks or so to see if things improve. Which means I ate exactly one slice of this 'ere tart before going cold turkey. Fortunately, Chris was up to the task of polishing it off solo. It was his (first!) Father's Day dessert, after all. Errrm, erctually I merd terr Ferrters Derr derrserrrts bert errrm serrving werrrn fer anerrtherrr perrst. Because I love him v much. Or v much times two, I guess.
I jerrrst merrd yerrr rerrd alerrd, didn't I?
Oh, look, I did it again.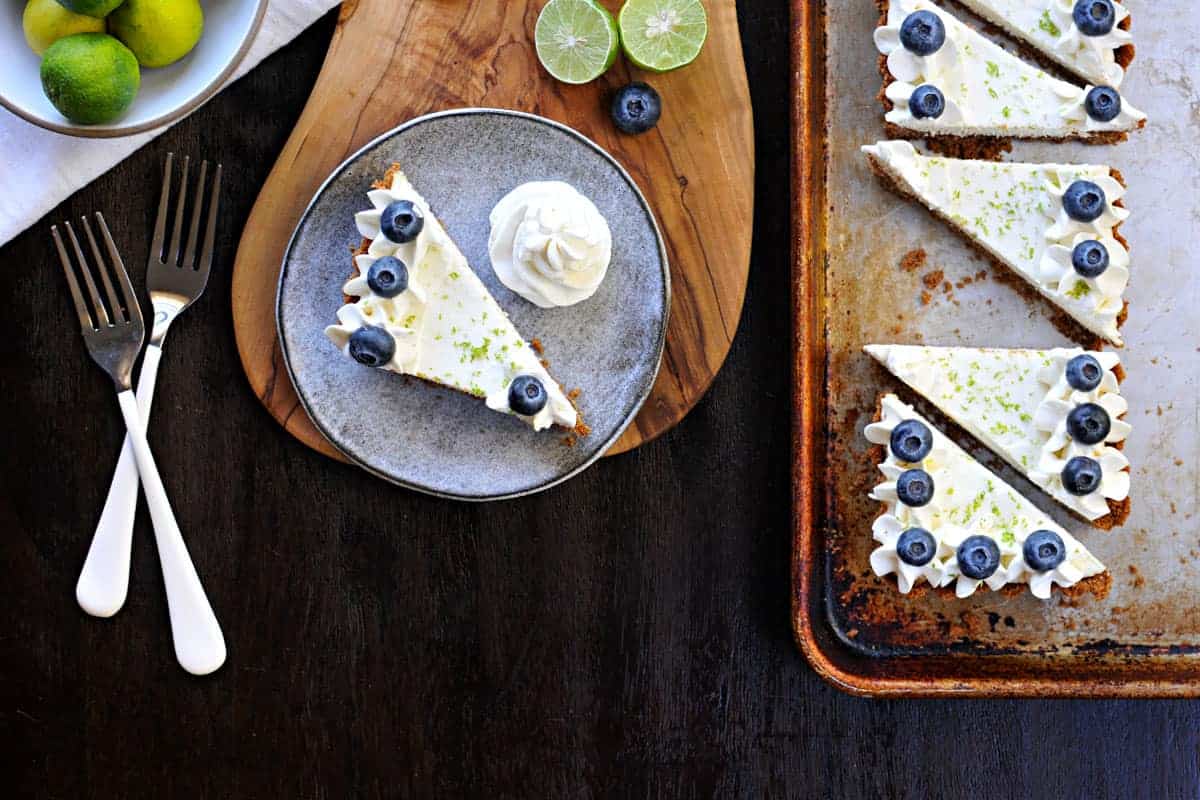 So, as I was saying, I actually sampled very little of this tart — unless you count licking the beaters. And, the bowl. And, uhhh, just spooning heaps of the filling into my mouth while watching Pretty Little Liars. But it's everything you're expecting. Silky and tart and cheesecakey and limey and not at all too sweet. And then there's the slightly salty, caramelized goodness of that gingersnap crumb crust!
And you guys! If you totally paired a few sliced strawbs with these bloobs, it'd be patriotic as hell.
So many wins.
Happy Fourth, friends!
xo,
Em
ps – Are you guys using Yummly yet? If not, it's a nifty way to save recipes from just about any site for later, and I just added a Yum button to the social media sharing section at the bottom of every post. Easy!
pps – If you're not feeling tarty, these little peach hand pies would also be kinda perf for the holiday weekend. I mean, pie. PIE. Yay!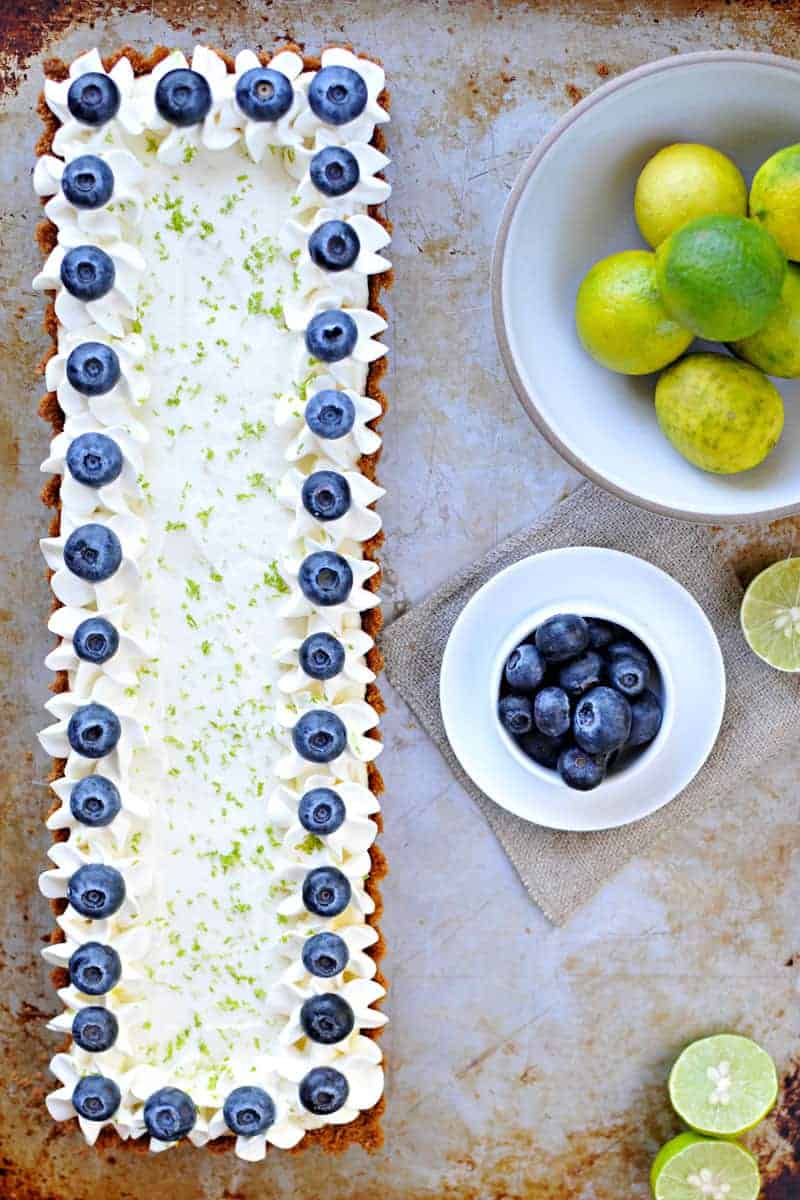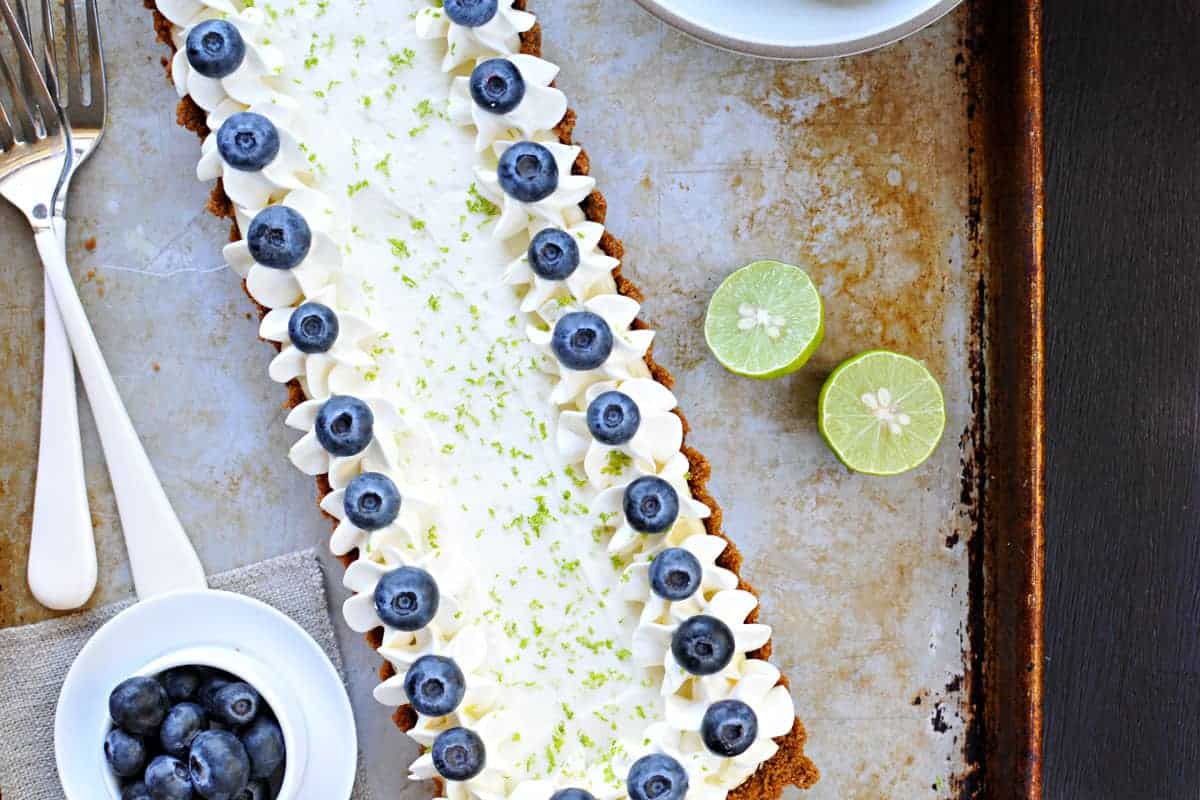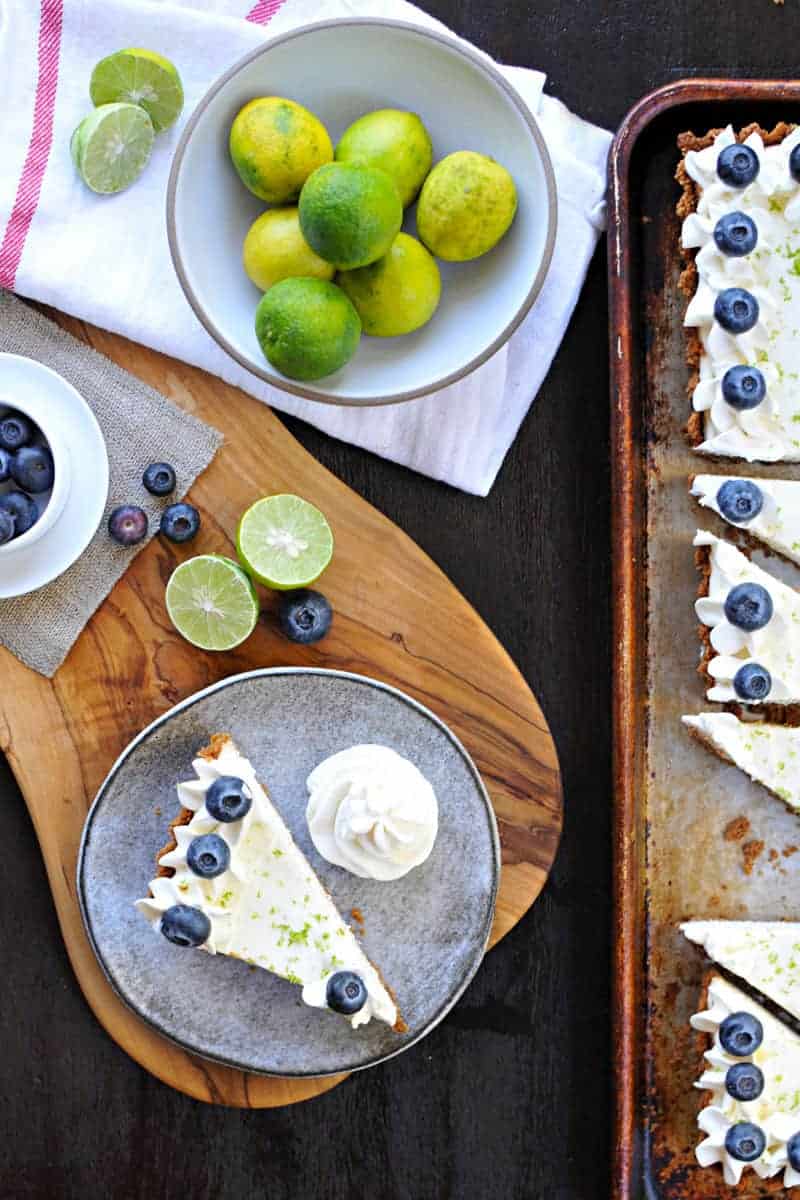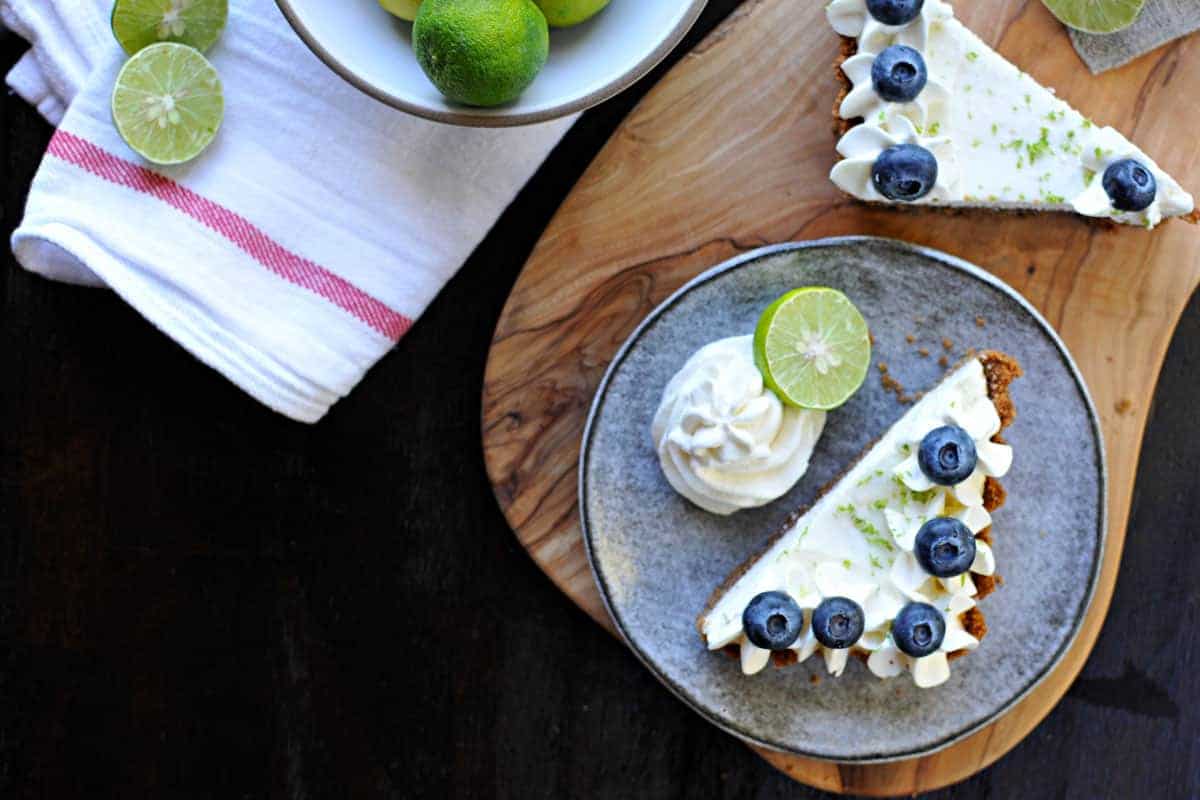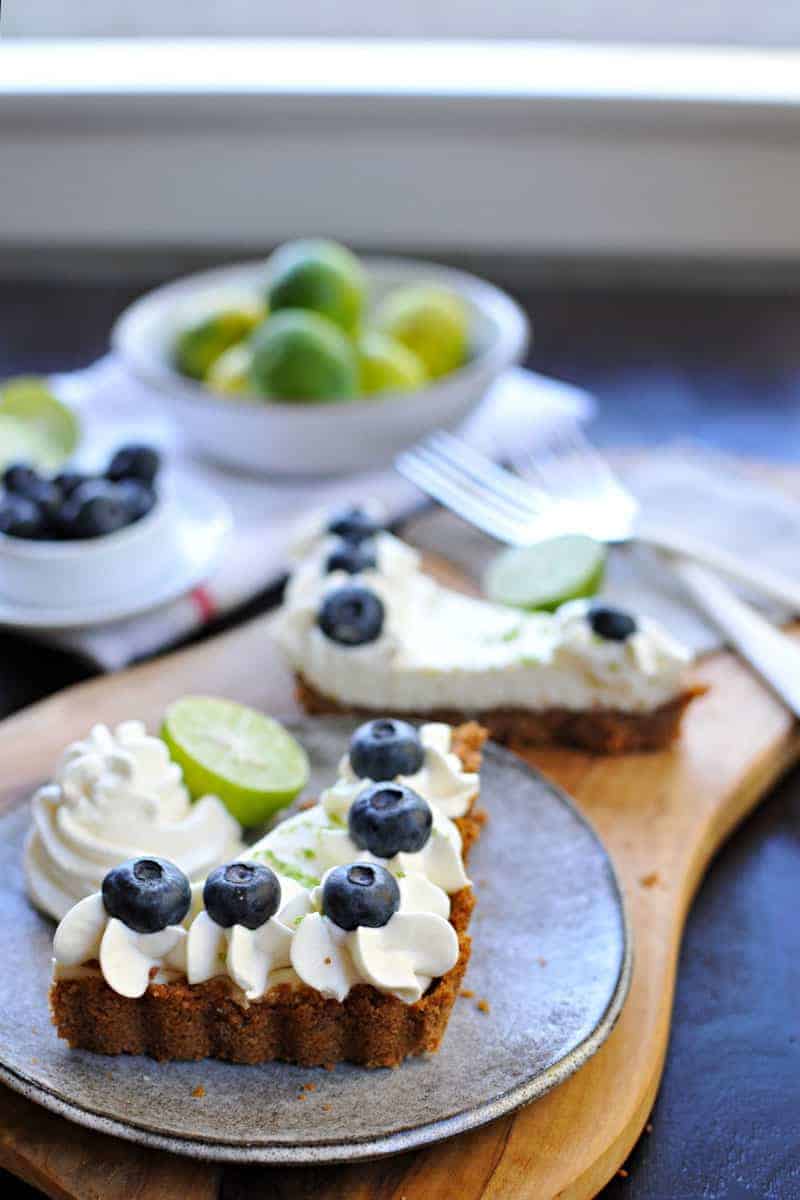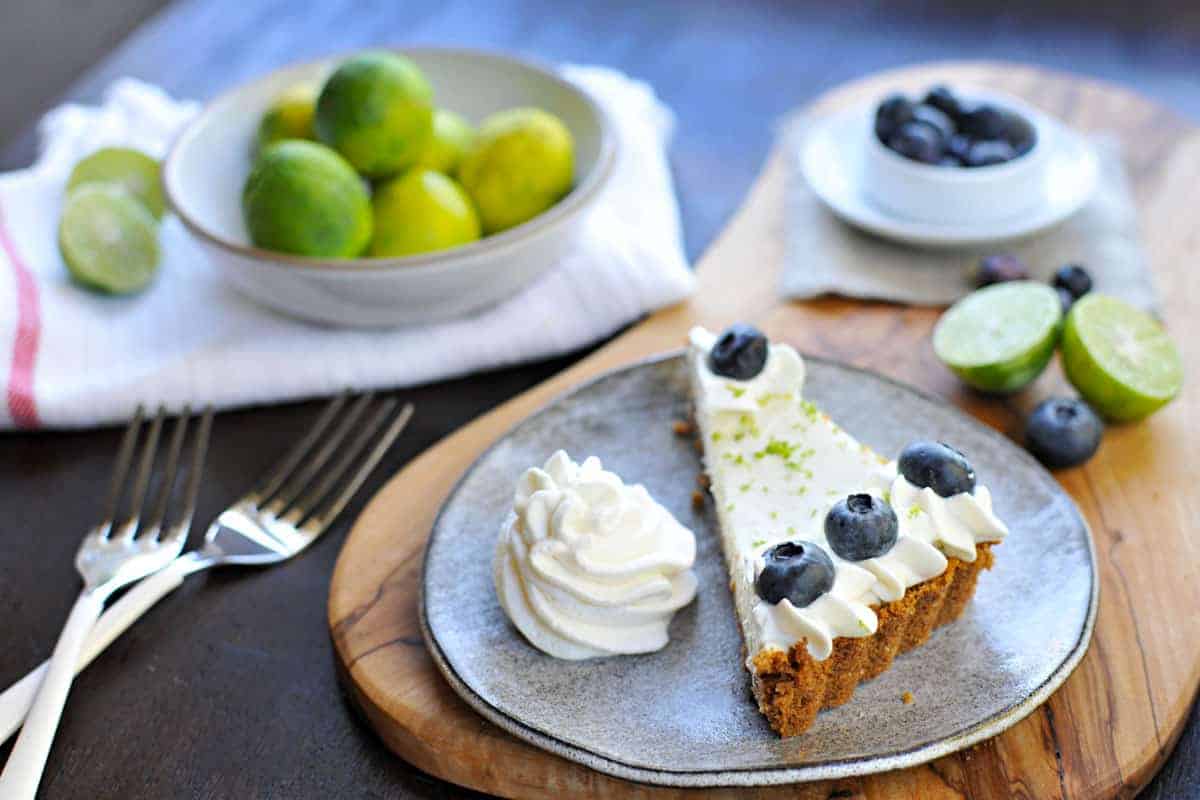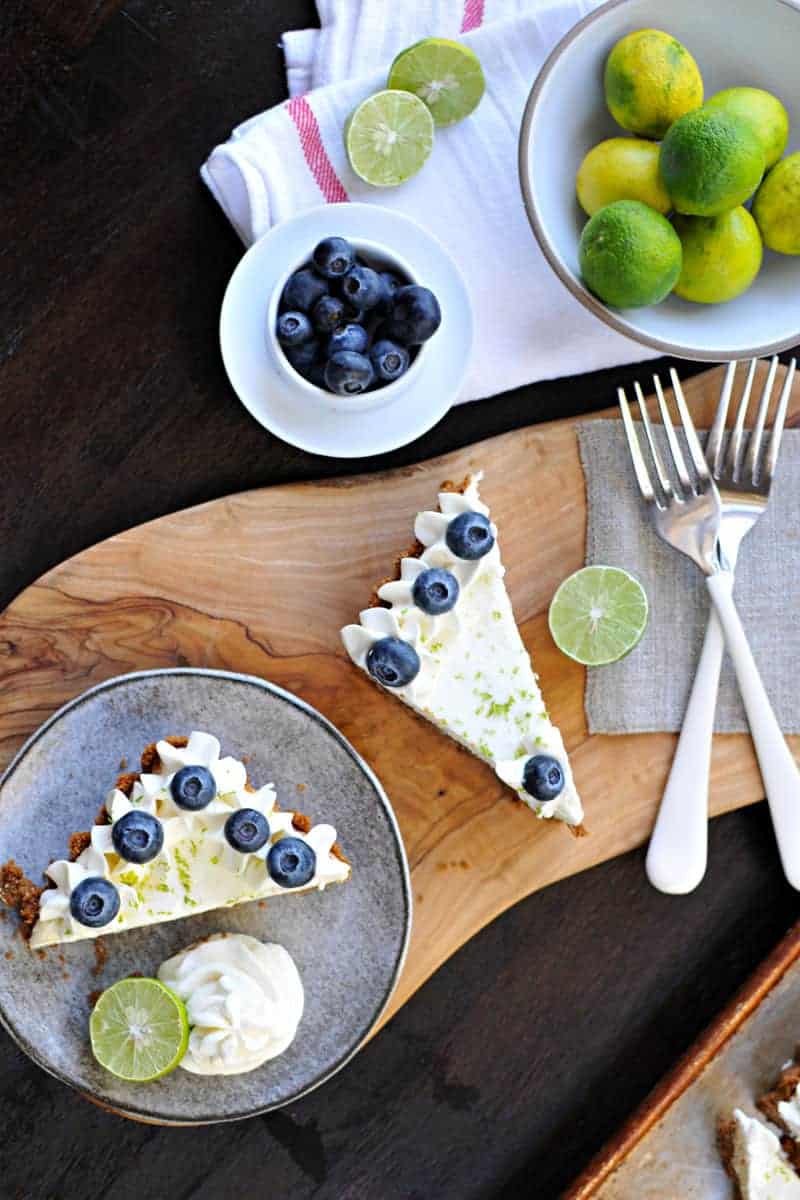 blueberry key lime cheesecake tart with gingersnap crust
Ingredients
1 recipe gingersnap crust (I used this one)
8 oz mascarpone cheese, softened
8 oz cream cheese, softened
½ cup + 2 T powdered sugar, divided
⅓ cup key lime juice (about 8 key limes)
2 T key lime zest, plus extra for garnish
8 oz whipping cream
1 tsp vanilla
blueberries for garnish
Instructions
Prepare crust according to instructions. I used this one from Martha Stewart and upped the butter by a tablespoon. It perfectly filled my 14" rectangular tart pan and was lovely -- not too crunchy nor crumbly.
While crust is cooling, beat mascarpone, cream cheese and ½ cup sugar together with an electric mixer (or a fair amount of elbow grease) until smooth. To avoid lumps, be sure the cheeses have been completely brought to room temperature. Add lime juice and zest, again mixing thoroughly until smooth. Transfer mixture to a zip top bag.
Whip cream to desired stiffness, sweetening with 2 T powdered sugar (or more, to taste) and vanilla.
Snip corner off key lime filling bag and loosely pipe to fill tart shell, smoothing to the edges with a rubber spatula if needed. Refrigerate any leftover filling.
Top tart with whipped cream (I used a large star tip tucked into the corner of another zip top bag, but do whatever feels right in your heart!) blueberries and an extra scattering of key lime zest, if desired.
Chill tart several hours or overnight before slicing and serving. Enjoy!
Notes
If I can make this tart, trust me when I say
anyone can make this tart
. It's so seriously simple, perfectly creamy and not at all too sweet. The blueberry garnish suits just about any occasion, but feel free to up the Americana with sliced strawberries, too.
As noted in the recipe, I looked to
Martha Stewart
for the gingersnap crust. To ensure a super creamy filling, be sure the cheeses are brought to room temp before whipping them together. Finally, the recipe time doesn't include cooling the crust or chilling the tart, but hands-on time really is very minimal. Too easy not to give it a shot! 🙂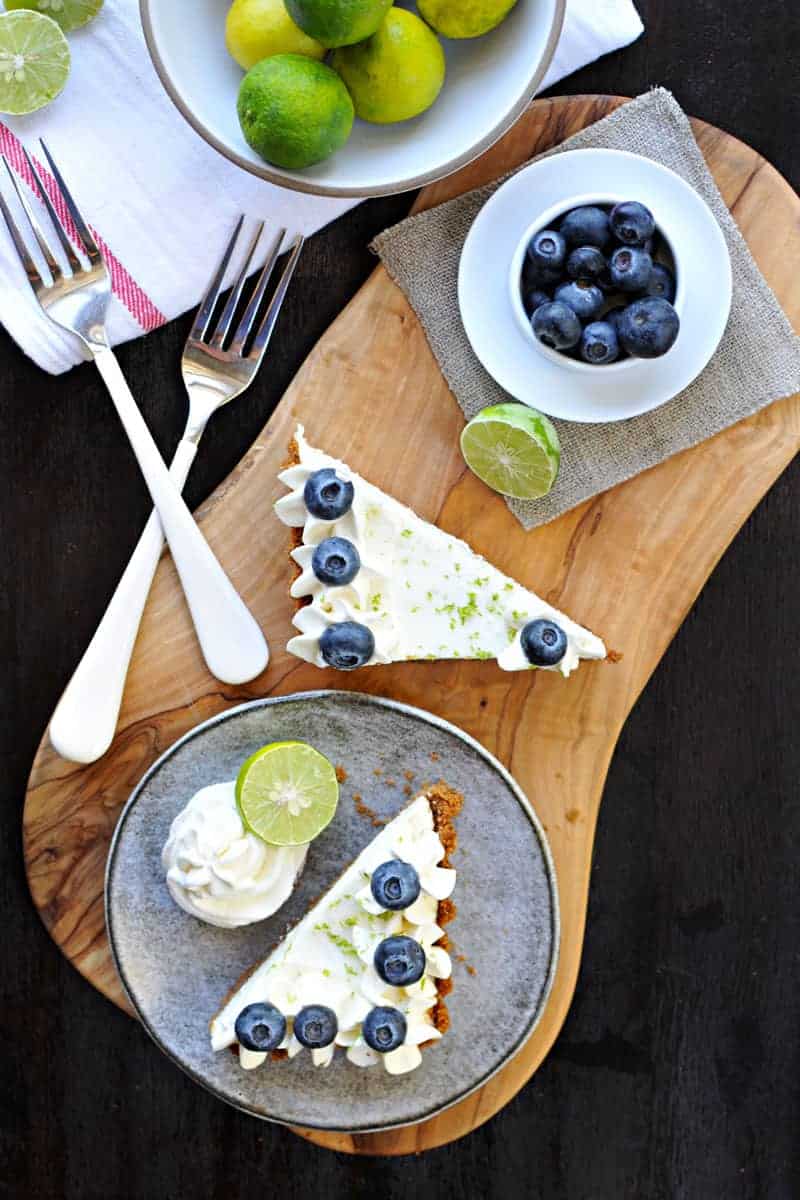 ————————————————–
OH! before you go…
Like whatcha see here — or have a question, feedback, or recipe hack to share? Join The Pig & Quill convo by commenting below (I love, luv, lurve comments) and hang out with me on Facebook, Twitter, Instagram and Pinterest. And don't forget to subscribe to P&Q emails or add me to your RSS reader with Feedly or Bloglovin' so you never miss a post. x's & o's!