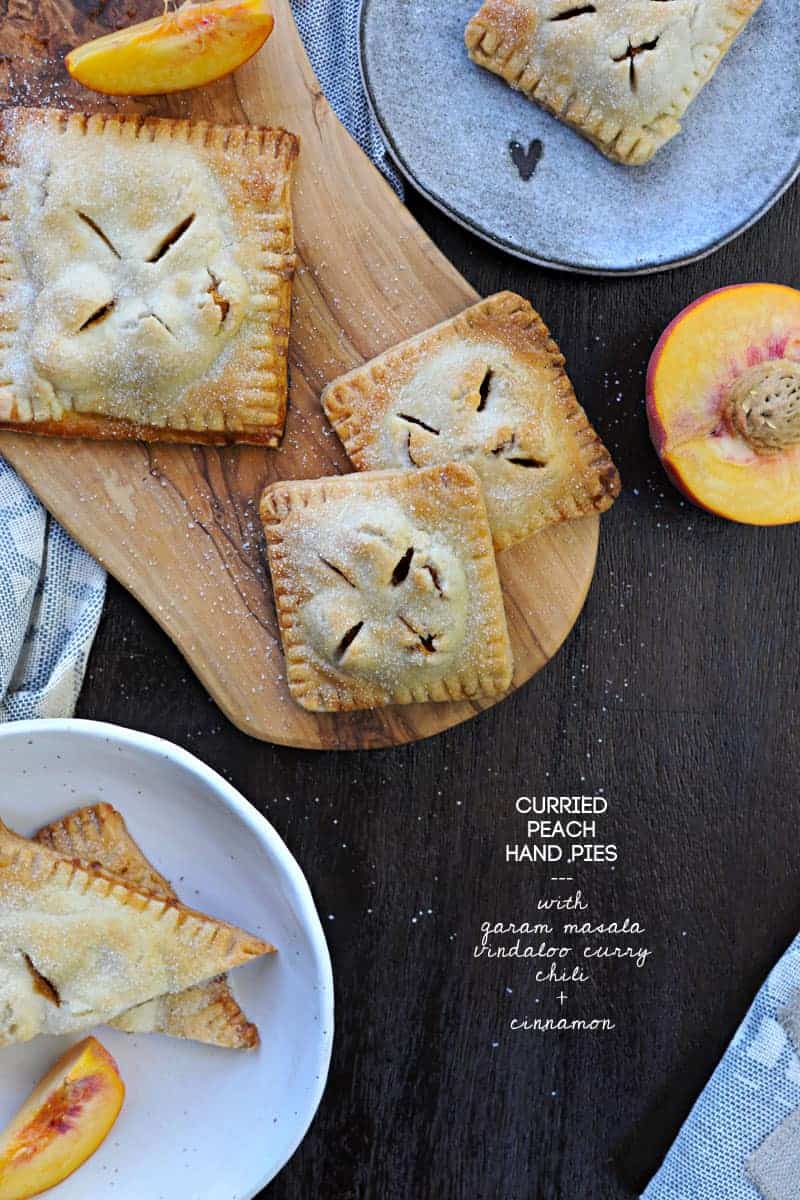 It's peach season peeeeyotches! Holla if ya hear me.
Peaches make me think of two things:
1) Face/Off. Which, despite Nick Cage's sickko one liner about, um, peaches, remains one of the best worst movies ever.
2) PIE!
When I was a kiddo, our neighbors had a Babcock peach tree with a limb that draped liberally into our yard and sagged heavy with juicy, white-fleshed fruit, ripe for the poaching. In summer evenings when the valley heat calmed down a beat, my mom would throw open the windows — thus inviting inward the sweetest delta breeze to ever kiss my pillowcase — and dial the oven to pie baking temps.
Because baking hot as shit pies on a hot as shit day is what you do when the fruit begs it of you.
My mom's peach pies are of the old-fashioned variety: tall and lumpy with heaps of fruit and enveloped in two flaky crusts, the top of which is lacquered and ambered and adorned unapologetically with a little cluster of hand cut pie crust leaves and the likeness of the fruit within. It's the thing that, today, would bring a tear to those hipster-maker-types' eyes. Pinterest, eat your heart out.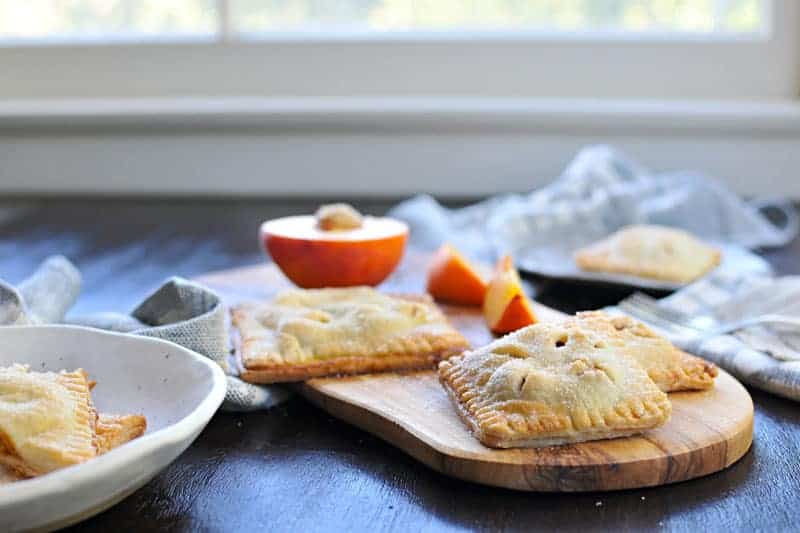 Unfortunately, the baking gene skipped a generation (I enjoyed my peaches simply halved and smothered with so much cinnamon-sugar you didn't dare breathe on the damn thing), so I present to you the (short)cuttiest peach pies you ever did see, made simply with premade pie dough and stuffed with stone fruit spiced juuuuust elegantly enough to make you forget that baking is so not your steez.
I was able to get three mini (four-inch) hand pies and four minier (three-inch) hand pies from one premade pie crust — with some filling to spare — so doubling the recipe would make you more than enough pies for a party. Oooooooh, a Fourth of July party, mehbes, since that's coming 'round the bend right quick. I mean, peach pie + America = fireworks!!! || confetti pop!!! || fist bump!!! || peaches!!!
…amirite?
Here's to hot summer nights and [eating] peach pies [for hours], friendsies!
xo,
Em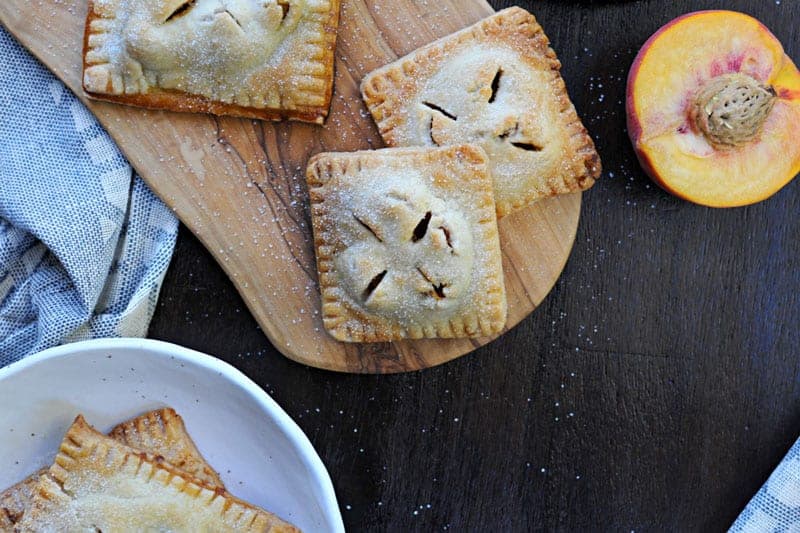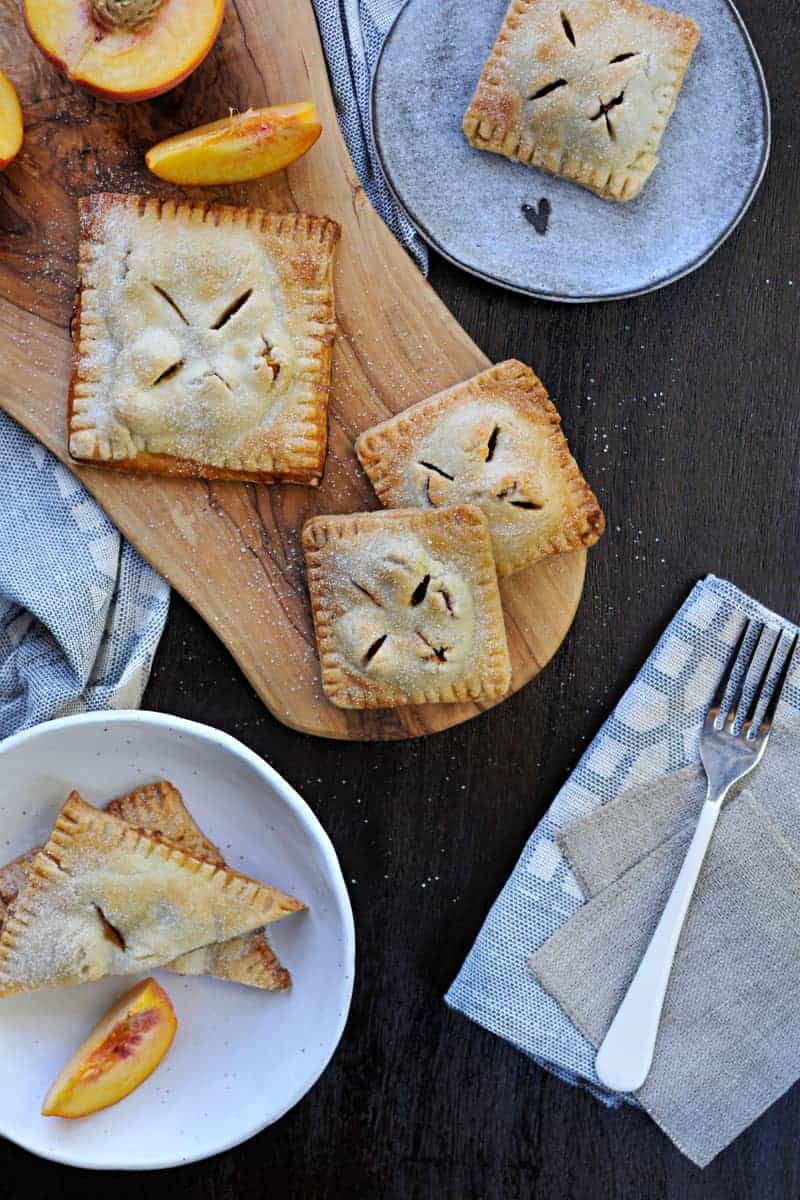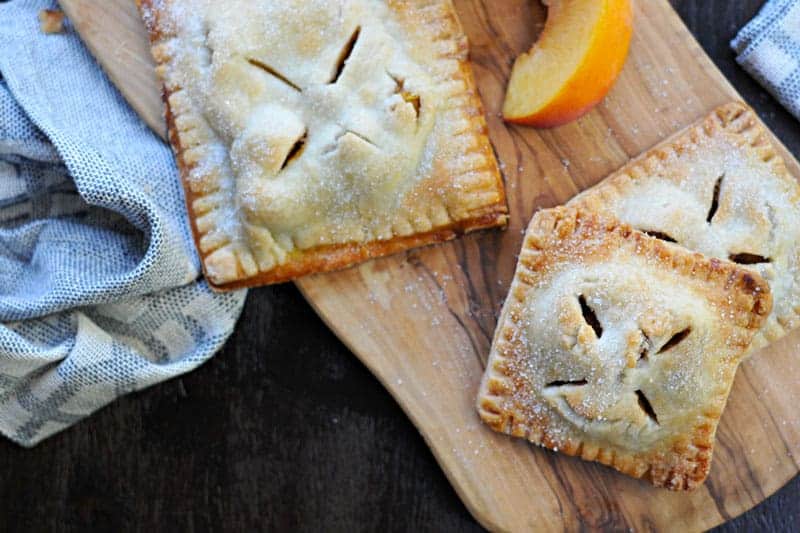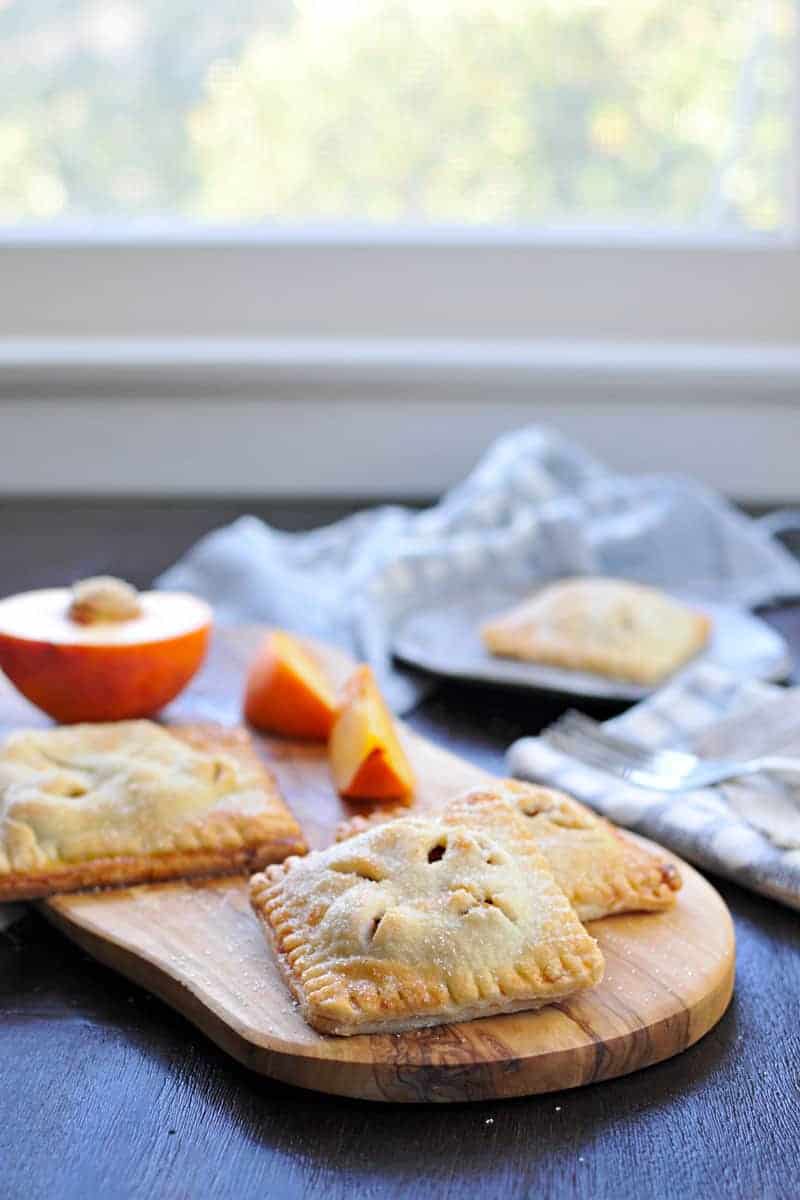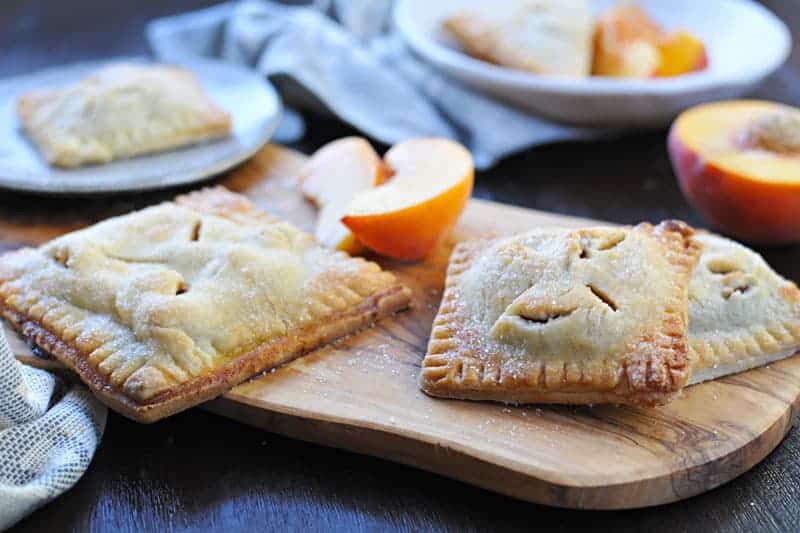 curried peach hand pies
Makes:
about 6-8 hand pies
Ingredients
2 large peaches, peeled and diced
2 T sugar (plus extra for sprinkling)
1 tsp cinnamon
½ tsp vindaloo curry powder (I always use Penzey's)
½ tsp garam masala
½ tsp chili powder
½ tsp vanilla
¼ tsp salt
prepared pie dough (about 1 premade frozen crust, defrosted, or generous ½ lb favorite dough)
1 egg, beaten
Instructions
Preheat oven to 400F.
Line baking sheet with parchment or Silpat. Mix beaten egg with a splash of water and set aside.
In a small bowl, combine peaches, sugar, spices and vanilla.
Working with a floured surface and pin, roll out dough to about ⅛" thickness and cut to desired size for hand pies, re-rolling/cutting scraps as necessary. I was able to cut three 4" pies (so six 4" pieces) and four 3" pies (eight 3" pieces) from my dough.
Transfer bottom pieces of pastry to lined baking sheet and top with a heaping tablespoon of peach mixture. Brush edges of pastry with egg wash.
Lightly re-roll top pastry pieces so they're ever so slightly larger than the bottom pastries and lay them on top, gently pressing to adhere. Crimp edges with a fork.
Brush egg wash over hand pies and sprinkle liberally with sugar. Cut a few vents in pastry to allow steam to escape.
Bake hand pies for 15-17 mins or until golden brown. Allow to cool slightly before transferring to a wire rack. Serve warm or at room temp. (Leftovers are great reheated in a toaster oven!) Enjoy!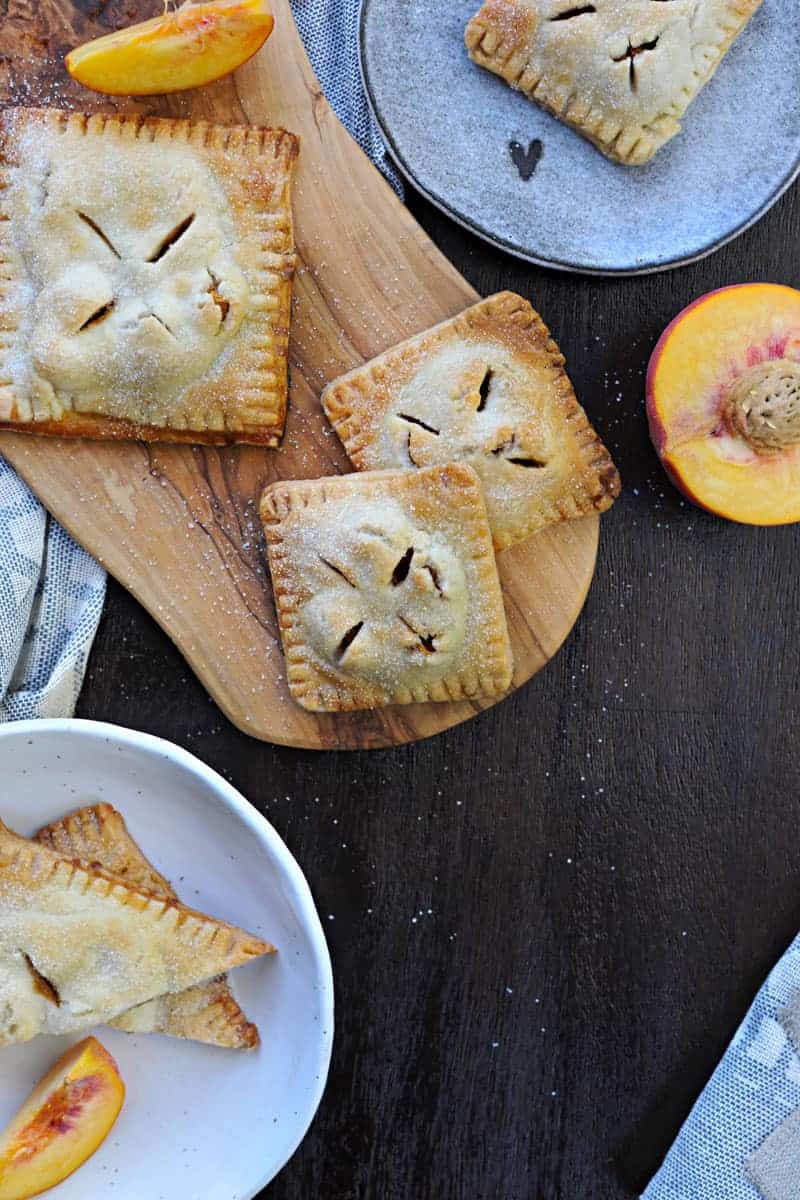 ————————————————–
OH! before you go…
Like whatcha see here — or have a question, feedback, or recipe hack to share? Join The Pig & Quill convo by commenting below (I love, luv, lurve comments) and hang out with me on Facebook, Twitter, Instagram and Pinterest. And don't forget to subscribe to P&Q emails or add me to your RSS reader with Feedly or Bloglovin' so you never miss a post. x's & o's!