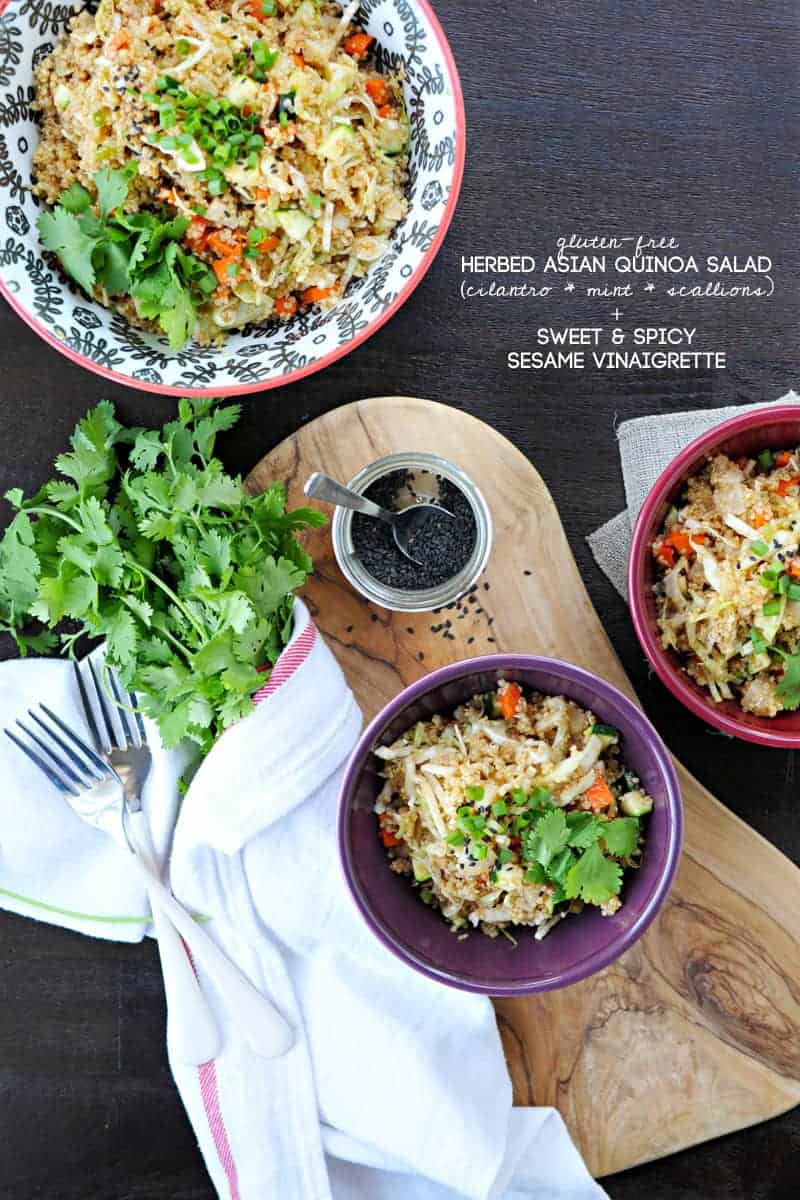 You know that feeling when you drag yourself up from the depths of a particularly realistic dream only to stumble through your house like a stranger? Bathed in the buttery glow of early morning, the rooms are all the same: there's salt in the pig, dust on the turntable. The down pillows on the sofa are dented just so (hi-YAH!) — and yet you turn down the hallway with fresh eyes, taking it all in the way you would when the light blinks green and the door swings open to a freshly turned hotel suite. It's refreshing and disorienting and quietly intoxicating all at once because it happens maybe once in every hundred dreams.
You curse and revel in the unfamiliarity of your own space.
You know that feeling?
That is parenthood. A novel and jarring distortion of your previous reality.
Or simply: an awakening.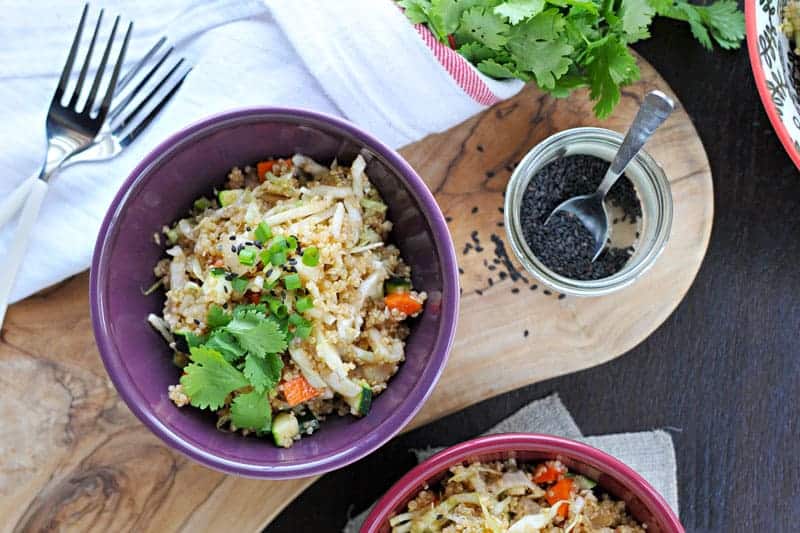 Apparently, it takes eight weeks to recognize this phenomenon. Maybe it's because the initial stupor of having your every breath revolve around a being wholly separate from yourself is slowly lifting as it evolves into something you're rather fondly coming to see as the new normal. Maybe it's lady hormones.
Ok, it's probably the latter. I say this because I've eaten breakfast, lunch and dinner from the same bowl.
Um, without washing it.
That's hormone crazy, right?
Guys?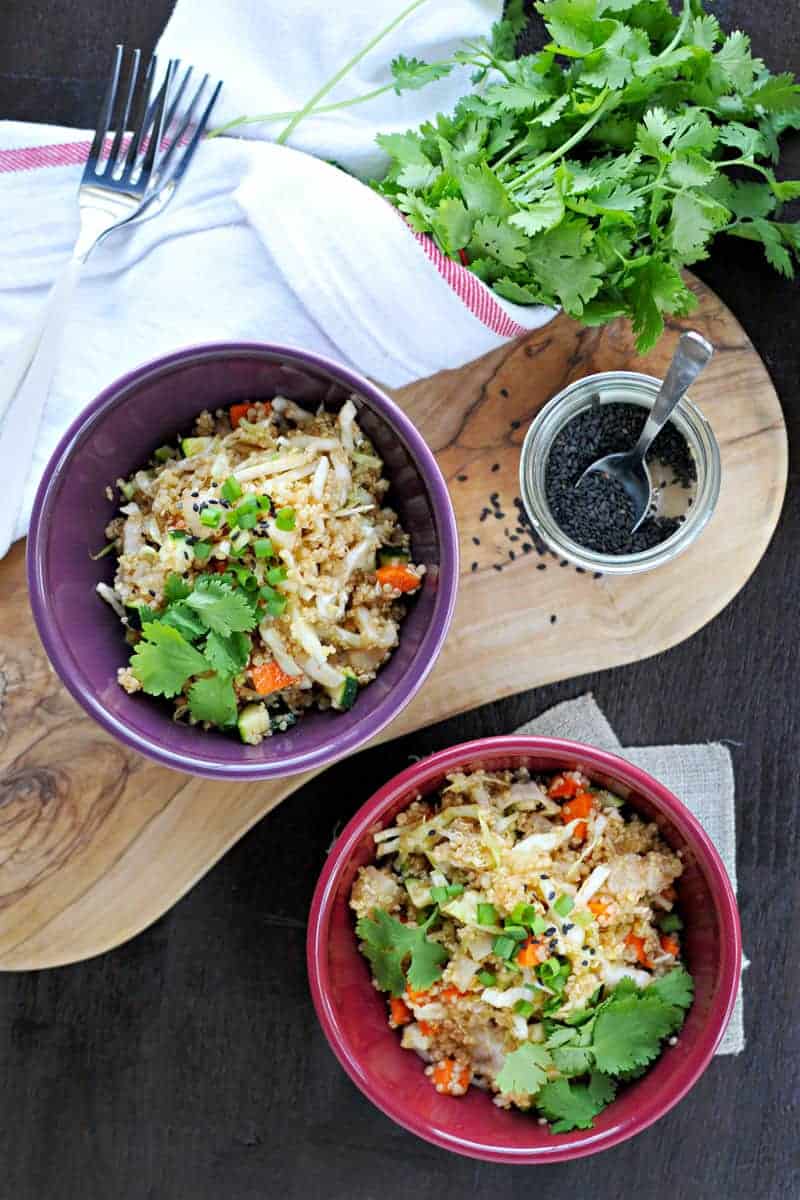 This salad is something I'd be more than willing to add to the dregs of my morning cereal. It's fresh and vibrant and tastes like something between that killer ramen salad from the 80's (oh heyyyy cabbage and tangy, sweet dressing); a cool crunchy, lettuce wrap (water chestnuts!); and the herbiest of spring rolls.
Because it's summer, which is basically the Casual Friday of seasons, I implore you to make this salad your own. Add more veggies, or scale 'em back. Get rambunctious and tumble a heap of sliced rare ribeye over the top. Or scatter each serving with a shit-ton of fried onions and crushed peanuts. (DEFINITELY DO THAT.) Of course, you could always enjoy it as-is in all its vegan, gluten-free glory.
From a clean bowl, most probably. 🙂
xo!
Em
ps – I should have found a clever way to work this into the whole "high of parenthood" thing above, but Happy Father's Day to all the sweet, smitten papas out there, including my own clever + creative daddio and my one and only, Chris, who is just as natural at fatherhood as I envisioned every day of my pregnancy. Just when I thought those salt + pepper sideburns couldn't get any more studly. Love you. ♥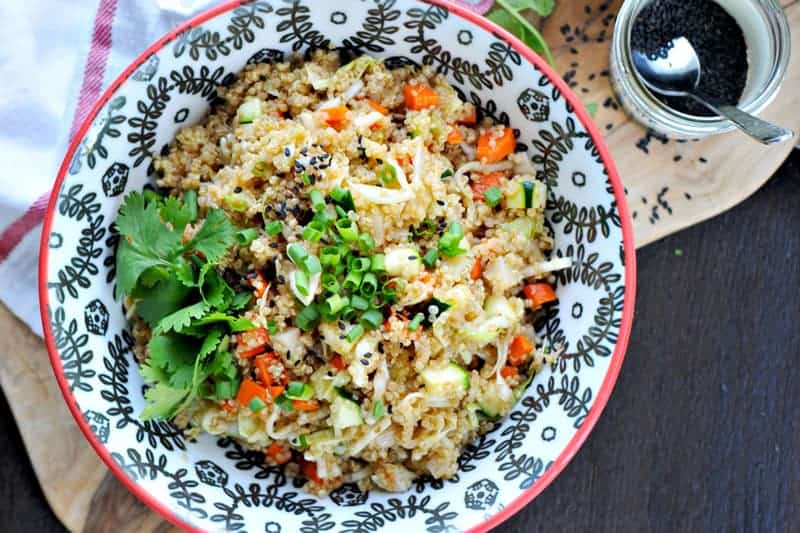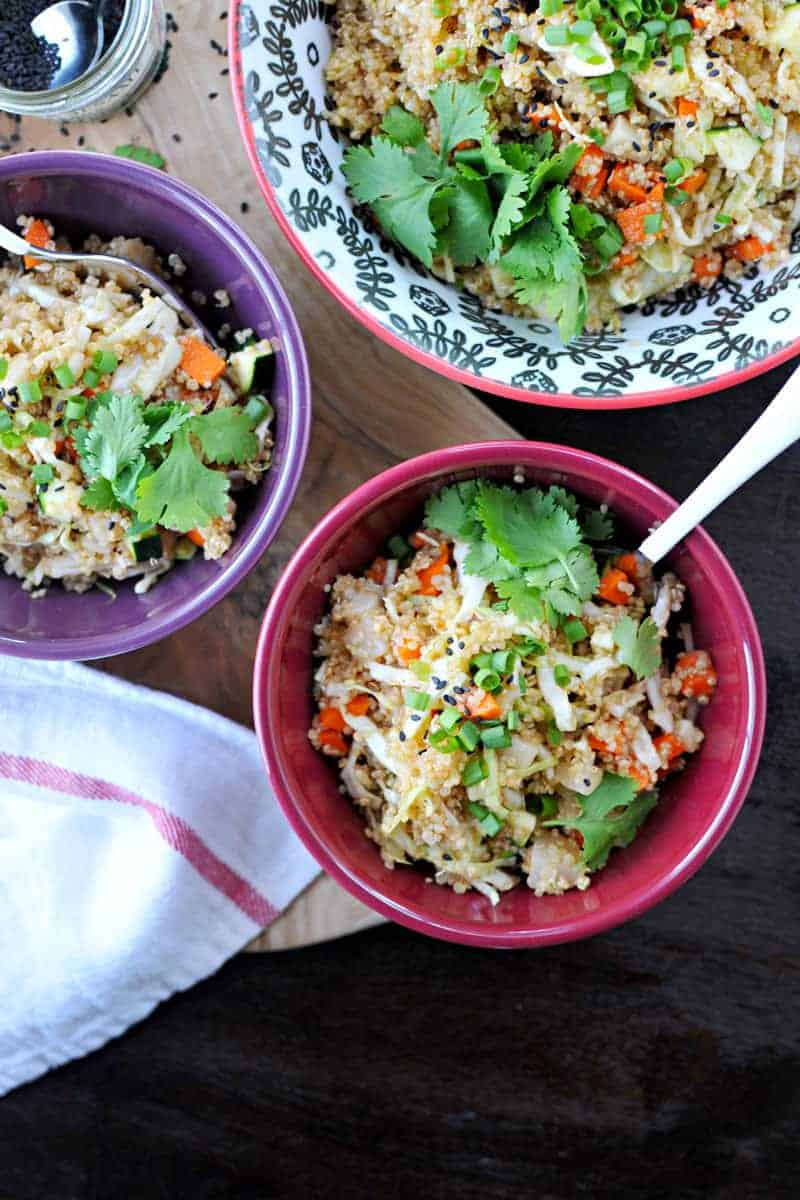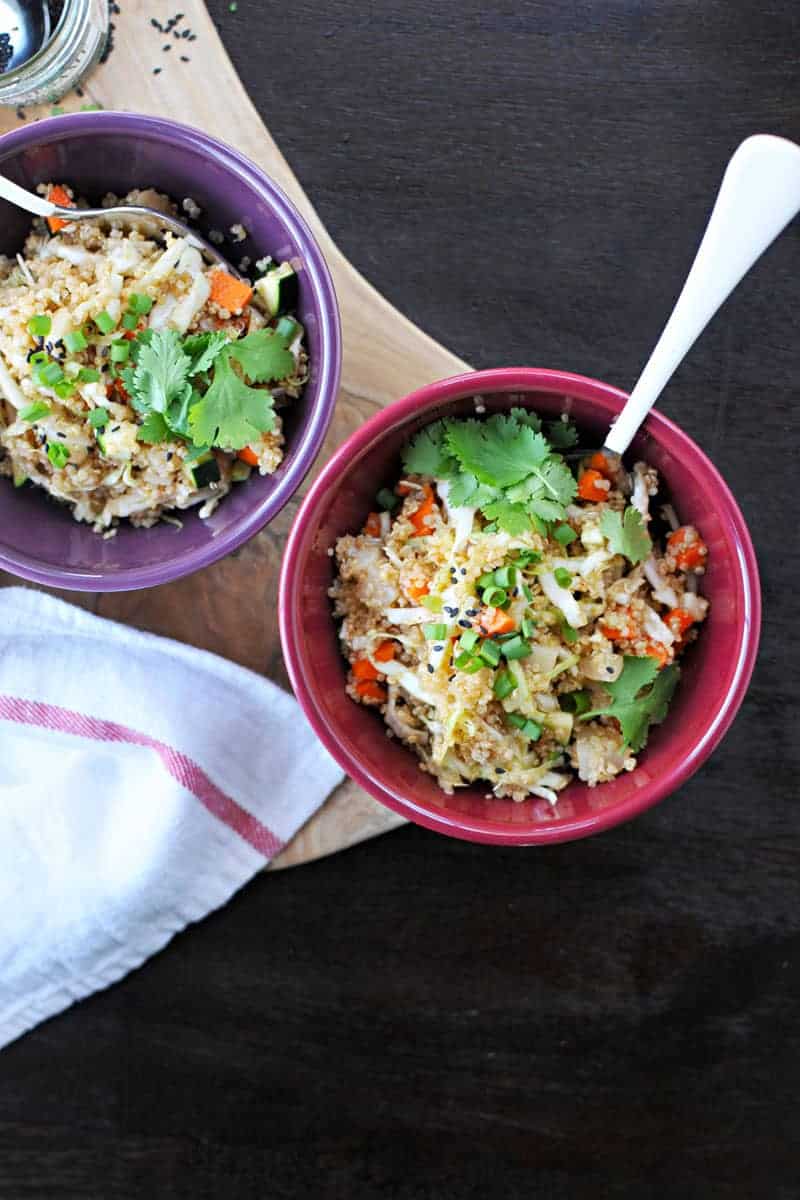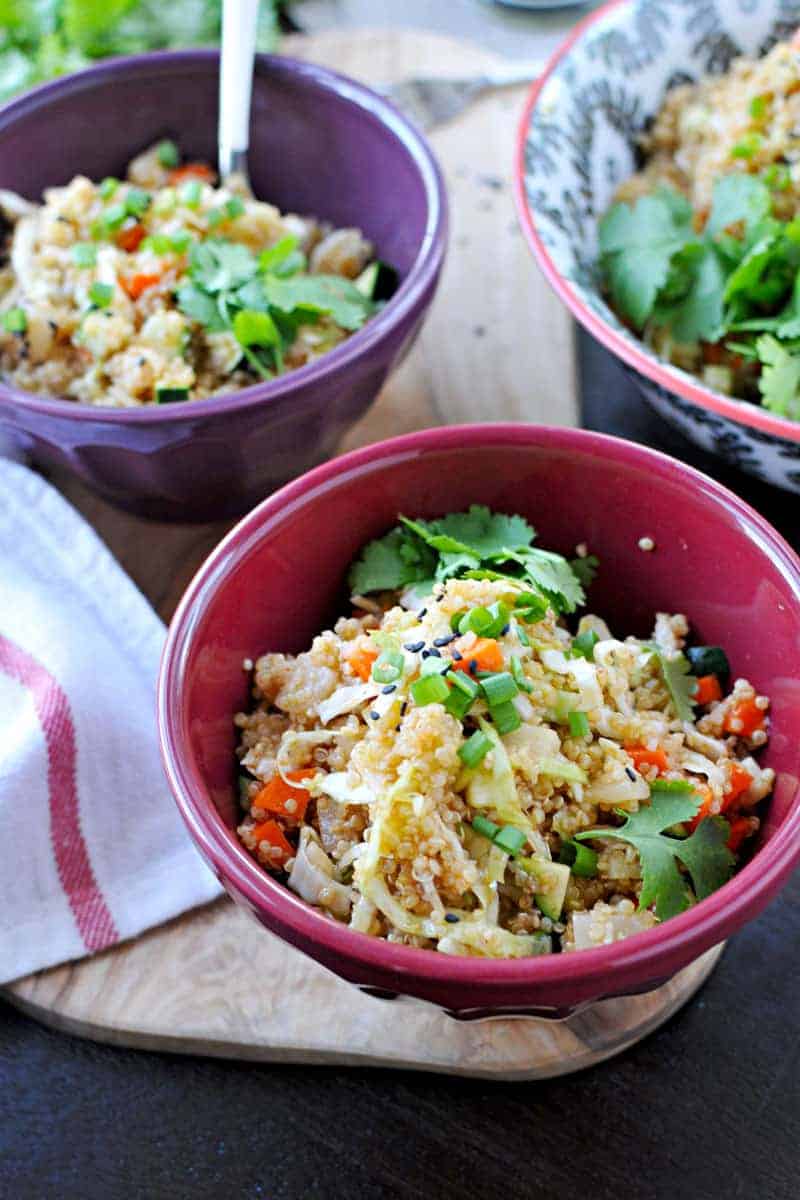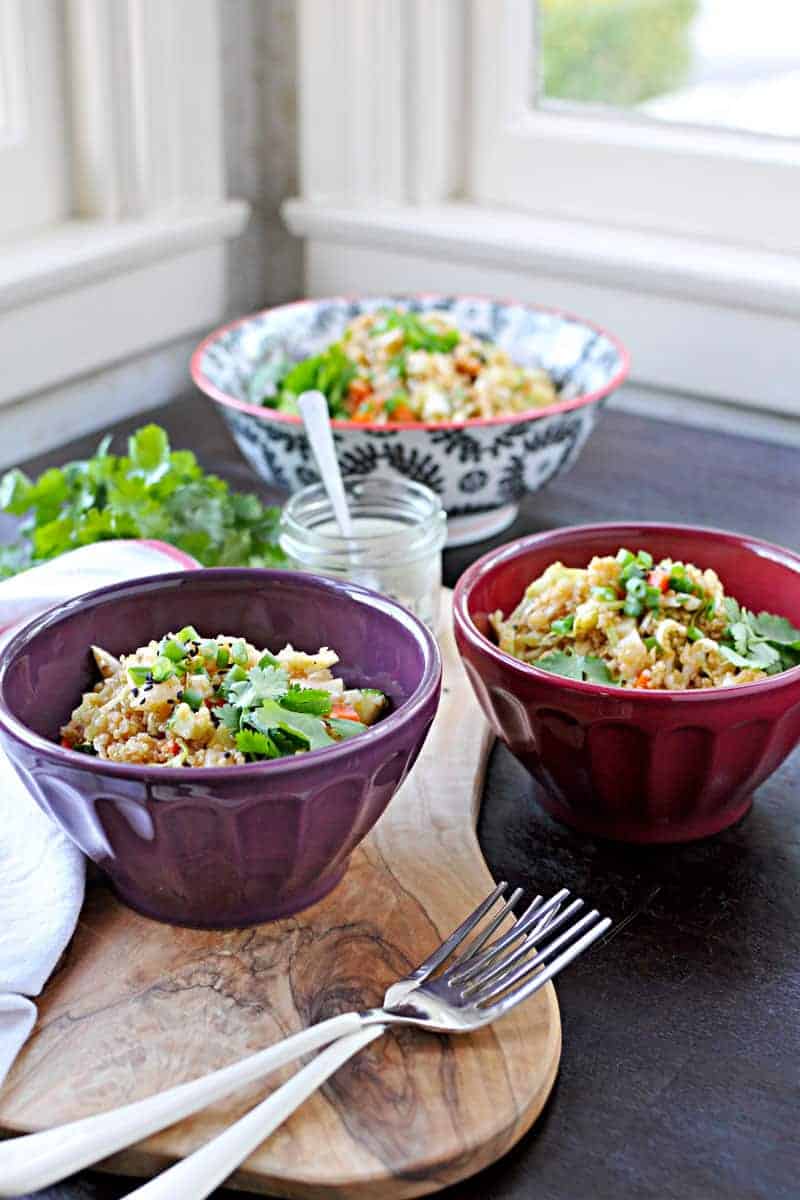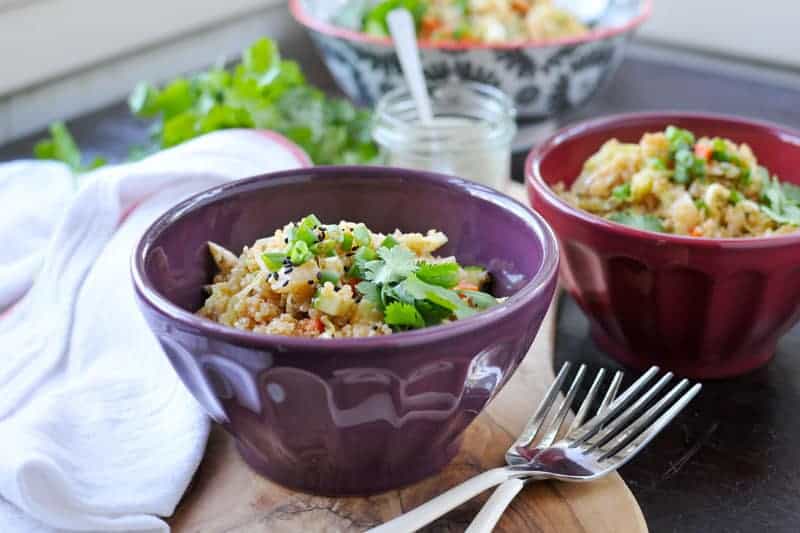 herbed asian quinoa salad (vegan + gf)
Makes:
about 6-8 side servings
Ingredients
For the Dressing:
⅓ cup avocado oil
3 T rice vinegar
1 T sesame oil
1 T agave or maple syrup
1 T sriracha
2 tsp Bragg's Liquid Aminos (or soy sauce)
2 tsp Magic Mushroom Powder (or sea salt, to taste)
For the Salad:
2 cups cooked quinoa (prepared like this or cooked in broth for even more flavor)
10 oz bag shredded cabbage (or equivalent freshly shredded cabbage)
4 carrots, diced
2 small zucchini, diced
1 can water chestnuts, diced
2 large handfuls cilantro and/or mint, chopped
2 large scallions, thinly sliced
sesame seeds
Instructions
Whisk together dressing ingredients.
In a large bowl, toss together salad ingredients. Pour over dressing and toss well to combine. (Salad can be kept at this stage for a couple of days if needed.)
Just before serving, add herbs. Top with more herbs and sesame seeds to taste. Enjoy!
Notes
This salad is vegan and gluten-free as written, but if you're not strictly adhering to either diet, it makes a super tasty, filling meal when topped with leftover grilled chicken or thinly sliced, rare steak and a smattering of crispy fried onions.
The dressing also gets a hefty oomph of umami from
Michelle's Magic Mushroom Powder
, but if you don't have a jar hanging around, sea salt to taste is a handier way to get the job done.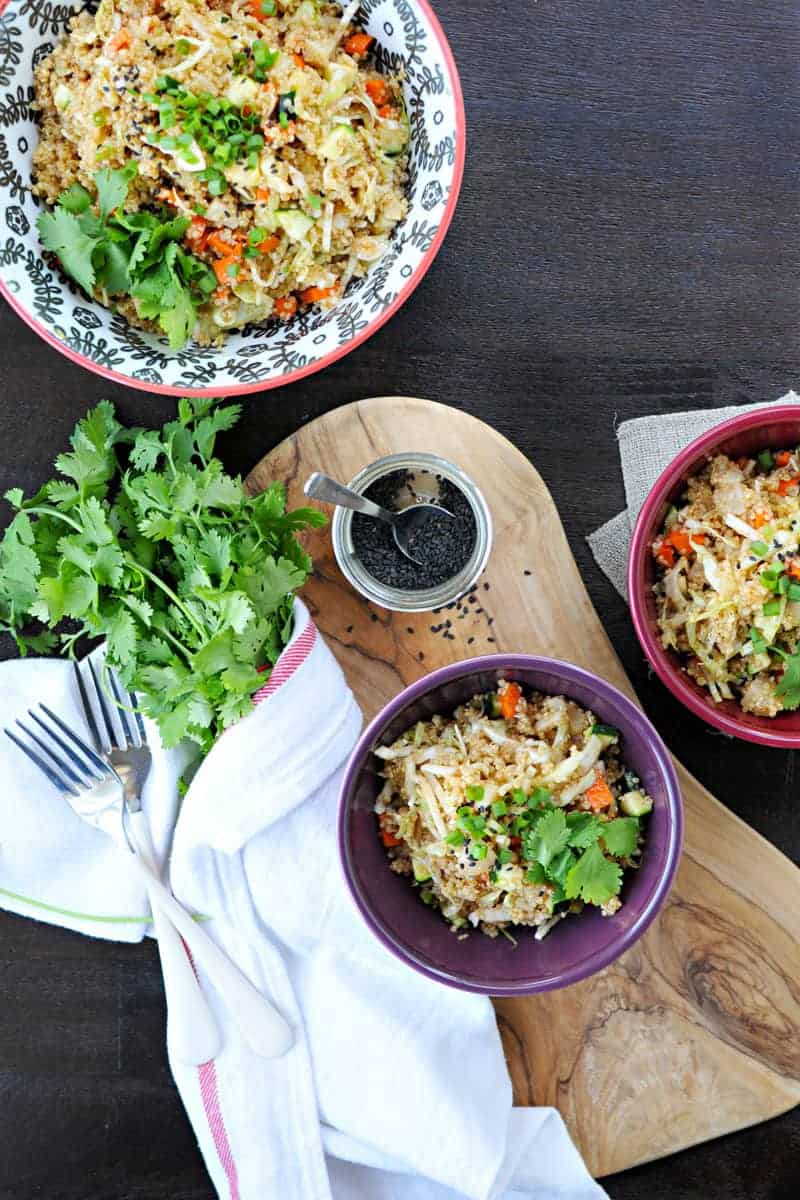 ————————————————–
OH! before you go…
Like whatcha see here — or have a question, feedback, or recipe hack to share? Join The Pig & Quill convo by commenting below (I love, luv, lurve comments) and hang out with me on Facebook, Twitter, Instagram and Pinterest. And don't forget to subscribe to P&Q emails or add me to your RSS reader with Feedly or Bloglovin' so you never miss a post. x's & o's!