Hey guys, and welcome to Day Two of Street Corn Two Ways. It's a pretty efficient series. Yesterday, we started things off with this classic Mexican Street Corn thingy and today we're wrappin' it on up with an islandy (I guess? For lack of better descriptor?) spin that's sweet and salty and soy-y and scallion-y and best of all bests — SPAMMY. *contented sigh* SPAM is, no joke, one of my most favorite food groups ever. Like, remember that time I was like, "out with factory farmed meat!" Um, canni tell you a secret? I never ditched the SPAM. (Shhhhhhhhhh, fancy people think this blog is clean and legit and whole foodsie and stuff.)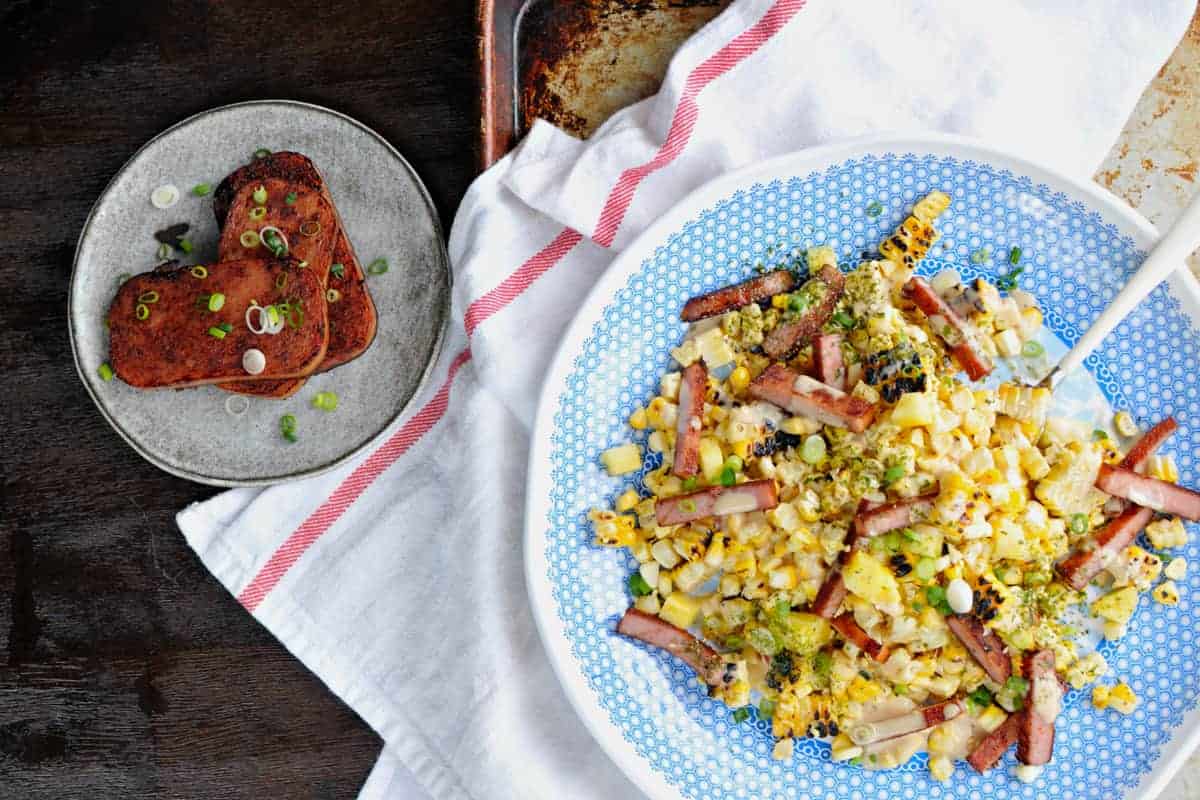 I almost always eat SPAM the same way, which is browned with a little shoyu and sugar and served with hot rice, salty-sweet furikake and a drippy egg (optional but highly encouraged). Sometimes, it's more than acceptable to swap the rice for, I dunno, RAMEN. And this summer — because that's when genius epiphany happened to strike — it's aallllll good to put that slivered SPAM all over some nutty grilled corn with sweet-tart pineapple, sharp scallions and mayo. It's Hawaiian Street Corn, dudes, and you can (and should) probably plan to eat a metric fugload of it. 🙂
(heyheyehey: Love SPAM as much as meeeeeeee? You'll definitely want to check out Cynthia's musubi, Steph's fried rice, Amy's ramen burger and Mandy's  (omg, omg, OMG I need these!!!!) SPAM and cheddar soy meatballs.)

Hawaiian Street Corn with SPAM + Pineapple (gluten-free)
Instructions
Heat a grill or griddle to medium high. Slice SPAM into 7-8 slabs and arrange on a plate or baking sheet.
Drizzle SPAM with ½ T soy sauce and ½ T coconut sugar. Flip pieces and sprinkle with additional ½ T soy and remaining ½ T coconut sugar. Sear SPAM until deeply browned, about 2-3 mins per side. Slice into thick matchsticks.
Meanwhile, whisk together mayo, sweet chili sauce, water and 1 T soy sauce. Gently toss corn with mayo mixture (to taste), pineapple and SPAM. Top with scallions and furikake to taste. Enjoy!
————————————————–
 Oh hey, before you go…
Like whatcha see here — or have a question, feedback, or recipe hack to share? Join The Pig & Quill convo by commenting below (I love, luv, 
lurve 
comments) and hang out with me on
Facebook, Twitter, Instagram
and
Pinterest
. And don't forget to
subscribe to P&Q emails
(see that nifty box up there in the sidebar?) or add me to your RSS reader with 
Feedly
 or 
Bloglovin'
so you never miss a post. x's & o's!