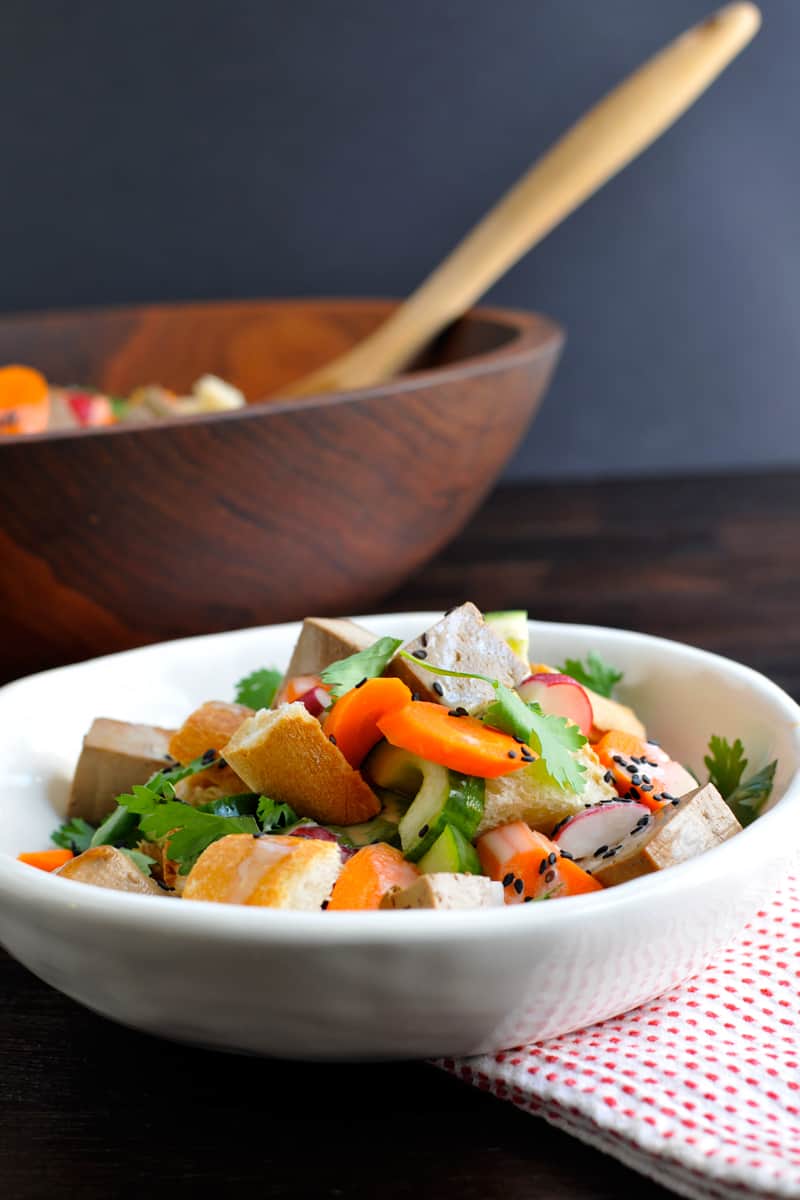 Hey ya'll. You're not gonna believe this, but we're back! Wedding month concluded yesterday with a super cute, DIY ceremony and reception that Pinterest only wished it had witnessed in the flesh. Of course I left my phone at home, so I can't share a lick of it with you right yet, but if I can get my hand on some snaparoos, I'll be sure to share. Suuuuuur cuuuuuurte. And now we can get on with a fall that's nearly as full of festivities. Almost.
Except guessat. I'm not ready for fall. So instead let's keep eating salad like it's not getting dark at 7. Like it's not 49 degrees at night. Like pumpkins aren't all up ons…everything. Like Costco isn't already slinging fatty bags of Kit Kats. That I want to insert into my face like felled timber into a woodchipper.
Yeah. Salad still seems like a good idea. This one's been pretty popular at our last couple of potlucks. And it's basically a deconstructed street sandwich that you can eat like a classy friggin' lady. Winning all around.
Baked Tofu Banh Mi Salad (with vegan variation)
by Emily Stoffel
Cooking time: 60 mins prep & assembly + overnight marinating | Serves 6
Note: If you're thinking this seems familiar, it might be because it closely resembles this little ditty. And I'll preface it with the same message: seems like a lot of steps, but give the recipe a read and you'll see it's hardly any work at all. Do all the baking and marinating the night before, and this salad comes together in just minutes right before your next potluck. Oh yeah, and go with vegenaise in the dressing and all you veeg peeps are good to go.
Ingredients:
1 large stale, crusty French baguette, cut into 1″ pieces (if bread is too fresh, leave cubes on the counter overnight to stale)
1 recipe spicy soy dressing (see recipe below)
1 recipe baked marinated tofu (see recipe below)
pickled carrots (see recipe below)
sweet n' salty cucumbers (see recipe below)
sweet n' salty radishes (see recipe below)
handful of fresh cilantro leaves, stems removed
black sesame seeds, for sprinkling
Instructions
In a large bowl, layer half (each) of the bread, dressing, cukes, radishes, tofu and cilantro. Repeat. Top with sesame seeds. Toss just before serving.
Baked Marinated Tofu (bake 1 day ahead or right before serving)
1 brick (14-16 oz) super firm tofu cut into 1/2″ – 1″ pieces
1/2 cup lite soy sauce
2 T pure sesame oil
2 T rice wine vinegar
2 tsp agave syrup
1/2 scallion, finely chopped
Combine all ingredients in a zip top bag and marinate 4-24 hours (ok, but really, if you've only got 30 minutes, that's fine, too). Preheat oven to 350F. Pour tofu cubes with marinade into a glass baking dish, arranging pieces into a single layer if possible. Bake for 45 minutes or until tofu begins to brown in places where it's exposed. Allow to cool. Reserve marinade.
Spicy Soy Dressing (can be made 1 day ahead or immediately before serving)
1 cup mayo or vegan mayo
1/4 cup reserved tofu marinade (plus more, if needed)
1 T sriracha (or more/less, to taste)
Whisk all ingredients together in a small bowl, adding more marinade, if needed, to create a drizzleable consistency. Store in the fridge until ready to use.
Pickled Carrots (assemble 1 day before serving)
3 carrots, peeled and thinly sliced on an angle
2 T rice vinegar
1 T sugar
Combine all ingredients and "marinate" in the fridge for 12-24 hours.
Sweet n' Salty Cucumbers (assemble 1 day before serving)
1 English cucumber, halved, seeds scraped out and thinly sliced at an angle
2 T sugar
1 tsp sea salt
Combine all ingredients and "marinate" in the fridge for 12-24 hours.
Sweet n' Salty Radishes (assemble 1 day before serving)
1 bunch radishes, quartered
1 T sugar
1/2 tsp sea salt
Combine all ingredients and "marinate" in the fridge for 12-24 hours.